Northeast: Staying Busy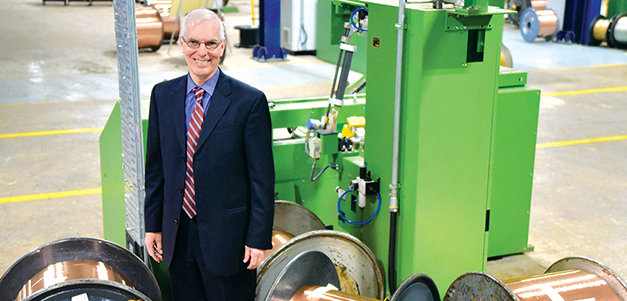 It was a good year for business in Northeast Georgia. From the mountains in Hiawassee to the farmlands of Danielsville to the banks of Lake Oconee, the region continues to bounce back from the Great Recession with growth in manufacturing, logistics, retail, healthcare and tourism.
"We've had a couple of record years, and we hope to do it again," says Tammy Caudell, the Georgia Department of Economic Development's Region 3 project manager. "Things are really positive right now."
Two counties that are seeing great gains are Hart and Stephens, which both benefited from involvement with international companies.
"There were a lot of German companies looking into locating in Northeast Georgia," Caudell says. "With Volkswagen, Mercedes and BMW all being assembled in South Carolina and Alabama, it's an ideal location for suppliers."
In Stephens County, German-based automotive parts supplier NIFCO KTW will construct a $27.3-million, 130,000-square-foot facility and create 200 new jobs over five years. It was named the Small Community Deal of the Year by the Georgia Economic Developers Association.
Sark Wire, a Turkish company that makes and distributes copper wire, will renovate an existing 80,000-square-foot building in Toccoa for its first new U.S. manufacturing plant since 2009.
ASI Southeast, formerly Gem Industries, is expected to move into its new 112,000-square-foot building this spring. It will make and distribute bathroom accessories.
"You just have to keep building on what you have," says Tim Martin, executive director of the Stephens County Development Authority.
In Hart County, German company Haring is investing $54 million over the next five years into a 196,000-square-foot plant, training center and dining hall. The facility will make fuel injection auto parts and eventually employ 800.
Another German company, Linde + Wiemann, is investing $35 million to build a new 60,000-square-foot auto parts manufacturing facility that will bring in 200 new jobs.
"The addition of 1,000 new jobs in our area is significant, not only for Hart County, but for the entire North Georgia region," says Dwayne Dye, Hart County's director of economic development.
Hall County reported its best year of capital investment on record, with 24 new and existing projects worth more than $320 million in investments and more than 1,100 jobs, according to Tim Evans, vice president for economic development for the Greater Hall Chamber of Commerce. In addition to the ongoing long-term commitment from Kubota, new and expanded businesses include Wrigley Manufacturing, ZF Industries, First Fresh Foods, Performance Foodservice and Left Nut Brewing.
The healthcare sector had numerous gains in Northeast Georgia, with the most visible being the opening of the 100-bed Northeast Georgia Medical Center in Braselton.
"The growth opportunities in the medical corridor between Hall and Forsyth counties are creating a lot of workforce opportunities," Caudell says. "It helps set the region apart."
New assisted living and memory care centers are expected to be open in Blue Ridge and Greensboro by the end of the year.
There was good news in Dawson County, where ground was broken on two large parcels on Georgia 400. One $60-million project will have a Kroger Marketplace and will bring 230 jobs to the region. The other $90-million investment will be anchored by a Publix and include 300 new apartments.
"That is huge compared to what investment has gone on since the recession," says Charlie Auvermann, director of the Dawson County Development Authority. "Our typical yearly investment is anywhere from $6 to $10 million, so you drop $90 million in and that's a big rock in the pond."
In manufacturing, MESH Engineering moved into its new facility in Dawsonville, and Impulse Manufacturing expanded and is hiring 100 new workers.
Jackson County saw $91 million in new investments flow into the county with 110 new jobs, says Jim Shaw, president, CEO and director of economic development for the Jackson County Chamber of Commerce. The growth was driven by expansion of heavy machinery company Takeuchi in Pendergrass and consumer health and hygiene company RB, which moved into a new 750,000-square-foot building in Jefferson.
In Lumpkin County, construction on a 4,000-seat convocation center for the University of North Georgia will begin in late summer. Industry is also strong in Lumpkin, says Steve Gooch, executive director of the Lumpkin County Development Authority. Arcadia Louvered Roofs will be bringing 50 new jobs to the county. Refrigiwear, maker of cold-weather gear, doubled the size of its operation to 135,000 square feet at a cost of $6 million.
In Athens-Clarke County, two companies have expanded their footprints. Ryan Moore, director of the Athens-Clarke County Economic Development Department, says McCann Aerospace completed a $10-million project and consolidated its two area facilities into a centralized location. Pharmaceutical producer Noramco spent $25 million retrofitting its plant.
In Rabun County, Major Display, a manufacturer of LED scoreboards, is relocating from Franklin County into a 33,000-square-foot facility in the Rabun Business Park. It expects to create 20 to 30 jobs over the next two years, says Ray Coulombe, executive director of the Development Authority of Rabun County.
In Oconee County, economic development director J.R. Charles says the county commission has approved a second phase of the Epps Bridge extension project that will open 100 acres of commercial development. Construction of a road going through the property will likely begin in 2016. The first phase of the ongoing expansion of Mars Hill Road from two to four lanes will be finished in 2017, with the second phase starting this year.
Elbert County completed a railroad connector between the CSX main line and the Norfolk Southern short line, giving shippers the potential to negotiate prices for long-distance hauling, says Elbert County Economic Development Director Allen Nicas.
In Habersham County, planning and development director Mike Beecham says five acres were sold in the new industrial park. Eighty additional acres are available in the park and should be on the market in 2016.
Work will begin in June to extend the taxiway an additional 1,000 feet at Habersham County Airport. The extension, made possible by grants from the FAA and the state, will improve access for corporate jets.
In Madison County, a 58 MW biomass facility that will burn old scrap wood and non-treated building material will be operational in Colbert by the spring of 2017. The Georgia Renewable Power (GRP) – Madison Renewable Energy Facility will employee 25 full-time workers and generate approximately $1.2 million in property taxes says Marvin White, president of the Madison County Chamber of Commerce.
White County has seen more commercial development move into the area since the completion of the bypass U.S. Hwy. 129 corridor, says Tom O'Bryant, the county's community and economic development director. Construction has started on a 120-acre site that already has full utilities for a new business park, with another 40-acre commercial space available.
Banks County began construction on the $3.2-million Windmill Park Sports Complex, which can host state, regional and national tournaments and will help fill nearby hotel rooms that sit empty when there isn't a football game or race in the area, says Brad Day, executive director of the Development Authority of Banks County.
"We have almost 1,000 hotel rooms at Banks Crossing, and by marketing to sports tournaments, we will be able to increase our weekend occupancy," Day says. Creative Solar has also begun construction on a solar farm that will create up to 1 MW of solar power each day.
In Fannin County, Economic Development Director Christie Arp says a $700,000, 20,000-square-foot facility that can expand to 40,000 square feet was approved in McCaysville and will be finished by December.
Union County is aggressively recruiting data centers and call centers, says Union County Development Authority Director Mitch Griggs, and those efforts will be helped by the recent partnership between the North Georgia Network and the Georgia Public Web to expand broadband availability to underserved parts of the state.
Tourism continues to be an important part of the economy, too.
In Greene County, Economic Development Director Valerie Duvall says the Lake Country Brewing Co. is expected to complete a move to the site of an old Cheero-Cola bottling facility in downtown Greensboro by the end of the summer. The community is also converting the former Mary-Leila Cotton Mill into 71 affordable housing units.
In White County, one of the county's six wineries, Stonewall Creek, debuted a new tasting room. In Towns County, commissioner Bill Kendall says the county will turn the 18-acre summit on Bell Mountain, which was purchased from the Hal Herrin estate, into a county park and historic site.
Read About Individual Regions: