Metro Atlanta: Business Signals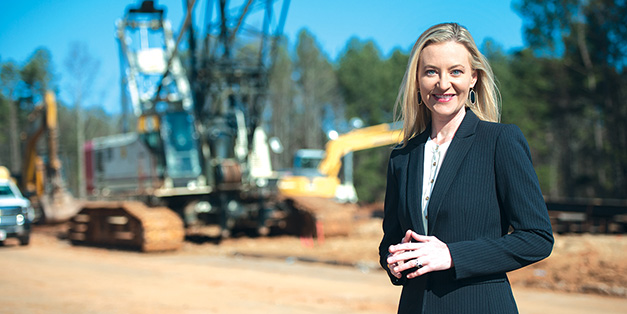 A rising tide of growth and economic expansion is once again buoying the 20-county Metro Atlanta region. From north to south, new jobs, companies and even speculative office building construction signals that the region is back and doing business.
One big comeback has been in the number of jobs – almost 80,000 new ones in 2015, according to Tom Cunningham, chief economist for the Metro Atlanta Chamber.
"This coming year is going to be a lot like last year," he says. "[These jobs] are scattered all over the place. Of course the largest sectors have the largest numbers of jobs. Areas like hospitality, leisure and construction did very well. The service sector did extremely well. There isn't any real reason to think that's going to change in the coming year."
The surge in employment created by an expanding economy has also driven down an unemployment rate that was once above the national and even regional average. That has prompted concern about whether the supply of trained workers can keep up with the demand. To address that concern, the chamber's ChooseATL campaign is promoting all the reasons why the metro area is a great place to start a business, build your career and live.
"We got a little over a quarter million college students in the metro area," says Cunningham. "We're teeming with existing graduates who ought to be an important component of our future labor force development process."
The region has also done a good job of attracting new companies to the area. For example, Spalding County snagged three Japanese firms for the eco-friendly The Lakes at Green Valley – auto materials manufacturer Otsuka Chemical Co., Toppan Printing Co. and vinegar brewer Marukan – according to David Luckie, executive director of the Griffin-Spalding Development Authority.
Many of the big relocations and expansion announcements have been along the top end of the Perimeter – I-285, which encircles the city about 15 miles from downtown – such as the sprawling corporate campuses for State Farm and Mercedes-Benz, which is moving its headquarters to Sandy Springs, an investment of $93 million that will eventually bring up to 1,000 employees to the area.
"The ability to be a central part of Atlanta and to draw talent from every direction is important," says Yvonne Williams, president and CEO of the Perimeter Community Improvement Districts. "The transportation infrastructure has really been the game changer here."
The $679-million project to reconstruct the I-285/Ga. 400 interchange – one of the most dangerous in the city – will get started this year, and work is already underway on an $834-million managed-lanes project on Interstate 75, which will have a far-reaching impact on traffic congestion in the metro area.
Metro Atlanta has long had an uneasy relationship with mass transit. When MARTA was formed in 1965, most of the outlying counties voted down allowing rail to cross their borders. But that perspective is starting to shift.
State Farm is building a 2.2-million-square-foot mixed-use project in Dunwoody, one of the largest corporate office developments in Metro Atlanta's history. The facility will house some 3,000 employees over the next 10 years, with that number expected to eventually rise to 8,000.
The company selected the site in part because of the direct connection to the Dunwoody MARTA station. The development will eventually include 100,000 square feet of retail, restaurants and entertainment, along with a 200-room hotel.
"The thing that I've noticed is a change in the conversation," says Ann Hanlon, executive director of the North Fulton Community Improvement District. "People are talking about transit as an economic development issue as opposed to just a congestion mitigation issue. Members of our CID are commercial property owners, and they're always focused on the bottom line and what is good for their investment in real estate. More and more, they're seeing evidence that proximity to transit is a good investment."
Another recent change is the renewed interest in residential construction throughout the metro area, and that's certainly evident in Gwinnett County. Over the past several years, the county has led the state and region in population growth, according to Nick Masino, senior vice president of economic development and Partnership Gwinnett for the Gwinnett Chamber of Commerce.
"There has been a surge of residential and retail, which always follows rooftops," he says.
In the heart of the region, bulldozers are moving and people continue to rediscover the benefits of intown living. In Midtown Atlanta alone, nearly a dozen high-rise apartment buildings are under construction or are opening this year, adding more than 2,000 new units to the landscape.
Downtown Atlanta is also seeing its share of residential projects, including Post Centennial Park, a 438-unit apartment building within walking distance of two MARTA stations – the first in downtown Atlanta for Post Properties in its 45-year history.
On the convention and tourism side, the Sheraton Atlanta Hotel just completed a $20-million renovation, and the c. 1906 Candler Building will transform into the Hilton's Curio luxury hotel brand, with 265 guest rooms. These hotel rooms will be needed, as the $68.5-million College Football Hall of Fame and the $68-million National Center for Civil and Human Rights both opened in 2014, bringing more national attention to the state's capital city. Plus, the Georgia Aquarium just celebrated its 10th anniversary, contributing $1.9 billion to the state's economy over the last decade.
The $200-million, 1.1-million-square-foot Ponce City Market, originally built in 1925 as a Sears distribution center, is drawing national attention to the Old Fourth Ward neighborhood along the Atlanta BeltLine. The largest adaptive reuse project in the city's history, it features national retail, local boutiques, a food hall, 259 residential units and more than 517,000-square feet of office space. Already, athenahealth, Cardlytics and Twitter have located there.
Further north, in Doraville, The Assembly mixed-use project is starting to come out of the ground. Located on the former GM assembly plant site, the 165-acre development will include Third Rail Studios' 270,000-square-foot film and TV studios and a Nissan car dealership along with other retail, restaurants and film-related companies.
Another area that has gotten a lot of attention lately is technology. Atlanta has been billed as the healthcare IT capital of the country, and when it comes to financial services, most of the nation's credit card transactions flow through the metro area. Tech is big business – particularly in North Fulton.
"The city of Alpharetta has done a really good job of branding itself as the technology center of the south," says Hanlon.
Financial software maker Fiserv is adding 500 jobs to a new 378,000-square-foot campus in Alpharetta and is consolidating operations from six offices in Gwinnett County. Halyard Health, a spinoff of Kimberly-Clark, recently moved into its new 174,000-square-foot headquarters just a few miles up the road from Kimberly-Clark's Roswell campus.
This region has long been a prime destination for corporate headquarters. CEOs like the ready availability of executive housing and the abundance of office space. More recently the region has started attracting a wealth of high-end retail and mixed-used development, such as Avalon, which opened on Old Milton Parkway and Ga. 400 in 2014.
In fact, Atlanta's office absorption – how much rentable space is filled – reached 4.8 million square feet in 2015, the highest annual total since 2000, according to a report by Colliers International.
"I think you'll see a couple of office towers, maybe two, built in North Fulton," says Al Nash, executive director of the Development Authority of Fulton County. "This year you'll see an eight- or 10-story building coming out of the ground at Avalon. You will see maybe an office building in Sandy Springs and certainly maybe one or two will pop up around Midtown."
Another successful industry has been the ever-growing number of film productions that have come to Georgia. Fueled by generous tax credits, the state and particularly Metro Atlanta has become very much the Hollywood of the South. Last year, Georgia was home to 248 film and television productions that produced $6 billion in economic impact.
In the beginning, most of these productions came to town, filmed scenes and went back to California. No more. A number of permanent studios have sprung up recently – most of them on the south side of town.
From EUE/Screen Gems in Fulton County to the burgeoning campus of Pinewood Studios in Fayette County, the growth of film production has enabled people in the industry to make the region their permanent home.
"What you get are various craftspeople who may only work a couple of days on a production because what they do is so very specific," says Cunningham. "But the industry is big enough that having them located just in Hollywood and New York isn't enough anymore. They are locating in Atlanta."
DeKalb County is reporting an increase in interest for both expansions and new companies locating there. "We have a really diverse and talented workforce and easy access to employment center locations throughout the county," says Ray Gilley, president of Decide DeKalb Development Authority. "So companies in the healthcare and biosciences are attracted here because of Emory and the CDC as well as the VA Center and other healthcare-related institutions."
Developer Seven Oaks is capitalizing on that interest with 4004 Summit, a $140-million, 15-story speculative office building in Brookhaven on Ashford Dunwoody near I-285.
In Cobb County, there's SunTrust Park, the new Atlanta Braves baseball stadium now rising in the Cumberland/Galleria area. The surrounding district will include restaurants, retail and an Omni hotel, along with a nine-story office tower that will house 1,000 Comcast employees.
"We always knew that growth would be coming, but what is surprising is how quickly that growth is coming," says Malaika Rivers, executive director of the Cumberland Community Improvement District.
With 20 counties in the region, Metro Atlanta is not just large, but diverse. While growth is beginning to take hold everywhere, its impact has not been even. Many outlying counties still see a daytime flight of workers. Fully 78 percent of Cherokee County workers leave to work elsewhere – usually closer to Atlanta.
"While that's supporting the Atlanta region, it makes us a bedroom community, and we want to be a more self-sustained community," says Misti Martin, president of the Cherokee County Office of Economic Development.
Local leaders have been working hard to attract new business and industry, including the recent announcement that Papa John's International will be locating a $15-million regional production and distribution center in the county to supply 400 Papa John's stores across seven states. It's only the 11th such facility in the country and will add 106 jobs to the community. And Jaipur Living Inc., which makes home goods like rugs and pillows, is investing $22.3 million to relocate its Atlanta area headquarters to the county's Cherokee 75 Corporate Park.
Elsewhere in the region, sports equipment and supplies company Mizuno USA consolidated and moved its distribution and manufacturing operations into a new 520,000-square-foot facility in Barrow County in August, employing 160, and aluminum systems supplier Constellium is establishing a $32-million facility, adding 150 new jobs. In Carroll County, Sugar Foods is undergoing a $31-million expansion that will add 100 jobs.
Walton County will welcome commercial vehicle equipment manufacturer Mas- terack to Social Circle, which will bring 75 jobs to the community. Batchelor & Kimball Inc., a commercial HVAC contractor for hospitals, laboratories, data centers and other large facilities, will be building a $5-million, 100,000-square-foot facility that will employ 75 people.
In Douglas County, Google is investing $300 million to expand its data center – one of only 13 in the world – adding 25 jobs. And Keurig Green Mountain is opening its first ever cold-pod manufacturing facility in Lithia Springs with plans to add 500 employees and invest $337 million over the next five years. And down in Fayette County, Osmose Utilities Services will be building its new headquarters in Peachtree City, creating 100 jobs.
Butts and Spalding counties worked together to bring a 1-million-square-foot, $85-million Dollar General distribution center, which will straddle the county line. Construction will begin later this year on the facility, which will create more than 500 jobs.
Gwinnett County is seeing businesses announce new projects and expansions at a fast pace.
"We've had a really strong year with a lot of advanced communications companies and technology companies," says Masino.
In the beginning of 2016 alone, Baxalta subsidiary BioLife Plasma Services opened a $7-million plasma collection center, creating 50 new jobs; Incomm announced a $20-million expansion that will create 120 new jobs; corporate investment company Conway Inc. announced it is adding 50 employees in 2016 to its Peachtree Corners location; and Shake-N-Go and Model Model hair expanded into a 100,000-square-foot facility in Duluth with plans to hire 100 employees over the next five years.
These joined companies like cable provider Comcast, which also consolidated operations and added 100 new jobs in the area. In 2015, Ningbo Huige Outdoor Products Co., Kraiburg TPE, Level 3, SELF Electronics USA Corp., US Go Goal, Tech-Long USA and Linhai Powersports among others all announced new locations or expansions in the county. And solar cells manufacturer Suniva announced a $96-million expansion that will create up to 500 jobs.
All these announcements refute the idea that companies are leaving suburban locations like Gwinnett for downtown, according to Masino. It's also is a telling sign for the Metro Atlanta region as a whole that more positive news is on the way.
Read About Individual Regions: