Hope on the Horizon
Immunotherapy can help fight cancer by working with the body's own immune system, and some of its top researchers are right here in Georgia.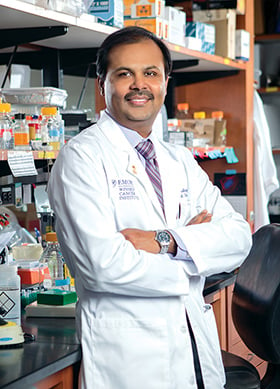 When former president Jimmy Carter learned last summer that he had stage IV metastatic melanoma, the prognosis was grim. An often-deadly form of skin cancer, melanoma had spread to his liver and brain, a situation that could have been quickly fatal.
Thanks to a new type of treatment called immunotherapy, however, Carter announced last December, after nearly six months of treatment, that he was cancer free.
After decades of research and development, immunotherapy has joined surgery, radiation therapy and chemotherapy to become the fourth treatment modality for cancer, says Samir Khleif, M.D., director of the Georgia Regents University (GRU) Cancer Center in Augusta, one of the largest immunotherapy centers in the Southeast.
Unlike traditional chemotherapy drugs, which are designed to kill cancerous cells (and often kill many healthy ones in the process), immunotherapy works with the body's own immune system to rid the body of cancer.
The immune system helps protect your body from infections and communicable diseases. Whenever some new germ arrives on the scene, alarm bells ring and the immune system attacks it. The body does the same thing with cancer cells, although it's a tougher challenge since these cells often mutate and grow out of control.
The immune system doesn't always recognize these cancerous cells as foreign to the body, however, and therefore doesn't attack them, allowing the cells to continue to proliferate. The concept behind immunotherapy is to provide a way for the immune system to recognize cancer cells for what they are and strengthen its response so that the body can successfully destroy them.
"We all have [an] innate ability to reject any foreign protein in the body, and that is what the function of the immune system is," says Suresh Ramalingam, M.D., deputy director of the Winship Cancer Institute of Emory University, where Carter received treatment, and director of its medical oncology and lung cancer programs. It helps rid our bodies of bacteria, viruses and abnormal cells that would grow uncontrolled and make us sick. "But what cancers do is find ways to evade the immune system so they can grow in an uninterrupted and unimpeded manner."
The concept of immunotherapy has been around for decades, but it's only in the past few years that a new class of drugs has successfully moved through clinical trials and been approved by the FDA.
"For a number of years, research has focused on how the cancer evades the immune system and how we can overcome those mechanisms that cancer cells use," says Dr. Ramalingam, who also serves as assistant dean for cancer research for the Emory University School of Medicine. Immunotherapy rethinks that approach.
---
Early Success
Each year, 3.5 million cases of skin cancer are diagnosed in the United States. Roughly 70,000 of those are the deadliest kind of skin cancer, melanoma, and of those diagnosed with melanoma, nearly 10,000 will die from it.
Before the introduction of immunotherapy drugs, someone diagnosed with metastatic melanoma was given an average of six to 10 months to live. Now, people are living double or even triple that.
The first immunotherapy drug, ipilimumab (brand name: Yervoy), was approved by the FDA in 2011. Two more, pembrolizumab (brand name: Keytruda) and nivolumab (brand name: Opdivo) followed in 2014.
So far, studies have shown that 30 percent to 40 percent of patients with advanced melanoma will have a good response to these types of drugs, and 30 percent will be long-term survivors. Compared to the near-certain death sentence for anyone diagnosed with this type of cancer in the past, these statistics give hope to those fighting it today.
Immunotherapy drugs are given as an IV infusion in the physician's office or hospital, usually every two to three weeks.
Along with radiation and surgery for the liver tumor, Carter was given four doses of Keytruda. In December, he announced that he was cancer free, though he continued to receive Keytruda every three weeks through February.
Not everyone with advanced melanoma responds as dramatically as Carter, says Len Lichtenfeld, M.D., deputy chief medical officer for the Atlanta-based American Cancer Society. "We should recognize that those are patients with the most advanced disease," he says. "Some of them respond for a short period of time, but some respond for a very long period of time and are able to go about their work and live their lives in a meaningful way."
All three of the drugs target a specific type of protein, called a checkpoint inhibitor, that acts like an off switch for cell growth, so that the immune system recognizes the cancer cells it would usually overlook without the medication and destroys them.
"By using these new agents … tumors respond to treatment, the immune system starts to attack the tumor and you see patients getting better," says Dr. Ramalingam.
Experts say this improvement may come with less risk than current chemotherapy agents. While this class of medication can have serious side effects – namely activation of the immune system so that it attacks healthy tissue in some people – generally the drugs have been shown to have fewer side effects than chemotherapy, says Dr. Lichtenfeld. "Most patients report that they can go about their daily business with a little fatigue, but otherwise do very well."
---
Who Benefits
While immunotherapy has shown success with types of cancers that did not always respond well to traditional treatments, such as melanoma and lung cancer, researchers are now working to understand which other types of cancer respond best to this new kind of treatment.
"Right now the drugs are approved for the treatment of melanoma and lung cancer, but there are a number of trials going on to see how effective these drugs are for many different cancers," says Dr. Lichtenfeld.
"While melanoma has had a lot of focus, one of the surprising things that happened is we have found a number of other cancers that respond to these drugs," he says. "We have seen responses to breast cancer, ovarian cancer, head and neck cancer and other cancers."
In fact, Opdivo was approved in November 2015 to treat patients with advanced renal cell carcinoma, a form of kidney cancer.
In addition to learning how different cancers respond, researchers also want to know which patients are most likely to benefit from the drugs.
"There are some early indicators that patients whose tumors have a lot of mutations seem to respond better to immunotherapy," says Dr. Ramalingam. "We have also seen [that] lung cancer patients whose cancer is directly related to smoking cigarettes respond better compared to patients who have never smoked cigarettes in their lifetime. We think that the more cigarettes one has smoked, the more mutations the tumor has and therefore there are more opportunities for the immune system to recognize and attack the tumor."
It also appears that older people may respond better than younger people to immunotherapy drugs for the same reason – their tumors tend to have more mutations. Some experts believe that Carter's age (91) may have played a role in his treatment success.
Mutations, or permanent alterations in the DNA of tumor cells, often produce molecular markers on the surface of cells that announce their presence to the immune system cells. The more of these molecules on the cells' surfaces, the more likely the immune system is to see them.
"If the immune system does not see a target, then it doesn't respond to it. So in the mutated tumors, there are more opportunities for the immune system to find the target," says Dr. Ramalingam.
"Those are some hypotheses," he says. "We still don't know to the full extent why some cancers respond and some don't, but we still have more work to do."
---
What's Ahead
Ongoing and future work will involve investigating new pathways, exploring combinations of new and existing treatments and predicting who is most likely to benefit from treatment.
"The reality is we are still very much at the beginning of understanding what cancers will respond and how to use these drugs best," says Dr. Lichtenfeld. "We are just now beginning to answer the question of how they are going to work with some of the more traditional forms of treatment that we have available."
The development of these immunotherapy drugs has opened up a new avenue for researchers to study other ways to guide the immune system's response to cancer. Both Emory's Winship Cancer Institute and GRU's Cancer Center are involved in research looking not only at new mechanisms for immunotherapy, but also at ways of using existing immunotherapy drugs together or in conjunction with other types of cancer therapy.
In January, a Georgia State University researcher, in collaboration with the Winship Cancer Institute, received a $792,000 grant from the American Cancer Society to study how to use radiation to enhance the body's response to these immune-based therapeutic approaches, specifically in relation to colorectal cancers.
While Dr. Ramalingam anticipates that more immunotherapy agents will be available within a couple of years, he says Emory's focus is largely on which patients this treatment will work for before the person even begins treatment. "There are a number of these agents that are available in the clinic now for routine use or in the research setting," says Dr. Ramalingam. "The question is how do we use them judiciously, and for that we're doing a lot of work at Emory."
By mid-2016, the GRU Cancer Center expects to have 35 or more clinical trials of immunotherapy agent combinations, says Dr. Khleif. "We have multiple different trials that have a multiple-strategy or single-strategy approach toward either boosting the immune system or breaking down the defense of the tumor."
For example, one clinical trial is testing a vaccine to enhance the immune system's response to prostate cancer, the second most common cancer in men around the world. Clinical trials are also underway to use Keytruda as a treatment for solid tumors and blood cancers like Hodgkin's lymphoma.
Another trial, which combines immunotherapy treatments to treat brain tumors in children, is drawing patients from the University of Texas MD Anderson Cancer Center and St. Jude Children's Research Hospital in Memphis. Trials underway or beginning soon at the GRU Cancer Center include those focused on breast, prostate and brain cancers. Another combines radiation therapy with immunotherapy for pancreatic cancer, says Dr. Khleif.
While trials and experimental therapies are available only through academic centers, the three FDA-approved agents are available for general use, although they really need specialized people to administer them, says Dr. Khleif, which is why they are administered at a physician's office or hospital and not self-injected at home.
Not only that, these drugs are very expensive and must be used as approved by the FDA to be covered by a patient's insurance. Keytruda, for example, costs $12,000 per month or $150,000 per year per patient.
---
A Cancer Cure?
While research promises to answer many questions about which therapies or combinations of drugs and other therapies will prove most effective for certain cancers, doctors say immunotherapy is already proving to be a life-enhancing or life-saving option for many patients.
"There are people who are alive today because of immunotherapy who would not have otherwise been, so the promise of these agents is real and it is already making an impact for patients," says Dr. Ramalingam. "We believe that at least a subset of patients can be cured with immunotherapy."
This cure – if it turns out to be one – has been a long time in the making, and it still has years to go before doctors know just how effective the therapies will be and if those effects will be permanent. "I think it's fair to say that the research that led to the drug Carter received had its roots back during his presidency," says Dr. Lichtenfeld.
"[His story] emphasizes how long it can take for cancer research to produce improvements in cancer care. We must never lose sight that it's a long journey," he says. "President Carter serves as an excellent example to remind us of that message."