Growing with Enthusiasm
Reinhardt University is adding world-class facilities and faculty along with programs to support careers in high-demand fields across the state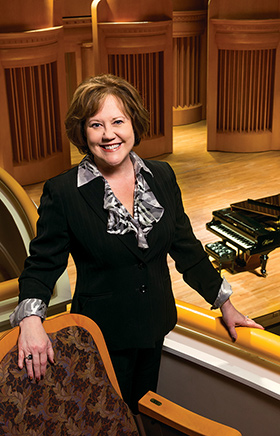 There's a spot in North Georgia where some 1,600 people – students, faculty and staff – get to learn, work, play and serve others in what they refer to as University in the Park because of its beauty and tranquility. While it's been a bit of a secret due to its Waleska location in the foothills of the North Georgia mountains, Reinhardt University is coming out from behind the trees. It's growing like the kudzu that covers the south – but in a much more strategic fashion – so it won't stay secret for long.
Reinhardt, founded in 1883, is a small, liberal arts Methodist college with 40 areas of study and 1,400 students. Kina Mallard, Reinhardt's new president (she officially started last spring and will be inaugurated this month) is one of the lucky ones who now calls the campus home.
When she began thinking about stepping up to a presidency, she made a list of what she was looking for. "On the list was a small, private, liberal-arts college … one rooted in the Christian faith … that valued student success above everything else."
With her first look at Reinhardt, it hit all the points on her must-have list, plus a bonus for her. She was swayed by "the performing arts program," she says, "because I majored in theater. I just have a love for the performing arts, especially for theater. And most small private colleges are cutting their arts programs; they're not enhancing them. So when I saw the Falany Performing Arts Center and saw all the programs and the direction they were moving, I thought, 'this might be a good fit.'"
And she was right. "It has felt like home since the day [I] stepped on campus," she says.
---
All the World's a Stage
If performing arts is what Mallard wants, she's got it in spades today. In fact, she says, "Performing arts is a marquee program."
The School of Performing Arts is the fastest-growing school on campus. It includes majors in music education, music performance, sacred music, musical theatre and theatre.
New Dean of Performing Arts Frederick Tarrant cites several reasons for the growing programs. "There was already a thriving instrumental and orchestra program," he says about the decision a few years ago to "really grow the vocal and theater areas."
That decision coincided with the opportunity to bring on several performing arts faculty members at one time, which "created a suddenly much larger school. There was a significant influx of new students and faculty all of a sudden. And so there's a critical mass now. We have about 130-ish music majors and on top of that 15 or 20 [theater majors]. The first graduating music class 10 years ago, there were about seven music majors. So it's been phenomenal growth in a decade."
Mallard is quick to credit Tarrant, despite his being new to Reinhardt. "I think Fred's enthusiasm is what you'll find all across campus."
It takes more than enthusiasm, however, to grow a department. It takes the right people in the right place at the right time, including two other newcomers: Brian Osborne, the director of musical theatre, and Ann Deisler, coordinator of music education studies.
"We had music educator professors before, but we didn't have a director who worked directly with the school of education," Tarrant says about Deisler. "There are so many state regulations and issues for accreditation that having her, an expert in the various things you have to do in order to get teacher certification, that's already making a huge difference for us."
Another area that's soaring is the choir program, thanks to Martha Shaw, who joined the faculty four years ago. "She's really trying to build the choir program from the ground up," Tarrant says. "We're going to be a powerhouse in choral music. And having Dr. Martha Shaw, a nationally known choral director, as our director of choral activities, I think is a huge boon to our recruitment and to the quality of arts that we put out."
Shaw was one of the reasons junior music ed major Shelby Trotta decided on Reinhardt. "I heard about wonderful things that were starting to happen. I have a friend from high school that ended up transferring here. I kept hearing good things about her experiences here and the wonderful Dr. Shaw," Trotta says. "I'm so excited to be under her baton."
Where will all these new people and programs lead? "I want us to be the best we can be as artists," Tarrant says. "I don't have goals about numbers. I want us to be the destination school where people from the region and outside want to come for a unique, family environment in the arts."
---
A Unique Niche
While Tarrant's focus – and even the president's eye – may be turned to the performing arts, that's not the only growing area. Reinhardt's adding both a nursing program and a cybersecurity program.
"Presidents of small colleges now have to continually be looking at programs that are going to bring in students who would not have chosen your school if it was not for the program," Mallard says. "Nursing [and] cybersecurity will do that for us."
She goes on to list some of the reasons these two programs will be appealing when stacked up against similar, more established programs at other schools.
"One of the things we have is a unique location. Fulton County has made it a priority to bring in technology industries," she says about the county next door to Reinhardt's Cherokee County location. "When I first got here, I met with Brandon Beach [state senator and leader of the Greater North Fulton Chamber], and he talked about the need for cybersecurity."
The school is on track to start the cybersecurity program this fall. "It seems to be an industry need, which we're always trying to do, but also something that we could do with the resources that we have," Mallard says, adding that the school's cybersecurity professor has already written two textbooks on the subject. "To have an expert who not only studied it, but has written about it and other people are using her textbook gives us a unique niche."
The new nursing program, in partnership with Northside Hospital, will also build on the expertise already on campus. "We have such a strong science program already and pre-nursing program," Mallard says. "As I get older and have to visit the doctor a little bit more and take my mother to the doctor, I want healthcare professionals who can think critically and who can solve problems."
And Reinhardt, she says, is the place where nursing students will get that kind of education and more. "We also have a wonderful culture of service. So I envision medical missionary trips and lots of working with nonprofits in the area with healthcare screenings and that kind of thing. I envision a strong service component."
To ensure the campus keeps up with the growth, a new $39-million master plan for facilities has been developed and a strategic plan is in the works.
With the growing performing arts, it's no surprise that Mallard lists a new theater building as the most pressing need right now. But other facilities are also part of the plan, including a residence hall.
"We've outgrown our dining facilities," she says. "We've outgrown our football stadium already. So building seating on the other side of the field from where we have current seating is also part of the plan."
With the new nursing program coming online, a new facility to house the program is much needed as well, but it isn't "even on the main campus master plan, because this has all come together with Northside very quickly," she says, adding that they may need to phase it into the larger strategic plan if and when potential donors come forward.
---
On the Horizon
Like universities everywhere, Reinhardt has challenges that Mallard is looking to address, including student retention. "It's a puzzle to me really. It seems that we should have all of the pieces in place for students to stay," she says. "Our retention this year from fall to spring was up 4 percent. It was almost at 92 percent. We've never hit 90 percent before, so we're doing the right things."
And there's other ideas in the works that should help raise that number even higher. "We have a pre-nursing program that has 35 students in it," she says. "They come in knowing after their sophomore year they're going to transfer because we haven't had nursing before. So now they'll be able to stay."
They have also restructured their scholarships to invest more in retaining higher academically achieving students. And Mallard is starting a women's leadership program in the fall that will include an academic scholarship. "We are one of the few private [colleges] that have a higher percentage of men than women. We're about 60 percent men," she says.
She's quick to add that while the scholarships will be awarded to women, the program itself is for everyone. "We will have speakers and events for all of our students. It's a very intentional new program to try to bring in not only high academically achieving students but women in particular."
Mallard's to-do list just keeps getting longer, but that's okay with her.
"The phrase 'Reinhardt on the move' keeps coming back, because there is such great momentum here. It is what any president would hope for," she says. "I like to say that Dr. Isherwood, who was the president before me, he built this wonderful table. I get to come after him and build the feast on it."