Four for the Future
From the mountains to the coast, four communities are finding creative solutions to local challenges.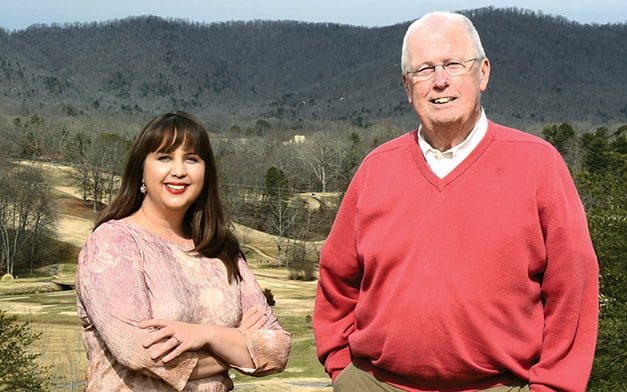 Across the state, communities both large and small often need resources and expertise that aren't available locally to create and implement positive change that citizens are eager to support. Many times those communities call on the University of Georgia's Public Service and Outreach (PSO) division – it's all part of UGA's mission as a land grant university.
This year, the fourth in a row, the PSO and Georgia Trend magazine have recognized four communities that have worked across public-private sectors and nonprofit boundaries on initiatives that have the chance to improve the quality of life for their citizens. From a rebranding effort designed to entice entrepreneurs to the mountains to mitigating the impact of flooding along the coast, these partnerships show what happens when effective collaboration, strong leadership and innovative ideas unite for a larger common goal.
"The public-private partnerships recognized this year exemplify the land- and sea-grant mission of the University of Georgia," says Jennifer Frum, UGA vice president for public service and outreach. "These four communities have tapped into the vast resources of the university to address critical challenges and position themselves to attract industry and jobs that will lead to a more prosperous future for the state of Georgia."
---
Blairsville and Union County
Don't Stop Believin'
Deep in the heart of the Chattahoochee National Forest, amidst North Georgia's Blue Ridge Mountains, Blairsville and Union County easily attract visitors interested in hiking, horseback riding, 80 miles of Appalachian Trail, waterfalls, golf, fishing, whitewater rafting, even ice climbing.
There are also reasons to make it home. A comprehensive rebranding effort completed in August 2015, led Blairsville, Union County, the Blairsville-Union County Chamber of Commerce and the Union County Development Authority to focus on drawing entrepreneurs, small business owners and young families to the area.
"Most of the focus prior to the economic downturn had been in tourism," says Patrick Malone, interim chamber president. "Now the focus is on more stability, reaching very specific types of businesses. The lean is toward bringing young entrepreneurs to visit and start their business here. This is a great place to be outdoors, grow a business and raise a family."
Malone, raised in Ohio, chose the South as home and knows that the vast recreational assets that bring visitors to the area can also motivate folks to start businesses and move their families there. He hopes peoples' reaction is "Let's see it to believe it."
The rebranding study gathered input from more than 500 residents and produced a new logo and tagline: "Believe It."
"The project with the University of Georgia was an exciting process," says Tobie Chandler, director of tourism at the chamber. "We also enlisted help from the community to assess our assets and together saw a need for a change in dynamics and added dimensions.
"A perfect central location, Blairsville is two hours from everywhere – Atlanta, Chattanooga, Knoxville, North and South Carolina," she says, "and it's an area with city amenities in a mountainous setting."
Native Lamar Paris, the sole commissioner for Union County since 2001, tips his cap to UGA's Carl Vinson Institute of Government Director Laura Meadows and her team for recognizing the area's commitment to preserve heritage and grow simultaneously.
"We're a little off the beaten path, but there are many reasons to live here," says Paris, citing low tax rates, top-rated schools, an airport and quality healthcare, in addition to quality of life. And there is industry: Corrugated Replacements, Panel Built and Advanced Digital Cable all call Union County home.
Paris thinks it critical to create opportunity for those who were born and raised here to return and believes "there is just no reason not to live here."
"We want to create a reputation as a rural community with high-quality living standards and appeal to varied target audiences," says Mitch Griggs, Union County Development Authority director. "This is an unbelievable community with opportunity for the young entrepreneur with a growing family and for the mature business owner who may want to relocate for personal reasons."
Among Union County's immeasurable assets are its leaders, some with homegrown dedication and some who came to Georgia and loved it too much to leave. As for the future success of the efforts to draw young families and new business to this beautiful place, there is just no reason not to believe. – BS
---
St. Marys
Planning for Higher Sea Levels
Long-term planning – it's not a phrase government officials utter much anymore. The general feeling is we're all so busy and our attention spans so short that long-term solutions to public problems are a hard sell. But in St. Marys on the Georgia coast, leaders are bucking the trend with a focus on long-term planning that will benefit the children and even grandchildren of today's residents.
"It started when Georgia Sea Grant came," says Michele Wood, St. Marys floodplain manager.
Georgia Sea Grant (GSG) is a University of Georgia outreach program that offers research and education to the state's coastal communities to encourage citizens to be good stewards of resources while supporting both sustainable economic and population growth.
"When [they] first came here, it was to look at sea rise in the future and how we can minimize the effects on our city and critical infrastructure," says John Holman, city manager.
St. Marys' location on the St. Marys River makes it one of the most vulnerable cities in Georgia to flooding, sea-level rise and storm surges. In 2013, UGA helped identify specific facilities and infrastructure in town that are especially vulnerable and made recommendations for how to shore up those areas.
"If you look at that modeling that's being done by the Sea Grant folks, you'll see that a lot of our infrastructure is going to be coming under stress if we have the level of sea rise that's anticipated," says Jeff Adams, the community development director.
Out of the Sea Grant's research has come the adoption of a Flood Damage Prevention Ordinance that codifies higher-than-minimum standards – two feet above base flood elevation – for development within the flood hazard areas.
"Base flood is the elevation that water would reach at a 100-year flood rate, that one chance out of 100 where that flood's going to rise to," says Mayor John Morrissey. "You have to build two feet higher than that … if you're in that flood area."
The second part of this project has to do with getting the word out about flood hazards so that people can make informed decisions about protecting themselves and their property. UGA is working with the city to create Georgia's first Program for Public Information (PPI), which will guide the steps the city takes to educate citizens. Some things are already in place, with other communications to come.
"We just launched a new city website that's much more versatile. We have a Facebook page. We'll be using social media to make sure the younger generation is also included," Morrissey says.
Thanks to the education of its citizens and steps like the new base flood elevation ordinance, city residents will see their flood insurance premiums reduced by an average of $107 a year, starting this year.
But that's just the beginning. The information and reports from Sea Grant research are also informing the master plan the city is working on, guiding questions and conversations.
"As we define areas for growth in the future, do we really want to put certain kinds of structures or certain kinds of businesses or homes in areas that are more vulnerable?" Morrissey asks. It comes down, he believes, to getting developers and homeowners to think about how their projects will impact the next generation – the people who will inherit whatever is developed today. – KK
---
Statesboro
Women Leading Women
In the U.S., women make up about 50 percent of the workforce but take in only about 78 cents for every dollar a man earns. Women also sit at the top of far fewer companies, organizations, universities – anything you can name. In Georgia, the gender disparities are even greater. Though women make up 47.8 percent of the workforce, there was only one woman heading up one of the state's top 50 public companies, as of last year.
An organization in South Georgia, the Lynda Brannen Williamson Foundation (LBWF), is trying to turn those stats around by giving women a leg up on the ladder to success. The organization was founded to honor local business and civic leader Williamson, who died of cancer in 2014.
"I was driving home from work one day, and I just thought about the fact that we don't honor people that we love who have accomplished great things while they're living," says Statesboro mayor and vice president of LBWF Jan Moore, about the creation of the foundation. "We wait to honor them when they die. So I called Lisa [Lee] and I said, 'Lisa, what do you think about going ahead and setting something up that honors this completely extraordinary and unusual person … that she can see before she dies?'"
Moore and Lee, the president of LBWF, took the idea of a foundation to Williamson in the summer of 2014. They asked her what she thought of the idea and what she thought would be a fitting legacy.
When they met with her again just a few days later, she had a list of names of people she wanted on the board, she had a mission statement and she had a vision for what she wanted the foundation to be – one devoted to the development of servant leaders that would include mentoring and leadership training for women.
Williamson passed away in November 2014, but her legacy lives on in the burgeoning foundation that in 2015 kicked off the Women's Leadership Academy in partnership with UGA's J.W. Fanning Institute for Leadership.
"I think when you're dealing with somebody's legacy and knowing what she meant to us, knowing what she meant to our community and our region, it gives you a little bit more of a push to get things done and to get them done the right way," Lee says of the quick timeline of the academy.
"Every session outdoes the other one," says Reagan Daly, general manager at Statesboro Magazine and an academy participant. "I've done several leadership programs, and this is the best one I've done so far." And part of that, she says, is because it's all women. "There was a sense of a safety net there. We established trust among each other early on."
The first class has 16 women from all walks of life – an electrical engineer, an insurance salesperson, a CPA and more – and from across several Southeast Georgia cities. Faculty from the Fanning Institute helped design the curriculum for the academy, which includes an assessment of individual leadership styles, career development, tools for effective leadership and a day at the Capitol, where the women heard from several women in government leadership roles. In addition, each woman has been paired with a mentor. At the end of the yearlong program, the goal is to ensure women have the skills, tools and network to maximize their leadership potential.
"I feel like women are typically seen as the doers and not the leaders, when we are actually incredible at both doing and leading," Daly says. "That's why women's leadership training is so important – so we learn and empower ourselves to do both." – KK
---
Americus and Sumter County
A Firm Foundation
Like a phoenix rising, Americus and Sumter County are turning tragedy into triumph through a number of community collaborations focused on leadership development.
"It was the aftermath of the tornado that devastated much of the community in 2007 that forced us to take a critical eye to our community by rebuilding the foundations and leveraging the assets that remained," says Barbara Grogan, executive director of the Sumter County Payroll Development Authority and Chamber of Commerce. "It was through that strategic approach to partnerships and collaboration that led us to realize we needed to not only invest in our built structures, but it was also essential that we leverage that same level of investment in our people."
Beginning with the Archway Partnership in 2008, Sumter County leaders set about forging collaborations as a way to spur and support economic development. The Archway Partnership is a University of Georgia outreach program that brings local stakeholders together to work for the betterment of their community.
"Change does not happen in silos or accidentally. It takes thoughtful planning across years, organizations and individuals," Grogan says. "It's an investment in our future and one we believe will pay untold dividends in the months and years to come."
In 2013, the Archway Partnership launched the Advancing Sumter Leadership Institute, with program topics such as understanding community leadership, effective communication, valuing community diversity and managing conflict.
Building upon the success of Advancing Sumter and recognizing the need to focus not only on leadership skills development but also on the community's larger workforce development priorities, the Sumter County Chamber of Commerce invested in a year-long pilot initiative called GeorgiaLEADS.
"Over the past year alone, well over 100 community stakeholders committed over 400 volunteer hours to focus on various portions of our strategy," Grogan says. "The strategic intent of growing and expanding the community, with deliberate focus on leadership development, brings many voices to the table, providing endless possibilities for Sumter County."
Through these efforts and other strategic partnerships, the community is building a leadership pipeline to support the renaissance of Sumter County.
"In terms of what we have identified we want leaders to do as the result of their leadership experience, the answer is simple – serve, get involved, give back," Grogan says.
Engagement and leadership are also at the heart of Americus' recent participation in the Georgia Renaissance Strategic Visioning and Planning (RSVP) program. RSVP communities work with UGA faculty and students to develop a strategy for downtown revitalization efforts.
Americus' involvement has included citywide beautification projects and an energy charging station for electric cars that has been installed at City Hall.
"In the next five to 10 years, I see the city of Americus expanding current resources as an entertainment hub, an educational hub, a commercial and industrial hub, a historical resources hub and a place where the citizens are proud of where they live, work and play," says City Manager Steve Kennedy. "A vibrant downtown with more shopping, eating and socializing options will be the foundation for sustained growth and related development."
Five years from now, Grogan envisions an Americus and Sumter County that is "vibrant, lively and impassioned – where civic leaders embrace creativity and change and work collectively to solve the difficult challenges that impact all of us." – JH