Westin Peachtree Plaza celebrates 40 years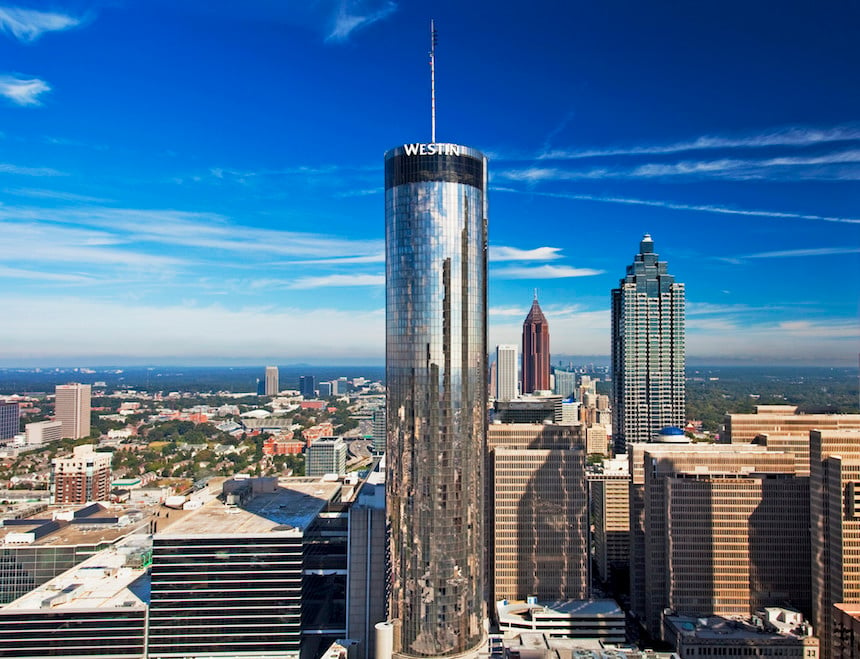 Close your eyes and picture downtown Atlanta's skyline. If you're like most folks, an iconic round, glass hotel will rise into your imagination like a beacon to announce you've arrived in the big city. The Westin Peachtree Plaza hotel, with its revolving Sun Dial Restaurant and Bar 72 stories up, has been the symbol of downtown since it opened on Feb. 27, 1976.
In 2016, the building celebrates 40 years of providing refined Southern hospitality to travelers – both tourists and businesspeople. As the structure settles into middle age, it is not resting on its laurels and continues to be an innovator in Atlanta and the hospitality sector.
"In 1976, the Westin Peachtree Plaza was Atlanta's tallest building at 754 feet until 1987, when it was surpassed by One Atlantic Center," says Ron Tarson, the general manager. "Today, the Westin Peachtree Plaza is the fifth tallest building in Atlanta and remains the tallest hotel in the Southeast."
In 2014, in anticipation of this major anniversary celebration, the hotel underwent a $70-million renovation that included the redesign of the lobby, all 1,073 guest rooms and the three-level Sun Dial.
The hotel has also incorporated "green" practices and developed a tour to show them off. "Last year, we launched the Green Tour, a behind-the-scenes look at the sustainability, conservation and environmental efficiency efforts at the hotel, to celebrate our promotion to Green Seal™ Silver-Level certification," Tarson says. Green Seal is a third-party, nonprofit organization that certifies products and properties as environmentally sustainable.
In recognition of the fact that others are also battling middle age or just trying to stay in shape, the hotel has launched innovative fitness options for groups and individuals. "We introduced 'I Climbed the Peach,' a stair climb for groups to race 73 stories to the top of the hotel," Tarson says.
And if that isn't enough to get your blood flowing, another new fitness program will roll out this year. "Bike Concierge encourages our guests to maintain their exercise regimen while out of town and explore Atlanta by cycling around the downtown sites," he says.
Here's to 40 more years of Southern hospitality, Westin Peachtree style.
Featured image of the iconic hotel courtesy of the Westin Peachtree Plaza.