Patience Pays Off
Since the '80s, Georgia has been focused on growing the pharmaceutical industry. Now we're a big player in the field.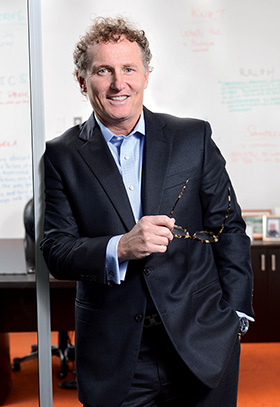 When you dive into the pharmaceutical industry in Georgia, it doesn't take long to realize that the many moving parts in this successful sector – from elementary school education to university research into animal and human therapeutics to venture funding for startups to a major win like Baxalta – can all be traced back to decisions made by state leaders in the late 1980s to grow this industry here.
"I would say that among the top reasons that Georgia is doing better and better in [the pharmaceutical industry] is it's something that Georgia has wanted to do for a long time," says Mike Cassidy, president of the Georgia Research Alliance (GRA), an organization committed to expanding research and commercialization capacity in the state's universities in order to launch new companies and create high-value jobs. "As a result of really wanting it to happen, [leaders have] been willing to make a lot of the right decisions and make a lot of the right investments."
Greg Duncan, president and CEO of Celtaxsys, a small drug company developing treatments for serious inflammatory diseases, agrees that those decisions have made Georgia the place for companies such as his.
"For the earlier-stage companies, there's a great scientific footprint here across universities," Duncan says, citing Emory, UGA, Georgia Tech and Augusta University. "There are a number of enabling bodies like the Georgia Research Alliance, which are set up to bring investment and expand that footprint. That whole equation – great scientists in the area, government enablement through focused investment and partnerships – is complemented by a number of things. You've got fantastic transportation; you've got fantastic access to great schools for your people; you've got great access to talent [in] specialties like HR, IT, finance, and this is a world-class business community. You really have access to anything you need."
The pharmaceutical industry in Georgia is a large part of the even larger life sciences/biomedical industry. According to the Georgia Department of Economic Development, as a state we exported more than $1.3 billion worth of medical devices, equipment and pharmaceuticals in 2014 – goods that are often not only manufactured here, but thanks to our top-notch research universities created here as well.
Another organization, Georgia Bio, with roots that go back even further than the '80s, also has a hand in keeping the state at the forefront of the life sciences industry. And today, both Georgia Bio and the GRA are helping fill a need that's been recognized for many years in the industry – lack of angel funding for early-stage research.
"Many of us involved in the industry recognize that we have this gap [in] early-stage funding – before companies are getting to the [venture capital] stage or the partnering stage, but maybe after they've raised grant funding or friends and family [money]," says Russell Allen, president and CEO of Georgia Bio.
To help fill that gap, Allen also manages the Biomed Investor Network, an angel (defined as very early-stage investors, often friends or family who invest in the person or an idea rather than a business) network for healthcare investment that just began investing last year.
"It has a national focus, early-stage investments in healthcare. We've closed five investments in our first year. We're about to close on the sixth. I'm aggregating the amounts, but it's over $1 million, probably close to a million and a half to companies that have presented to our network," Allen says.
It takes a special group of people, which is why they're called angels, to put their money behind early-stage medical research because the returns don't come in quickly. Years of testing and regulatory compliance can try the patience of even the most well-informed investors. But the payoff can be tremendous if a company develops a drug or therapy that can ease the pain and improve the quality of life for people with cystic fibrosis, cancer, rheumatoid arthritis and more.
"Several of the investments have been in pre-clinical drug candidates," Allen says. "You don't see angel groups investing in therapeutics very often. And again, that goes back to the understanding of the regulatory process and the technology. But we're fortunate to have people who do have that understanding and know the risks involved. But they also know the potential return."
The GRA also has a venture fund, GRA Ventures, and Cassidy is quick to agree that these investments take patience. "Venture funding for the biotechs is a critical need, and it is very, very hard to come by, particularly in the Southeast," he says. "Investors in a venture fund are looking for a return on their invested capital, and that does take time."
Since 2002, GRA Ventures has advanced to market 300 technologies via $22 million in multi-phase commercialization grants and provided $10 million in low-interest loans to 42 of those deemed most promising.
---
Sowing Seeds
GRA Ventures provides early-stage funding to companies that are also part of GRA's commercialization program – it's an essential part of the state's commitment to fostering startups in the pharmaceutical sector.
"In Georgia, unlike the Research Triangle and several other places that are noted as hubs for biotech development, we have historically been building more of our enterprise around startup companies." Cassidy says.
One such company supported by GRA Ventures is Duncan's Celtaxsys, which is developing treatments for cystic fibrosis and severe acne, among other orphaned (or rare) inflammatory diseases. It is on the brink – in the grand scheme of things – of going to market.
"In simple terms, what we do is we modulate neutrophils. Neutrophils are part of your host immune system, and on a good day, for healthy patients they fight infection," Duncan says.
But in patients with cystic fibrosis (CF), for example, the neutrophils can go into overdrive. "These patients have dehydrated lungs [that] serve as a perfect breeding ground for bacteria. Because they're constantly colonized with bacteria, the immune system sends neutrophils to the lungs to try to clear out the bacteria. The problem is the immune system goes into overdrive and can't shut itself off. By interdicting this process, we can dampen [a patient's] immune system to homeostasis, which is a more normalized response."
Again, patience is required of investors, scientists, CEOs and, of course, patients.
"We'll probably complete Phase III of cystic fibrosis [clinical trials] around 2019 or 2020," he says. "It's a long endeavor, but it could profoundly impact the main causes of morbidity and mortality associated with CF.
"We're a small company of 12 people," he says. "The fact that we as a group could change the standard of care for [people with cystic fibrosis] and extend both their quality of life and their length of life would be a wonderful achievement. It's a big responsibility, but we're pretty excited about it."
---
Landing the Big Fish
"As hard as we've worked and as good as the success we're having in launching early stage and startups, for a place to be recognized as a hot spot, it seems as though it takes a large corporate presence," Cassidy says. "It helps establish Georgia as a place that will be recognized as being a home for the industry."
In fact, everyone thinks that landing Baxalta (formerly Baxter), with its $1-billion investment and 1,500 high-paying jobs in Covington, is going to be a game changer for the state. And Baxalta just upped its game again. In January, the company announced that Shire, an Irish drug maker, would be acquiring Baxalta in a deal worth $32 billion that is expected to close the middle of this year. The resulting company will be the global leader in biotechnology focused on the treatment of rare diseases.
The purchase is not expected to change anything at the new plant, according to the media office at Baxalta. "Shire has expressed that they are very impressed with our manufacturing network, and in particular with our plans for growth at the Covington site," the media folks said in an email.
"Our airport is probably top among the reasons that a company like a Baxalta would want to be here," Cassidy says. "[For] any of these pharmaceutical companies, international [markets are] tremendously large opportunities for them, in particular Latin America. I think that's why you're going to see more and more of these larger pharmaceuticals establish a beachhead in the Southeastern United States. And certainly we're going to compete to make sure they're coming to Georgia."
In addition to the airport, Georgia's statewide logistics network – from rail to ports to interstates – is vital to securing not just other pharmaceutical companies, but any large company that must move products and people around, Cassidy says.
But it's not just our infrastructure that enticed Baxalta. "The products that are being manufactured there are really all about helping manipulate and amplify the human immune system to detect disease," Cassidy says. "[That] is clearly the strongest area of basic research across our universities. In time, as they begin to investigate the full set of opportunities here, we could well serve as a site for R&D for Baxalta or for other companies like them."
Whether Baxalta sets up an R&D facility in addition to its manufacturing plant or not, the benefits of the company establishing a home here will accrue to the state for years to come. Between the regulatory hurdles a facility like theirs faces – it can take a year or two just to certify the facility, Cassidy says – and the huge investment in the plant and personnel, Baxalta is likely here to stay.
While Baxalta will be the largest pharmaceutical manufacturing operation in the state once it's up and running, it isn't the only game in Georgia. Other companies with a large presence include Arbor Pharmaceuticals, Immucor, Merial, Mikart Pharmaceuticals, Noramco, Osmotica Pharmaceutical, QualTex Laboratories and UCB.
"It's a rather unique kind of industry to attract," Cassidy says, "because once you get it, it tends to stay planted for a long time. Economic developers are very interested in these kinds of opportunities because they stay planted, and they employ a very highly skilled and highly compensated workforce. It's really the kind of workforce we want to see developing here in our state."
---
Nurturing a Workforce
A workforce educated and trained for jobs at Baxalta was not only high on the company's list, it's also important to the state. In fact, it was so important that the government – meaning you and me as taxpayers – ponied up $14 million for the Georgia Bioscience Training Center (GBTC) that opened in September directly across from the Baxalta plant.
"It's almost one of a kind in the country," Cassidy says about the GBTC. "It will be used for Baxalta, but it's also going to be used for any other company that comes to town."
"Our Georgia BioScience Training Center was a part of landing Baxter," Gretchen Corbin, commissioner of the Technical College System (TCSG) agrees. But, she adds, it also sends an important signal to other similar companies that "Georgia's workforce would be the best workforce they could find anywhere."
The center is already training not only the 300-plus employees Baxalta has hired (its facility is scheduled to open in 2018 – patience required), but is also doing pre-employment screening through the TCSG's Quick Start program.
"Quick Start is nationally renowned for being a customized service to every employer it serves. So we of course put together training specific to Baxalta," Corbin says. "Every line is being trained on at the training center. It duplicates what is going on in the process across the street at [Baxalta]. Employees spend time in the training period and then walk right on over to be ready to manufacture on day one."
Training at the center may be Baxalta-focused today, but that won't always be the case. In fact, says Georgia Bio's Allen, "Having the BioScience Training Center there certainly can attract more manufacturing operations to the state and potentially to that site."
"We will be there for any bioscience companies that come into Georgia or existing companies as they expand," Corbin says. "We wanted to make sure we were meeting a need with our Georgia Bioscience Training Center, but also that we were making a statement of our commitment to the bioscience industry as a whole. We know that we've got some incredible assets here in Georgia. This is just one more that we will be shouting from the mountaintops."
---
UGA's Vet School Is So Much More
You might think that the College of Veterinary Medicine at the University of Georgia in Athens is all about helping Fido and Fluffy recover from hard-to-treat pet maladies. And you'd be partially right. They have scientists researching and treating diseases in small animals. But they also do so much more.
Scientists there are tackling bird flu, and their efforts not only help keep chickens and other fowl healthy but also impact the dinner tables and pocketbooks of fried chicken lovers across the state. Ongoing research at the college also crosses over from animals to humans in more direct ways, because the number of diseases we share, "pretty much all of the infectious diseases," come from animals, says Biao He, the Fred C. Davison Distinguished University Chair in Veterinary Medicine, who had never set foot in a veterinary school before being lured away from Penn State by UGA.
At Penn State, He was focused on developing vaccines for humans – and that's what he does to this day. But, he's found that by focusing on PIV5, a virus that causes respiratory illness in dogs (think kennel cough) but no symptoms at all in humans (though we can get it), he has been able to develop a platform for the delivery of vaccines that he thinks will head off diseases with more debilitating symptoms in humans, including rabies, HIV, influenza and more.
Ted Ross, the vet school's Georgia Research Alliance Eminent Scholar in Infectious Diseases, is also the director of its Center for Vaccines and Immunology, which is slated to open in May. While it may not be evident from his location in the vet school, like He, Ross is also working on human vaccines, including a universal flu vaccine that would put an end to those annual flu shots we all should have gotten over the winter.
"When you make a universal influenza vaccine for people, it could also work in pigs, it could work in chickens as well as turkeys." And that, explains Ross, is why the center will be housed in the vet school. They will be working on vaccines that "can be effective for both animal and human health."
While the research on a universal flu vaccine isn't complete yet, Ross is hopeful that one day this vaccine will be given like polio and smallpox vaccines are – one time or maybe once every five to 10 years – and will protect people and animals from whatever strain of flu pops up.
Lest you think animals are getting the short end of the academic stick in what is the vet school after all, a few minutes with Steve Budsberg, director of clinical research in small animal medicine, reminds you that there's big money in easing the pain of man's (and woman's) best friends. In fact, Americans spent $14.37 billion on veterinary care in 2013 alone. And at UGA's vet school, they are working to see that the money is well spent, with research into diseases like cancer and osteoarthritis, both big problems in dogs.
"The veterinary side is getting bigger and bigger," Budsberg says, which means that research is also getting bigger and bigger. "The dog and cat [osteoarthritis] pain market, it's between $300 and $500 million a year."
Woof! – Karen Kirkpatrick