One-Two Punch
With new education initiatives and more job opportunities on the horizon, the future of Georgia's logistics industry is wide open.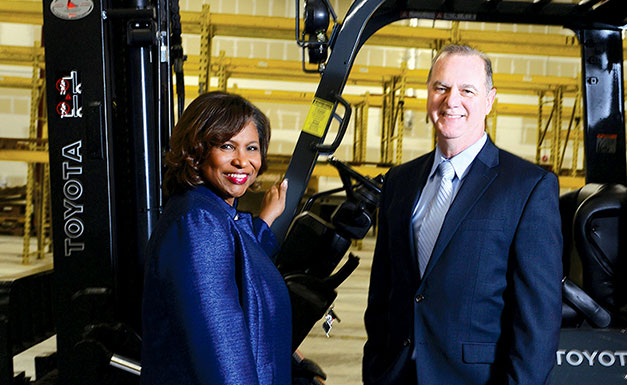 If you are looking for words to describe the state's $15-billion logistics powerhouse, you might come up with changing, growing, fast-moving or even challenging. And you would be right on all counts. By definition, an industry devoted to getting products from one point to another is not one that can or should stand still.
Logistics affects virtually every aspect of the business world, and it is the economic sweet spot where business, government and education interests work together to make sure Georgia retains its status – fifth among states in logistics employment – as an industry leader.
Perhaps best of all, there are job opportunities at every level and plenty more on the horizon.
"It's wide open, a growth industry and an educational interstate with multiple exits," says Ken Boyd, academic vice president at Savannah Technical College, where logistics programs are thriving.
Why all this activity in Georgia?
"We're in the catbird seat," Jannine Miller likes to say. "We have a corner-store location in the middle of the Southeastern United States, the fastest-growing region in the country."
Miller is the Savannah-based director of the Center of Innovation (COI) for Logistics, a part of the state's economic development department charged with helping the industry grow and prosper by providing expertise and research and encouraging partnerships.
"The industry is, literally, as big as all outdoors," Miller says. It helps, of course, if your outdoors includes a network of highways and rail lines, the world's busiest airport and the fastest-growing port on the east coast – all key advantages upon which the industry is building.
"In the world of logistics," Miller says, "it is all about moving things from Point A to Point B, but somebody at Point B has to want those things. … The gateway to all of this economic growth in the Southeast is Savannah and Atlanta, so you can get to that Point B marketplace and do it very efficiently from a time standpoint and a cost standpoint."
Georgia companies exported nearly $39.4 billion in goods and services to 227 countries and territories in 2014; imports to the state totaled $83.7 billion. All that coming and going of goods and services feeds the logistics industry.
The COI says more than 12,300 logistics providers in the state employ more than 160,000 people.
"From just about every angle," Miller says of Georgia, "we are the logistics/ cargo/freight hub and marketplace that companies come to not just because we have a great business climate for things like headquarters, but also distribution centers, manufacturing, processing plants and the like.
"Because we have such momentum going, so many companies, that aggregation of business opportunities for multiple companies, we provide efficiencies in movement of freight and rail."
Or, in more practical terms: "Whether you are pulling it from your own single company's stock or if you're amalgamating stock from many different companies because you are a logistics provider," she says, "the more cargo you can fit on a truck, the more cargo you can fit on a train, the more efficient that movement is and the lower the cost is. So we really have all of these moving parts working in our favor here in Georgia."
---
The Education Piece
The terms logistics and supply chain management are sometimes used interchangeably, but there is a difference. Think of supply chain management as the big umbrella under which logistics resides, along with marketing, purchasing and operations.
Clayton State University's Craig Hill, professor of supply chain management in the College of Business, offers this explanation: "Logistics is more the movement of products, the transportation of products and the warehousing of products – getting them from the raw material [stage] to the customer.
"Supply chain management is more the collaboration of entities within the supply chain to improve the way we deliver products to customers. That includes marketing, which is selling, all the way to purchasing, which is buying raw materials, and all the different entities within that supply chain. It's the coordination, focus and direction toward the market."
Georgia's technical colleges and the university system are integral parts of the logistics industry, working hard to prepare the next generations of workers.
"When you think of supply chain and logistics," says Atlanta Technical College President Alvetta Peterman Thomas, "although it is a field of study in itself, it crosses over in so many areas. Every major corporate entity that is a supplier of goods has some sort of intricate supply management system in place."
Savannah Tech's Boyd calls logistics "a very dynamic industry that has lots of parts to it," offering career opportunities in trucking, warehousing, freight handling, inventory management, shipping, delivery, customs, compliance, data analytics – and lots more.
"It's no longer just manual labor – loading and unloading trucks. It's very sophisticated," he says.
Thomas talks with enthusiasm about the "stackable credentials" at Atlanta Tech that include certificate programs and associate degrees in supply chain management – and, thanks to an articulation agreement, an opportunity for students to transition to Clayton State University for an additional two years of study to earn a baccalaureate degree or even a master's. "It's a pathway for students to expand their knowledge and their career goals," she says.
This year Atlanta Tech is opening its Supply Chain Management Center on Fulton Industrial Boulevard close to many warehousing and transportation facilities. "The combination of classes and exposure to professionals is a win-win. Students can see supply chain workers and see themselves in the picture," she says.
Savannah Tech makes the most of its proximity to the thriving Port of Savannah and counts former Georgia Ports Authority employees as faculty. The school works with high schools in the area to make students aware of career opportunities and show them the career paths available. Savannah Tech has its own articulation agreement with Georgia Southern University to accommodate students who want to build on their technical college education and pursue a bachelors' degree.
"Our goal," says Boyd, and he's not entirely joking, "is to take a high school 10th grader and turn him into the executive director of the Georgia Ports Authority."
Many schools use advisory boards made up of industry professionals like Jeff Jones, UPS vice president of technology services, who serves on Atlanta Tech's Supply Chain Management Program board, to ensure that the programs meet and even anticipate industry needs.
"You have to make sure the curriculum is relevant," says Jones. "You look at what type of systems and applications are needed in the workplace and [ask if] the curriculum lines up with that for warehouse systems and transportation systems."
He says working with Atlanta Tech is part of being a good corporate citizen, but it also helps ensure a ready supply of trained workers. The Home Depot and Saddle Creek Logistics Services are represented on the board as well.
---
What's Ahead?
Just about anything that affects the movement of goods and services – the price of fuel, the weather, demographic shifts, a change in airline regulations – can be a challenge for logistics professionals. Staying on top of the demands of such a fast-moving industry is tough; anticipating future needs can be even tougher.
Some developments are fairly easy to spot, like the additional ships and containers that will move through the Port of Savannah once the harbor-deepening project is completed and the port can accommodate larger ships. Other changes are tied to less-predictable factors like consumer demand and technological advances.
We asked some of the logistics experts to look ahead and highlight needs, changes and trends the industry will see in the coming years. Here's what they had to say.
More Students, Please. Technical colleges and university system schools are working hard to educate the next generation of logistics workers, but a crucial piece, says Atlanta Tech's Thomas, is getting the word out to students that the programs are in place and the jobs will be there when they graduate.
People have been moving products around for a long time, but the idea of a coordinated industry is new. "Kids don't wake up one morning and say they want to major in logistics," she notes, in the way they set their sights on a career in accounting or aviation or law enforcement. They need to be made aware of the opportunities.
Savannah Tech's Boyd says it's important that students recognize the upward mobility a career in logistics affords. "There are so many new non-traditional career paths," he says. "The list is different nowadays."
More And Better Technology. Technology helped logistics develop and mature as an industry and will surely shape its future. "Technology is going to keep improving the way we make decisions in supply chain," says Clayton State's Hill, enhancing the ability to know where the product is at all times, to keep up with inventory and make changes.
"The future lies in how we handle disruptions in the supply chain and how we adapt," he says. "If something happens with a product being made in China, we have to be able to adapt quickly, move to another supply chain or supplier. How we work with our suppliers is crucial. Information flow and the decision-making process are going to be greatly changed."
Better Use of Data. Using data more effectively will be key in the industry's future, says the COI's Miller: "Interpreting, not just collecting" will be crucial, as will making use of what she labels the "gold mine" of data. "There's a lot of sifting and digging to get to the nugget of gold" that will provide answers.
UPS's Jones says there will be a premium on operational technologies that translate into high-tech marketing using data analytics. "We see that growing, using Big Data and running efficient optimized delivery networks for customers and employees."
More E-commerce. Jones also sees lots of opportunities in B2C, or business to consumer, transactions. "People are more comfortable shopping online," he says, "and this is likely to continue." He notes that online sales topped in-store sales during the 2015 Thanksgiving weekend.
International Markets. Emerging markets in Asia, Africa and the Middle East mean additional business opportunities, Jones says, as more goods move across more borders. At UPS, he says, "We are in over 200 countries, each one with its own sets of rules and regulatory guidelines, which will demand some expertise." Compliance is a growing area for his company. "We need people with expertise."
New Market Sectors. Big players in the logistics world have their eyes on promising market sectors like healthcare. Jones says continuing advances in health treatments, pharmacology and medical devices play big into logistics. "Those devices and pharmaceuticals and therapies include cold chain, ambient temperature products, frozen products, coolers – they all drive a movement of goods in healthcare, which we like to be a part of."
Enhanced Customer Service. Miller says keeping up with customer demands is a consistent challenge for the logistics industry. "So many companies I talk to say they are less in the business of moving things and more in customer service, meeting customer needs, being nimble," she says, and they are looking for help. "It's the same old challenge of working with customers to get the product when and where they need it."
Staying On Track. An industry so dependent on infrastructure has a strong interest in making sure that infrastructure remains solid. All eyes are on the activity at the Port of Savannah, but experts value the roadways, too. Miller believes the new gas tax, tolling options and other improvements will help keep the state's roads in good working order.
"People complain about roads in Georgia," CSU's Hill says candidly, "but they're wrong. The roads in Georgia are really good."