Promoting Prevention
Beyond helping patients recover following a heart attack, Georgia's hospitals are now working to ensure people never have them in the first place.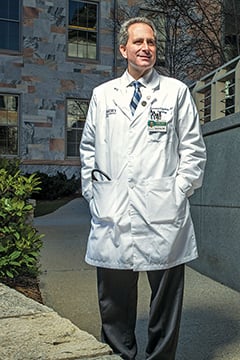 Each day at hospitals throughout Georgia, doctors are using techniques that were once unimaginable to treat patients with heart disease. Robotics allow surgeons to operate with greater precision; faulty aortic valves are replaced through catheters, not large incisions; and machines support weak hearts and lungs while patients recover from heart attacks. But some of the most important work in heart disease is what hospitals are doing to prevent it.
While hospitals once focused almost solely on helping the sick, increasingly the focus – like that of the healthcare system as a whole – is on keeping people well. A major area of their efforts – and with good reason – is heart health.
Despite exciting treatment advances in recent years, cardiovascular disease – disease of the heart and blood vessels – remains the single leading cause of death in both men and women, accounting for more than 20,000 deaths a year in Georgia, according to the Georgia Department of Public Health. Furthermore, most cardiovascular-related deaths are premature and preventable.
"Most people find out they have a problem when they have their first heart attack, their first episode of chest pain or their first blockage that needs to be fixed, and that is way [far along] the progression of that disease," says Allison Hillman, clinical project coordinator at the University Health Care System's Heart and Vascular Institute in Augusta. The Institute's Heart Attack and Stroke Prevention Center, which opened in 2011, uses cutting-edge technology – including specialized artery imaging techniques, genetic and metabolic testing and advanced cholesterol screening – to detect the beginning of cardiovascular disease before it develops into clinical problems. "What we want to tell people is that you don't have to wait until something happens to do something about heart disease."
By finding underlying disease processes – or better understanding the risk factors for developing cardiovascular disease – Georgia hospitals are helping patients set a course from ever having a heart attack or stroke, which doctors refer to as primary prevention. Primary prevention is the main goal of most prevention efforts and can target everyone from seniors down to children, whose lifestyle habits now can set a course of heart health for the rest of their lives.
The other goal of prevention efforts is secondary prevention, which is helping prevent a second event in people who have already experienced one. It is widely known that one of the greatest risk factors for having a heart attack is having already had one.
---
Understanding Risk Factors
Risk factors for cardiovascular disease can be divided into two groups: modifiable and unmodifiable. Unmodifiable risk factors – those you can't change – include your age, sex and genetics.
Cardiovascular disease can occur in adults of all ages, but the risk of the disease increases as you get older. While heart disease affects both men and women, men tend to be affected about a decade earlier than women. Having a close family member with heart disease also increases risk. Genetics can play a role in high blood pressure and high cholesterol levels, both of which contribute to heart disease.
Many of the risk factors for developing heart disease, however, are modifiable. For people who already have risk factors that can't be changed, it is even more important to change the ones they can. Cardiac prevention programs generally help patients identify and modify the following risk factors.
DIET:
Recent research shows that heart disease risk is 56 percent greater for people who regularly eat a typical Southern-style diet high in fried foods and sweetened beverages compared to those who eat these foods infrequently. Salty foods, too, play a role in cardiovascular disease, because they contribute to high blood pressure.
"We see blood pressures in the Southern United States that people don't see in other parts of the country because of the salt in our diets," says Laurence Sperling, M.D., who started the state's first comprehensive preventive cardiology program at Emory University in 1997.
Reducing that risk means adopting a healthier diet, which some centers promote through educational courses and cooking classes. "We have to promote a diet that emphasizes consumption of vegetables and whole grains, low-fat dairy products and poultry," says Felix Sogade, M.D., a cardiologist with Macon's Navicent Health System, which promotes healthy diet as part of its cardiovascular prevention efforts in the community. "We have to discourage frying foods, because most of the fried foods are high in polyunsaturated fats that lead to obesity and higher rate of death. We have to change the way we are preparing meals."
TOBACCO:
Not only cigarettes, but cigars, pipes and even chewing tobacco are bad for the heart, says cardiologist Jeffrey Marshall, M.D., who directs the cardiac catheterization laboratory at Northeast Georgia Medical Center in Gainesville. Smoking can damage the heart and blood vessels, increasing your risk of atherosclerosis (hardening of the arteries) and heart attack. Nicotine also raises blood pressure, and carbon monoxide reduces the amount of oxygen that your blood can carry, according to the CDC. Even if you don't smoke yourself, you can face an increased risk if exposed to secondhand smoke. Many hospitals offer smoking cessation programs to help reduce the risk of cardiovascular disease as well as a host of other diseases.
OTHER HEALTH CONDITIONS:
Many other health conditions can increase your risk of a heart attack. In fact, for a person with diabetes, the risk of a heart attack is equal to that of someone who has already had a heart attack, says Marshall. Inflammatory diseases including rheumatoid arthritis, lupus, psoriasis and even periodontal gum disease may raise heart disease risk as well.
"We are seeing a wider understanding that inflammation is a big player in all of our chronic disease processes, including cardiovascular disease," says Hillman. "The things that we attribute to chronic diseases of aging, I think a lot of that is rooted in inflammation."
In fact, testing the blood for inflammatory factors is often a part of a heart disease screening. University Hospital's Heart Attack and Stroke Prevention Center uses a test for a factor called Lipoprotein-associated Phospholipase A2 (Lp-PLA2), which is indicative of inflammation in the artery wall, she says.
While having another health condition itself might not be a modifiable risk factor, research suggests that people can lower their risk of cardiovascular disease by keeping their related medical conditions under control.
HIGH BLOOD PRESSURE, HIGH CHOLESTEROL:
Blood pressure is a measure of the force of blood against the blood vessel walls. High blood pressure causes the heart to work harder and causes damage to the artery walls, causing atherosclerosis or hardening of the arteries. Cholesterol is a type of fat in the blood that has many bodily functions, but an excess of cholesterol can build up in the arteries and cause damage. Low-density lipoprotein (LDL) cholesterol is linked to an increased risk of heart disease.
Blood pressure checks and blood cholesterol screenings are among a range of screening tests provided by cardiovascular prevention programs. St. Joseph's/Candler Health System in Savannah offers these and other cardiovascular screens to covered employees, spouses and their young adult children as well as its community health partners, organizations whose employees utilize St. Joseph's/Candler's health services. A fully functional screening unit takes the tests out into the community, says Carol Barbee, RN, a patient navigator for St. Joseph's/Candler.
OBESITY:
Excessive weight gain contributes to a host of issues, including high blood pressure and high cholesterol. Obesity can also lead to diabetes, which is a major risk factor for heart disease. "It is well known that in this part of the country, we have disproportionate obesity," says Dr. Sogade. Obesity is often measured by body mass index (BMI) rather than weight alone. Dr. Sogade recommends that everyone know their BMI and make a goal of getting it to a healthy level. Under 30 is desirable, he says.
Hospital-based cardiac prevention programs as well as your own doctor can help you calculate your BMI. Dietitians and health counselors available through many hospital programs can help you design and follow a plan to reduce this number.
PHYSICAL INACTIVITY:
The heart is a muscle, and like other muscles it grows weak if it is not worked. Physical inactivity not only deprives your heart of the exercise it needs to stay strong, it also contributes to obesity.
"Although the guidelines for primary and secondary prevention are a little different, all of us should be walking or exercising for 45 minutes to an hour three to six days a week," says Dr. Marshall. "You can break that up into 15 minute segments if you like."
Most hospitals and health systems have wellness centers that offer exercise programs for cardiovascular health.
If you are over 40 and want to begin a vigorous exercise program, Dr. Marshall recommends consulting your doctor first, especially if you have been sedentary for a long period of time. If you have recently had a heart attack or are at high risk for one, your doctor may recommend beginning exercise in a safe, monitored environment.
To ensure exercise safety for people at extremely high risk for or recovering from a cardiovascular event, St. Joseph's/Candler offers close exercise supervision with an EKG and blood sugar monitoring, says Barbee.
WHERE YOU LIVE:
The place you call home can make a big difference in your risk of heart disease. "Your zip code is a bigger predictor of health and risk of disease than your genetic code," says Dr. Sperling. "In Atlanta, if you look at the zip codes of the inner city versus the zip codes that are north of the city, there is a 12-year difference in survival within a 10-mile radius," he says, noting that those in the city have a lower survival rate.
Addressing these disparities will require using resources outside the clinic or the hospital, says Dr. Sperling. "So you are now talking about focusing on community, workplace, schools, churches [and the] walkability of neighborhoods."
---
High-Tech Solutions
While modifying many risk factors for heart disease often boils down to personal responsibility and adopting healthy lifestyle changes – exercising, eating healthfully and avoiding tobacco, for example – sometimes doctors must direct their patients to cutting-edge technology for prevention as they do for treatment.
For example, University Hospital's vascular lab is equipped with a 64-slice CT scanner that allows doctors to look for calcification of the arteries – which causes narrowing and increases the risk of a heart attack – noninvasively. A complete assessment using the technology takes just 15 minutes and provides clear, cross-sectional images of the heart muscle, valves and arteries to help doctors determine quickly if there is an elevated risk of heart attack.
Emory has been a leader in the use of a class of injected agents called PCSK9 inhibitors that can lower LDL by 60 percent on top of what traditional cholesterol-lowering medications known as statins do. Two of these medications have already been approved by the FDA for high cholesterol, and Emory is currently involved in a clinical trial to look at a third such agent.
"This is a class of drugs that, if the evidence pans out as we see it thus far, could be a big game changer in the way we treat and prevent vascular disease," says Dr. Sperling.
Emory also has a national referral center for patients with a genetic disorder called familiar hypercholesterolemia that affects receptors in the liver, which normally take up LDL cholesterol. As a result, the "bad" cholesterol can rise to dangerously high levels in the blood.
Emory has the first and only program in the state to treat this condition through a procedure called LDL apheresis, which involves removing the blood, filtering out the cholesterol and returning it to the body. The procedure, which must be repeated at regular intervals, has been shown to dramatically reduce LDL levels in people with the condition, which otherwise would lead to early heart and blood vessel disease.
These types of technology along with early detection and education about the various risk factors and support in helping patients modify them promise to reduce not only the risk of death from cardiovascular events but also the occurrence of the events to begin with.
"Each year about 610,000 Americans have their first heart attack or first stroke," says Dr. Sogade. "Heart attack is the No. 1 cause of death in the United States. We are reducing death from heart attack, but we still have a long way to go. We don't want to be in that No. 1 position. We want to move down the line."