Georgia Fare: Minero
Minero marks Sean Brock's first venture in Georgia, and it's worth dropping by for a quick bite.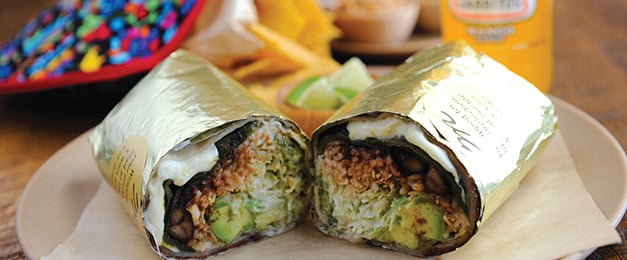 Minero, in Atlanta's new Ponce City Market, is named for the Mexican silver miners who dubbed their lunchtime wraps "tacos" after the little dynamite bundles they inserted into rock for blasting. But "miner" is also a good description of its executive chef, Charleston's Sean Brock.
At his groundbreaking Southern-centric restaurants, McCrady's, then Husk, Brock unearthed heirloom seeds and grains with the passion of a grizzled prospector. When he opened the first Minero in his coastal hometown, it was the first time he'd explored another cuisine.
You might call it Southern south-of-the-border, with all the Brock trademarks: Heirloom beans and peppers. Carolina gold rice. A general devotion to pork and corn. (The corn for the tortillas is house-ground from Brock favorites, Anson Mills and Geechie Boy.) And just as at the elegant little house at Husk, a dedication to inventive craft cocktails.
This second Minero is Atlanta's first taste of Brock's handiwork. (The chef has also launched a satellite Husk in Nashville.) The differences between Minero and Brock's more established Charleston restaurants represent a gaping chasm: Even at the less-formal Husk, where Parts Unknown's Anthony Bourdain sat down with Brock and Charleston resident Bill Murray for shrimp and grits with crispy pig's ear, the dining style is relaxed, conducive to conversation, with a long list of wines and small-batch liquors.
Minero is well-matched to its Ponce City Market environment: The tables, like the plates, are small; the ingredients and craftsmanship in everything – from the burritos to the margaritas – are exquisite. But like those miners' little blasting bundles, they don't invite tarrying.
With this number of dining choices (Ponce City Market offers a myriad of options, from burgers and fries from Atlanta chef Linton Hopkins to oysters and fish sandwiches from Bacchanalia's Anne Quatrano), do you really want to hang around any one spot very long? Minero is made for dropping in, having a bite, moving on. In fact, my one complaint is that the tiny two-tops, already half-covered with a big napkin/silverware/hot sauce/ menu holder, can't comfortably accommodate much more than a snack.
On two visits, we found the food terrific, the service fast and friendly and the drinks worthy of their own extraterrestrial zip code. It's a small menu of the usual suspects – chips and salsa, a few soft corn tortilla tacos, wings, a burrito, a sandwich of the day and the like. But El Diablo is in the details: The chips are house-made, served snug in a little quilted warmer. The salsas range from novel (a tahini-esque dip from "benne" or sesame seeds) to rustic (arbol, with wood-roasted chiles). The standout catfish taco is lightly breaded, with cabbage and "green tomato tartar," nestled in one of those handmade tortillas. Fresh cilantro and crisp radish matchsticks top the handmade guacamole.
My hands-down (or maybe "hands-doused") favorite, however, is the wood-grilled chicken wings, served in a little paper bag. Your server will offer to drench them in Valentina bottled hot sauce and shake them. Let him. They're as face-meltingly fierce as the luchadores pictured on the cardboard coasters.
Another (ahem) dynamite dish: The daily torta, based on the traditional Mexican hoagy-type sandwich. Ours offered crisp fried pork butt, sliced and topped with a fried egg, sliced avocado and slaw on a buttered, toasted bun. Unless you were starving, with chips and salsa and guac, it would be enough for two. But then you'd miss the wedge salad, a spicy version of the '60s iceberg-lettuce favorite: Here the blue cheese and bacon give way to chorizo and pickled onion, with masa croutons and pasilla-buttermilk ranch dressing. Another must-try side: The big black Rancho Gordo heirloom beans, flecked with green onion and cayenne.
If you're still sticking around, I can't imagine wanting a heavy dessert like churros with chocolate syrup, based on the traditional fried-donut pastry and hot dip/drink – the only sweet on the menu. Instead, you might sip one of the excellent cocktails, such as the pisco-sour-like El Grande Diablo, a citrusy-sweet, egg-white topped concoction tinged with fiery habanero. The smoky Mr. Niebla is just as good, with mezcal, grapefruit soda and aperol.
Minero: Worthy of the reference to a quick little blast in a hole-in-the-wall.
---
Minero
Address: 675 Ponce de Leon Ave. NE (ground floor of Ponce City Market)
Contact: 404.532.1580 or mineroatlanta.com
Hours: Lunch and dinner daily
Parking: Valet and metered parking, for a fee, in attached lot
Dress Code: Just-in-from-my-BeltLine-hike casual
---
If you like beans, try:
The Pine
Athens
Local beans with soffritto
thepineathens.com
Busy Bee
Atlanta
Righteous pintos (Thursdays only)
thebusybeecafe.com
J's Simply Soul
White
Slow-cooked black-eyed peas
facebook.com/JsSimplySoul
Kyma
Atlanta
Gigantes plaki, giant lima-style Greek legumes
buckheadrestaurants.com/kyma
The Florence
Savannah
Sea Island red peas with ricotta, benne and pickled shallot
theflorencesavannah.com