Cities Mean Business
Four communities take innovative approaches to welcoming new companies.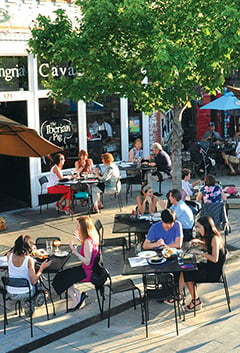 For many of Georgia's cities, homegrown businesses are the lifeblood of a community. For those municipalities that nurture and support these growing enterprises, the rewards are great: Not only do the new businesses contribute tax dollars, but they also provide jobs to local residents and can help reinvigorate the downtown area.
Georgia Trend, in conjunction with the Georgia Municipal Association, looks at four cities that are taking innovative approaches to welcoming business to their communities, from creating classes for entrepreneurs and keeping an open mind about new business ideas to providing microgrants and offering zoning assistance to businesses in an informal atmosphere.
---
Decatur
A "yes and" philosophy
In 2012, Tom Stahl decided he wanted to make craft beer on a commercial basis in Decatur. One problem: City ordinances didn't allow that.
But the city's economic development officials didn't discourage him. In fact, they did the opposite.
"Every time we went to those guys, they said, 'We would love to have breweries. You make the beer, and we'll make it happen,'" Stahl says.
As Stahl bought equipment for Blue Tarp Brewing Co., the city commission voted in the summer of 2012 to change its alcoholic beverage ordinance to allow for breweries, wineries and distilleries. Zoning was tweaked, too. Everything happened quickly, Stahl says.
"They said unequivocally yes," he says. "They said yes, yes, yes across the board."
Stahl's business and another company, Three Taverns Brewery, now make beer at East Decatur Station, a collection of funky, offbeat enterprises off College Avenue. You can buy the beer at bars and restaurants around town and in cans and bottles at package stores.
For Decatur, the ordinance change was a win-win.
The city got new tax-generating businesses while strengthening its reputation as a town that takes food and drink seriously.
Catherine Lee, development services coordinator in the city's economic development department, says Decatur tries to deal with new business ideas by following a "yes and" approach rather than a "no but" philosophy.
"Decatur always tries to do things differently and tries to be ahead of the trend," she says. "One way is to not shut ideas down."
With the breweries, the city changed its laws to accommodate new businesses. It has also modified ordinances to maintain the popularity of current businesses and meet the needs of residents and visitors alike, as it did when a problem arose with outdoor restaurant seating.
The restaurant scene is an important part of the city's reputation and economy. Southern Living magazine even listed it in "The 10 Tastiest Towns in the South" in 2012, along with big cities like Charleston and New Orleans. Many restaurants have sidewalk tables, especially the eateries along the square.
City hall took notice when people complained that the increased number of tables limited accessibility for wheelchairs and baby strollers. At the same time, the city was looking for ways to limit public smoking in Decatur.
The city's solution was to require restaurants to submit sidewalk table plans when they apply annually for alcoholic beverage licenses. That solved the accessibility problem. The city also prohibited smoking at sidewalk tables and within five feet of those tables.
Small businesses, especially the offbeat ones, are an important part of the city's personality. Weatherly Munroe says she'd never run a retail business before but felt welcomed when she and her husband opened a folk art gallery, Wild Oats and Billy Goats, in 2010.
"I knew working with the city would be easy," Munroe says. "They were great cheerleaders, and they made it easy to get started." She credits the city with doing a good job of marketing Decatur.
Lee says she tells business owners, "It's our job to get people into Decatur. It's your job to get people into your businesses." – RE
​
---
​Cedartown
Investing in small businesses
Jose Iglesias makes his living crunching numbers, and several hopeful statistics come to mind when he talks about his business, Taxes de America, which primarily serves the Spanish-speaking community of northwest Georgia.
"I'm very optimistic that as the economy recovers, the labor market will improve in a way that will require more people to file taxes," he says. "In fact, the revenue projected for my industry is expected to grow by 1.3 percent to $10 billion. Also, if immigration reform takes place, there will be 11 million undocumented workers who need to pay back taxes, and I want to be ready for them."
With that goal in mind, he signed up for the Cedartown Biz Builder program, an intensive, college-level night school for entrepreneurs that began in 2014 as an outgrowth of the Downtown Renaissance Strategic Visioning Plan (RSVP).
The five-month program is sponsored by the city of Cedartown and uses curriculum designed and implemented by Georgia Northwestern Technical College. Once accepted into the program, new and established business owners attend rigorous business classes twice per month along with one networking session. There, they study basic principles such as customer service, effective marketing, and regulation and compliance issues. They also develop one of the most important pieces of the new business puzzle: a solid business plan.
"I had a business plan, but it was all in my head," Iglesias says. "With the motivation I got from this class, I was able to develop a written plan for exactly where I'll be in the next two years. My dream is to become a franchise – the Starbucks of accounting."
He is on his way. Iglesias since has expanded Taxes de America and completed an extensive round of renovations.
"Our goal is to equip hometown entrepreneurs with the resources to turn their dreams into reality," says City Manager Bill Fann. "This began as a volunteer, grassroots project, and it has quickly grown into a powerful force for economic growth." – CD

---
​Milledgeville
Giving companies a boost
The employees at Need a Nerd, who were deep into some IT work, were so startled that they jumped when a group of people entered their store and hollered: "You've been BOOSTED!"
The beaming visitors were bearing balloons and a gigantic check for $1,000.
"They definitely caught us off guard," says Daniel Pittman, one of the three co-owners of Need a Nerd, a computer and cellphone repair business. "We were a startup, bootstrapping all the way, so that donation really came in handy. We used it to install surveillance cameras and a security system, so now we have peace of mind about our inventory after we leave work."
BOOST is a grassroots program of the Downtown Development Authority and Milledgeville Main Street designed to assist small businesses and entrepreneurs with funding needs.
"The way it works is this," says Main Street/Downtown Development Authority Executive Director Carlee Schulte, "people make $100 donations twice a year that go into a pot, and then those investors – and those investors alone – vote on which businesses to assist with a gift as large as $1,000."
BOOST grants can be used for things like business supplies and equipment, marketing and advertising, and renovations to the building a business is housed in.
The program is intended to assist with expenses that can really make the difference when getting a company started or growing a small business. While no matching grants or repayment of the monies is expected, the group hopes that those who receive grants will pay it forward by helping others along the way, from supporting other local businesses or mentoring others launching a business. Any company with a business license operating within downtown Milledgeville is eligible
Since the program started in 2013, BOOST has given away $15,950 for signage, roof repairs, new flooring, refrigerators and other needs that a mom-and-pop shop might have.
"We opted to keep the donations small so that anyone who loves this community – from a college student to a retiree – can afford to donate and participate," Schulte says. "It makes helping a business fun for everybody involved."
In fact, BOOST has proved so popular that three other communities have used it as a model, and the program was cited when Milledgeville Main Street won the national Great American Main Street Award in 2014.
In addition to small companies such as Need a Nerd, Baldwin County claims more than 100 international firms, such as YKK and Armstrong World Industries, so this pocket of the midstate has developed a reputation as a welcoming community for businesses of all sizes. Sometimes they are even greeted with balloons. – CD
---
Statesboro
Finding the right start for development
Big development projects like subdivisions involve hundreds of people, from the development team that conceives the project to local government inspectors who finally approve occupancy. Miscommunication can happen easily.
That's one reason the city of Statesboro started holding Right Start meetings.
Every Thursday afternoon, 15 or 20 people gather in a city government conference room. Developers talk about the projects they have in mind before they apply for permits or invest heavily in engineering studies. City staffers weigh in.
Everybody asks questions in an informal atmosphere. Where will the sewer connections be located? Will the project affect emergency services? What about garbage pickup?
"What we do at the Right Start meeting," says Mandi Cody, the city planning and development director, "is to vet that project."
If the meeting serves its purpose, potential problems will be identified. The city will name the staffer who becomes the developer's contact person. The project will start the right way.
Right Start meetings aren't mandatory. Developers can do it the traditional way, by showing up at city hall and applying for permits without prior conversations.
Charles J. "Joey" Maxwell, president of civil-engineering firm Maxwell-Reddick and Associates, has attended several Right Start meetings and thinks they increase efficiency for both developers and the city.
"I'd say it speeds [a project] up maybe a month compared to the way it could have been, especially if you're an out-of-town developer or engineer who doesn't understand their process," he says. "With the Right Start meeting, it allows them to cut through [red tape] and be told exactly what they need."
He says developers usually arrive with a laundry list of questions. Is this siding permissible? What's your sign regulation? What permits will I need?
"If they [the developers] are able to get those questions answered right off the bat, they get a warm fuzzy feeling that this is a good place to get the project done," he says.
Cody says the spirit of give-and-take is important to the Right Start process.
One developer planned a water meter room for a project, whereas the city normally wanted meters in the ground. The city's wastewater director got involved in the conversation. The water meter room was allowed – and has been allowed in projects since then, Cody says.
Another time the city wanted a developer to modify a road project to better fit a neighborhood. The developer agreed.
"Many cities are redlining plans and saying 'denied' and handing them back," Cody says. "That's not what we're doing here. We're working with the developers to come to a conclusion that benefits the city and the developer."
Sometimes projects are dropped, as happened when a hamburger chain wanted to build a restaurant. When city staffers looked at the plans, they found problems with parking and vehicle entrance and exit, Cody says.
The developer decided not to build on that particular site but seemed appreciative for the honest feedback, she says. A more suitable project – a car wash – was built on the site instead.
Though Statesboro didn't get the restaurant, Cody considers that Right Start meeting a success.
"Not every project is a good fit for every site in your community," she says. "Right Start is an exceptional way to identify that." – RE