2016 Georgia Trustees
The Coca-Cola Company's Muhtar Kent and former Synovus CEO Jim Blanchard are the 2016 Georgia Trustees, the state's highest honor.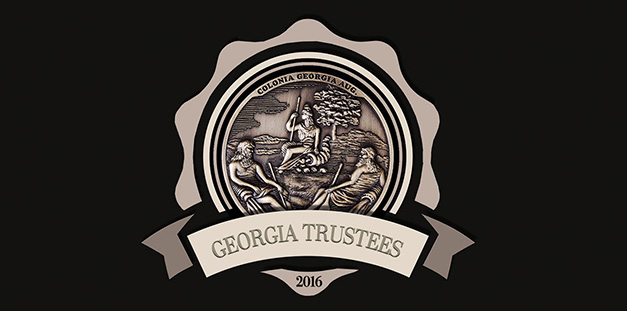 At first glance, Jim Blanchard and Muhtar Kent might not appear to have much in common, but dig just a little deeper and the reason the pair were selected as 2016 Georgia Trustees becomes obvious.
Servant leadership, says Todd Groce, president of the Georgia Historical Society, which, along with the Office of the Governor, names the trustees. "I think that's the common characteristic that they have. When we talk about servant leadership, these are two guys who I think are the best models we have in the state."
Blanchard led Columbus-based Synovus for 35 years until his retirement in 2006, growing the small bank into a regional powerhouse. Kent has been chairman and CEO of Atlanta icon The Coca-Cola Company since 2009. The two will be honored for their achievements Saturday, Feb. 13, at the historical society's Trustees Gala in Savannah, part of its annual commemoration of the state's history.
Nearly 300 years ago, the original trustees were chartered by England's King George II and charged with establishing the new colony. Formed in 1732, the group disbanded in 1752, but the state re-established the honor in 2009 to recognize contemporary Georgians.
The original motto of the trustees, Non Sibi Sed Aliis, which means "not for self but for others," steers the selection process each year toward people whose lives and accomplishments have made the state a better place.
"The [selection] committee goes through and they look at people who are compatible," Groce says of the selection process. "I think these are two men who know and like one another. They respect and admire each other's accomplishments. Also I think they share this common philosophy about servant leadership. I think there was a compatibility there that made this the right year for the two of them." – Karen Kirkpatrick
Servant Leader
Even in retirement, Jim Blanchard continues to make the world a better place while empowering others to do the same.
By Karen Kirkpatrick
There are people who pay lip service to the idea of servant leadership, spouting good words while leading a company and its people off a cliff, or business leaders so firmly fixed on the bottom line that they don't raise their eyes for a good look at their employees.
Then there's Jim Blanchard, a man whose name is said reverently and with a smile, almost as if he were George Washington (a leader he greatly admires). As CEO, Blanchard ran Synovus for 35 productive and profitable years, from 1971 to 2005. At the same time, he grew the financial institution into one of the best places to work in the country by modeling the very definition of servant leadership.
For living the motto of the original Georgia trustees, "Not for self, but for others," the Georgia Historical Society (GHS) and the Office of the Governor have named Jim Blanchard, 74, a 2016 Georgia Trustee.
"There's a term that we hear and that I think has been used to the point of almost overuse, which is servant leadership," says Todd Groce, president and CEO of the GHS. "But to me, Jimmy Blanchard is the epitome of servant leadership, in the sense that the servant leader is one who cares about the people who work for him or her. The true entrepreneur and capitalist is really someone who sees their role as making the world a better place through commerce and through business. To me, Blanchard is just a model of that."
Blanchard has his own definition. "I think the whole concept of servant leadership is based on a service attitude toward others," he says. "I think the real root of it is a respect and appreciation and admiration, empowerment of others, preparing them to do the job well, developing trust, recognizing them for good work and rewarding them."
He says that running Synovus on the idea of servant leadership was the most important decision he made while at the bank, and it was a decision that got a lot of notice from others, including Forbes, which named the bank the Best Place to Work in America. In fact, the company was inducted into the magazine's Hall of Fame in 2005, after being named to the list every year since 1998.
"His concept of the culture that they had in their company, I would say was a culture of a combination of trust and love," says Gardiner Garrard, chairman of the Jordan Co. and a longtime friend and business associate of Blanchard's. "In particular, the people gave good service to their customers, they were satisfied in their jobs and they were respected. That made a huge difference in the success of the company."
Georgia Son
Blanchard, an Augusta native, didn't set out to follow in his banker-father's footsteps. His father moved up in various community banks, landing the top job at Columbus Bank and Trust Co. (CB&T, which became Synovus) and moving the family to Columbus when the younger Blanchard was in high school. He attended the University of Georgia and UGA's law school before returning to Columbus and a law firm there.
But the Turner family, local leaders and members of the board at CB&T, had different ideas. In June 1970, at the age of 28, Jim Blanchard was selected as president at CB&T following the death of his father from lung cancer. Blanchard remembers the shock he felt when D.A. Turner, then chairman of the board, offered him the job.
"I told them I can't even balance my own checking account," Blanchard says. "How can I do that? They said they would help me with that, but they wanted me to come."
It turned out to be a great decision for Blanchard, for the bank and for the city of Columbus.
Blanchard's small bank now has approximately $28 billion in assets. Not only has the company received recognition as a good place to work, but Blanchard himself earned positions on most admired leader lists more often than you can count.
"He started with a very small bank in Columbus," Garrard says. "I got on [the board] the same year they asked him to be the president of the bank. … He and I did a lot of traveling and entertaining customers in those days. We were the same age, and everybody else involved down here was older than we were, so we did a lot of things together, golfing, hunting, whatever."
But Blanchard didn't spend all of his time doing whatever. He also grew the bank. "The second biggest [decision I made while at Synovus] was probably the creation of the one-bank holding company that we formed in 1972 that was created with the idea that the law of Georgia would change and allow holding companies to acquire banks outside of their headquarters city."
Blanchard was right on the money with this idea, which the legislature began to allow in 1976. "On Jan. 1, '76, we made application to acquire a couple of banks," he says. "We were the first ones under the new act to actually utilize the act and acquire banks in LaGrange and Thomasville." And again, people took notice of his leadership style. "Over the years, he got other people to sell their banks to Synovus," Garrard says. "I always said that they would look at their situation and they would look at Synovus's situation, and they saw Jim Blanchard. … If you want some empirical evidence that he was a good leader, look at the number of people who wanted to sell their banks to Synovus and pick up that leadership team he had."
TSYS
Blanchard still had another game-changing decision to make with the creation in 1983 of Total System Services (TSYS), the credit-card processing company that grew out of Synovus and spun off in 2007, and it all started with a conversation in an airport.
"One of our top executives, Lynn Page, was in an airport with a fellow from a bank in Tampa, Florida," Blanchard says. "He was complaining about his credit card processor. Lynn indicated to him that we would be interested in talking to him about doing it.
"That was in 1974, when we were actually looking for opportunities to utilize some unused time and capacity in our computer operation. We said, 'Look, we've got this great credit card software that we've developed. We could process other banks.'"
And the rest, as they say, is history.
"Lynn and several other key executives in our bank card and operations area were instrumental in the concept and the startup and the building of that company into the largest processor of Visa and MasterCard now in the entire world," he says. Today, TSYS processes some $1 trillion in credit and debit card transactions per year.
Blanchard's legacy continues at Synovus and TSYS. Today Synovus owns 80 percent of TSYS, which in 2014 had $2.4 billion in total revenue and in 2015 was named to the Ethisphere Institute's list of the World's Most Ethical Companies.
COMMUNITY MINDED
While Blanchard was building the team that built Synovus and TSYS, he was also making a tremendous difference all over Columbus. He was instrumental in the creation of Uptown Columbus, the organization founded to support quality development of the city's central business district that is now so much more, with housing, retail and restaurants, and whitewater rafting on the Chattahoochee. He also served on and chaired boards too numerous to mention, including the Greater Columbus Chamber of Commerce and United Way of the Chattahoochee Valley.
His only criteria, he says: He wanted to work on projects where he thought he could make a difference. It's an approach to life that comes in part from the people who have inspired him over the years.
"I'm inspired by many, many, many examples of people who are leaders, athletes, elected officials and just plain old folks who give a darn and give a lot of themselves," Blanchard says. When pressed, he names three who have been important to him.
"From a historical standpoint, my favorite role model is George Washington. He had every opportunity in the world to be appointed the king. He, of course, turned it down, realizing that would not be the best thing for this country. He was a selfless leader. He was strong and dominant, yet humble and appreciative of the opportunity to serve.
"The second one is my wife. She lives the word of God through the Bible on a daily basis better than anybody I ever saw. That's been a great guide for me. She's a great wife and a great mother and a great grandmother. She is an inspiration to me."
Third, Blanchard cites another local leader. "I've been inspired from my early beginning here as a teenager by a fellow named Bill Turner, who is the grandson of the founder of Synovus. He was the person that I reported to on the board of directors of CB&T when I came in." Blanchard says he was told at the time, "'Bill is the guy you want to look to for strength and direction and leadership as the president of our bank.' Bill's 93 now, and I'm still looking to him. I've always thought he's the most ultimately fair person that I've ever met."
THE NEXT CHAPTER
In retirement (Blanchard left Synovus in 2006), he's as committed to the practice of servant leadership – and to exposing as many people in the Southeast to it as possible – as he was at the bank. The Jim Blanchard Leadership Forum at Columbus State University serves as a very successful delivery method for spreading the word about servant leadership. Blanchard conceived the idea and got the backing of Synovus as part of his retirement package. The first forum was held in 2006 with four speakers. The 10th anniversary this past year featured George W. and Laura Bush, along with their daughter Barbara. Other speakers have included Condoleezza Rice, Doris Kearns Goodwin, Ken Blanchard (no relation) and Gen. Stanley McChrystal.
"As far as the forum is concerned, we have focused primarily on servant leadership," Blanchard says. "We've brought in some of the greatest advocates of that leadership style over the last 10 years. It probably has created a leadership environment in this community and in this region that is a unique strength for Columbus."
"I've been to every one except the first [only] because I didn't know about it. I always learn something," Groce says. "To create this learning environment where the kind of principles that Jimmy Blanchard has led his life and also the kind of principles that he's practiced in business, those kinds of things can be taught to younger people."
When Blanchard isn't working with the Leadership Forum, he is still very involved in boards, nonprofits and with his family – his wife, Sis, and their three sons, who all live in Columbus with their families. "I'm still very involved in the TSYS board. I'm on a couple of private company boards," he says. "The bulk of my wife's and my focus today is on faith-based kinds of organizations. We are still very interested in a lot of the civic and educational and the arts and the other things, but our main focus as far as activity and our resources would be going to faith-based outreach kind of organizations."
One of these organizations is Global Teen Challenge. Blanchard serves as chairman of the advisory board. "Teen Challenge is a residential program for people suffering with life-altering addictions, mainly drugs and alcohol," he says. "We're in 110 countries, 1,200 centers and [have] just over 30,000 residents all over the world. It's headquartered right here in Columbus."
He's also on the board of Ken Blanchard's organization, Lead Like Jesus. "It's an organization that advocates servant leadership," Blanchard says. "The concept is that the world is in tremendous need of better leadership role models and that we've seen what self-serving leaders do in almost every aspect of society. His book and his teaching have gravitated toward using Jesus as an example of leadership, in that he was totally selfless and was there to serve others rather than to be served."
It sounds like an organization tailor-made for Blanchard's leadership style. Which brings us back around to servant leadership and the example Blanchard sets every day.
"Remember those ads on TV with these giant pumpkins, and this guy says, 'How'd you get one of these giant pumpkins?"' Garrard says. "The other guy says, 'I put some of this Miracle Gro on it. It grew to be an 80-pound pumpkin.' I think Jim, he grew people. If you look at what he's done today since his retirement, a lot of people retire and don't do anything. He's doing as much as he's ever done. And all of that is for other people.
"If you look at his impact on Columbus and on the state as a whole, he's always been perceived as somebody who achieves what he sets out to achieve. And people got to the point where he was like the leader of a winning team. People wanted to be on his team. He achieved a lot of things by not only getting people together, but holding them together."
And that's what he plans to do for the future. "I continue to work, continue to serve in many capacities. I aspire to continue to grow as a husband, as a father and a grandfather," he says. "I do think the world is darker and needs people who are, as the Bible would say, 'salt and light.' And that's what I aspire to be."
---
The Heart of Business
Muhtar Kent keeps Coca-Cola a leader in sustainability and corporate responsibility, but always with an eye on the bottom line
By Susan Percy
The Coca-Cola Company resides in that portion of the stratosphere reserved for major public companies expected to make a lot of money for shareholders – and to put effort, resources and clout to work to improve the planet. It has done both.
With a global reach and 2014 revenues of $46 billion, the Atlanta-based beverage giant, the world's most valuable brand, has raised the corporate bar on social responsibility and sustainability, instituting programs to replenish the water it uses, reduce its carbon footprint and empower 5 million women in developing countries by 2020.
Leading that charge is Coca-Cola Chairman and CEO Muhtar Kent, a strong proponent of sustainability and a hard-nosed businessman who recognizes the potential to increase his company's profitability. He became CEO in 2008 and chairman in 2009.
"A generation ago, sustainability efforts would have been more about polishing and enhancing our brands in the mind of the public," Kent says. "Today, our sustainability work is integrated squarely into our business as a way of creating real value for our business. That's ultimately what makes sustainability efforts sustainable: having them connected to the heart of the business and its long-term success.
"Look at our goal to replenish 100 percent of the water we use around the world. As a company dependent on water for our products, this isn't just about preserving water for communities for the next generation, it's also about increasing the efficiency of our business and protecting one of our key ingredients. Every liter we save makes us more efficient, and it also helps us support the communities where we do business.
"This is where you can see the clear payoff of sustainability," he says, "when it is at the intersection of making your business and bottom line stronger."
Kent, who was born in New York in 1952, the son of a Turkish diplomat, is a 2016 inductee into the Georgia Trustees, the highest honor the state bestows.
Kent began his career with The Coca-Cola Company in Atlanta in 1978 by answering a newspaper ad for a job delivering Cokes to retailers. When he joined the company, the product portfolio was about 15 brands and 30 products; today Coke has more than 500 brands – 20 of them generating more than a billion dollars apiece in annual sales – and more than 3,500 products.
The company that made its reputation and stockholders' fortunes on a single drink created in 1886 by an Atlanta pharmacist has expanded to include coffees, teas, fruit drinks, sports drinks, energy drinks and waters. It is a collection of non-alcoholic beverages to be sure, but it is a great deal more.
Coca-Cola is the second most recognizable word in the world, trailing only "OK." Its classic red-and-white logo is recognized by 94 percent of the global population, and its products are consumed some 1.8 billion times a day. Coke products are sold in more than 200 countries worldwide – everywhere except Cuba and North Korea.
Lasting Impact
On Kent's watch, Coca-Cola has stepped up its sustainability efforts, concentrating on water, energy efficiency – hybrid trucks, cleaner cold-drink equipment and improvements in recycling and packaging, including a plant bottle made partially of sugar cane waste.
As one of the world's biggest water users, Coca-Cola set itself the task of becoming water-neutral by 2020; in fact, that goal was met in 2015, five years ahead of schedule.
Sustainability, Kent has said, is "core to how we do things," noting that the plant bottle actually costs less than the regular bottle. "You actually do good, but at the same time you do well."
Kent and Coke consider community building a key part of their sustainability efforts. To this end, the company expects to foster economic empowerment for 5 million women in the company's value chain by 2020 – the largest such program ever undertaken by a business. It includes things like micro distribution centers in Africa to help Coke products reach small shops and kiosks.
"I have been very pleased with the work we have done through our 5by20 initiative," Kent says. "To date, 865,000 women have been empowered across 52 countries. We have seen how empowerment changes individuals' lives but also helps improve the social well-being of communities. When you invest in the education and success of women, it improves the economy and makes the community stronger and more sustainable."
The Challenges
One of Kent's signature achievements was the $12.3-billion purchase of North American bottling operations from Coca-Cola Enterprises, which he crafted in 2010; it gave the company ownership and control of the largest single bottler of its products and allowed it to cut costs.
Nonetheless, Coke has felt the effect of declining sales of carbonated beverages as consumers seek healthier options. The company's 2015 third quarter revenues dropped five percent from the previous quarter to $11.4 billion; profit was down 31 percent to $1.45 billion.
"As you grow, it gets more difficult to keep on growing," Kent says. "As I like to say, the air gets thinner. But we're making good progress in restoring our growth momentum and returning to our long-term growth models," he says. "We have a good plan, and I would say a few things will be very important to our business."
First on the list? "Ramping up the strength and frequency of our marketing," he says, promising a new Coca-Cola campaign in 2016. "Two would be continuing to strengthen our bottling system both in the United States and around the world.
"Three," he says, "would be continuing to respond to consumer trends and ensuring we are participating in the explosion of beverage choices available to consumers around the world. We've made a lot of progress in this area, but there is still much more to do."
In 2012 alone, Coke added more than 500 new products.
Addressing health concerns is a priority, Kent says. "We recognize that obesity rates have risen, and we are committed to playing a meaningful role in helping solve this problem. We are continuing to expand consumer choice by offering extensive low- and no-calorie beverages, smaller packages and new lower-calorie sweetener innovations, including plant-based stevia."
The company took some heat last year over its funding of the nonprofit Global Energy Balance Network that suggested Americans ought to exercise more and pay less attention to calories; in a Wall Street Journal op-ed, Kent said the company had not been sufficiently transparent and pledged to do better. It subsequently severed its ties to the nonprofit.
Kent notes that more than 1,000 low- or no-calorie Coke products are available – more than 25 percent of the drinks the company offers. Still, he says, "We must do more. In the coming years we will continue to innovate to offer new products that are in line with – or even ahead of – where consumers are going."
Marketing Savvy
Coke has always been a marketing leader – simultaneously promoting and protecting its brand and using advertising more effectively than just about any other company that comes to mind. It didn't quite invent Santa Claus, but its print ads in the 1930s cemented the image of a jolly white-bearded gent in a red suit – with a Coke bottle in his hand. Baby boomers tear up at the vintage 1971 I'd Like to Buy the World a Coke video, even as contemporary Mad Men viewers parse its significance at the series conclusion.
Early on, Coca-Cola understood the power of social media – and embraced it – way ahead of other consumer-oriented companies.
"It's not what we say about our brand that is so important," Kent said in a 2011 Georgia Trend interview, "[but] what people say, what customers say about our brand that is important and how that gets around. As a brand company, as a brand business … we are only as healthy and successful as our brands are."
Both Kent and his company appreciate the value of marketing to millennials – the offspring of Gen-Xers and grandchildren of baby boomers – an economic clout-wielding group concerned with sustainability and climate issues. Millennials are reshaping the marketplace for Coca-Cola and other companies, demanding new products pretty much on their own terms. Kent has called them "the beating heart of all market growth." The upcoming ad campaign he promises will likely be addressed to them.
"Consumers have become more empowered," he said in 2011. "Consumers are dictating what they want, how they want it, what packaging they want, where they want it and what price they will pay for it."
Coke's marketing has always had a strong feel-good element: Kent himself describes Coca-Cola as "simple moments of pleasure, invited into people's lives" and "the greatest idea in the world that brings people together." But all that good feeling has to be backed up by a good product – in Coke's case, something that tastes good and that consumers will buy.
Coke and Georgia
Coca-Cola owns a special place in the hearts of Georgians; it is a global company, to be sure, but long before that, it was a Georgia company, a point of civic pride that is far more than the sum of its products or the price of its stock.
Generations of Georgians reached adulthood without ever tasting a Pepsi product – it simply wasn't done. Moms made Coca-Cola cake for special occasions and basted Sunday-dinner hams with Coke. In local business circles, a job with Coca-Cola always had a certain caché. Today, nearly 9,000 of the company's 129,000 employees work in Atlanta.
From the beginning, Coke's top executives helped define Atlanta as a nexus of business and education and set the parameters of its civic life.
Company founder Asa Candler was the entrepreneur who bought the original formula from the man who concocted it and set about creating an empire; Robert Woodruff was the visionary who made it a global concern – and helped keep Atlanta and Georgia on the right side of Civil Rights history. Roberto Goizueta tripled the company in size and expanded the product line – adding Diet Coke and the infamous New Coke, a rare corporate mistake that was quickly righted.
The company's philanthropy has left its mark on the city and set the tone for both corporate and individual giving. Candler provided the funds to move Emory University to Atlanta – it is referred to as Coca-Cola U. for good reason – and to build Emory Hospital. The federal Centers for Disease Control and Prevention (CDC) is headquartered in Atlanta because Woodruff donated the land, and his largesse is responsible for the Woodruff Arts Center. Goizueta was a benefactor of Emory's business school, which now bears his name. Land for the Center for Civil and Human Rights in downtown Atlanta was donated by Coke.
"Clearly there's something really special between Coca-Cola and Atlanta," Kent says. "Coke was created here in 1886, and it has been embraced and loved by the people of this city for nearly 130 years. Generations of Georgians have helped make Coca-Cola the global brand and company that it is today. Georgia is in our DNA."
The Honor
Kent relishes his role as Coca-Cola's leader: "It's great to be a part of a company that needs no introduction. For more than 35 years now, anytime, anywhere in the world, when I have been asked what I do, I never have to answer the follow-up question, 'What's that?' Our company's global recognition is a testament to the many leaders who have come before us and built such strong, durable brands.
"Now it's incumbent on us to build on the great work of the generations before us to take our brands into the next century and beyond."
Of his induction into the Georgia Trustees, he says, "It is an immense honor for me and The Coca-Cola Company, of which I am merely a proxy. To be associated with the extraordinary work and vision of the Georgia Historical Society and the original Georgia Trustees carries a responsibility that is core to our mission of creating a lasting, positive impact for our communities.
"Coca-Cola is honored to be part of the rich culture and heritage of this great city and great state."
---
Past Trustees
2015
Alana Shepherd | Shepherd Center founder
Paula Wallace | Savannah College of Art and Design founder and president
2014
Arthur Blank | The Home Depot co-founder and Falcons owner
Billy Payne | Atlanta Olympics visionary
2013
Truett Cathy | Chick-fil-A fast-food pioneer and philanthropist
Herman Russell | Construction giant and Civil Rights participant
2012
Tom Cousins | Developer
Andrew Young | Former ambassador and former Atlanta mayor
2011
Vince Dooley | Former University of Georgia athletics director and football coach
Sam Nunn | Former U.S. senator
2010
Hank Aaron | Braves baseball legend
Ted Turner | Businessman and philanthropist
2009
Bernie Marcus | The Home Depot co-founder
Marguerite Neel Williams | A founding trustee of The Georgia Trust for Historic Preservation