Metro Atlanta Chamber Looks Ahead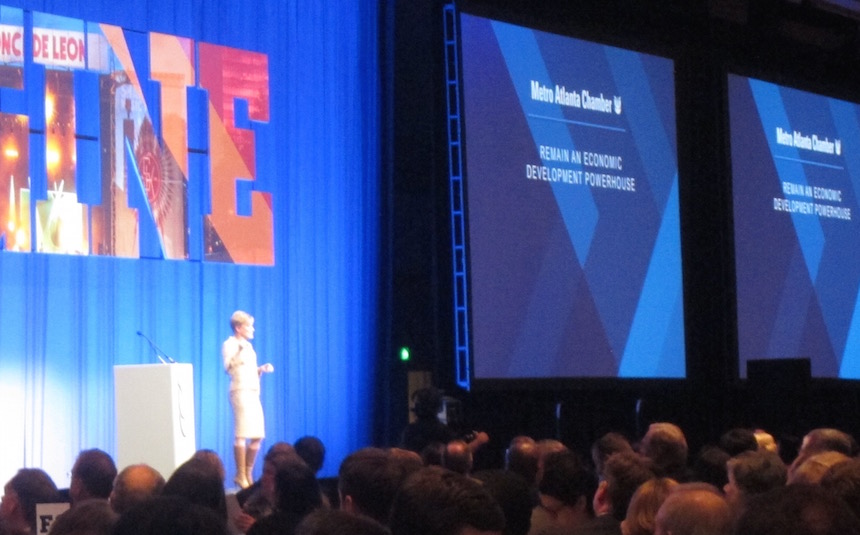 The mood was upbeat at the Metro Atlanta Chamber of Commerce (MAC) Annual Meeting last month. Hala Moddelmog, president and CEO, spoke of the success of MAC's Choose ATL regional marketing campaign and the city's economic development promise.
She and fellow chamber leaders Larry Gellerstedt III, CEO of Cousins Properties and outgoing 2015 chairman, and Jenner Wood, corporate executive vice president of SunTrust Bank and incoming 2016 chairman, all spoke of the region's appeal to millennials and young workers.
"We are a robust digital hub, and we must cultivate the next generation – with transit, education and technology. To truly attract and retain them, we need them to experience our special blend of hustle and hospitality," said Moddelmog. "They need to know we are a region where companies are growing, neighborhoods are vibrant and economic activity is taking place in all zip codes."
Also speaking to LGBT rights, Wood said, "We must be a workplace that welcomes all people, regardless of race, sex, color, religion, age, disability, gender orientation or national origin. We are still too busy to hate."
Gellerstedt concurred, saying, "We must be deliberate about supporting inclusion – the next generation workforce demands it. We must be known as a place where anyone from anywhere can leave a mark and make an impact."
Transit is also on the minds of young workers the region so badly needs, and the chamber will be pushing transit funding. "We thank leaders for moving forward in 2015 with $1 billion in new transportation funding, but transit expansion must also be funded," said Gellerstedt.
Former Mayor Andrew Young and current Mayor Kasim Reed also spoke at the event. "Our city is by every measure ascendant," said Reed. "We ended our FY 2015 with $2.9 billion in new commercial activity – our highest since the 1996 Olympic Games – and we already have $2.2 billion in the pipeline for the coming year. Our official bird is the construction crane."
Young says the region has a lot to build on, including brand awareness of its companies and climate. "People don't fight when they drink Coke together," he said, "and since we got air conditioning and integration, small towns around Atlanta and the southeast are perhaps the best places to raise a family. Now we need to expand business out there, so we're not just an import capital but an export capital for the world."
Photo of MAC President and CEO Hala Moddelmog at the annual meeting courtesy of Ben Young.