Manuel's Tavern: Last Day, Last Call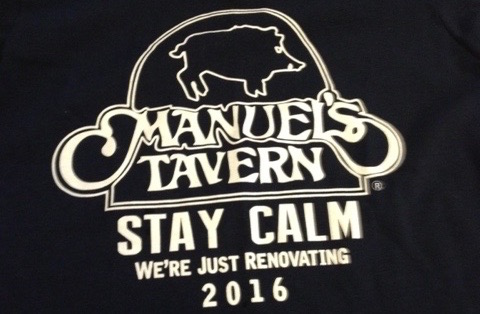 The last Sunday of 2015 marked the last day for Manuel's Tavern – for a while. The venerable Atlanta bar, which opened in 1956, is closing for several months for renovations.
On the morning of the final day, folks wandered in for a late breakfast or an early lunch. Some took pictures, some chatted up the servers, and everyone engaged in a little reminiscing.
Owner Brian Maloof, son of the late founder and Democratic power player Manuel Maloof, assures all the lawyers, journalists, cops, judges, professors, college students, writers, actors, plumbers, tourists and just-plain-folks who love a cold beer, an oversized hamburger and a good political discussion that Manuel's will be back – but with updated plumbing and electrical systems and only a slightly smaller footprint as the area surrounding the building is converted to a mixed-use development.
The vintage collection of photos, oil portraits, banners, framed newspaper clippings, beer cans and the urn containing Manuel's ashes will again be displayed in the refurbished space.
Meanwhile, those feeling nostalgic will be making a fashion statement with a special-edition T-shirt bearing the Manuel's logo and the reminder: Stay Calm We're Just Renovating 2016.
Photos courtesy of Susan Percy.