Trendsetters: Smart Fun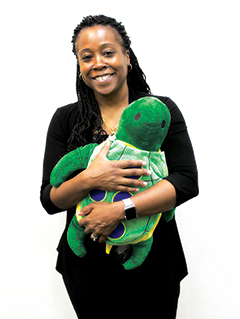 It makes perfect sense that Georgia Tech's Dr. Ayanna M. Howard, the founder of Atlanta startup company Zyrobotics, grew up watching The Bionic Woman. After all, the show's superhuman superhero Jaime Sommers saved the world weekly after her body got a high-tech reboot following a skydiving accident.
As a middle schooler, the science fiction-fantasy TV series supplied a strong female central character for Howard and a way to transform her love of algebra, geometry and tinkering with her transportation engineer father's 1980s-era clunky Commodore 64 computer into a potential career.
With its groundbreaking inclusive educational mobile technologies being developed for children with special needs, Zyrobotics is helping to inspire a new generation while leveling the playing field for young people by giving them the skills-building tools for future success. The company slogan at Zyrobotics? "Freedom Through Technology."
"As a researcher and inventor, I saw that there was a real societal need," says Howard, who in addition to her role as Zyrobotics founder and chief technology officer is also the associate director of research at the Georgia Tech Institute for Robotics and Intelligent Machines. "It's a way to get this technology that was just sitting in a lab out to the world."
Since its launch in 2013, Zyrobotics' product line has grown to include a series of colorful gaming apps for children filled with eye-grabbing graphics and names like OctoPlus and Turtle Invaders, games that secretly bolster STEM (science, technology, engineering and mathematics) education curricula. Just don't tell the kids. The apps were also designed to assist young people with motor-skill or cognitive delays. The games are either free or very affordable (99 cents to $2) in the Apple and Android app stores.
"All kids learn differently, whether they have a special need or not," explains Howard, who after working her two jobs goes home to a household with three tech-loving teenagers. "A lot of us have a fear of math because it was tough for us in school. By gamifying these STEM curricula, kids will keep working on it because you've structured it as a game, something fun. But simultaneously, they're learning something."
Based on parent and teacher feedback, Zyrobotics' next set of educational games will focus on enhancing multiplication skills and teaching basic computer programming. Howard's burgeoning Atlanta startup is growing because the company is focused on designing apps for tablets and a touch screen-based future.
"Instead of the old web-based curriculum, why not use the beautiful graphics and the interface on tablets instead? That's where the kids are," Howard says.
Zyrobotics' most exciting product is still in beta testing but could end up changing our everyday lives as much as our smartphones. Zyro is a small social robot coach that is currently hard at work in a study with 41 children (11 have special needs), delivering assistance, encouragement and positive reinforcement between therapy sessions.
Zyrobotics CEO Dr. J. MacCalla says the goal is to turn Zyro into a highly personalized helper and to put it on the market at a $399 price point, comparable to a tablet. "The future is going to be filled with little robots who perform different tasks," predicts MacCalla. "It doesn't have to be humanoid like what we see in the movies. I mean, the Roomba vacuum cleaner is a robot. … Basically, they'll be super sophisticated appliances."
Zyrobotics is also serving as a leader in creating a diverse workplace. Howard has said she wants her company to look like Atlanta: 50 percent female and under-represented minorities and 20 percent people with disabilities.
While most two-year-old startups would envy Zyrobotics' rapid evolution, the company's CEO remains impatient. "We always want to push that accelerator to the floor and go faster," MacCalla says. "We're always trying to figure out what to do next and how to improve on it. That's what makes this work truly exciting." – Richard L. Eldredge