Operation Workforce
The unemployment rate for Georgia's veterans hovers around 8 percent – 10 percent for those post-9/11 – but there are several new initiatives that are putting people back to work.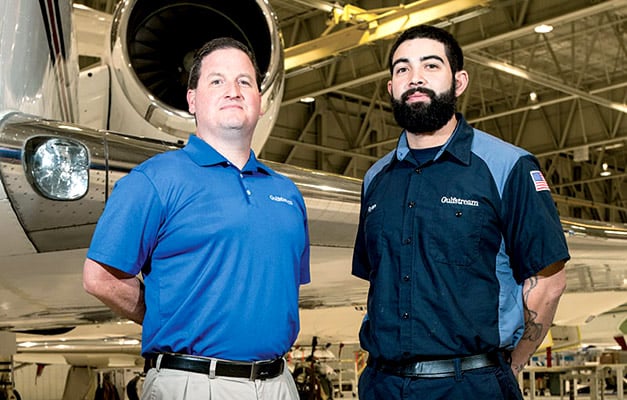 Every month the new unemployment rate in Georgia is announced, and we learn how, despite the number creeping down, it continues to be higher than the U.S. rate.
What we don't hear as often is that in Georgia, there are currently 144,000 jobs open – these are positions that companies cannot find qualified people to fill. And that figure is just the tip of the national iceberg.
Across the United States, there are between 5.4 million and 5.9 million jobs going begging. These are often jobs that require some sort of specialized training or education, including positions in construction, manufacturing, logistics and healthcare. Coincidentally, these jobs – careers, even – are also ones that people with military experience are often well qualified for.
So why are these positions going unfilled, and how can Georgia play matchmaker between veterans and business owners? As it turns out, the answer is in many ways the same way a romance matchmaker does it these days – on the Internet.
"What we've learned over time is that even some of the companies that have taken the pledge [to hire veterans] don't really know how to do it or how to do it well," says Ben Hames, the deputy commissioner for workforce at the Georgia Department of Economic Development (GDEcD).
To match companies that have open positions with veterans, transitioning service members and military spouses seeking civilian jobs, the GDEcD has created Operation: Workforce. It's a program all agree will become more and more important as the number of veterans and people transitioning out of the military grows in Georgia due to sequestration and another round of base closures anticipated in 2017.
"Operation: Workforce was launched in 2012 by Gov. Deal. It's centered around operationworkforce.com, which is an online portal where Georgia employers can create profiles and they can post jobs specifically for Georgia veterans," says Margaret Miller, Operation: Workforce program manager. "There's also resources on the site, Georgia resources, for veterans and employers."
Operation: Workforce has nearly 1,000 employers listed on the site – and just like with those romance matchmaking sites, some have spent time on their profiles, making them as appealing as possible to the 4,900 job seekers. Companies include everything from smaller businesses like The Hughston Clinic to the giant Southern Co., which uses Operation: Workforce as just one tool in its veterans employment toolbox.
"One of the programs [Southern Co. has] is Helmets to Hardhats, which takes military individuals and puts them in as a lineman for Southern Co.," Miller says. "They're also on our employer panels for every operation workforce summit we've had."
These summits, held near Georgia's military installations several times each year, bring companies and transitioning military personnel together in a sort of mega-job fair.
"We usually have employer panels, all size companies, to share best practices, companies that really have the veteran hiring down," Miller says.
The summit includes panels for both veterans looking to beef up their civilian employability and employers looking to reach out to veterans. The second day is a hiring fair, which gives vets and companies the opportunity to put the lessons learned the day before into practice.
"We found some of those companies that were our partners that were doing some of the best work bringing veterans in. They do things like [identify] folks who are a key part of the corporate culture and who are themselves veterans, and use those folks as a liaison to evaluate, hire and help with the overall acquisition and onboarding process to find veterans who are a good fit, and to identify skill sets that are going to translate well into that particular private-sector civilian setting," says Hames.
One of the companies participating in Operation: Workforce Summits – and other programs to tap into the veteran population – is Gulfstream, where approximately 30 percent of the 10,000-strong workforce is ex-military or military spouses.
"The reason we tap into the veteran population is Georgia has one of the largest veteran populations in the country – retired or disabled veterans," says Davis Purdom, a veteran himself and now the military recruiter at Gulfstream. "The training they've received in the military is absolutely what we've been looking for in this industry."
Gulfstream also participates in Georgia Tech's Savannah-based Veterans Education Training and Transition Program (VET2). VET2 is designed to "directly tie employers that are hiring veterans to service members in the transition process or those who have already transitioned," says James Wilburn, director for military academic programs for the university's professional education department and the man in charge of the VET2 program.
Discussions about the program began in 2012, when Georgia Tech wanted to play a larger role in helping bring down the unemployment rate for Georgia veterans. "We had an unemployment rate that was about double what the non-military employment rate was. So it was quite high in 2012," Wilburn says.
VET2 is unique in that it allows active-duty military to participate in internships before they transition out of the service, a new concept that the Department of Defense only began allowing last year.
"There are some on-the-job training programs or apprenticeship programs that some companies are starting to create internally," Wilburn says. "But as far as a college or university program that couples internship or experiential learning with a professional education, right now Georgia Tech is definitely the first one and, last I checked, the only active-duty internship program."
Given the success the program has, it won't be the only one for long. A total of 68 service members and veterans have completed the program, and 99 percent of those have received job offers from the company they interned with. "It's a great position to be in," Wilburn says about the program's success. "It's something I think that will grow tremendously in the next couple of years as companies start to learn about their opportunities and abilities to create these kind of partnerships and create these kind of opportunities for service members."
The four-week program includes one week of classroom learning and three weeks at the company job shadowing and interning. The week in the classroom seeks to address three challenges research shows veterans face as they transition into the civilian job market.
"One of them is socialization, becoming a member of a team," Wilburn says. "How do you fit into a new organization as a member of a team? The second one has to do with interpersonal communication. How do you communicate with individuals in the military with its structure and organization? It's very different from what's acceptable and appropriate in the civilian sector. And finally we wanted to address presentation. How do you present yourself to others? How do they see you – not simply in communication, but also in your body language and how you interact? So those three areas we put into the first week."
The other part of the week is an introduction to specific company policies, HR practices, culture and other things that will help a specific veteran transition well into a specific company. And here's the key to that 99 percent success rate – if companies sponsor people for the VET2 program, the company must have an open position that it is looking to fill and must agree to hold the position open until the intern completes the program. The intern is not guaranteed the job, but they've got a shot at it.
"We are working with [VET2] in our coastal region and also our Augusta area, so that would be Fort Stewart and Fort Gordon," says Miller. "They're looking to expand into Fort Benning. Through that program, they've worked with Gulfstream and some very large companies to get some transitioning military some really phenomenal, great jobs."
In fact, the program has been a huge success at Gulfstream, says Purdam. The company has sponsored 12 people through the program and made 11 job offers, including to Ryan Kennedy, who went through the VET2 program last spring and now works at Gulfstream as an aviation technician.
"I would recommend the program to [other veterans]," Kennedy says. "There's always value when somebody that's been through the transition portion is helping you and showing you these things that you may not see from an outsider's perspective. And seeing all these companies that are on board with the program, it gives [military personnel] a view inside a company before they have to make a commitment to it.
"It's an opportunity to take a peek and see if you like what you're doing or not. You're not obligated to take the position," he adds. "Because if you've been in the military for an extended period of time, that's what you become accustomed to. So you're not familiar with the happenings of the civilian workforce. If the program does anything, it shows you the difference, and it helps you really become a civilian."
And that's really the goal of matchmaking programs like VET2 and Operation: Workforce, helping businesses think like veterans and helping military personnel succeed in the civilian world. Sounds like the start of a beautiful and productive relationship.
---
Expanding Opportunities
Soon Georgia veterans will have one more resource when seeking ways to enhance their job skills as they transition to the civilian workforce. The Military Academic Training Center (MATC) in Warner Robins, a partnership between the University System of Georgia and the Technical College System of Georgia, is expected to open May 1.
MATC will offer mission-specific training and services to Robins Air Force Base and other military installations in the state. In addition, veterans can receive academic and career counseling – like how to apply their specific military training as credit toward a certain degree or certificate – at the new $10-million facility to help them find success in the civilian world. – Karen Kirkpatrick