Filling In The Gaps
A healthy mouth means far more than pretty teeth. So why are many Georgians neglecting their mouths and what is being done to protect their oral health?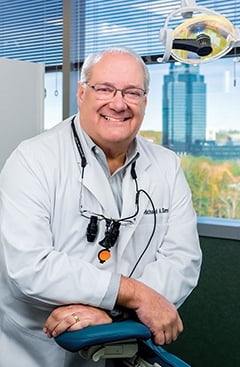 What's more important than your mouth? "It's how we communicate with people, how we express our pleasure or displeasure and how we nourish ourselves," says Atlanta dentist Richard Smith. "It's the first thing people look at when they see us."
Increasingly, research is showing the mouth holds clues – and sometimes solutions – to what's going on elsewhere in the body. Yet far too many Georgians neglect their mouths, new research shows.
While dental visits for children have increased over the past decade, dental care among adults in the state is steadily declining, as many adults wait until easily preventable or treatable problems become painful – and expensive.
In 2007 (the most recent available figures) in Georgia, there were about 60,000 visits – at a cost of more than $23 million – to emergency rooms for non-traumatic dental problems, which are oral health issues not caused by injuries.
"We are talking about a toothache," says Smith. People go to the emergency room, wait for hours and pay a hefty bill, all for a treatment – usually a prescription for antibiotic and a handful of pain pills – that doesn't actually treat the problem, he says. "You feel better for a little while, and then a few days later, bingo, it's back, because they only treated the symptoms."
Emergency rooms are not equipped to handle dental emergencies. "You don't treat dental infections with an antibiotic," he says. "By the time a tooth hurts, there is always something mechanical to do, some type of surgery to the tooth or around the tooth that only a dental professional can provide." So a costly trip to the emergency room must be followed up by more costly treatment – often in the form of a root canal and restorative treatment that could have been prevented in the first place with routine dental care.
---
The Greater Costs
The cost of dental neglect can be far greater than the direct financial cost of a trip to the emergency room or repairing decayed teeth, however. People with decayed or missing teeth often suffer from lower self-esteem, says Tom Broderick, a Savannah orthodontist and president of the 3,300-member Georgia Dental Association. "When people lose their teeth it affects their ability chew, it affects their ability to pronounce their words and it affects their employability," he says. "Quality of life is affected."
Not surprisingly, research shows that the appearance of a person's teeth can also influence others' opinions of them. One study showed that people with crooked teeth were perceived as less confident, less successful, less sociable and less attractive to the opposite sex.
Failure to have regular dental checkups and maintain good oral hygiene can also have health consequences that extend far beyond the teeth and mouth.
Oral cancer, for example, begins with a small lesion, frequently beneath the tongue, and is often discovered by a dentist, says Smith. In its early stages the disease is treatable, but once it becomes painful it has usually progressed to the point where treatment causes severe disfigurement of the face. In the past year, Smith has identified two cases of oral cancer, he says, adding that the condition, which is related to the human papillomavirus (HPV) infection, is becoming more common.
Even something as seemingly innocuous as swelling and bleeding of the gums (gingivitis) can lead to serious problems if not treated, says Smith, but most people don't take gingivitis as seriously as they should. "I have people who come to me and say, 'Well my gums bleed when I floss. That's not a big deal because they always have.'"
If all of one's gum tissue were laid out, it would cover an area the size of a baseball, says Smith. "If you had a piece of raw tissue on your forearm the size of a baseball that bled every time you touched it, you would be concerned. You would be at your doctor's office immediately," he says. "But because it's in their mouth, they think it's OK. That's very frustrating to us as dentists."
While gingivitis can usually be stopped and even reversed with daily brushing and flossing at home and regular dental cleanings by a professional, uncontrolled gingivitis can progress to periodontal disease, a condition in which the gums pull away from the teeth and form pockets that become infected. As the infection worsens, bacterial toxins and the immune system's response to infection start to break down the underlying bone and connective tissue, leading to tooth loss.
Even worse, ongoing inflammation in the oral tissues may contribute to or exacerbate seemingly unrelated problems throughout the body, including heart disease, stroke, rheumatoid arthritis, uncontrolled diabetes, some cancers and pregnancy complications including preterm birth and low birth weight babies.
The link between inflammation and these conditions is so strong that treating periodontal disease – the most common inflammatory disease, affecting up to half of American adults – is often crucial to the treatment of these other diseases, he says.
Unlike gingivitis, periodontal disease is not curable, but it is controllable with regular brushing and flossing and special cleaning treatments by a hygienist. "We can teach people to keep it under control and reduce the amount of inflammation in their body and keep them healthier in the long run," says Smith.
---
Why Don't People Go to the Dentist?
If oral health is so important to general health, self-esteem and even the ability to land a job, why aren't more people in Georgia seeing a dentist? A study conducted by the Georgia Health Policy Center at Georgia State University offers several explanations, says Georgia Dental Association Executive Director Frank Capaldo.
The greatest barriers identified by the study include education (people don't realize how important dental care is), cost, lack of transportation, inability to get off work (many Georgians lose money or risk losing their jobs when they take time off) and fear of the dentist, says Capaldo.
In its Georgia's Action for Dental Health plan, approved last fall, the Georgia Dental Association outlines efforts and initiatives to address these barriers.
"The biggest challenge is getting people to want what they need," says Smith.
The Georgia Dental Association is on a mission to make more people aware of the importance of dental health. "We plan on reaching out to everyone in the state, keeping oral health out in front of them so they understand your mouth is kind of the picture window into the rest of your body's health and it needs to be taken care of," Capaldo says.
Other efforts to remove barriers include a loan forgiveness program, which will award up to $25,000 to young dentists who agree to practice in underserved rural areas, efforts to improve Medicaid benefits for preventive and restorative dental treatments, support for the presence of a dentist in a school-based clinic, the establishment and expansion of emergency room diversion programs, and the development and implementation of an oral healthcare caregiver education program for parents, caregivers, nursing home staff and others providing care to individuals who are not fully independent.
The association is working to create public-private partnerships with entities such as public health departments, the Georgia Charitable Care Network (a network of nonprofit clinics, physicians, dentists and other healthcare professionals dedicated to serving low-income and uninsured Georgians) as well as working with Augusta University (formerly Georgia Regents University) College of Dental Medicine to have residents work with licensed practicing dentists.
Many individual dentists are also addressing these barriers to care by offering later or Saturday hours and providing countless hours of free or reduced-fee dental care – whether it's for patients they have identified in their own practices; by volunteering at low-cost clinics, which are available in many counties throughout the state; or by taking part in large-scale efforts such as the Georgia Dental Association's annual Mission of Mercy, a free, 100-chair portable clinic for adults who are unable to pay for dental care.
---
A Mission of Mercy
Last summer's Mission of Mercy, which was held at the Georgia National Fairgrounds and Agricenter in Perry, brought together 1,400 volunteers, including dentists, hygienists, dental assistants, dental labs and even some patients from previous Missions who donated their time and skills to provide basic dental services to low-income Georgians.
"We saw about 2,000 patients in two days and provided about $1.5 million of donated dental care, getting people out of pain, removing teeth and filling teeth," says Broderick, who volunteered on a team that provided partial dentures to patients who were missing teeth.
Patients came from 80 Georgia counties, and some camped out to ensure a spot when the portable clinic opened. While the clinic was designed to help patients with the greatest financial need, no one was turned away, says Broderick. "If they showed up, we helped them," although some patients had problems too extensive to be corrected in a single weekend. In those cases, patients were encouraged to see a dentist close to home to have the work completed.
All patients were encouraged to find a dental home – a local dental office where they could have routine check-ups, cleanings and other services to help ensure improved dental health in the future.
---
No Shortage of Dentists
Finding a dental home and visiting it regularly – typically twice a year – could help prevent most of the problems faced by people with poor dental care, says Smith.
"For years we have been telling people to come at least twice a year and brush twice a day," says Smith. "We have come up with sealants that have almost eradicated dental decay. Fluoride has helped amazingly in controlling disease so that dental decay is now almost 100 percent preventable."
While Georgia faces many barriers to optimal oral care, a lack of dentists is not one of them, says Capaldo.
"There is plenty of capacity in the state," he says. In a 2012 survey of Georgia dentists, 3,300 had the capacity to see more patients – they would not turn patients away; 309 were actually pushing to grow their practices and recruit new patients; and 31 dentists had so few patients that they were struggling and at risk of going out of business. So there are spaces available for people who need a dentist, says Capaldo.
When choosing a dentist, Smith recommends asking friends and neighbors who they see or calling dental specialists – the oral surgeons, endodontists and periodontists who see the work of all the general dentists in the community – and ask who they would refer their family members to. The Georgia Dental Association's website also has a search tool for people who would like to search for a dentist by zip code.
Regardless of how people find a dentist, Smith says, regular dental care is an investment that can spare them pain and expensive dental procedures and perhaps even reduce the risk of serious health problems down the road.