Business Casual: Coming Home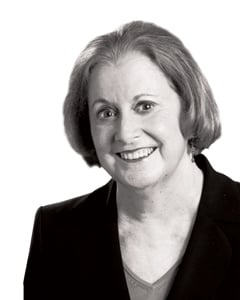 My first impressions of Athens on the day I arrived as a freshman at the university were that it was hot, it was hilly, it was scary and that there was nowhere else I would rather be. Next came the realization that I did not have the right shoes.
The heat pretty quickly gave way to a splendid Athens fall, and a trip downtown to a now long-shuttered department store resolved the footwear crisis. I got used to the hills and came to love them. The scary feeling dissipated, but not the sense that I was exactly where I wanted and needed to be.
I entered the Grady College of Journalism and Mass Communications (or, as those of my era insist on calling it, the J-School) as an 18-year-old with a used manual typewriter – a gift from my always-encouraging mom – and an unfocused but firm conviction that I wanted to write. When I left four years later with a diploma, I was a journalist.
In between, there were highlights – encouraging teachers, good friends, the right balance of silliness (there was a water-pistol craze my junior year that I would rather not talk about) and seriousness, discovering I could hold my own in my chosen profession. I had my hand stamped at Allen's, and I attended the first on-campus performance by a black entertainer when Louis Armstrong played to a packed Stegeman Coliseum full of giddily appreciative students who stood clapping and cheering through at least three encores.
There were lowlights, too. I learned to smoke and drank my first bourbon and Coke from a Dairy Queen cup. I cried behind a notebook in Journalism 101 after my boyfriend broke up with me. I was humbled by freshman biology and surprised to learn that being raised Catholic made me an oddity to some of my dorm-mates.
Over the years, I came back to campus to speak to classes and attend football games. It felt very comfortable. I was surprised to be asked to join a couple of boards, including the Grady Society Alumni Board, that provide more opportunities to return to campus and meet the current crop of super-impressive students.
I've also had the chance to get to know Athens beyond campus and learn my way around the city in a way I couldn't as a non-car-owning student. I have come to appreciate the just plain kindness of the people who live there, whether they are locals greeting visitors or students offering directions to lost alums.
In October, an old friend and journalism school colleague came from Seattle so we could attend the Grady tailgate and the Homecoming game together. We pinched ourselves to be sure we really were in Sanford Stadium in a community of red-clothed partisans.
In November, a very special occasion brought me back to Athens and the university. My late husband, Paul Hemphill, was inducted into the Georgia Writers Hall of Fame, in the good company of Janisse Ray, Taylor Branch and Vereen Bell.
Paul was a columnist for The Atlanta Journal and the author of 16 books – fiction and non-fiction – a long-time Georgia resident and an Auburn guy (friends used to joke about our mixed marriage) who had a soft spot for UGA.
The Hall of Fame activities took place over the better part of a soggy, wet two days (the Athens autumn of screen-saver fame had taken a vacation) that nonetheless showcased the campus and the city.
For the induction ceremony, the auditorium at the Richard B. Russell Library Building was filled with writers and readers of books, including family members and good friends who made the trek to Athens.
Paul's old friend and former newspaper colleague Terry Kay, himself a 2006 Hall of Fame inductee, did the introduction. Referencing Paul's early and thwarted ambition to play professional baseball, Terry said, "He was special – this man who could not hit a curve ball. But he could write. My God, he could write."
Amid the tears and the heart-in-your-throat solemnity of the occasion, I relied on the presence of our grandchildren to help keep things on an even keel. (The 4-year-old proclaimed at the post-ceremony luncheon that he is "not really a zucchini guy," while his year-old sister trailed Cheerios across the dining room.)
I was struck throughout by the feeling that I was home and that there was no place else I would rather be.
And this time I had the right shoes.