T-Splost Redux
Legislators, local leaders discuss lessons learned, new opportunities.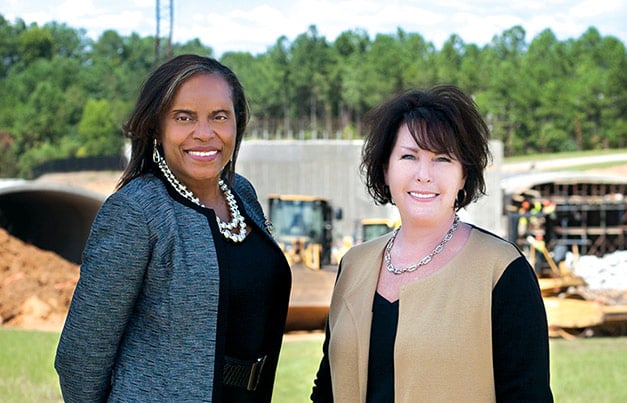 Even consumer guru Clark Howard has jumped into Georgia's transportation funding discussion.
Pointing to a recent study that says automobile damage caused by shoddy roads is on the rise nationwide, Howard insisted in a recent radio segment that it's much smarter for government to repair roads and bridges now than later.
More than any time in recent history, Georgians are doing just that.
First, 46 of the state's 159 counties began collecting an extra one-cent sales tax as a result of a 2012 Transportation Special Purpose Local Option Sales Tax (T-SPLOST) referendum approved by voters in the Augusta, Columbus and Heart of Georgia (including Dublin, Jesup and Vidalia) regions. In the 10-year tax's first three years, more than $350 million was netted to fund 145 local and regional transportation projects ranging from a new Appling County bridge to re-routing traffic around railroad tracks in Muscogee and Wayne counties.
Next came what Russell McMurry, the Georgia Department of Transportation (GDOT) commissioner, says is among "the most important political infrastructure decisions of all time" – HB 170, known as the Transportation Funding Act (TFA) of 2015.
The landmark legislation is expected to generate about $900 million annually – mostly from extra gas tax proceeds – for road and bridge construction, maintenance and repair.
"It shifts Georgia away from total dependency of our federal projects and provides GDOT with flexibility to strategically utilize funds," McMurry says. "However, the need for funding to address local needs still exists."
The next prospect for Georgia to maintain its transportation-funding mojo – and specifically address local needs – is squarely in the hands of county commissions and their constituents.
Unlike the state government-mandated regional T-SPLOST that was up for a vote in 2012, the TFA lets county governments decide whether to put transportation funding questions and projects before voters as regions, multiple counties, a single county – or not at all.
"T-SPLOST Lite," as some call it, provides locals with much of the suppleness that was missing from the 2012 T-SPLOST. Further, the law also allows for a fraction of a penny sales tax to be collected – again, if that's what voters want – for five years.
Some counties may ask voters to agree to be taxed a quarter, half or three-quarters of a penny, for example, because that's all their communities need to fund transportation projects.
"We wanted to do it county by county in the first place, and it kind of came full circle in 2015," says Sen. Tommie Williams (R-Lyons), Senate Transportation Committee chairman. "We think there will be communities, particularly in the north part of the state, that will give it another go, especially because the federal government still can't get their transportation act together."
---
REVERSAL OF FORTUNES
What a difference a year makes.
Anxious in 2014 about how long-overdue road and bridge improvement projects would be funded, the ACCG (Georgia's county commissioners association) is now almost giddy about the swift turnabout.
"What [TFA] does is better enable communities and regions to separate the needs from the wants and better determine how much money needs to be raised to do what is truly needed," says Clint Mueller, ACCG legislative director for revenue and finance.
As an example, Mueller says that unlike in 2012, counties along Interstate 20 east of Atlanta can collaboratively ask their voters to pay to relieve traffic congestion by adding more lanes. A county's ability to adopt a partial-penny transportation tax is particularly crucial, he says.
"Counties have the opportunity to tailor things to what they learned in the last referendum," Mueller says.
McMurry, Williams and Mueller say politicians and citizens throughout Georgia already feel more connected to "T-SPLOST Lite" than its predecessor.
"I think the first one felt forced … instead of the [local governments] being able to say, 'This is how we want to do it,'" Mueller says.
Discussions about the fertile transportation funding opportunity provided via TFA are occurring in Atlanta-area communities and in the Middle Georgia region of 11 counties around Macon, where about 56 percent of residents rejected the T-SPLOST in 2012.
"I'm encouraged by the conversations and even resolutions being passed to advance T-SPLOST around the state," McMurry says. "I feel that is evidence of the local governments' understanding of the critical nature of the transportation-infrastructure link to economic prosperity."
Jay Roberts, who as a Republican state representative from Ocilla helped spearhead TFA's passage, says he laments Middle Georgia's rejection of T-SPLOST in 2012.
"I think that if you talk to any of the three regions that passed it, they will tell you that it's one of the best things that they ever did," says Roberts, who resigned his House seat this summer to become GDOT's planning director.
---
THEN AND NOW
Augusta-Richmond County was part of the Central Savannah River Area that voted "yes" to the 2012 T-SPLOST, which is expected to generate $841 million in the 13-county Augusta region. Fifty transportation projects are planned in Richmond County, including arterial road widening and traffic signal modernization; safety improvements and downtown streetscape enhancements; and several major bridge replacements.
Under the 2012 T-SPLOST, 75 percent of the funds generated by the tax are paying for specific projects, while local governments have discretionary use of 25 percent of the proceeds for transportation.
Janice Allen Jackson, Augusta's city administrator, advises that to gain public support for any upcoming T-SPLOST initiatives, advocates must ensure that people "understand what is in this for them."
"When people know how they can benefit, either through jobs, safer driving conditions or a less frustrating commute to home or work, they are more likely to support it," Jackson says.
Critical to communities' T-SPLOST considerations, Jackson says, are state and federal governments' local match requirements.
"The more money you have, the more likely you are to generate other resources," she says. "[The T-SPLOST], therefore, has a multiplier effect that is invaluable in communities with aging and insufficient infrastructure."
Sue Parr, the Augusta Metro Chamber of Commerce president and CEO, says the T-SPLOST's passage in the Central Savannah River Area was largely due to business and community leaders valuing the connection between transportation and commerce.
She says that six months before the 2012 vote, the local and state chambers of commerce formed a coalition and hit the speaking circuit to emphasize that "local control for local transportation needs was a win-win. We had a sellable product resulting from a well-managed process by our local elected leaders and a concerted effort to ensure equity for every county in the region," Parr says.
Strategically, proponents of T-SPLOST in the Augusta and Columbus regions also embraced a vital reality from the beginning: For the measures to pass, they needed overwhelming support in the metropolitan areas, because rural voters tend to oppose new taxes.
T-SPLOST is expected to generate about $594 million in the Columbus region, including about $300 million in Muscogee County, over 10 years.
Gerald Mixon, the River Valley Regional Commission planning/development director, says that if any of the Columbus region's political leadership insisted on getting a disproportionate share of the T-SPLOST funding, "there was no way it would get approved."
About half of the River Valley region's population is in Columbus.
"They had to be willing to forgo a bigger appetite in exchange for getting that 25 percent that was written in the law to go to local governments directly," Mixon says.
Columbus Mayor Teresa Tomlinson says 90 percent of her community's T-SPLOST proceeds are "assigned to specific, transformative projects." The projects include revamping the community's public transportation system for the first time in 40 years, completing 16 miles of the Chattahoochee RiverWalk and launching several massive economic development-assisting road projects.
The 2012 T-SPLOST debate was encumbered by uncertainty and skepticism due to self-taxing for transportation being a new-fangled notion, Tomlinson says
"I don't think the next regions to tee up this vote will encounter that level of skepticism," she says. "Instead, they will be able to point to real-world examples and [the] process of how this works for the benefit of the community."
---
OPPORTUNITIES ABOUND
Georgia's road system, the nation's 10th largest, includes 85,738 miles of county roads, 17,967 miles of state roads and interstates, 17,754 miles of city streets, and 14,666 bridge structures.
Ross King, ACCG executive director, readily rejects the notion that T-SPLOST went down in flames in 2012, when nine out of the state's 12 regions rejected it. For starters, transportation is not nearly as big a priority in some communities as it is in others, he says.
"When people talk about transportation, it means one thing in Metro Atlanta, in coastal Georgia it means something else, and in rural Georgia it means something else," King says. "That is often overlooked in the general dialogue."
Savannah business executive Steve Green, a former Georgia Chamber of Commerce and Georgia Ports Authority chair, who served as a citizen appointee to the General Assembly's Joint Study Committee on Critical Transportation Infrastructure Funding in 2014, says he hopes Chatham County leaders are taking notice of how T-SPLOST is transforming communities throughout Georgia.
"The General Assembly and governor have created another great opportunity for us to address our transportation needs," he says.
Sen. Williams agrees. He says that safety, quality of life and economic development are steadily improving in the 17-county Heart of Georgia region due to voters approving about $399 million in transportation sales tax proceeds.
Citing congestion on I-16 near Savannah as a primary illustration, Williams says motorists' safety should be a trumping consideration as communities contemplate taxing themselves directly for transportation.
During the first half of 2015 alone, 19 people were killed in traffic accidents on I-16.
"I'm not saying that these people would not have died, but you can't pile that many people onto two lanes going in and two lanes going out," Williams says. "Chatham County or the district now will have a chance to go back in there and say, 'We have a capacity problem. This is about people's lives, and this is about having decent roads.' That's what they need to sell."