Studying Georgia's Opportunity School District
Proponents see it as the answer to failing schools. Opponents see it as an end run around local districts. Voters will decide next year who's right.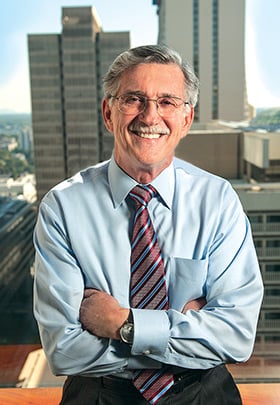 Georgia has too many chronically failing schools – some 139 of them. Nobody disputes that, and nobody disputes that something needs to be done. But determining the what and the how is the hard part.
The legislature took a crack at it this year. Pushed by Gov. Nathan Deal, the General Assembly passed SB133, creating an Opportunity School District (OSD) to be headed by a superintendent appointed by the governor. It's not a done deal; the law requires a change in the state constitution, so Georgia voters will have the final say on the November 2016 ballot. But the proposed district is already fueling a lively and impassioned debate.
"We look at this as an opportunity for an appointed state figurehead called a superintendent to look at some districts that are struggling and see what could be done to make them better," says Steve Dolinger, by way of explaining the law. He is president of the nonpartisan Georgia Partnership for Excellence in Education (GPEE) and a former Fulton County school superintendent.
His organization has studied the measure but has not taken a formal position. "The real key," he says, to turning around a school, "is stronger teachers and then some support and training for those teachers and some support for kids who, in most of these districts, are living in poverty. It's a complicated issue."
So what's not to like about a law designed to help students in troubled schools get a better education?
It comes down to local control and accountability: The appointed OSD superintendent would have a lot of power to circumvent local elected school boards and exert control over local school dollars.
"It's going to be a battle between local control and state control," Dolinger says. "While we frame this as perhaps an opportunity to get some districts on track," he adds, "many of those districts already are working as hard as they can and as smart as they can. It is yet to be seen whether this is going to be a saving grace."
Valarie Wilson, executive director of the Georgia School Boards Association (GSBA), whose membership includes all 180 public school districts in the state, is a strong opponent of the OSD.
Her concern: "It is the absolute power and authority the OSD superintendent is given. Local boards of education have absolutely no say. The local community has no say. School board members are elected by the citizens in their districts to oversee local education. They are close to the districts, they know the educators, they know the environment they are teaching children in." And, she says, it is local dollars that make up quite a bit of the local school budget.
"No one will be able to move the needle unless they engage the local community," says Wilson, a former city of Decatur school board member.
OSD supporters like Michael O'Sullivan, state director of the nonprofit StudentsFirstGA, believe local districts have had their chances to deal with problem schools – and failed – and that state-level intervention is called for. His organization is part of the national StudentsFirst organization founded by former Washington, D.C., School Chancellor Michelle Rhee.
"It's an appropriate remedy," he says of the OSD. "It's a safety net for those schools and students. There should be a mechanism for accountability in schools. It's past time for the state to say there's a role they can play. The objective and purpose is a noble one: What can we do to ensure that there are no chronically failing schools?"
---
The Law
The legislation in question sets criteria for qualifying public schools – those that earn an F (using state Department of Education accountability measurements) for three consecutive years. The OSD is "authorized to assume the supervision, management and operation of public elementary and secondary schools [that] have been determined to be failing."
The governor's appointed superintendent, who must be confirmed by the Georgia Senate, can take control of as many as 20 schools a year – but no more than 100 at any time – and do what he or she determines is best for a failing school. There are four options:
• Direct management of the school by the OSD;
• Shared governance with the local board of education;
• Reconstitution of the school as an OSD charter school; or
• Closing a school (if enrollment is below full capacity) and assigning the students to another school in the district.
The process of taking over a failing school requires one public hearing, but the OSD superintendent makes the final call on which option to choose. There is no appeal process. Schools would stay in the district for a minimum of five years, no more than 10, and would then return to local control.
If it passes next November, the law would take effect Jan. 1, 2017.
---
The Money Question
Fixing troubled schools takes money and resources. The law establishing the new district is revenue-neutral in that no additional monies are specified, but the state OSD superintendent can appropriate local district funds and facilities to help a failing school, even if it is converted to a charter.
Wilson and the GSBA are concerned about effects on other schools in a local district if significant funds are re-directed toward a single opportunity school.
The lack of funding in the legislation for teacher training, extra help for struggling students and other kinds of support begs the question of what an OSD superintendent without additional resources can do – although he or she is free to seek philanthropic funds and contract with both nonprofits and for-profit private providers.
Of course, in any discussion about education, the years of state budget cuts loom large. Claire Suggs, senior education policy analyst for the Georgia Budget and Policy Institute (GBPI), notes that this is the 14th year of austerity cuts. During the 2010-2014 period, she says, education budgets were reduced by $1 billion each year.
The GBPI raised questions about the OSD legislation as it was working its way through the General Assembly, but the institute has not taken a position on the law.
"Budget cuts were especially hard on districts more reliant on state funds," many of them in rural areas, Suggs says. "Those districts were hit harder. They are just climbing out of a deep hole." To deal with cuts, some districts had to shorten the school year or furlough teachers.
"If you've been in triage mode," she says, "it's harder to put together a comprehensive plan that's going to work."
Both opportunity district proponents and opponents bring up similar efforts elsewhere, notably the Achievement School District in Tennessee for struggling schools and the Recovery School District in New Orleans, created to help an already-troubled system devastated by Hurricane Katrina in 2005 that 10 years later has seen tremendous improvements. O'Sullivan says at least a half-dozen other states are considering similar districts.
Suggs says the results in Tennessee and New Orleans need to be studied carefully to see what parts are successful. The New Orleans district in particular, she says, had a lot of new money to work with.
---
The Poverty Factor
It's impossible to overestimate the role of poverty in troubled schools and the difficulties of teaching students from impoverished backgrounds. Statewide, some 60 percent of public school students are eligible for free or reduced cost school lunches – a reliable measure of poverty. In some districts it's considerably higher – according to the DOE, 27 percent – 43 county school systems – have more than 90 percent of children on free or reduced meals.
Steve Dolinger cites Georgia's lowest high school graduation rates, 63 percent among students from low-income families and 44 percent among those who are still learning English. "They are the two fastest-growing groups of kids in the state," he says.
Although there are encouraging examples of schools that are successful despite students from poor families, any overall approach to helping troubled schools and students will have to deal with poverty and its effects.
"These are students who are grappling with many issues outside of schools that can affect them in school," says the GBPI's Suggs. "This is part of the equation we need to be paying attention to.
"Schools and school districts cannot solve issues of poverty on their own," she says. "It's not reasonable to think we can ameliorate all the problems during one school day or one school year. That doesn't get them [districts] off the hook, but we need a more comprehensive approach, need more strategic partnerships."
GPEE's Policy and Research Director Dana Rickman says the discussion and debate in the legislature over the OSD bill helped bring the issues of poverty to light, a development she finds encouraging. "You heard people talking about it," she says, "looking at it in a new way."
---
Leadership
If the OSD amendment passes – and even some critics believe it is likely to – its success will rest on the shoulders of the individual appointed by the governor to head the district. The ideal candidate should be talented, savvy, experienced and diplomatic.
"It all comes down to leadership," Dolinger says – whether that happens via an opportunity district or local efforts. And even the best leader needs good teachers and principals and sufficient resources – including funds for teacher training. "Where are you going to get a caravan of good teachers to send out to the troubled areas?" You've got to hire talented teachers with the right qualities, he says. "Then train them up."
O'Sullivan believes that the OSD will provide an opportunity for new leadership at the superintendent level and in some of the lagging districts. "It's going to take a different kind of leader, it's going to take maybe a different mentality or different programs," he says, "but it can be done."
The GSBA's Wilson says it's not possible for the top job to be done by someone who isn't an experienced educator. "You have to have a superintendent who is deeply vested and experienced in pedagogy, who understands leadership, who is sound in areas 'in the building,'" meaning someone who has put in time as a teacher or principal.
---
What's Missing?
Researchers like Rickman at GPEE and Suggs at GBPI believe more study is needed to figure out what is working in education in Georgia, especially the successes in places like Gwinnett and Forsyth counties that have large poor and non-English-speaking communities.
Others, including Wilson and Dolinger, question why the existing State Board of Education – headed by an elected superintendent with members appointed by the governor, has no real role in the OSD, even though the state education department has a school turn-around program with some impressive wins. (See sidebar, below.)
State School Superintendent Richard Woods, whose department could be undermined by the new district and supervisor, said in a recent op-ed piece: "It's our job to make sure schools aren't failing in the first place."
Suggs worries that the role of parents is diminished in the OSD; Dolinger believes the local business community must be vested in the success of local schools. And with so much authority lodged in an OSD superintendent, Rickman has concerns about accountability and transparency. "That oversight has to be there," she says, and it is most effective at the local level.
Accountability arguments don't sway O'Sullivan. "The person being held responsible is ultimately the governor," he says. "The result will be determined by the person he places in that role and what the superintendent is able to do."
---
The Road Ahead
There is no mistaking the widespread sense of urgency surrounding the state of public education. OSD opponents as well as supporters understand that the central issue is chronically failing schools that are not serving their students. No one is defending the status quo.
"OSD [supporters] have got a good platform," says Rickman. "They're not wrong. These things have been too bad for too long. And something different needs to be done."
A lot of citizens are frustrated – and not particularly interested in debates about local control or the finer points of long-term education research. They want a solution – now.
Supporters believe the OSD's big-picture approach and the prospect of bold action will ultimately win the day, and the new state district will become a reality. "Educational outcome is going to be the driving factor," O'Sullivan says. "It's not about who gets the credit, but is the school succeeding?"
There's already plenty of buzz about "the list" of qualifying schools and some money being spent. To help keep its schools off the list – 27 are on the 2012-2014 version – Atlanta Public Schools has hired a $96,000-a-year consultant. She is Erin Hames, Gov. Deal's former education policy advisor who was an architect and advocate for the OSD.
Dolinger believes more money will be spent, including lots of out-of-state money, to secure the amendment's passage, as there was when the charter school amendment (which passed) was on the ballot in 2012. At least some of that is likely to come from private interests that see business opportunities.
Even as the GSBA's Wilson is urging school board members to be sure voters in their districts understand all the implications of the opportunity district, she reminds them not to lose sight of what's important.
"The most important thing for the local school board," she says, "is to work extra hard to be successful so the schools are not on the list. The focus has to stay on students."
DOE'S Turnaround Team
Long before the Opportunity School District was a gleam in the governor's eye, the state Department of Education (DOE) was working with problem schools.
Avis King is deputy superintendent for the Office of School Improvement, which provides funding and support to troubled schools. Most recently, 198 out of 233 schools they worked with over a period of three school years have turned around.
There is no silver bullet involved, no magic formula, King says, just some targeted help where it is needed.
"We learned that you can't leave the district out," says Barbara Lunsford, associate superintendent, who oversees the federal programs portion of the division. "We help the district work with the school, as we provide direct support. We make sure the district understands those strategies that work. The district gets stronger as the school gets stronger."
The DOE directs its turnaround efforts toward priority and focus schools. Priority schools are those in which content mastery among students is in the lowest five percent in the state. Focus schools are those that may be doing well overall but have significant achievement gaps among some groups of students; services are available to the lowest 10 percent in this group.
For the 2012-2014 period, 36 of 79 priority schools and 119 of 159 focus schools met the exit criteria, as the educators put it – meaning they were successful in pulling up their scores.
And what kind of help does the department offer? There is funding available – including some federal dollars – to pay for professional training for teachers or instructional coaches for students or to bolster a district's ability to analyze data and use it. The DOE also has specialists who spend time with the schools and districts.
The big factors in turning schools around, the experts say, are training and leadership. "The professional learning piece is very important," says King.
"We have to have leaders in the building and at the district level being able to focus on what's going on in the classroom," Lunsford says. "The quality of instruction is important, especially in analyzing a gap. It takes a laser focus on learning to raise the bar." – Susan Percy