Prepared For Liftoff
Georgia's aerospace industry is thriving as companies collaborate to reach deeper into space.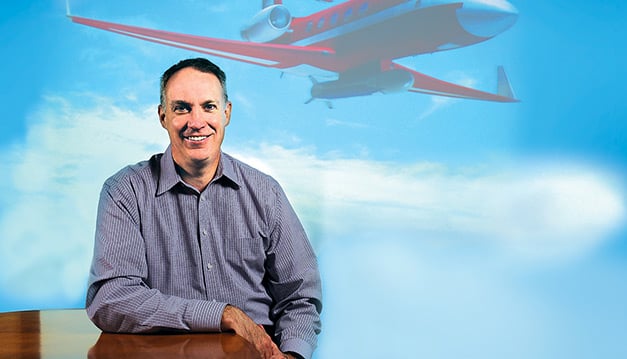 In July, several factions of Georgia's diverse and prolific aerospace industry joined forces for a flight test at a Cartersville airstrip. The collaboration just may change the world.
Generation Orbit Launch Services, a subsidiary of Atlanta's SpaceWorks Technologies Inc., completed its second successful NASA-sponsored flight test in its quest to develop affordable air-launched rocket systems for space access and hypersonic flight research.
While Cartersville's Phoenix Air Group provided a Learjet for the trial, Generation Orbit ultimately aims to launch small rockets from a Savannah-built Gulfstream jet. To boot, the July flight was supported by engineers from the Atlanta firm Terminal Velocity Aerospace.
Georgia, as it turns out, may be just as much the Space State as it is the Peach State.
The commercial aviation market and space innovation in the state is strengthening, military defense budgets are continuing to generate growth opportunities, and unmanned aircraft systems are becoming the next great focus of aerospace innovation.
"As a state, we are making tremendous gains in aerospace," says Steve Justice, the Georgia Center of Innovation for Aerospace director. "That's a testament to the Lockheeds, the Gulfstreams and the 500-plus aerospace companies in the state and their ability and their effort to look at the global marketplace."
---
'WE WANT YOUR IDEAS'
With 20 employees, mostly aeronautical engineers, SpaceWorks' customer list includes the U.S. Air Force, the Defense Advanced Research Projects Agency (DARPA) and several tier 1 aerospace and emerging space businesses.
The company, which continually gauges 10 to 15 years in the future, has a smorgasbord of other ongoing projects, including studying transporting humans to Mars; harvesting material from asteroids and the moon and returning them to earth; and researching space-based energy opportunities.
"Ultimately, we are an advanced concepts company," says CEO John Olds. "We work on the cutting edge of future space launch and aerospace systems and try to help customers define what they are, what their new capabilities could be and what new technologies might be applicable. I sometimes say that our companies live a little bit between science and science fiction."
So, for SpaceWorks, which comes first: The idea or the customer?
"There's some of each; that's what makes it fun to work here," Olds says. "In some cases, a customer will call us and they have the idea, and they want us to help them understand either the engineering side of their idea or the business side of their idea.
"We develop an integrated design around their technology with information that helps them decide whether to make an investment or not."
For NASA, SpaceWorks recently explored developing a small, affordable capsule for human space transportation to Mars. The company presented its findings, which propose engineering a 100-crew capsule and putting astronauts in a prolonged deep sleep, at the 2015 International Astronautical Conference in Jerusalem in October.
"That was a case of NASA saying, 'We want your ideas,'" Olds says. "It's a neat business to be in because we are constantly looking at the impact of future technologies on new capabilities for space exploration and space utilization."
Aerospace engineering is changing from being government-directed to being largely guided by commercial interests. Olds describes it as a "revolution" that began with space tourism.
"Space isn't just government anymore," he says. "We are involved in new markets and new technologies that will generate revenue in space for people right here on earth."
---
AN UNDERAPPRECIATED INDUSTRY
Justice says he may have the perfect job at the perfect time.
Georgia took a major leap in 2015 in the widespread commercialization of space and unmanned aircraft systems innovation, along with the surge in manufacturing commercial aircraft. Meanwhile, the state's aerospace industry enjoyed a crowning moment with the September release of a report by Georgia Tech scientist Lujendra Ojha revealing that liquid water flows on Mars.
"It's very easy being director of the Georgia Center of Innovation for Aerospace," says Justice, whose organization provides technical industry expertise, collaborative research and partnerships to advance aerospace in Georgia.
"I think [the Mars report] is indicative of the kind of research that is going on and the impact that our state is having on the aerospace industry," he says.
Still, Justice laments that Georgia's $51-billion aerospace industry is largely underappreciated. That's despite aircraft, parts and engines being the state's No. 1 export, the state having the world's busiest airport by passenger traffic (Hartsfield-Jackson Atlanta International Airport), and Georgia Tech having the country's second-ranked aerospace engineering school.
"Our car tag says 'Georgia, the Peach State,' people know about our port, and they know about our film industry now. But the general public still doesn't recognize how big aerospace is in Georgia," Justice says.
In 2014, aircraft and spacecraft accounted for $7.05 billion in exports, while turbojets, turbopropellers and other gas turbines and parts accounted for $1.21 billion in exports, ranking Georgia No. 4 in the U.S. in both categories. Leading the way is Savannah's Gulfstream Aerospace Corp., which delivered 150 business jets in 2014. Turbine engine and parts production is led in Georgia by Pratt & Whitney in Columbus, Firth Rixson-Alcoa in Midway, PCC Airfoils in Douglas and TECT in Thomasville.
With nearly 30,000 employees, Atlanta-based Delta Air Lines is the state's largest aerospace employer. Then there's Warner Robins Air Logistics Center's civilian workforce; Gulfstream in Savannah; Lockheed Martin Aeronautics in Marietta; Expressjet Airlines Inc. in Atlanta; the Federal Aviation Association in Atlanta; Air Serv Security Inc. in Atlanta; and Meggitt in Rockmart.
Georgia also is home to aerospace engineering programs at Georgia Tech, Georgia Southern University in Statesboro and Kennesaw State University; the aviation program at Middle Georgia State College in Eastman; and six technical college programs.
Indeed, education is the industry's X-factor; aerospace studies are producing workers whose salaries average $75,000 a year. That industry is among those identified in Gov. Nathan Deal's High Demand Career Initiative partnership program, which helps the state's colleges and universities quickly respond to changes in employment needs across Georgia's varied industries.
"We have a great need for young people to come into the aerospace marketplace over the next 10 to 15 years," Justice says. "Companies are hiring graduates right out of the programs – and a lot of those students already have participated in extensive research."
---
STILL GAINING STEAM
Not long ago, the Savannah/Hilton Head International Airport was the landlord for a relatively modest Gulfstream airplane factory. Now a world leader in business aircraft development and manufacturing, Gulfstream has dramatically changed that dichotomy.
Signifying aviation's vital role in the world economy, Gulfstream has put nearly $1 billion into its headquarters at Savannah's airport over the past decade. Five Gulfstream products are now built in Savannah, including prototypes and components for the G500 and G600, which will be unveiled in 2018 and 2019, respectively.
With more than 2,400 jets allocated worldwide and 3.2 million square feet of manufacturing, maintenance and support facilities in Savannah, the company is far removed from the wide-eyed firm that put 100 employees to work in Georgia in 1967.
"We're truly a global company, but we're proud to call Savannah home," says Steve Cass, the company's technical marketing and communications vice president.
With about 1,700 engineers, Gulfstream has a robust research and development program.
"The G500 and G600 have some new technologies that will enhance safety, reduce pilot workload and improve situational awareness. That's our key focus," Cass says.
Gulfstream's 2015 milestones, accompanied by a strong revenue showing, include opening a product support distribution center and a painting service center in Savannah, and it is also expanding its Brunswick maintenance facilities. The distribution center will house nearly $1 billion worth of parts and materials that will be shipped to customers worldwide.
Cass says Gulfstream generates more than a quarter of the revenue of its parent company, General Dynamics Corp., whose primary forte is defense contracting.
"We are a very integral part of General Dynamics' portfolio," he says.
---
IMPACTING THE WORLD
As Lockheed Martin's Marietta general manager, Shan Cooper is responsible for nearly 5,800 employees who design, build, deliver, modify and maintain military aircraft for countries around the world. Marietta programs include the C-130J Super Hercules, P-3 Orion, C-5M Super Galaxy and F-35 Lightning II.
In 2015, Lockheed celebrated 60 years of producing the venerable Hercules, rolling the 2,500th aircraft off of its production line.
"We're proud that the impact of what we do here in Marietta is felt every day around the world," says Cooper, who also serves as a Lockheed vice president.
The company also modernizes the Galaxies, the U.S. military's largest aircraft; builds replacement wings for Orions, adding thousands of hours of life to the maritime patrol and airborne reconnaissance aircraft; and produces center wing assemblies for the stealth-fighting Lightning.
Bethesda, Md.-based Lockheed also appears poised to have a landmark 2016.
U.S regulators have approved the company's proposed takeover of military helicopter manufacturer Sikorsky Aircraft, a pact worth $9 billion. The deal would further solidify the company's defense market share lead over competitors Boeing Co. and Northrop Grumman Corp. Sikorsky produces Black Hawks, among other aircraft.
Lockheed also recently secured a five-year contract to build up to 83 Super Hercules aircraft for the Air Force, Coast Guard and Marine Corps by 2020. How much of that business moves to Georgia's Marietta facility remains to be seen.
---
NICHES ARE ITS NICHE
Phoenix Air Group began operating from a basement in the 1970s with two airplanes and six employees. Its specialty at the time: flying canceled checks for banks.
Today, Phoenix just may be, as a newspaper headline describes it: "The most important airline you've never heard of."
Among its services, Phoenix offers air transit missions, including transporting Ebola victims, explosives and wolves.
With 200 employees and about 40 aircraft, Phoenix's niche seems to be just that – niches; that is, providing air services that no one else offers. Or, as Bob Tracey, a Phoenix vice president, puts it: "Not flying rich guys to Phoenix to play golf."
Using Gulfstream jets modified with a patient containment system, Phoenix is the only United States company that has transported Ebola patients and people with known exposure to the disease. While the State Department-funded Ebola missions put Phoenix on the map with the mainstream public, its longstanding relationship serving as the Centers for Disease Control and Prevention's air ambulance provider earned it the high-profile job in the first place.
"We are used as a specialty provider in many different areas of air service; a lot of people have us on speed dial," Tracey says.
In 2015, the company received a Federal Aviation Administration exemption permitting it to commercially operate unmanned aircraft, or drones, a specialized service it has begun providing to the film industry. The commercial license – one of the first issued in Georgia – also permits operating unmanned aircraft up to 55 pounds for patrolling, aerial inspection and agriculture.
Phoenix has an unmanned aviation systems training center near the Cartersville-Bartow County Airport.
"Once again, the whole philosophy is to bring something to our customers that they either haven't thought of or they don't realize the value of," Tracey says. "That's part of the magic and part of the reason for success at Phoenix Air."
Phoenix officials are particularly excited about building upon longstanding relationships in the film industry by adding unmanned aircraft cinematography to its portfolio. The company has an extensive history as a movie industry air service provider; it once shuttled wolves from Canada to Siberia to be in a film, and its aircraft have been used in film scenes.
"We think we have a huge opportunity on the movie side, particularly with Georgia's growing film industry," says Will Lovett, Phoenix's unmanned systems managing director.
Justice says that large companies like Google, Amazon, UPS and DHL also are incorporating unmanned systems into their business plans. Additionally, the technology is enabling airliners to safely test new innovations at a fraction of the cost of using manned aircraft.
"The opportunities in this emerging industry are endless," he says.