Murray County: Major Win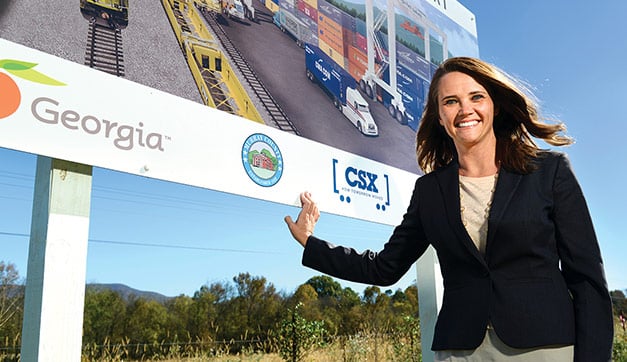 Murray County may be landlocked, but its fortunes are now tied to the sea. This North Central Georgia county scored a major win when it was selected as the location for the state's second "inland port."
The Appalachian Regional Port will be a $24-million development on U.S. 411 that will allow shipping containers hauled by trucks to be stored and then loaded on freight trains for the 388-mile trip by rail to the Port of Savannah. CSX, one of the nation's largest rail companies, will operate the intermodal facility.
"We've been working on this project for over two years in conjunction with CSX, the Georgia Ports Authority and the state of Georgia," says Murray County's Sole Commissioner Brittany Pittman. "It's truly a public-private partnership that's going to make a large impact in terms of economic development not only in Murray, but the entire region."
The facility enables just-in-time deliveries to waiting ships while avoiding the congestion and higher storage costs at the Port's Garden City Terminal. It will also transform this rural community into a major intermodal hub for the import and export of all kinds of goods.
The 42-acre facility, which is located in northern Murray near the unincorporated community of Crandall, will include storage yards and cranes for loading and unloading containers from truck to rail. It will have the capacity to take 50,000 containers off the highway by 2018, according to Pittman.
The port is welcome news for the makers of all kinds of goods. The inland port will cut transportation costs by enabling shippers to use less-expensive rail rather than the truck-only route to the Port of Savannah. The facility will handle import, export and domestic cargo.
"From a logistics standpoint, it works out very well because we have accessibility to Tennessee and Alabama and the other [surrounding] states," says Pittman.
She also expects that companies in the carpet, floor covering, auto and tire industries will begin locating around the facility.
This will be just the second inland port. The other, in the south Georgia city of Cordele, handles mainly agricultural products.
Construction of the new facility will be getting underway soon.
"We turn the reins over to the Georgia Ports Authority and CSX to construct the facility," says Pittman. "We've already started the permitting process. So once that's complete, then we can start actually breaking ground and constructing a facility, which we plan to have up and running in 2018."
---
Community Cooperation
Murray County, like much of North Georgia, was hard hit by the Great Recession, which took a particularly heavy toll on the carpet industry. Layoffs became commonplace, and a recent resurgence in floor coverings hasn't made up the difference. That's a big reason local officials worked hard to land the inland port: it brings with it the likelihood of attracting other businesses – and jobs – to the area.
When the state's search for a location originally began, the county was quick to find a site with rail and a major highway. Property owners were persuaded to sign over options and then agreed to sell once the final decision was made.
Pittman and other officials have weathered some sharp criticism from local residents fearful of the traffic, noise and change the project is likely to bring to this largely undeveloped and bucolic countryside. Still, most locals think the tradeoffs are worth the potential for economic development and jobs.
"It's a beautiful place, and we're trying to maintain that hometown, small-town feel while utilizing our natural amenities to the fullest extent," Pittman says. "But we also need [economic] diversity and an industrial base to support the community so we can continue to provide the services that our citizens have come to expect."
One development that bodes well for the county is the high level of cooperation between governments. Local officials are quick to point out there is a common focus and desire to work together to make things happen.
"We have a renewed focus on working with the county commissioner on trying to bring new businesses and industry into the area," says Chatsworth Mayor Dan Penland.
A good example of that cooperation can be seen in the efforts by the city to keep the local hospital afloat. Murray Medical Center, like so many other rural hospitals, has been caught between rising costs and declining reimbursements for its services. Closure seemed a likely option.
"We entered into a financial contract with the hospital to continue to provide ambulance service," Penland says. "There were negotiations going on to try to lease it or sell it. In order to maintain it until [a deal] could be done, we entered into a financial contract and supplied them with some money through that contract. They were able to stay afloat until they could get the other issues worked out. That is working well."
Florida-based Adventist Health System took over day-to-day management of Murray Medical. Keeping the hospital open and operating was a major victory not just for the community's healthcare, but its economic development as well.
"If you're looking for prospects to come in to open a business or establish manufacturing facilities, the first things they want to see [are] your hospital, school system and library," Penland says. "If you don't have a hospital, then I think you're fighting a real uphill battle. It was important that we keep it open."
---
Growth Potential
The small railroad town of Eton sits a few miles south of the inland port site, but here folks are getting ready for the expected economic boost.
"We're just in the early stages of getting the business sector involved because of the inland port," says Eton Mayor Billy Cantrell. "We're going to be meeting with the retail group, the manufacturing group, and we're saying 'okay this is coming so how can we support it? What can we do for sustainability to keep you here?'"
Cantrell sees great benefits for Eton's business community, especially as more companies move in and set up shop. In fact, some are already showing interest in some 350 acres of developable land that was recently annexed into the city.
"We've got some big tracks for potential large development, whether it's box stores or an industrial park or whatever makes sense," says Cantrell.
The town's main thoroughfare is lined with carpet mills and warehouses that helped swell its population from 300 to nearly 1,000 in the last decade.
Eton is working on creating a new downtown built around the old well that has long been a symbol of the city. Before pipes were installed to carry water to homes and businesses, citizens had to take water from this well. Although not in use now, it remains a landmark. The old bank building that sits catty-corner to the well is also slated for renovation and development.
"We're also looking at changing the aesthetics by placing large planters along the streets and all the corridors that meet at [U.S.] 411," he explains. "We're changing that and putting in some landscaping. So we're trying to make the city more inviting and move toward inviting other growth in there that helps give back to the community."
This is also a county that is looking and investing in the future even when it might be painful to do. The county opened its second high school – North Murray – in 2010 even as the recession slammed finances.
Unlike so many public schools that are built to be cost efficient, Murray decided to create a classically inspired two-story facility with a colonnaded courtyard and flanking pavilions. High ceilings and soaring arched windows flood public areas such as the library with natural sunlight. Then there's the grand staircase that leads upward to the 280,000-square-foot building's second floor. The school gym looks more like a university arena.
The result is a school that has won architectural awards for design and that students take pride in maintaining, according to North Murray principal Dr. Maria Bradley.
The school also took a direct approach to ensuring that the programs it offered students would lead to jobs or college afterwards. From a new cosmetology department to a modern culinary arts lab, the school is geared to providing the kinds of training that students want.
"We looked at those career pathways, and we surveyed our students that we knew that were the up-and-comers to the school," she says. "Those were the programs that our kids chose."
---
The Great outdoors
More jobs are a welcome addition in a region that offers an abundance of natural beauty and has long attracted lovers of the outdoors. The Conasauga and Jacks rivers both offer exceptional fishing. The Chattahoochee National Forest comprises nearly half of the county, including the Cohutta Wilderness Area, the largest wilderness east of the Mississippi.
Fort Mountain State Park has long been a destination for visitors to the area. The park is home to a mysterious 855-foot-long rock wall around the mountaintop thought to have been built by Native Americans as a fortification.
Murray County has done a better job than most in preserving its architectural heritage. The historic county courthouse, which was erected in 1916, sits imposingly on a hill in the center of Chatsworth.
"It's in a historic trust so it can never be torn down," says Dinah Rowe, president and CEO of the Chatsworth-Murray County Chamber of Commerce. She also notes that the old Wright Hotel, an impressive brick structure just off the town square, has been preserved.
One of the most visited of the county's attractions is the Cohutta Springs Conference Center. This sprawling facility, owned and operated by the Seventh Day Adventist Church, is built around a clear lake created by one of Georgia's last earthen dams. Each year it draws a steady stream of visitors ranging from church youth groups to corporate meetings to individuals seeking to get away from it all.
Surrounded by 100,000 acres of national forest land and a 20,000-acre wilderness area, there are spectacular views from every window in the main lodge building. It includes 82 hotel rooms, a dozen cabins and camping and RV facilities.
"Before we acquired the land it was Cohutta Springs Resort, and you can still see the old foundations and chimneys if you go into certain parts of our property," says Gayln Bowers, executive director of the conference center.
The conference center is indeed built on an earlier resort around a natural spring that was popular in the late 1800s. People traveled from throughout the country to visit and enjoy the waters and cool mountain air.
The county has capitalized on its rural landscape with an annual Black Bear Festival – the animals are plentiful in this neck of the woods.
"It's good for all our charities, and they make a good bit of money to help with their services that they put back into Murray County," says Rowe, noting that last year more than 30,000 people attended.
All in all, things are good in Murray County, and they have much to look forward to in the years to come.
---
LOCAL FLAVOR
History Comes Alive: Murray County is a place steeped in history, so it's no surprise that it boasts Georgia's most visited state historic site – the Chief Vann House. The stately two-story brick home built by Cherokee Chief James Vann in 1804 has survived time, neglect and an unfortunate conversion into a hay barn before being restored and opened as a historic site.
"They saved all the original boards that were salvageable, including the back half of the dining room," says Julia Autry, an interpretive ranger at the site, as she leads visitors through the back door and into the house.
The Vann House stands as testimony to a dark period in American history when the federal and state governments forcibly removed all tribes from the eastern U.S. to unwanted land in the west.
The rooms are filled with period furniture, although none of it is original to the house, because the Vann family was moved to Oklahoma in the late 1830s as part of the infamous "Trail of Tears."
The Vanns were among the wealthiest families in America in the early 1800s. President James Monroe stayed at the Vann home during a trip through the region in 1819. After the murder of Chief James Vann in 1809, eldest son Joseph parlayed the family wealth into a prosperous steamship line. But none of that mattered. Although they were able to ship their belongings west, they were still forced out of their home.
Over the next century the house passed from one owner to another. The last was a local doctor named Bradford who used the house to store hay. (He was known locally for herding cows in his Cadillac.)
Murray County citizens raised $5,000 to buy the house in 1952, then donated it to the state. Today, the home is a showpiece of Early American building skills. Its 18-inch outer walls and foot-thick inner ones made for a sturdy structure that has survived many years of abuse.
"Once you step across the threshold, you can see that very little of the inner structure was damaged," says Autry. That strength has ensured that later generations can see and appreciate this important artifact from Georgia's past. – Randy Southerland