2015 Deals of the Year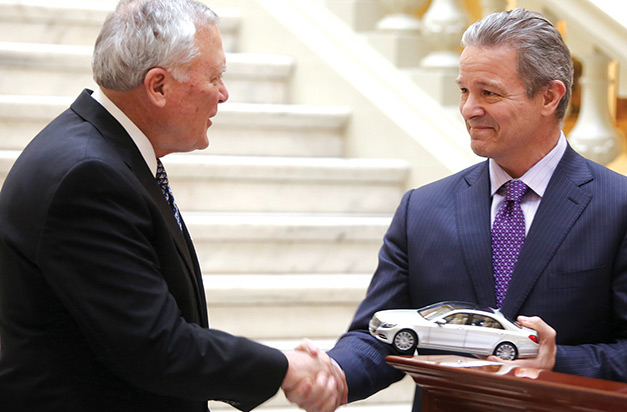 Businesses are expanding at a rapid clip, corporations continue to relocate their headquarters to Georgia, and the state's economy is going like gangbusters. In a time like this, being named one of the Georgia Economic Development Authority (GEDA) Deals of the Year is impressive indeed.
First established in 2007, the awards recognize achievement in locating or expanding businesses in the state. The projects must also meet community economic development goals and involve considerable community support, like providing workforce development, permitting assistance or financial backing.
Awards are given in four different categories: Large (counties with populations of more than 100,000); Medium (50,001 to 100,000); Small (50,000 and under); and Regional (multi-county).
This year's winning communities and businesses are: Stephens County and NIFCO KTW, Floyd County and Bekaert Corp., Fulton County and Mercedes-Benz USA, and Coffee County and Premium Peanut LLC. Chuck Copeland, president of First National Bank of Griffin and chair of the Griffin-Spalding Development Authority, is the Volunteer of the Year. Here are the stories of the winning projects and the agencies and individuals that made them happen. – Christy Simo
---
Driving Success
In August, city and state leaders gave the new home of the Atlanta Falcons and Major League Soccer's Atlanta United its official name: Mercedes-Benz Stadium. And though it was big news for Mercedes-Benz USA (MBUSA), another announcement the company made earlier in the year was even bigger.
In January, the luxury automobile company announced it would move its U.S. headquarters from Montvale, N.J., to Atlanta – Sandy Springs, to be exact. The announcement was celebrated at the state capital by Gov. Nathan Deal and Stephen Cannon, MBUSA president and CEO, at a press conference.
"Mercedes-Benz is a marquis brand, which deserves a marquis setting," Cannon said at the press conference. "Our ambition is to be more than just a great car company. We want to be among the best companies in the world, and Atlanta will serve as the perfect foundation to foster that ambition for the future. We are looking forward to calling Atlanta home."
MBUSA's relocation will bring between 800 and 1,000 jobs to its new Sandy Springs campus, which is currently under construction. The $93-million, 250,000-square-foot headquarters is located on a 12-acre parcel of land near Georgia 400 and Interstate 285. Construction is expected to be completed in early 2017, and an interim headquarters is located a short distance away in Dunwoody.
For enticing MBUSA, Fulton County is the winner of the Large Community Deal of the Year Award.
What led to this big win? Al Nash, executive director of the Development Authority of Fulton County, recognizes that MBUSA had to weigh a lot of factors when deciding on a new location. "So many times these companies are faced with challenges of recruiting and retaining customers, and then how do they get closer to their customers and their manufacturers?" he asks. "How do they have access, in Mercedes' case, to the world?"
Choosing a location a short drive from the world's busiest passenger airport is a good start. In addition to Atlanta's easy access to direct international flights – essential to a global company like Mercedes-Benz – MBUSA officials cited the area's quality of life, current and future talent pool, strong higher education system and variety of affordable housing options as big draws.
Metro Atlanta's corporate culture was another big consideration, says Nash. "It was very important to them, the corporate culture," he says. "Could they come here and have a brand?"
All signs, especially the ones that will soon lead to Mercedes-Benz Stadium, point to yes. – AB
---
Up from the Ashes
On the heels of an expansion announcement, a devastating fire at Bekaert's Rome plant in November 2014 had company officials scrambling for other avenues to meet production demands while remaining committed to the Floyd County operation. The facility produces steel wire for rubber reinforcement used by U.S.-based tire and high-pressure hose manufacturers.
"Our production plant in Rome plays a key role in Bekaert's overall operational capability in North America," said Bekaert CEO Matthew Taylor in a statement released after the fire. "The plant, and the team working there, has the manufacturing and technical expertise and site location that benefit our customers … in the U.S."
Plant manager Gary Downey cited the Rome-Floyd County Development Authority's help in achieving tax incentives for two pilot programs for repair and expansion for a total of $45 million in investment in the plant. Bekaert, which is based in Belgium, has had a presence in Rome since 1970, according to Downey, and was the company's first foray into North America as well as one of Rome's first international employers.
"They [company officials] obviously liked the area, and the [development] people who were here then made it attractive," says Downey.
As a constitutional entity, the Rome-Floyd County Development Authority has the ability to authorize incentives such as the tax abatements to help Bekaert recover and expand, says Heather Seckman, director of economic development at the Greater Rome Chamber of Commerce. "The city, the county and the chamber, all of these entities worked closely together on this package," she adds.
This year's Mid-size Community Deal of the Year Award marks the second time within five years the Greater Rome Chamber of Commerce has been a recipient. It also received the recognition in 2012 for recruitment of a Lowe's distribution center.
"I think this speaks very highly of our partnership," Seckman says. "We couldn't have done this without all of us working together. It shows that we all have the same goals and that we are all working together" for the benefit of Rome and Floyd County citizens.
As of October 1, the expansion was about 85 percent complete and was expected to be finished by the end of the year. While it does not necessarily mean additional jobs, Downey says it is "guaranteeing jobs for the existing employees." The capital investment will enable Bekaert to increase competitiveness in its market through new technology and more efficient equipment. – DS
---
Collaboration is Key
Quick response, advance preparation and collaboration were keys to landing a major international employer in Stephens County, in northeast Georgia, earlier this year, and those efforts won the county recognition as Small Community Deal of the Year from the Georgia Economic Developers Association. Georgia and Stephens County beat out three other states to land NIFCO KTW and its 200 projected jobs.
"We always believed this was our project to win," says Tim Martin, executive director of the Stephens County Development Authority. "To that end we offered free and discounted pad-ready land in a GRAD [Georgia Ready for Accelerated Development]-certified industrial park," among numerous other incentives. "The state was also very supportive and committed an EDGE grant and Quick Start," the state's job-training program offered via the Technical College System of Georgia.
NIFCO KTW, a German-based manufacturer of high-quality injection molded components for automotive interiors and exteriors, plans to invest $27 million over five years in a 137,000-square-foot Toccoa plant, its first North American headquarters. It is expected to be a major supplier for BMW's Greenville, S.C., facility, which will be made even more convenient when the four-laning of Georgia Highway 17 from Toccoa to Interstate 85 is completed in the spring of 2016.
In the wake of a major snowstorm the night before a scheduled visit by NIFCO KTW officials, the county and community stepped up. North Georgia Technical College opened its campus as planned for a meeting, indoor-outdoor carpeting was put down to avoid having to walk in the mud, ATVs were provided for transport on the site, a sheriff's crew picked up trash and debris along the road, homemade cookies were baked and brought in, and a Keurig coffee machine was put into service.
"All in all, it was the volunteers and board that made this Deal of the Year possible," says Martin.
"We are proud and feel very fortunate to have found Toccoa in Stephens County as the home of our new U.S. headquarters and production facility in North America," said NIFCO KTW Managing Director Roland Furtmayr in a press release. "Local and regional connectivity is the basis for our success in Germany, and we strive to do the same in the U.S. We like to offer our qualified and motivated employees pleasant and attractive surroundings. In the city of Toccoa, we have found the perfect partner in North America for this goal." – DS
---
Regional Cooperation
Premium Peanut LLC, a grower-owned partnership, was founded in late 2014 to stabilize the state's peanut market by building a centralized, state-of-the-art shelling facility to receive its partners' peanuts, shell the peanuts and distribute them directly to manufacturers.
According to Gary Evans, Premium Peanut's COO, Coffee County was the perfect choice for more reasons than just its central location within a 60-mile radius of all partners. Evans lists its access to rail and business-focused leadership as other major motivators.
"[Coffee County] is a very business-friendly place to be. The city and the county government work well together, and they work to attract industry and hold industry," he says. "The government works well with the other institutions in the area, particularly around workforce development, which is key."
This collaborative relationship between city, county and state leadership was especially important to Premium Peanut, considering its intention to have the shelling facility in production by February 2016 to participate in the 2015 peanut crop.
That accelerated timeline translated into six months for JoAnne Lewis' team at the Douglas-Coffee County Economic Development Authority. Lewis, the authority's executive director, says a typical timeline can be anywhere from 12 to 18 months – making this project a challenge, but not an impossible one.
For the impact this project will have on southern Georgia, the Douglas-Coffee County Chamber and Economic Development Authority is the recipient of the Deal of the Year Award in the Regional category.
Lewis, maybe not surprisingly, attributes the project's success to leadership. Echoing Premium Peanut's observations, Lewis' team worked with local, state and federal leadership to meet the company's needs and move the project forward.
The $50-million shelling facility is located just west of Douglas and anticipates shelling 110,000 tons of peanuts for the 2015 crop, with plans to grow to 140,000 tons within its first three years. In addition, it will bring about 100 direct jobs to the region, with another 100 estimated indirect jobs, according to Lewis.
Evans describes the indirect growth as "exponential," citing expansion at the company's buying points across Coffee, Jeff Davis, Berrien, Irwin and Appling counties and their additional investments of $30 million to $35 million.
"It's not just a Coffee County project," Lewis says. "This is truly a regional project where new investments and jobs are being created in the region." – AB
---
Committed to Community Improvement
President of First National Bank of Griffin, Chuck Copeland has been on the Griffin-Spalding Development Authority since 2005, served as vice-chair in 2006 and 2007, and has chaired the authority since 2008. His leadership tenure is credited with more than $353 million in capital investment in both new and existing industries and some 1,087 new jobs in the community. A highlight came in 2011 when Caterpillar announced a $120-million expansion project for its Griffin plant that added 200 new jobs, the largest single capital investment project in Spalding County history that was also a GEDA Deal of the Year honoree. For his years of service and leadership, Chuck Copeland received this year's GEDA Volunteer of the Year Award.
According to Griffin-Spalding Development Authority Executive Director David Luckie, Copeland "is a man of great integrity, intelligence and a strong desire to make Griffin-Spalding a better place. It is up to me to be the best economic developer I can be, but I believe the happiness and the success of our communities for people in my position is largely dependent upon the leadership at the top of each authority. I am in good hands because of Chuck and his leadership."
Copeland, a native of nearby Pike County, cites two sources of his commitment to community service, beginning with his father. "From my youngest years," he says, "I remember Daddy and the countless hours he and several others poured into the startup of the Pike County Little League baseball program." The late Ronald Copeland also served as chief deputy for the Pike County Sheriff's Department and police chief of the city of Winder.
"Early on it was instilled in me that one of the responsibilities of a community banker is to promote and improve the well-being of the community you serve," says Copeland, a banker for 30 years. "It has proven out time and again that a community bank will never be more successful than the community where it is located."
Luckie gives Copeland much credit for passage in 2008 of a SPLOST referendum – after two SPLOST attempts a few years earlier had failed – that enabled purchase of 600 acres of land for establishment of The Lakes at Green Valley mixed-use eco park. Since then, three Japanese firms have located new production facilities in Spalding County, which Copeland says he only "assisted the authority" in recruiting.
Copeland downplays his role, saying, "I in no way would ever assume singular credit for these accomplishments, but I have been a proud member of the team." – DS