Georgia Mayors Talk Transportation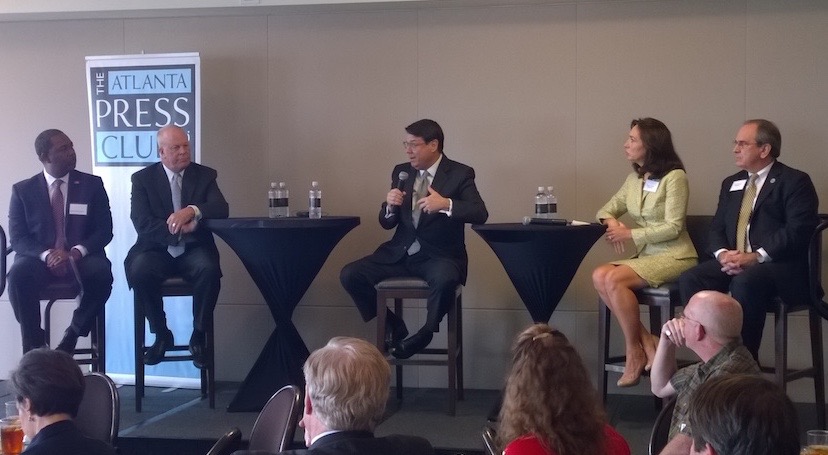 Editor-at-Large Susan Percy and I both attended an Atlanta Press Club event at which mayors from five cities, brought together by the Georgia Municipal Association, discussed their approaches to 21st century challenges. As Susan notes in her Business Casual column, "A View from City Hall," this month, one subject all discussed was transportation, including the 2012 T-SPLOST and the 2015 Transportation Funding Act, also known as T-SPLOST Lite. Here's little of what each said.
Dunwoody Mayor Mike Davis: "In 2012 [the T-SPLOST] was the right idea at the wrong time. As soon as it failed, the economy started to come back, and traffic in the Perimeter got TERRIBLE. According to surveys, transportation is the biggest problem we have; three years ago that was not the case."
Sandy Springs Mayor Rusty Paul: "We tried to do too much [with the 2012 T-SPLOST]. A regional solution is still vital, but there are too many different needs. Local transportation issues are different in Sandy Springs than they are in Johns Creek, [though a] new T-SPLOST would still have to be regional."
Macon Mayor Robert Reichert: "We have six counties that have submitted letters out of 11 in the Middle Region requesting that we redo [the T-SPLOST vote]. From Raleigh to Birmingham, a 30 million population growth is predicted – 70 percent growth over 30 years from 2010 to 2040. This will require new forms of transportation to maintain our quality of life. We have proposed a Tax Allocation District around our planned multimodal station to prepare for enhanced growth in our district. If 80 million people move into metro areas as predicted, that's 4 to 8 million in Atlanta. You're going to handle that with more interstates? I don't think so. And think about moving freight. We need a better way to connect our cities without getting on the roads."
Augusta Mayor Hardie Davis: "We're interested in passenger rail. But Georgia is not at the top of the list for federal funding. We need to rally our congressional folks and start thinking about more than short-term solutions. We can't do it without federal support, like Charlotte [got for its light rail system]. Without it we're not competitive. If we could use our T-SPLOST as leverage to support it beyond our 10-year sunset I would be very supportive." The Augusta region passed its T-SPLOST in 2012.
Columbus Mayor Teresa Tomlinson: "Based on our own experience, I don't think a T-SPLOST would be a problem for other regions in the future." Columbus also passed its T-SPLOST in 2012.
In terms of rail, Columbus is looking into that as well, she said. "We've finished a feasibility study that shows that with our private match, the Georgia Department of Transportation can do high-speed rail from Columbus to Atlanta for $3 billion. Once, Georgia had one of the most progressive rail authorities in the country. It had broad authority to issue bonds. It is now defunct, and we need to rethink that. That's the game GDOT needs to get into."
Photo above taken at the press club event. From left to right: mayors Hardie Davis, Robert Reichert, Mike Davis, Teresa Tomlinson and Rusty Paul.
Photo by Ben Young