White County: Tasting Success
Wineries, transportation improvements and education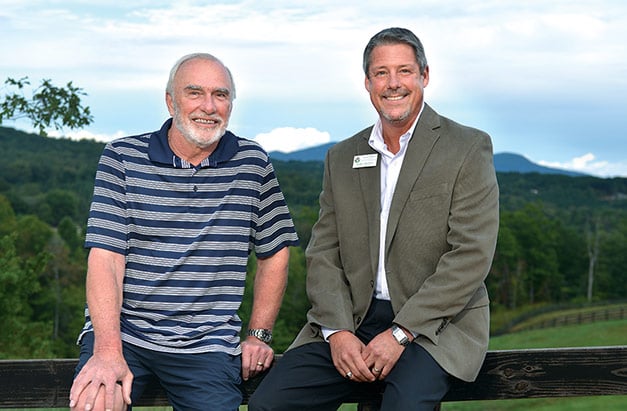 A shuttle bus winds around the corner, quietly crunching the gravel driveway at The Cottage Vineyard and Winery in Cleveland. It's nearly 1 p.m. on a Friday, and the six-person group with VIP Southern Wine Tours marks the informal start of weekend business for The Cottage – and seven other wineries in White County. In the stable-style tasting room, the group samples whites such as Vidal Blanc and reds like Cabernet Sauvignon.
Former New Yorker Jim Penner spent his career in the U.S. Air Force and met winemakers when he was stationed in Germany. ("Some of the best white wines in the world," he says.) After he retired, he started with a vineyard at home, just down the street from The Cottage, which he and his wife, Sandra, opened in 2012. Now his winery, on 29 acres, is open seven days a week.
"We've grown exponentially, for sure," he says, adding that his largest weekend crowds reach 300 people. "We have our faithful locals, and when I say local, I'm talking about a radius from Alpharetta to Blairsville. Probably two-thirds of people we pour for are still finding us."
In fact, White County, located 80 miles north of Atlanta, appears to have the most wineries of any county in Georgia, says chamber of commerce President Cindy Bailey.
The wineries have represented an estimated investment of $30 million in the last 10 years, says Tom O'Bryant, director of community and economic development for White County. "It's just created a whole new economy up here," he says.
Wineries and tourists, including the droves who clink beer steins during Octoberfest in the Bavarian Alpine village of Helen, aren't the only ones infusing a sense of excitement in White County. Since 2012, 25 commercial projects with an investment value of more than $62 million have been either completed, are under construction or in development review.
Growth brings growing pains, especially in the area of transportation, but the $25-million Appalachian Parkway aims to relieve bottlenecks on Hwy. 129 by circumventing downtown Cleveland. The four-lane parkway has experienced delays, but the $15.1-million first phase was set to open in 2015; work has begun on phase 2; and a third phase to finish the eight-mile roadway is awaiting funding.
"The traffic, especially in the fall, just really backs up in Cleveland. With this parkway, it's going to help tremendously," says Jerry Brown, executive director of the Alpine Helen/White County Georgia CVB.
In addition, an estimated $80 million in public-private investments have enhanced broadband, gas, sewer, water and other infrastructure in the county since 2010.
"We've created an environment that's conducive for development, and that puts us in a position for growth," O'Bryant says.
---
Cheers for Investments
Leaders took steps a few years ago to continue to build on the county's strong agricultural sector and tourism industry, with 1.5 million visitors in 2014. They also recognized the need to diversify the economy and attract businesses to White County, which has a labor force of roughly 14,000.
"The big focus has been just to create an environment of investment," O'Bryant says.
Technology tools have helped. For example, the county used GIS technology to develop a map and database of strong areas for planting vineyards, believing these operations were one way to instill economic value into the land, O'Bryant says. Since The Cottage opened in 2012, Yonah Mountain Vineyards debuted a new 10,000-square-foot event venue. In August, CeNita Vineyards and Winery opened its winery and tasting room for business. Some wineries are growing their wedding business, too.
"It's amazing what's taken place in just a short period of time," Bailey says.
A new four-story Holiday Inn Conference Center in Helen will add 86 guest rooms and suites (rates are expected to start at $120 in the low season) and 3,000 square feet of conference space. It is scheduled to open in summer 2016 and employ between 60 and 80 people, says general manager Carol E. Powell, who is also general manager of the Best Western Plus Riverpark Inn & Conference Center in Helen.
"We're in a high-demand year. I can't even say week or month," Powell says, of tourism in Helen. "We're crazy this year."
Whether people are visiting or living and working in White County, infrastructure must support their needs. The county and city of Cleveland have worked with private partners, such as Atlanta Gas Light and North Georgia Network, to serve residents and businesses. In April 2015, the county implemented a comprehensive land use plan.
"In spite of the struggles [during the recession], it allowed us to catch up with our infrastructure and have some things in place that we just wouldn't have had in place back then, and it would have been harder to manage along the way," O'Bryant says.
"We're encouraging folks [that] you can live here and still be able to do your work here," says Commission Chair Travis Turner. "I know I sound a little overenthusiastic. I am a native of White County. To start seeing our community move forward as we're coming out of the recession, to start seeing the fruits of our labor pay off, it's exciting."
In 2013, the county implemented a Level 1 Freeport tax exemption on inventory taxes for goods being used in manufacturing products being shipped out of Georgia. So far, 13 industries with a value of inventory at $12.6 million have used the exemption, according to the county.
The county has also made some changes to help facilitate new businesses in the area. The plan review process was changed to expedite approved development and codes were updated for greater flexibility, O'Bryant says. Among the exciting additions: Cleveland's first Chick-fil-A just off Hwy. 129 opened in late August with interior features such as a chandelier of pressed Coke bottles, subway tile and a weathered center table.
The county's largest new employer is Black Bear Lodge, a treatment center for substance abuse and mental health issues, which opened in 2014. The operator, Foundations Recovery Network (FRN), bought a struggling resort and dinner theater in the Sautee Nacoochee area for its fourth U.S. facility.
"We had an outpatient facility in Roswell that had done really well," says spokesman Jeff Skillen. "We were definitely looking in the Southeast."
FRN invested $7 million in the property and has hired more than 200 people – 60 percent are locals – in jobs such as counselors, nurses and drivers.
"In some places around the country, people have concerns about a treatment center going in. We were actually welcomed with open arms in the community," Skillen says. "Of course, we're going to bring quality jobs into the area."
---
Ramping Up
"When I got here five years ago, we had less than 30 percent of our students going on to a two- or four-year institution. This past year, we had well over 80 percent," says Jeff Wilson, superintendent of the White County School System. "The biggest thing we've done is really ramped up our rigor."
White County High School's 93.5 percent graduation rate in 2014 is one of the top five in the state, Wilson says. Participation in AP classes and testing has zoomed from zero in 2010 to more than 370 AP tests in the 2014-2015 school year. Through the Go Build Georgia program, about 75 percent of the school's graduates have earned an industry certificate or credential in areas such as welding. Students can also earn 18 to 24 hours of dual college credit. White County school leaders are in discussions with North Georgia Technical College, whose nearest location is 16 miles away in Cornelia, to potentially house a satellite campus in the new Ninth Grade Academy, currently in the planning stages.
"We're going to have to bring North Georgia Tech to us," Wilson says. "School systems have to connect with both the industry as well as technical colleges."
Cleveland Tool & Design, which opened in White County 13 years ago and was a 2014 Georgia Manufacturer of the Year nominee, credits North Georgia Tech's CNC/machining program for providing trained graduates as it has grown to 21 employees.
There has been some activity in the healthcare industry in the county as well. Northeast Georgia Medical Center now has an urgent care center in Cleveland, and MedLink opened a primary care facility in Habersham this summer.
Also in Cleveland, Truett-McConnell College is now a four-year Baptist college with more than 1,900 students. The college offers bachelor's degrees – it added an exercise science degree this fall – and a master's in theology. Now, the college is spending $13 million to build the George Blaurock Student Wellness Center. The 69,000-square-foot facility will house a fitness center, a 9,000-square-foot aquatic center, and space for special events and is expected to open in September 2016.
Truett-McConnell President Emir Caner says graduates are filling local needs, including teaching jobs in White County and the surrounding area.
"For most of them, they're staying in our state, if not within our region," he says. "To me, it's really the perfect spot for a college."
---
New Ideas
Joseph Cerniglia cofounded Vermont Hard Cider, maker of the popular Woodchuck Hard Cider, in his garage back in 1990. After selling the company for a rumored $30 million in 1999, he retired to coastal Georgia and also bought a log cabin on 11 acres in White County. But his retirement didn't last long, and Cerniglia is back in the cider-making business. Sautee Hard Cider began in 2015 selling its Bull Dog Hard Cider – regular and peach flavor – created by winemaker Nicole Haguewood. The cidery plans to open for tours and tastings in 2016.
"I could produce it anywhere. But this was convenient, right down the hill from the house; it's nice country," Cerniglia says.
Piedmont Outdoor and Hardware was finishing construction this fall on its new two-story facility on Hwy. 129 S. in Cleveland using land the Hollis family has owned for years. The family-owned business has been in Gainesville for 23 years and wanted to capture outdoor enthusiasts with a location in White County, says Brian Hollis, owner of Piedmont Outdoor and Hardware. In addition to large farm and construction equipment, Piedmont will also carry fishing, climbing, hunting and other supplies and clothing, such as Carhartt and Rocky Boots, along with Bass Pro branded products. Hoping to be an attraction in itself, the facility will include a barn built inside and a deli.
"We're excited to be out in the country where people really need our products," Hollis says. "This is where you stop and pick up some of the things you're going to need for your outdoor adventure. We want to wind up being the destination before people go up to Helen."
In the 5,400-square-foot cellar near The Cottage's tasting room, Nathan Beasley, son of owners Jim and Sandra Penner, and winemaker Joe Smith lean over a plastic vat of fermenting grapes, with bubbles slightly appearing in the mixture. Smith's comments about what he sees developing on the rolling hills and rich farmland seem to speak about overall expectations for the region.
"As we go on, certain grapes will be stars. In Georgia, we don't know what it is yet," he says. "We're waiting for our star."
---
Local Flavor
Adventure Land: If your idea of adventure is more than resisting Helen's fudge shops and tasty treats at Hofer's or getting out of Cleveland's BabyLand General Hospital – birthplace of the Cabbage Patch dolls – without breaking your budget, you can experience ziplining and more in Helen's Bavarian Alpine village and its surroundings.
Businesses are adding outdoor adventures as interest is rising, says Jerry Brown, executive director of the Alpine Helen/White County Georgia CVB. To bring in more tourists and adventure seekers – families and kids, millennials and boomers – the White County Chamber of Commerce's new ad features a Cabbage Patch Doll ziplining with the slogan, "Where Mother Nature Comes to Play."
A canopy tour is in the works at Unicoi State Park & Lodge, which completed $4 million in renovations in 2014 to its 10,000 square feet of meeting space and five cabins. The changes, including new furniture, carpet, lighting and wall surfaces in its pre-function areas, break space and a boardroom, are in response to 15 percent to 20 percent annual growth in the group market, says general manager Christopher Forbes. Average group sizes are 150 to 200 people at the lodge, which was undergoing another $1 million in renovations in 2015. Management company Coral Hospitality brought the 1,050-acre property under its Georgia Adventure Lodges brand, joining Amicalola Falls Lodge in Dawsonville.
"We want to be more of a destination. We want families to stay longer, so we're giving them more to do," Forbes says.
Nacoochee Outdoor Adventures planned to add a challenge course on its 600-acre property, joining activities such as canopy tours/ziplining, ATV tours and camping. General manager Danny Otter says new "ag-venture" efforts include a recorded heritage tour broadcast on four-wheeler trips.
"What we're trying to do is be true to the history of the region, but also be fun," he says. "We want to continuously add something new."
Just south of Nacoochee, Georgia's newest state historic site, Hardman Farm, opened in spring 2015, after LEED Gold renovations to the home, which was built in 1870 and displays furniture and art from the Hardman family. The 173-acre site (which includes the iconic Indian Mound with a gazebo) at Hwys. 17 and 75 has since hosted a wedding and even a music video shoot.
"It's like a little time capsule," says John Erbele, director of operations for the North Georgia Mountains Authority. – Lori Johnston