Public-Private Progress
How Cobb County's CIDs are supporting, strengthening and revitalizing their communities.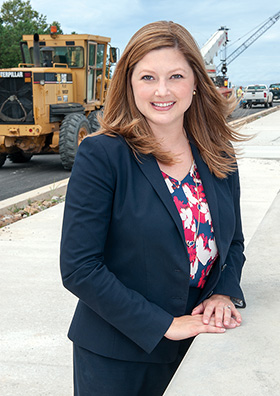 "What happens when you invest with vision?" ask banners slung across chain-link fences beside Cobb Parkway in northwest Atlanta. While the banners mask the construction along the busy roadway, the question serves to highlight an estimated half-billion dollars' worth of improvements leveraged by the area's community improvement district (CID), the Cumberland CID, since 1988.
The CID, which stretches 6.5 square miles from Vinings to the Galleria and north, was the state's first CID. Now, there are 20 in Metro Atlanta alone, including three in Cobb County that address and fund infrastructure and quality-of-life projects.
"Post-recession, we're in a different place from a funding perspective, where it takes more partners in order to complete a project," says Tracy Rathbone, executive director of the Town Center CID. "CIDs are a creative way to get projects done, sometimes in a much quicker fashion than they can be done on their own without that type of district in place."
CIDs are public-private partnerships that allow commercial property owners to impose additional taxes on themselves, which are then leveraged by the CID to gain access to local, state and federal dollars to accomplish roadway, quality-of-life and beautification projects.
CIDs allow commercial property owners to focus their self-taxed dollars on improving their immediate area. And for the three CIDs in Cobb County – Cumberland CID to the south, Town Center CID to the north and Gateway Marietta CID in between – they're a smart way to support, strengthen and revitalize their communities.
---
Redefining Franklin Road
Cobb County's youngest CID, founded in mid-2014, finds itself in a unique spot in the market, both economically and physically. The Gateway Marietta CID's boundaries circle the transforming Franklin Road corridor in Marietta and position it directly between the established markets of the Cumberland and Town Center CIDs.
"The metaphor I like to use is that it's kind of like a barbell, with the heavyweights on each end with kind of nothing in between," says Joe Knight, Gateway Marietta CID's administrator. "We're going to take it upon ourselves to make our area as attractive as Town Center and Cumberland."
Created soon after the 2013 passing of the city of Marietta's $68-million Marietta Redevelopment Bond, which focuses $64 million solely on Franklin Road, the Gateway Marietta CID aims to form a single voice for the community and help maximize redevelopment efforts along the blighted corridor.
Franklin Road's largest problem – a collection of rundown apartment complexes – was once its biggest draw. But as buildings aged and residents moved on, crime and drug use crept in. By the mid-1990s, Franklin Road had become a notorious crime hotspot.
But more troublesome, it seemed to have garnered a reputation that was even worse, hampering any significant investment or growth in the area. In fact, overcoming the bad reputation remains the biggest challenge today, according to Knight.
"I don't know that Franklin Road has ever been as bad as people thought it was," says Bob Morgan, managing partner at accounting firm Cerqueda, Morgan and Collins. He hasn't had any crime issues at his Franklin Road location in the 25 years he's been there.
In a short amount of time, though, the city and CID have begun to see significant improvements. Four apartment complexes have been demolished. Crime is down 51 percent, according to the Marietta Police Department. And investors and business leaders alike are starting to notice.
The Home Depot announced in early 2015 that it would be bringing 1,200 jobs to the Newmarket Parkway office complex just off Franklin Road, and China Shipping Container Line opened its new communications hub in Parkway Place last year.
The area's easy interstate access, proven commitment from the city and CID, and opportunity zone designation – which awards companies a five-year, $3,500 tax credit per employee for net new jobs to the state – were all powerful motivators for investing in the area, says Jeff Shaw, CEO/principal at Fairlead Commercial Real Estate (FairleadCRE).
"You have great opportunities from a real estate perspective – incentives to do new development and redevelopment of existing buildings – so as an investor, there are really good opportunities," Shaw says. FairleadCRE's investment in the 459,000-square-foot, Class A office space at Parkway Center is already paying off, with 80,000 square feet of new leases signed in the last 11 months, he says.
To build on its growing momentum, the Gateway Marietta CID recently took on its first big project: redesigning and relandscaping the Delk Road and Highway 120/South Marietta Parkway exits on I-75. The Gateway Marietta CID contracted Josh Winter, owner of Winter Design, for the overhaul, which aims to create a sense of entry to the area. Work on the project began this fall and should be complete by 2017.
The city is also in the process of clearing 70 acres of land, which, when cleared, will represent a massive opportunity for the CID – and the region overall.
"We're going to have within our CID probably the two most attractive pieces of real estate on the northern arc of Atlanta," says Knight. New uses for the 50- and 20-acre parcels are unknown at this point, but they could include high-end retail, multifamily housing/condominiums, high-end office buildings or even training facilities for professional sports teams.
For an area still redefining itself, the possibilities seem to be nearly endless. One thing is clear though, says Shaw: "It's a different place now."
---
Responding to Growth
One of the biggest advantages of a CID is it allows communities to fund solutions to problems in the community, such as traffic flow issues, pedestrian safety concerns or confusing wayfinding signage – whatever is needed the most in the area.
"Each of us has a different community and different needs, so our investments are either proactive or reactive to address what those community needs are," says Malaika Rivers, executive director of the Cumberland CID. "Cumberland has always been proactive about investing in transportation infrastructure."
Over its 27 years, that proactive focus has translated into more than 30 road improvement projects, including restriping and road widening projects as well as major infrastructure overhauls. Recognizing a need for a connection across its boundaries, the Cumberland CID helped build the $300-million Cumberland Boulevard loop, giving area employees and residents a southwest to northeast route through the area.
More improvements are on the way. Construction has already begun on a $48-million roadway widening/diverging diamond interchange at I-75 and Windy Hill Road. This section of Windy Hill Road experiences three times more crashes than statewide averages with double the injury rates, according to the Cumberland CID. The project is aimed at relieving congestion as well as improving both vehicular and pedestrian safety.
And along Cobb Parkway, a two-part, $53-million roadway improvement project is slated for completion by 2017. The first part, reconstructing a six-lane bridge over the Chattahoochee River, is mostly complete. Other improvements include widening Cobb Parkway from Paces Mill to Akers Mill Road, adding medians and turn lanes, and bridging regional trail connections through a new, 12-foot-wide multiuse trail.
These projects are each approximately one mile from SunTrust Park, the home of the Atlanta Braves beginning in April 2017. And while many transportation, mobility and beautification plans were already in the works before the Braves announced their move to the area, the announcement has certainly accelerated timelines, says Rivers.
"We already have an excellent road network here, and we've already got tremendous access points to where the stadium is going to be located," she says. "When you're talking about tens of thousands of people coming in about 30 days a year for evening games, we need to make sure that we can handle that type of growth as well as all of the residential that that's spurred as well.
"I think one of the largest priorities is making sure that we've got the improvements in place for April of 2017 when the Braves have their first pitch. Not all of the improvements can be put in place … but getting done what we can do ahead of April of 2017 is important to us, and that includes making sure that the projects that were already under construction continue to meet their schedules."
Mike Plant, Atlanta Braves executive vice president of business operations, serves on the board of the Cumberland CID and also coordinates with the Town Center CID on multi-modal projects related to the stadium and mixed-use development, including a possible linkage to Town Center CID's bike-friendly multiuse trail network for an alternative mode of transportation to and from the Braves development.
And while traffic flow improvements have an immediate impact on trip times and congestion levels, they also have a cumulative effect that can be underestimated or overlooked, says John Loud, owner of Kennesaw-based LOUD Security Systems – especially as the area continues to grow.
Loud bought his first business property inside the Town Center CID in 2002. Since then, the CID has completed dozens of road improvement projects, including the Big Shanty Connector, which connects the eastern and western ends of Big Shanty Road after they were truncated for more than 30 years by the construction of I-75.
Completed for a total cost of just over $27 million, the Big Shanty Connector officially opened in July 2012 and provides an alternate route to the heavily traveled corridors of Barrett Parkway and Chastain Road. And there are more projects on the way to relieve congestion along these major roadways.
The Skip Spann Connector, scheduled for completion in March 2016, will add a multimodal, lighted bridge across I-75, connecting Frey Road at Kennesaw State University (KSU) to Busbee Drive. The project is expected to reduce traffic on Chastain Road by 19 percent, says Rathbone.
The Town Center CID has also entered Phase 2 of the South Barrett Reliever project. It's one of four phases that will eventually connect Cobb Parkway to George Busbee Parkway and bypass Barrett Parkway. "When it's complete, it will be a tremendous traffic reliever for Barrett Parkway," says Rathbone.
---
Expanding Mobility Options
As Cobb County's communities continue to grow and evolve, its CIDs are also evolving their focus and solutions. And, increasingly, this means offering more quality of life and mobility options.
"Cumberland is developing from what used to be an exclusively office market to now one that's being a more complete community, so there's a lot of residential that's being delivered in this area," says Rivers. "Even though we don't collect taxes or assessments off of any residential property, making sure that this is a community that can attract that type of growth, which in turn attracts more commercial investment, is important to us."
One way to attract residential growth is to develop recreation- and mobility-focused greenspace. Cumberland CID's 17-mile trail network (with eight more miles in development) connects to regional trail systems and abuts the Chattahoochee River National Recreation Area, spotlighting the area's pristine natural amenities.
And in Kennesaw, the Town Center CID realized a 17-year dream last year with the completion of its Noonday Creek Trail, running seven miles from Kennesaw Mountain National Battlefield Park to just past Town Center Mall. The multiuse trail was a founding vision of the CID's first board of directors and is now a valuable amenity for the area, according to Loud. His employees often take advantage of the trail system, a perk Loud says he couldn't have offered them without the Town Center CID's efforts.
The Noonday Creek Trail is also getting a multimodal boost with the launch of the Town Center CID's bike share program – the first for any CID in the state, says Rathbone – scheduled for implementation in September. The program will add 20 bikes at three docking stations in key spots of the trail, as well as in locations throughout the KSU campus.
"We're trying to be as forward-thinking as possible in ways to get people out of their cars and enjoying the community," says Rathbone.
With increased residential growth, offering multiple modes of transportation has become a necessity, says Rivers. "Real estate demands a variety of different transportation options and services for communities. It's not simply okay to just build roads and widen roads. You have to offer transportation choices to people, and transit is a big need that will only continue to grow in importance.
"Demographics change. People's method of getting to work changes," she says. "Cumberland right now, its Achilles heel is not being on the regional transit connection beyond having local bus service, so having a connection to regional transit services is very important to us and hopefully one that our policy makers will be able to expand."
Transit will be one of the issues the Cumberland CID will work to solve throughout the coming years. Its members recently voted to approve a sixth term for the CID, extending its operation through 2024.
Rivers sees this accomplishment as a testament to the value that the Cumberland CID provides its members and the community as a whole. And, judging from the proliferation of CIDs throughout the region – and the sustained, demonstrated growth in-side those CIDs – it would be hard to disagree.