Oooh Baby Baby
Georgia hospitals are making a big commitment to welcoming their tiniest patients.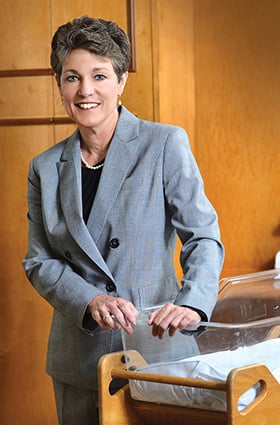 In 2014, the number of babies being born in the United States rose for the first time since 2007. Some say its another sign of an improving economy, and here in Georgia, many hospitals are certainly seeing an uptick in the number of babies being born at their facilities.
Every day this year at Atlanta's Northside Hospital, staff and excited families welcome more than enough new babies to fill two kindergarten classes in the 2020-2021 school year.
The largest volume maternity hospital in the state of Georgia – and the other 49 states as well – Northside's main hospital averages 41 deliveries daily, or about 15,000 annually. In 2014, Northside's Forsyth and Cherokee campuses delivered another 2,500 and 1,000 respectively.
"Northside made a key strategic decision in the 1980s to provide the best care to mothers and newborns in Georgia," says Melissa Sisson, Northside Hospital's director of women's services in Atlanta. "A plan ensued that emphasized clinical and service excellence, state-of-the-art facilities, and specialty programs and services."
At a time when increasing numbers of Georgia hospitals in rural areas are closing their maternity services due to low reimbursement from Medicaid or low numbers of deliveries that make maintaining obstetric services impractical or impossible, Northside and a number of other hospitals have made significant investments into their maternity services. The hospitals offer not only state-of-the-art medical care, but often a whole list of amenities, including childbirth classes, lactation assistance, smart phone apps, Facebook pages, newborn photography and many of the comforts of home – a really upscale home.
"For many hospitals, the reason for providing maternity services is pretty simple: because it's the right thing to do," says Kevin Bloye, vice president for public relations at the Georgia Hospital Association. "Baby delivery is an essential community need. Delivering babies and providing the best care for both mother and baby helps ensure healthy babies, healthy moms and healthy outcomes."
Offering maternity services – often as part of an overall focus on women's services including digital mammography, gynecological surgeries, bone density tests and other screenings, nutritional counseling and exercise classes – also makes good sense from a marketing standpoint.
"Statistics show that women are the healthcare decision makers for their families," says Tami Jackson, chief nursing officer at South Georgia Medical Center in Valdosta, which expects to deliver 2,100 babies this year, up from a recent annual average of 1,500, due in large part to its acquisition of Smith Northview Hospital. "So it is true if they deliver their baby here, they may continue to use our services."
When you establish a positive relationship with a family just starting out, you are likely to be the provider of choice for that family going forward, says Bloye. Furthermore, that family may extend well beyond the mother and baby. If you are able to attract women, you'll also get their husbands, children, aging parents and other family members.
Georgia Trend introduces you to four Georgia hospitals that are in the business of providing excellent care as well as positive experiences for parents and their newborns.
---
Athens Regional
Midwives and Much More
One of the premier maternity hospitals in northeast Georgia, Athens Regional Medical Center serves as a referral hospital for obstetricians from 17-plus counties, but almost a third of the mothers who deliver their babies at Athens Regional each year come through one of the oldest and most continually running midwifery programs in the United States.
With a staff of eight full-time and two part-time midwives as well as four physicians, the Athens Regional Nurse-Midwifery Practice delivers an average of 700 of the center's 2,500 babies each year, says practice director Susan Fisher. The midwives independently manage healthy low-risk women through their pregnancy, delivery and postpartum, says Fisher. "We refer to physicians when there are health issues that need referrals."
Athens Regional's midwifery program was started in 1976 to take care of expectant mothers on Medicaid. Because none of the Athens-area obstetricians accepted Medicaid at the time, many women would see nurses at the health department for prenatal care, but would show up at the hospital with no medical records when it was time to deliver. There was no continuity of care, and the outcomes for these women and their babies were not always good, says Fisher.
Today, the program's patients represent an equal mix of Medicaid, private insurance and self-pay. Fisher attributes the increased popularity of midwife-attended births to increasing awareness. "Women choose who to go to based on what they hear in the community and from their friends," she says. "Having delivered [between 15,000 and 20,000] babies in the Athens area, we certainly have had a lot of word-of-mouth referrals. Women tend to have high satisfaction rates when a birth is attended by a midwife."
In addition to its popular midwife practice, women choose Athens Regional for its highly skilled dedicated team specifically trained to care for mom and baby, an in-house OB specialist immediately available for emergency situations, and a Level III NICU with a specialized team to provide for babies who need advanced therapy. The hospital also offers amenities such as tubs for laboring mothers and in-room dining for significant others, which allows them to order and pay for their meals at the bedside, says Dena Ollis, director of the NICU facilities at Athens Regional.
"Women and children services remain a high priority for Athens Regional Medical Center," says Ollis "We believe we have one of the greatest opportunities to impact a life by providing this service to the moms and babies in our communities. Every delivery is special, and we are honored to be a part of it."
---
Southeast Georgia Health System
Focused on Family
At Southeast Georgia Health System, the focus is on the family, says Shannon Wainright, director of patient care services. They know that mothers are most at ease when their families are close by and comfortable, too.
The system's Miriam and Hugh Nunnally Maternity Care Center on the Brunswick Campus and Maternity Care Center on the Camden Campus offer every mom a private birthing suite in a nurturing, home-like environment, says Wainright. "The birthing suites are comfortable labor, delivery, recovery and postpartum (LDRP) rooms with a full-size sleeper sofa for mom's significant other or support person to stay throughout the hospital stay," she says. "This allows mom and the family to start caring for their newborn right away to promote bonding." It also allows the family to spend time learning about their newborn and how to care for their baby knowing that support and reassurance is available from the nursing team if they need it.
In addition, the centers have liberal visitation rules and amenities to appeal to family members of all ages, including spacious waiting areas with space for children to play. The Nunnally Maternity Care Center offers two outdoor courtyards, including a soft-surfaced children's play area and a serenity garden.
Serving families from Brantley, Camden, Charlton, Glynn, McIntosh and Wayne counties, the two centers combined delivered 2,000 babies in 2014, according to Wainright.
"We recognize the birth of a baby is a special time in the lives of parents, siblings, extended family and friends, and we pride ourselves on offering family-centered care," Wainright says.
"Maternity services are a large part of our women's services." she says. "We realize women make the majority of the healthcare decisions for their families, and for most women, the birth of their child is often their first overnight stay in the hospital. This makes it very important for the birthing experience to be a very positive one."
---
W.G. Watson, M.D., Women's Center at University Hospital
Offering Mothers a Choice
Once a favorite part of every maternity center, the baby nursery was the place where families could catch a glimpse of their newest tiny member and exhausted new moms in need of a short reprieve could send their newborns. At W.G. Watson, M.D., Women's Center at University Hospital in Augusta, it still is.
Many hospitals have closed their nurseries and require healthy newborns to room with their mothers. But the staff at the Women's Center at University Hospital believe that new mothers should make decisions regarding their babies' lives – including the one to have their new baby with them 24/7 – from the very beginning.
The same goes for breastfeeding, says Elizabeth R. Price, administrative director of women and children's services at the center. "If mother wants to breastfeed, we work with her to do exactly that," says Price. "If she wants to bottle feed, we still educate her on breastfeeding, because breast is best, but we go based on the mother's choice."
Each year about 3,000 new mothers from the Central Savannah River Area appreciate the choices and services the center offers, including a Level III special care nursery for premature births or babies with special needs, a Level III perinatal center for high-risk pregnancies, on-floor operating suites dedicated to women exclusively, a fetal monitoring system linked directly to physician offices and a state-of-the-art infant security system.
Named for Dr. Watson, who practiced until after his 100th birthday and delivered about 15,000 babies before his death in 2012, the center continues Dr. Watson's tradition of kindness. His motto was "'Service and kind words,'" says Price.
"Quality is a given, but how you treat people is the key," Price adds. "Dr. Watson's is a tradition and philosophy we keep alive."
---
Navicent Health's Family Birth Center
High-risk Care for Central Georgia and Beyond
Although its primary service area is seven counties – Bibb, Houston, Peach, Monroe, Crawford, Jones and Twiggs – many patients come from a much wider area to Navicent Health's Family Birth Center in Macon. The center is one of six Regional Perinatal Centers in Georgia and the only one in Central Georgia to take care of women with high-risk pregnancies, in some cases offering procedures that are done nowhere else in the state, says Christopher Hendry, M.D., an obstetrician/gynecologist with Navicent Health Physician Group.
Navicent operates a high-risk obstetrics clinic staffed by resident physicians and a maternal-fetal medicine specialist who sees patients from throughout Georgia. If problems are identified that require surgery, the staff arranges for pediatric surgeons to be present and, if necessary, prepared to operate at the time of delivery. Navicent also delivers the vast majority of babies to HIV-infected mothers in the area.
But most of Navicent's 2,630 – and growing – annual deliveries are routine with healthy outcomes. Expectant mothers choose Navicent for its excellent medical care as well as the wide range of classes (childbirth, infant CPR and sibling classes, to name a few); hydrotherapy tubs, where they can experience the buoyancy and soothing properties of water during labor; 24/7 availability of anesthesia during labor; liberal visitation policies for family and friends; and a commitment to helping mothers breastfeed, says Diane Bloodworth, nurse director of the Family Birth Center.
Navicent recently completed four of the five stars in Georgia's Baby-Friendly 5-STAR Initiative Project. Sponsored by the Georgia SHAPE Initiative in partnership with the Georgia Department of Health, the project is designed to increase breastfeeding rates in Georgia, which currently ranks 43rd in the U.S. for breastfeeding care delivered in maternity facilities.
Special amenities for new parents include a postpartum wellness kit to help mom take care of herself when "everyone is oohing and aahing over the baby," says Bloodworth, a celebratory dessert after the baby's arrival, and a photography service that provides quality newborn photos almost immediately so that parent's can post them on Facebook before they even leave the hospital.