Literary Reflections
Four authors to be inducted into the Georgia Writers Hall of Fame Nov. 9 show the many facets of the state.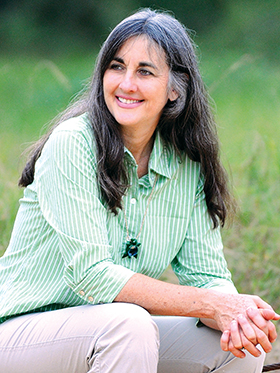 "How Georgian do you have to be?"
It's a question the judges at the Georgia Writers Hall of Fame, housed at the University of Georgia, ask themselves many times each year as they contemplate the nominees. It's one for which they've written a formal answer, but like mission and vision statements everywhere, it's not always easy to apply.
An inductee, as stated in the bylaws, must be "a native Georgian or a person who has lived in Georgia and produced a significant work while residing there."
That broad definition of what it means to be Georgian has led to the induction of some writers into the hall who may seem unlikely choices on the surface.
For example, the first year of the hall of fame, 2000, "There was an interesting discussion around W. E. B. Du Bois, who wasn't born in Georgia," says Toby Graham, UGA's university librarian and associate provost. "But he worked for years at the Atlanta University, and his book, The Souls of Black Folk, is, of course, a classic. It's read in schools all over."
But a nominee's Georgia-ness isn't the only subjective measure hall of fame judges must consider. Take a look at native son Martin Luther King Jr. – his Georgia credentials are exemplary, but was he really a writer?
"Of course there was discussion about Dr. King," Graham says. "Is he primarily a writer? Is he primarily a minister and Civil Rights activist? But with the I Have a Dream speech and the Letter From a Birmingham Jail, everyone was persuaded that he should be a part of [the hall]." So, MLK made the inaugural class, as well.
The first class was supposed to be 10 writers – all inducted posthumously. But the staggering number of Georgia literary luminaries to choose from meant the judges couldn't narrow it down. Twelve ended up making the cut for that inaugural class, including such household names as Margaret Mitchell of Gone With the Wind fame, MLK and Du Bois, as well as more obscure writers like Augustus Baldwin Longstreet (1790–1870), who owned a newspaper and wrote "sketches of comic reality" that have been called a precursor to the works of Mark Twain. Since that first group, anywhere from two to four authors both living and deceased are inducted each year.
---
And the Nominees Are
The nomination process is often as creative as the writers themselves. Eatonton-born poet-novelist Alice Walker (The Color Purple, among other works) received numerous nominations, but one in particular won over the judges. A 10th-grade English class at a private academy in Columbus attached a full-color 8 x 10 photo of the class, carrying signs urging "Vote Alice Walker" that were arranged around a larger-than-life-size portrait of the author, to their nomination form. It worked. Walker was inducted in 2001.
For this year's class of four inductees, all with ironclad ties to the Peach State, the question, "how Georgian do you have to be?" probably didn't come up. One writer has written so eloquently about South Georgia and her place in it that if you Googled "define south Georgian," you'd probably turn up her photo. Another wrote a bestseller in the '40s, a coming-of-age tale set in the Okefenokee Swamp that was made into two movies. The third, a Pulitzer Prize winner born in Atlanta, has chronicled the life and times of Martin Luther King Jr. Finally, this year's fourth inductee not only did most of his writing in Georgia, he was also a much-admired in-law to the Georgia Trend family.
Janisse Ray is a writer, environmental activist and speaker from rural Appling County in South Georgia who writes about the people and the environment of her home in books including Ecology of a Cracker Childhood, Pinhook and Drifting into Darien.
"Community, meaning wholeness, being a place of hope," Ray says, "I write a lot about that in the book called Pinhook, which is about wildlife corridors and putting big tracts of land back together so that the large species, like the Florida panther, can exist. A lot of the same requirements for wildlife apply for human community. So, really, in my work, that's mainly what I've done is looked at wild community and human community as parallels."
Ray's focus on the parallels of wildlife and human life is more than just her work; it's become a calling for her. "I actually think there are a lot of things to be concerned about in 2015, but I think sustainability and us figuring out how we're going to live on the planet without destroying it and ourselves should be our main focus," she says. "That's the most honorable, progressive thing that you could be doing right now. So my work is an answer to what I consider the largest challenge of our time."
Vereen Bell, also a native of South Georgia, wrote about the Okefenokee Swamp in the 1930s and early 1940s. His stories and photos about the outdoors were featured in The Saturday Evening Post and Colliers magazines and his two novels, Swamp Water and Two of a Kind, were serialized, giving him a nationwide, enthusiastic audience, before being published as books. Swamp Water was also made into two movies, in 1941 and again in 1952 (as Lure of the Wilderness), and is credited with putting the Okefenokee Swamp on the national map. Bell, a naval officer during World War II, was killed in 1944.
Taylor Branch, the third nominee, is the Pulitzer Prize-winning author of a much-lauded trilogy about the Civil Rights Era, America in the King Years, as well as a book about former President Bill Clinton, The Clinton Tapes: Wrestling History with the President, and a number of other books. Branch was born in Atlanta and began his career as a magazine writer for such periodicals as Washington Monthly, Harper's magazine and Esquire. Branch was also awarded one of the MacArthur Foundation's genius grants in 1991. He now lives in Baltimore.
Paul Hemphill, the only one of this year's honorees not born in Georgia, wasn't from too far away. He hails from Birmingham, Ala., but as his widow, Susan Percy (Georgia Trend's editor-at-large) says, "Georgia really was the place where he found his voice. I think he found himself. He felt comfortable. He got his mojo going. He was very proudly a Georgia writer."
Hemphill started as a sports writer and editor at The Augusta Chronicle, moved on to feature stories for The Atlanta Journal in the mid-1960s, and thanks to a Nieman Fellowship from Harvard, was able to write his first book, Nashville Sound: Bright Lights and Country Music, in 1970, a book still considered by many to be one of the best on country music ever written. He also tackled other distinctly Southern topics in books including Wheels, about NASCAR, Leaving Birmingham: Notes of a Native Son, which was nominated for a Pulitzer, and his last book, A Tiger Walk through History: The Complete Story of Auburn Football from 1892 to the Tuberville Era.
"I'm hardly an unbiased commentator," Percy says, "but I think he had a very strong, very distinct voice. He loved the South even as he was very much aware of its flaws. He knew what to appreciate and what to regret and wrote quite honestly about it."
---
The Red Carpet
Not only is the Georgia Writers Hall of Fame committed to celebrating Georgia's rich literary legacy, as Graham says, it is also dedicated to encouraging more people to read Georgia writers, including some they maybe haven't heard of before.
"I'm reading Taylor Branch's work at the moment," says Ray, who was already familiar with Hemphill and Bell. "I'm just stunned that I missed the King trilogy [before now]. I'm really enjoying it."
That reaction was just what organizers of the Georgia hall were hoping for when they put together a list of books by this year's honorees that they are encouraging Georgians to read. "One of the ways we've [publicized the books and authors] is through social media and email blasts," Graham says. "As a result, book clubs around Georgia have picked these books up. It's been one of the major ways in which … a new light has been shined onto them in the public. And we have faculty here at UGA who have been very engaged, who are such great friends of the Georgia Writers Hall of Fame and are having their students read these books as well."
Following a year in the spotlight – this year's honorees were announced after last year's induction ceremony – this year's honorees will be inducted into the Georgia Writers Hall of Fame on Nov. 9 in Athens, with a series of special events involving the writers, their families and friends, and UGA students as part of the celebration.
On Nov. 8 the festivities begin. "Janisse Ray is going to host a group of students who are being brought together by UGA's office of sustainability," Graham says. "The students are going to do lightening talks, very short, very concise talks on the topic of environmental sustainability. Janisse will moderate those talks, then she will conclude with remarks of her own, to synthesize the remarks students have made and to add her own comments."
Following that, students will run brief clips culled from UGA's Civil Rights Digital Library, a collection of news stories from the Civil Rights Era. "Each one of the students is going to introduce the clip and provide commentary, then there will be a discussion about what is happening in that clip of the Civil Rights event with Taylor Branch," says Graham. "The students will be involved in a conversation with Taylor Branch about some of these events in Civil Rights history that he's written about. That I think is going to be a fascinating and wonderfully compelling event as well."
An exhibit of each honoree's first editions, screenplay adaptations, foreign translations and works that have appeared in magazines will also be on view as part of the celebration. After the induction, the judges will meet to decide on next year's hall of fame class.
"One thing that I know," Percy says of her husband, Paul Hemphill, "he would be very pleased. He's in some pretty good company in this particular class."