Marietta's Chalktoberfest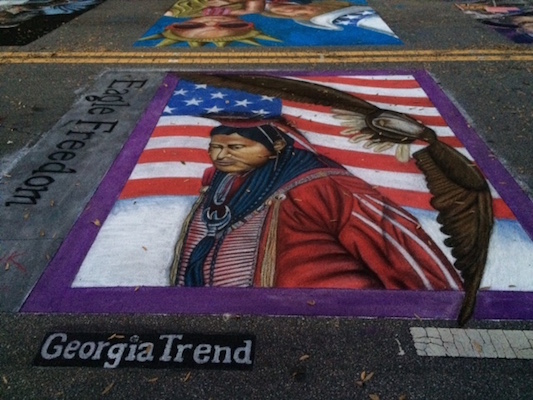 October seems to offer the most opportunities for adults to act like children. Halloween begs us to dress up and eat candy – or indulge in other grown up treats; the fallen leaves are just asking to be piled up and jumped in; and the city of Marietta offers adult artists the opportunity to draw on the streets with chalk – at Chalktoberfest.
But these are not the stick figures or hopscotch squares you drew as a kid, these are astounding works by professional artists, who this year delivered their visions of patriotism. As you can see from the photos on this page, the results were astounding.
Chalktoberfest artists couldn't have asked for a prettier day and the addition of a Craft Beer Festival made the event even more fun. Check out this annual fundraiser for the Marietta/Cobb Museum of Art next year to see works you'd never believe were drawn in chalk or take a look at more photos from this year's fundraiser, courtesy of John Schultz.
Photo at top is of the drawing by Ron Hawkins, which Georgia Trend sponsored. Photo courtesy of Craig Houdeshell.