Sustaining the Planet – What must be done?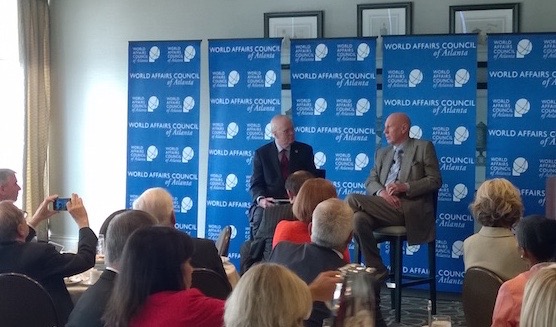 There is a crisis in our natural world, and it requires action, said Wayne Lord, founding director of the World Affairs Council of Atlanta, as he introduced E. Neville Isdell, a man who has championed action as chairman of the World Wildlife Fund (WWF) and former chairman and CEO of the Coca-Cola Co.
The non-partisan council, which provides a forum for dialogue, expertise and research on international issues that matter to Atlanta, hosted Isdell at last month's event, Sustaining the Planet – What must be done? at the Buckhead Club in Atlanta. Isdell, who while at Coke expanded that company's focus on sustainability, explained that saving our natural resources is "personal for me," based on his own youthful experiences in the African wilderness.
"Sustainability on its own – defined as ensuring we continue to do what we do today – is different from environmental sustainability," Isdell said. He described three pillars of civilization – social, economic and environmental – and said without the third, the other two are useless, since we can't feed the planet.
"It's a jigsaw of moving parts," he said, about sustainability efforts at both Coke and GM, where he was a member of the board of directors. "At GM," he said, "we were at war with the EPA over MPG when gas prices were much higher. Now it's something the consumer cares about, and it gives a [company a] competitive edge to bring it down. So they're building lighter cars."
He went on to praise current Coke CEO Muhtar Kent. "Coke is on track to be water neutral by 2020. They thought I was crazy when we started [that] back in '07. [But] Coke has always been responsible. You look at the history, with Robert Woodruff arranging the dinner for Martin Luther King, and calling on the business community to be there; it's a good track record."
Now, as chairman of the WWF, he is able to prod other companies in their sustainability efforts. "With Starbucks and fair trade, we leaned on them pretty heavily. Now the whole coffee industry has been affected. Markets are important – when we pushed the palm oil industry to stop deforestation, or the tuna [industry] to stop abusing their fisheries, you just don't source those companies and it has a multiplier effect. I think it will be important in the next five or 10 years for corporations to work together to affect policy. Investors are demanding it."
Isdell was also asked about electric cars. "Looking at 10 to 20 to 30 years out, I think you will see more hydrogen powered vehicles. Until then it will be electric enabled by a small combustible engine to avoid range anxiety."
He wrapped up on a high note. "I'm an optimist," he said. "Sustainability officers didn't exist at Coke seven or eight years ago, and now they're in every company. The wind is at our backs and it's blowing harder."
Photo above, Wayne Lord, left, and Neville Isdell, right, at the World Affairs Council of Atlanta's Sustaining the Planet – What must be done? event. 
Photo courtesy of Ben Young.