The Peach Pass State
Three managed lanes projects around Metro Atlanta aim to alleviate congestion – for a price.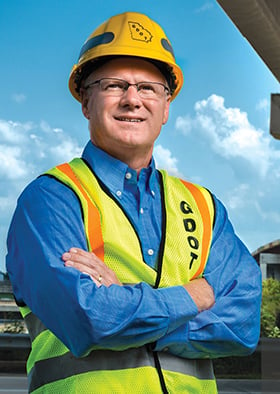 In the winter of 2014, commuters in Cherokee and Cobb counties began seeing a few changes. Cranes took up residence in the medians along the southern end of I-575. Support beams began popping up along I-75. And then bridges began to take form, running high and parallel to the interstate. It's all part of the nearly 30-mile Northwest Corridor, which, at $834 million, is the single largest construction contract in the history of the state – and one of three managed lane projects currently planned for Metro Atlanta.
Combined with the I-85 Express Lanes Extension project in Gwinnett County and the I-75 South Metro Express Lanes project in Henry and Clayton counties, there are more than 50 miles of variable-rate toll lanes coming to Metro Atlanta by the end of 2018, representing a more than $1-billion investment in the region's overloaded interstates.
"And that's just the managed lanes," says Chris Tomlinson, executive director of the State Road and Tollway Authority (SRTA) and the Georgia Regional Transportation Authority (GRTA). "If you add in the work that will commence within the next 12 months for the I-285/Georgia 400 interchange, … between now and 2019 the face of Metro Atlanta's traffic system is going to change dramatically."
---
The Basics
The theory behind managed lanes is simple: They use the principle of supply and demand to respond to overwhelming congestion. Each project in development today adds at least one lane of capacity, which is then managed through volume-dependent toll rates.
"In a congested metropolitan area like Atlanta, it is very hard to identify areas where you can add a significant amount of capacity," says Tomlinson. "In the few places where we did feel we could add capacity, the issue became that it was just additive. Because of the high levels of congestion, it would quickly fill back up."
Georgia Department of Transportation (GDOT) Commissioner Russell McMurry points to the existing I-75 corridor at I-285 as proof: "[That area] is a great example of why building more lanes doesn't solve capacity. If you go above I-285, I believe the interstate is 14 or 15 lanes wide. How many more lanes are you going to build? Managed lanes are a way to efficiently and effectively handle congestion by giving mobility options and giving commuters options."
The I-85 Express Lanes Extension, scheduled to begin construction in spring of 2016, builds on an existing express lane concept launched in October 2011. In the years since the first Peach Pass was issued, the project has exceeded projections in both the number of trips and revenue generated by those trips, says Tomlinson.
The extension will add 10 miles of new-capacity toll lanes north of the existing I-85 Express Lanes, as well as improve interstate operations and traffic flow with additional auxiliary lanes centered around SR 20.
In Henry and Clayton counties south of the city and Cobb and Cherokee counties to the north, the theory is the same – but the execution notably different. The I-75 South Metro Express Lanes and Northwest Corridor will both feature barrier-separated, reversible lanes to direct traffic either to or from the city during peak traffic times.
South of the city, however, these lanes will be built into the median in the 12 miles of I-75 from SR 155 to SR 138. North of the city, along I-75 from Akers Mill Road to Hickory Grove Road and I-575 from I-75 to Sixes Road, the majority of the project will rise above the interstate on a series of 39 bridges – one of which will tower at 106 feet, higher than all the bridges of Spaghetti Junction.
And where will the money collected across the projects go? Tomlinson says tolls will first pay back any debts and then support the administration and operation of the roadway and monitoring system required to wirelessly track and calculate trips – as well as provide enhanced levels of service along all corridors, including increased mowing and trash pickup runs.
"We know, understand and do not take for granted that while we are providing Georgia's citizens a new choice, they're paying a premium price for that choice," says Tomlinson, "and we want to give them a premium level of service."
---
Safety and Operations
When it comes to these managed lane projects, one of the biggest areas of confusion is access, or how drivers will get in and out of the barrier-separated lanes. And that's understandable, says McMurry, especially along the Northwest Corridor.
"People will make decisions to use the managed lanes differently than they do today," he says. That's because six of the Northwest Corridor's 10 managed lane entrances will work much like normal interstate entrances: Drivers will decide to get on them directly from a surface street, possibly without knowing the level of congestion on the interstate beforehand.
To help drivers make this decision, GDOT and SRTA will rely on technology, including dynamic traffic monitoring and signage at each entrance detailing current toll rates and estimated trip totals along the route. Though toll ranges have not been finalized, Tomlinson says they could range from 10 cents to 90 cents per mile, with higher rates correlating to higher congestion along the interstate's general purpose lanes.
The Northwest Corridor will also feature slip ramp entrances and exits along its one-lane stretch on I-575; these slip ramps work much like HOV lane entrances, where commuters already traveling on the interstate will be able to enter and exit the managed lanes at designated points, usually marked by a change from solid to dotted lines.
By contrast, only one of I-75 South Metro Express Lanes' four entrances will be a surface street entrance; all other entrances and exits will be slip ramps.
Another big source of confusion is the reversible lane concept, where traffic will flow in opposite directions depending on the time of day. How do you keep operations safe? How do you ensure that no one drives in the wrong direction? And how do you manage the process of switching the direction of traffic?
The answer to all of these questions lies in a sophisticated system for monitoring and controlling traffic flow that includes warning gates, barrier gates, plenty of cameras and dedicated HERO units for both patrolling the system and responding to incidents. The system is designed to be intuitive for drivers, says Tomlinson, and its gates and barriers will physically block cars from driving in the wrong direction.
And when it's time to change the direction of traffic, the system will initiate a controlled, precise sequence to ensure that all motorists are off the lanes. In addition to active video monitoring while gates close, HERO units will drive the entire length of the roadway to check for stranded motorists before reopening the lanes. This process will take a couple of hours from beginning to end, according to McMurry, and when the system closes will vary based on time of day and traffic conditions.
"That's the beauty of this system: It's dynamic, so you can respond to whatever is going on that day and be sensitive to that," he says.
Responsiveness and flexibility are especially important for the I-75 South Metro Express Lanes corridor. "I-75 South is a unique thing because it's so much affected by everyone in the Southeast going to and from Florida," McMurry says. "You can have different things on the weekend where one weekend it may need to be open in the morning going south and the next weekend it may need to be open going north, and we can be responsive to that."
And while the Northwest Corridor features mainly surface street entrances and the I-75 South Metro Express Lanes feature mostly slip ramps, the approach to safety and direction reversal is identical: active monitoring, an intuitive system of gates and physical HERO monitoring.
---
Transit, Jobs and Infrastructure
But why, say some, are we spending money on toll lanes instead of expanding less car-centric modes of transportation? The short answer is funding: Funding for these projects comes in large part from federal and state motor fuel taxes, which can only be spent on projects that improve roads or bridges – so no commuter rail or light rail.
That said, McMurry and Tomlinson see managed lanes as a cost-effective way to improve public transit service in each area, namely through express bus service.
"It has a bigger positive influence on transit than probably anything that's been done in recent history, besides MARTA itself, because of the improved mobility and guaranteed trip times – and everybody's fare is still the same fare," says McMurry.
Carpools with three or more people, registered vanpools, motorcycles and public transit buses are exempt from tolls along the I-85 Express Lanes and Extension, but both the Northwest Corridor and I-75 South Metro Express Lanes will not extend these exemptions (aside from public transit), says Tomlinson, because it did not prove itself to be a strong enough incentive for carpooling.
"What we do see interesting and what we are preserving on these facilities is that public transit vehicles will use it for free," Tomlinson says. The eight GRTA public transit routes that use I-85 have some of the highest levels of reliability, as well as strong ridership. "During morning rush hour, for example, only 2 percent of the vehicles on I-85 are transit vehicles, but they account for over 26 percent of the people that are moved through that lane. There's a demonstrated return on allowing public transit to ride for free, and we're hoping to bring over that success into the I-75 projects by continuing the policy," he says.
For the state's engineering and construction industries, managed lanes represent long-term jobs spanning many specialty areas. John Hancock, assistant state innovative delivery engineer at GDOT's Office of Innovative Delivery, estimates that there are between 130 and 150 employees between the Northwest Corridor management team (GDOT, developer Northwest Express Roadbuilders and design group Parsons Transportation Group) and the project's environmental consultants, supervisors and inspectors.
In addition, Northwest Express Roadbuilders expects to have between 250 and 300 workers in the field before project completion in summer 2018, with another 100 to 125 subcontractors onsite throughout construction. Employees include engineers, designers, draftsmen, superintendents, project managers and inspectors from the project management team, as well as carpenters, welders, heavy machinery operators, mechanics and technicians working in the field each day.
The I-75 South Metro Express Lanes and I-85 Express Lanes Extension, though shorter in project length and smaller in construction scope, will also require dedicated teams of engineering and construction professionals working daily through 2017 and 2018, respectively.
Moreover, the Transportation Fund-ing Act of 2015 signed into law by Gov. Nathan Deal in May shows a commitment to improving and maintaining the state's transportation system – an effort that will require a steady workforce to accomplish as well.
The act, which will raise an estimated $1 billion per year through gasoline excise taxes, hotel taxes and electric/ heavy vehicle registration fees (among other measures), "will allow Georgia DOT to make a meaningful dent in some of the maintenance needs and backlogs to take care of the approximately 18,000 miles of existing highway throughout the state," says Tomlinson.
The new transportation revenue will allow GDOT to tackle much-needed maintenance projects on state roadways and bridges, including repaving worn roads, filling in potholes and reinforcing weakened bridges. It will also help "overcome the degradation and downward trend we've seen all across the state of our aged infrastructure," says McMurry.
And though a strong transportation infrastructure is integral in keeping Georgia competitive both nationally and globally, passing the funding measures necessary to maintain its infrastructure was no small feat, says McMurry. "This was very hard for our legislature. This was not an easy conversation, because trying to generate revenue to advance anything in this day and time is very hard," he says.
"I always like to use the example of the interstate system that President Eisenhower was the champion of. He barely got it passed, but the rest is history. … In Georgia, this vote and this confidence to advance infrastructure was very hard for [the legislature], but I think it is absolutely a game-changer for Georgia going forward."