2015 40 Under 40
Our 19th annual list of achievers in business, politics, nonprofits, science, healthcare and education.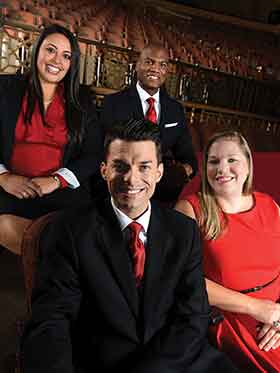 For the 19th year, Georgia Trend presents a group of 40 outstanding Georgians under the age of 40 – the state's best and brightest. This year's honorees represent business, government, politics, nonprofits, science, healthcare and education. And at the age of 17, one of this year's honorees proves that you're never too young to make a difference.
The 40 were chosen from nominations made by readers throughout the state. Final selections were made by the Georgia Trend editorial staff. We're proud of our selections and glad we can share the stories of these Georgians and their achievements in the following pages.
Four representatives from this year's group, shown here and on the cover, were photographed at the Fox Theatre in Atlanta by Jennifer Stalcup. Shown clockwise from top left, they are Alia El-Sawi, Homeland Security Investigations, Sandy Springs; John Kennebrew, Northside Psychological Services and Showcase Group, Atlanta; Lisa Scarbrough, Moon River Studios and Coastal Pet Rescue, Guyton; and Tony Gonzalez, Georgia Power, Atlanta.
Individual profiles were written by Mary Anne Dunkin, Richard L. Eldredge, Ralph Ellis, Kevin Hogencamp, Karen Kirkpatrick, David Shivers and Lindsay Thomas Jr. – The Editors
---
Mark Bell, 39
Managing Principal
Ethos Capital Partners
Atlanta
Mark Bell brought his experiences at Stanford, Oxford and Wall Street back to the Peach State, where he realized that few private equity firms were available to support Georgia entrepreneurs.
"There were a lot of great companies in Georgia that were getting passed up by investors because they were too far away from the bigger money-center cities like New York," he says. He founded Ethos Capital Partners to provide loans and equity investments to Georgia companies.
Bell's skills are also benefiting Georgia nonprofits. He serves on the boards of the Carter Center, MAP International, which supplies donated medication to disaster-struck regions, and Emory's Carlos Museum.
"I've been very proud of Georgia's leadership in health and human services," Bell says. "If we are to be the arms of Christ on Earth, what is the work we should be doing? I think it's the selfless work that institutions like the Carter Center and MAP are doing." – LT
---
Barry Blackmon, 39
Teacher
B.E.S.T. Academy
Atlanta
As a college student completing his degree in journalism, Barry Blackmon was distributing magazines to inner city youth programs when he was shocked to discover many of the teens had difficulty reading them. His encounters led to an epiphany and a change in majors and career plans. Since then he has been involved in literacy efforts, both here and in Africa, and this fall he began his sixth year as a teacher at Business, Engineering, Science and Technology (B.E.S.T.) Academy middle school. His dedication to his students was recognized by Atlanta Public Schools when he was named district-wide Teacher of the Year 2014-2015.
In addition to academics, Blackmon teaches his students at the all-male public school to be gentlemen. "Chivalry and etiquette – opening a door, pulling out a chair or giving up your seat to an elderly person – are also important to being a successful, well-rounded young man," he says. – MAD
---
Julianna Cagle, 30
Development Officer
Children's Healthcare of Atlanta
Brookhaven
Julianna Cagle raises money to help children, both on the job and in her spare time.
A development officer for Children's Healthcare of Atlanta, Cagle also serves on the board of directors of LaAmistad (Spanish for "the friendship"), a nonprofit that provides afterschool tutoring and mentoring to children in Atlanta's growing Hispanic population.
"A lot of the students are truly first generation," she says. "Their parents can't read or speak English, and they can't help their children with homework. It's important these students get the extra help on the language side."
She majored in Spanish in college and wanted to stay connected to Spanish speakers after graduation. She's done plenty of hands-on tutoring in the past but now concentrates on fundraising and development for LaAmistad.
"That's where I can add value," she says.
It's not the only value she adds. Cagle was a member of LEAD Atlanta's class of 2014 and recognized by the Georgia Center for Nonprofits with a 2014 Nonprofit Leader 30 Under 30 Award. – RE
---
Chad Carrodus, 17
Senior
Walton High School
Marietta
Everyone has a gift that needs to be shared.
Chad Carrodus says that's what motivates him – at age 17 (he turns 18 on Oct. 14) – to enlighten, coach and encourage others to pursue their dreams through his volunteerism and talent management consultancy.
Carrodus is a Fatherless Daughter Project board member and the founder of Atlanta Children's Charities, which connects youth volunteers with service organizations. He also is an aviation sales coordinator and a polished businessperson who has spoken to Emory University's Goizueta Business School on the landscape of youth entrepreneurship.
While getting paid is exciting in the short term, Carrodus says helping others is more gratifying.
"My passion for community service primarily stems from gratitude. I go to a great school, I have a wonderful family, and we have food on the table," he says. "I have all these gifts, so I need to give back." – KH
---
Al H. Dallas, 39
Chief of Staff
GRU Cancer Center
Augusta
Born and raised in Thomson where his father was an attorney, Dallas found himself being "a resident but not a participant" when he returned to the Augusta area in 2009 with a position in logistics. Wanting to increase his involvement in the community, he refocused his career and accepted the position of executive assistant to Augusta Mayor Deke Copenhaver.
Last year, when the mayor's term ended, Dallas joined the GRU Cancer Center as chief of staff, overseeing external focus initiatives, community outreach and communications marketing.
His commitment to Augusta does not end with his workday at GRU, however. He and his wife, Lauren, are active volunteers with organizations including the Leukemia and Lymphoma Society. "Augusta is a wonderful place to raise a family," says Dallas, the proud father of a 15-month-old. "I'm a big supporter." – MAD
---
Odie Donald, 37
Workforce Innovation and Opportunity Act Services Director
Georgia Department Of Economic Development
Atlanta
Odie Donald is committed to helping Georgians gain the skills and opportunities needed to ensure a strong workforce. As an employee of the Georgia Department of Economic Development, Donald oversees more than $90 million in federal grants for programs of the Workforce Innovation and Opportunity Act.
His extensive record of community service also reflects his commitment. He serves on the Advisory Board of the Atlanta Public Schools Career, Technical and Agricultural Education (CTAE) program and as a member of the Georgia Energy and Industrial Construction Consortium (GEICC), an organization of utility companies working together on ways to meet future workforce demands.
"The work-based learning initiatives coordinated by the CTAE program line up very well with GEICC's efforts to create energy career pathways for students interested in skilled labor," Donald says. "I've seen what comes out of providing people with opportunities, and now I want to help other people experience the American Dream." – LT
---
Katherine Dunlevie, 39
Senior Vice President, Managing Director of Synovus Family Asset Management
Synovus
Columbus
Leading the team at Synovus Family Asset Management involves managing more than $5 billion in assets held by 65 multi-generational families. Katherine Dunlevie says the support and guidance she received as an adolescent has helped her succeed, both in this role and through her community involvement.
"I had people in my life who were encouragers, and so I am passionate about mentoring young people," Dunlevie says. "Adolescents are at such a defining point in their lives, and they can go in so many directions."
Dunlevie served on advisory boards for Columbus Young Life as well as Teen Challenge of Columbus, a Christian ministry for at-risk youth. She has been honored by Synovus for her work with the United Way. As a passionate tennis player, she works with the Columbus Celebrity Tennis Classic to raise funds for the John B. Amos Cancer Center in Columbus. In her spare time she can be found volunteering on the tennis courts with middle and high school players. – LT
---
Alia El-Sawi, 32
Victim Assistance Specialist, Immigration and Customs Enforcement
Homeland Security Investigations
Sandy Springs
Alia El-Sawi's job every day is to help put an end to the horror of human trafficking and work to assist the people caught in its web. El-Sawi credits her background growing up in Atlanta to Egyptian parents who fostered her involvement in the area's Middle Eastern community with her interest in human rights.
Now she's with the Department of Homeland Security, training agents to be more victim centered in their approach to human trafficking investigations. El-Sawi, who can converse with victims and investigators in five different languages, says that not only has her approach delivered positive results – victims whose rights and dignity are respected are much more cooperative with investigators – but the agents themselves report more job satisfaction.
"When you're warming up to a victim, you're hearing their story or giving them a chance, you can't help but have that warm, fuzzy, good feeling about the work that you're doing," she says. – KK
---
Stacey Godfrey Evans, 37
State Representative District 42 Attorney, S.G. Evans Law
Smyrna
Growing up in Ringgold, Stacey Evans knows firsthand the value of a HOPE scholarship. With HOPE, Evans became the first in her family to receive a bachelor's degree.
Now she is committed to ensuring there's hope for the next generation.
"I cannot imagine my life now without college and law school," says Evans, who was elected to the State House of Representatives in 2010. "I personally know what a game changer higher education is. I also know how much harder it is for folks growing up in families that didn't have college-educated parents."
That's why Evans has dedicated the bulk of her legislative efforts to ensuring HOPE's future. In 2013, she introduced bipartisan legislation aimed at restoring HOPE funding for technical school students, and in 2014 she authored a bill to expand HOPE access and created the Zell Miller HOPE Grant. Both were signed into law. – RLE
---
Rob Fortson, 37
Vice President, State Government Relations
McGuireWoods LLP, McGuireWoods Consulting
Atlanta
A former teacher and coach in Baltimore schools with Teach for America, Fortson saw firsthand the challenges facing public education and was inspired to do something about them. He's now an attorney who's carved out a unique practice representing charter schools and other education reform organizations as they work to improve public schools in Georgia.
"The best part of my work in education is the opportunity to assist charter school starters and other education reformers who are sacrificing a great deal – financially and personally – to create better outcomes and ultimately better lives for kids," he says. "Many of them are succeeding, and it's a privilege to come alongside them and help in this work."
Fortson is involved with Teach for America alumni groups and other educational nonprofits. He is also a founding member of and legal counsel for Village Church of East Atlanta and CEO/treasurer of the nonprofit Taxpayers for Efficient Government. – DS
---
Sarah Gerwig-Moore, 37
Associate Professor
Mercer University School of Law
Macon
Drawing on her own musical background, Sarah Gerwig-Moore helped produce concerts in Macon parks to raise money to jumpstart the massive rehabilitation of the College Hill Corridor, an area around Mercer University where she is a law professor.
As founding co-chair of the College Hill Corridor Project, she and her band of fellow Mercer Law School colleagues played many of the concerts.
Today, College Hill is a booming area with an ongoing master plan administered by full-time staff, and a variety of public and private funding sources.
Gerwig-Moore also uses her legal expertise to instill in her students the importance of giving back. Through her Habeas Project, she supervises students who represent people with no attorney – including in three capital cases – as they appear before the Georgia Supreme Court.
"My parents are public servants, and they instilled some important lessons in me that we've been given a lot of opportunities," she says. "It's our obligation but also our privilege to give back to the communities we live in." – LT
---
Tony Gonzalez, 34
Digital Strategy Manager
Georgia Power
Atlanta
Tony Gonzalez credits the mentors he had in his youth for his commitment to giving back to kids. It's a commitment that started at Fort Valley State University, followed him to Georgia Tech (he has a degree in electrical engineering) and that continues to this day.
Despite that EE degree, Gonzalez has found his niche over a 13-year career at Georgia Power in corporate communications. He was part of the team that developed Georgia Power's STEM (science, technology, engineering and math) education project and served as president of the Hispanic Resource Group. Now, as digital strategy manager, he's responsible for Georgia Power's digital space.
"What I'm trying to accomplish in my career is all so that I can help out my [Hispanic] community," he says. "Whether it's employee development or community development, that rings true in my entire life."
He also serves his community as a member of the board of Ser Familia (which means "to be a family") and through work with Junior Achievement and the Hispanic Organization Promoting Education. – KK
---
Kevin Gooch, 35
Partner
Alston & Bird LLP
Decatur
Kevin Gooch knew a lot of hard-working people growing up in Covington, where his grandmother raised him, but no lawyers, doctors or business owners.
In college he met attorney Horace Johnson, now a Newton County Superior Court judge. Johnson gave him a job in his office and inspired Gooch to graduate from the University of Georgia Law School.
"I got insights into the business of operating a law firm," Gooch says.
The lessons stuck. Last January, Gooch was named a partner in the finance group at Alston and Bird, where he specializes in negotiating large debt transactions for financial institutions and corporate borrowers.
Another lesson: Pay it forward. Gooch recently completed a term as president of the Emerging 100 of Atlanta, an auxiliary of the 100 Black Men of Atlanta. The Emerging 100 mentors students at the B.E.S.T. Academy High School in Atlanta and awards scholarships. He is also a 2013 graduate of LEAD Atlanta. – RE
---
Diana Harbour, 34
CEO
Red Dress Boutique
Athens
Diana Harbour's brain never seems to stop.
Neither do sales at Red Dress Boutique, her online clothing business and Athens brick-and-mortar store.
"Having a job that deals with the creative aspects of fashion allows for me to have an outlet for that creativity," she says.
Harbour employs about 90 people and handles merchandising, styling, photography and purchasing. Annual sales increased from $80,000 in 2010 to $14 million in 2014, thanks in part to her appearance on the ABC reality television show Shark Tank.
Harbour also has a passion for helping people with developmental disabilities.
She helps organize and sponsor Hope Haven of Northeast Georgia's annual Threads of Hope fundraiser.
"Hope Haven brings so much warmth and love to our community," she says. "I have a personal connection with them because my uncle was cared for by places like Hope Haven in my hometown of Columbus." – KH
---
Brad Harmon, 38
Attorney
HunterMaclean
Savannah
When Brad Harmon was young he wanted to be a Jedi, he says with a laugh, but in college he became interested in law and in law school he was drawn to business law. His proudest accomplishment professionally is "helping my law firm grow and by extension helping our clients and businesses grow, which in turn helps the state of Georgia grow."
In 2012 Harmon joined other partners to form HunterMaclean's Logistics Practice Group, bringing together various clients and internal practice areas to more effectively represent clients in this vital and growing industry in Georgia. He also spearheaded the first Savannah Logistics Lunch in partnership with the Georgia Center of Innovation for Logistics.
He's active in his community as well, serving on the boards of the Savannah Technical College Foundation and the Live Oak Public Libraries Foundation. – MAD
---
M. Cole Jones, 32
Co-founder
covello
Atlanta
M. Cole Jones considers himself a "non-tech person," but he works in the tech sector with startups and industry giants like AT&T.
The award-winning firm he co-founded in 2013, covello, helps companies grow through collaboration. The company derives its name from "co" for collaborate and "vello," a variation on the English/Spanish word "vuelo," meaning grow or take flight.
Jones says covello starts by getting to know the clients and understanding their needs. Once that's figured out, covello turns to its collective of freelancers and contractors for technical expertise.
"We refer to ourselves as a relationship bank," he says.
Sometimes the solution is for large firms with abundant resources to team with small, nimble startups. "It makes sense for those kinds of companies to collaborate," Jones says.
Jones also forges relationships with young people he mentors through a variety of organizations that offer STEM programming. – RE
---
Lori Judge, 39
Founder/Broker
Judge Realty Inc.
Savannah
Lori Judge founded Judge Realty, a boutique firm offering residential, commercial and rental real estate services in Savannah's historic district, in 2005. A champion of environmental integrity, she is a certified EcoBroker, currently converting her offices to power solely from solar energy.
An avid supporter of Savannah's arts scene, last year she launched the Judge Realty Permanent Art Collection. She has offered her building façade as a canvas and aided nonprofit SeeSAW in obtaining sites for popular murals. She's also involved in other local nonprofits including Boys and Girls Club of Coastal Georgia, Savannah Tree Foundation and more.
"I give back to my community because it gives back to me," she says, adding that she also focuses her energy on environmental efforts. "My goal is to make our lives better now, but most importantly my son's life. Leading by example in both my business and personal life is key to making the right impact." – DS
---
John Kennebrew, 34
Mental Health Lead
Northside Psychological Services
Founder and Executive Director Showcase Group
Atlanta
When most people hear about children in or being released from detention facilities, they mutter about how sad it is and move on with their lives. John Kennebrew is not most people. He works full time as the mental health lead at the Center for Children and Young Adults, a group home serving 39 young people, and is the founder of Showcase Group, an organization that provides mental health services for an often unseen and forgotten population.
This year, Showcase Group is building a group home of its own for foster and homeless children. When people ask, "What does Showcase Group mean?" His answer is the philosophy of the organization. "I learned in the detention centers that when I would identify a talent in youth, we could then showcase that talent and they would gain so much self-esteem and confidence, [and it was a way] to help them connect with others." – KK
---
Rebecca Lang, 38
TV Chef, Cookbook Author and Owner
Rebecca Lang Cooks LLC
Athens
As a journalism major at the University of Georgia in the late 1990s, Lang prompted concern among her professors when she demonstrated an interest in writing only about one subject – food.
In the pre-Food Network era, Lang called 411 and asked for the home phone number of Southern chef Nathalie Dupree, the one person who was doing what Lang wanted to pursue professionally. During an unpaid apprenticeship, Dupree taught her the ropes and encouraged her to get a culinary arts degree from Charleston's Johnson & Wales University.
More than 400 cooking classes, TV, radio and print appearances and five cookbooks later, Lang is becoming the Rachael Ray of the South.
"I want young people to know that you don't graduate from culinary school and land a cookbook deal," she says. "You have to wash a mountain of dishes and work until 2 a.m. at a catering job you hate before you figure out what your perfect job is going to be in this business." – RLE
---
David Lubell, 39
Founder and Executive Director
Welcoming America
Decatur
David Lubell has been recognized internationally and by the White House for his efforts to promote intercultural understanding.
But nothing compares to the joy of seeing skeptics begin to embrace their new immigrant neighbors, the Welcoming America founder and executive director says.
"You can see the light come on in a person's eyes when they shift from a place of fear to a place of compassion and respect. That is a truly beautiful moment," says Lubell.
Lubell's organization helps nonprofit and government partners transform their communities into more welcoming places.
Lubell says that as a young educator, he was unconditionally embraced by a community while teaching and studying in Ecuador. Back home, he began noticing the unwelcoming reception that many Latin Americans receive.
"I started to realize that my life's calling was to try to help my country live up to its values as a nation of immigrants," he says. – KH
---
Brian McGuire, 33
Senior Vice President, Treasury Management Services
Private Bank of Buckhead
Atlanta
Since joining the Private Bank of Buckhead in 2008 at the age of 26, McGuire has helped his clients, from one-person entrepreneurs to large nonprofits, find success.
"I really like being able to help them by providing them with the tools so they can grow," he says.
When he is not leading the bank's charge for client money management functions and mobile banking efforts, he is involved in leadership activities in the community, which as a community bank, Private Bank of Buckhead encourages. He is immediate past president of the Buckhead Business Association, a member of the development committee for Camp Twin Lakes and a board member of Leadership Buckhead (he graduated from that program in 2012) and of Rotary Club of Midtown. He's also a graduate of the 2014 class of the Fulton County Sherriff's Office Citizen's Academy and active with the Human Rights Campaign. – MAD
---
Antonio Molina, 32
Chief Operating Officer
Consultorio Medico Hispano
Snellville
Molina's position with the Lawrenceville medical practice Consultorio Medico Hispano not only enables him to improve access to care for Metro Atlanta's Latino community, it also gives him the freedom and ability to serve the community in other ways. One cause he holds dear is mentoring students through organizations like the Hispanic Organization for the Promotion of Education (HOPE) and as a member of the advisory board of Camp Kesem, a camp for kids with a parent who has been affected by cancer.
His most gratifying experiences, he says, are seeing the accomplishments of the people he has mentored and witnessing the community's efforts to bring about change, especially for young adults.
"I remember speaking at youth forums in the past and having youth saying they wanted to be cosmetologists or medical assistants," he says. "Now when I do forums, I hear 'I want to be a neurosurgeon,' things that I never would have thought of." – MAD
---
Jessica Moore, 39
Vice President of Business Development
Sterling Planet Inc.
Atlanta
When the economy cratered and dusk fell on her marketing career at SunTrust in 2008, Jessica Moore decided to take on a bigger client – the sun itself. While consulting for a Swedish company, the Atlanta resident became fascinated with that country's dedication to clean tech and renewable energy. She quickly became a convert and now works at Sterling Planet, a company dedicated to helping Fortune 500 businesses set and reach more energy efficient goals.
As an energy policy lobbyist, she made the economic case for solar expansion to the formidable House Energy, Utility and Telecommunications Committee during the 2013 legislative session.
"Pretty much everyone tried to talk me out of it," Moore reflects laughing. "But as someone who likes to think big thoughts and having a 'not if but how' mentality, I thought, 'what's the worst that can happen?'"
The result was the Georgia Solar Power Free-Market Financing Act of 2015 signed this year by Gov. Nathan Deal. – RLE
---
Chinekwu Obidoa, 37
Assistant Professor of Global Health
Mercer University
Macon
College professor Chinekwu Obidoa says her fervor to educate, mentor and serve her community is built on hope.
Obidoa says she draws inspiration from the late Nelson Mandela, former South African anti-apartheid leader, president and philanthropist, as she positively leverages her past difficulties and focuses on goals.
"I have had to overcome many obstacles and challenges on my journey to becoming a scholar and role model that have helped to build capacity and tenacity in me," she says.
Outside of her Mercer University classroom, Obidoa mentors students in their academic careers and personal development. She also provides HIV/AIDS workshops to youth and conducts community-based scientific research aimed at improving minority health.
"Being in an academic environment where I can teach and learn at the same time is simply awesome," she says. "I particularly like the fact that I get the opportunity to influence what the next generation and society will look like." – KH
---
Lynthia Owens, 37
Chief of Staff
Office of the Mayor of Augusta
Evans
Owens derives her personal and professional principles from faith, family and community.
"My accomplishments have resulted from the windows of opportunity people in my community have helped open and encouraged me to pursue," she says. "I believe the best expression of gratitude is to pay it forward. It is my commitment each day to do something that will increase the opportunities that exist for my son and his generation right here in Augusta."
Currently chief of staff for Augusta's mayor, Owens previously served as district director for 12th District Congressman John Barrow for eight years. A graduate of Leadership Georgia's Class of 2013, she also serves on numerous executive boards in the Augusta area, including the Greater Augusta Arts Council, Historic Augusta and Leadership Augusta. She is also an adjunct professor in the Georgia Regents University Political Science Department. – DS
---
David Pitts, 38
Operations Support Coordinator – Customer Experience
Georgia Power Company
Canton
Pitts has worked for Georgia Power for 18 years, beginning in college as a meter reader. He now works in the Customer Experience department with senior management on strategic plans to maintain and improve the company's customer service.
"I've always enjoyed getting involved, staying busy and feeling like I'm making a difference. I'm very fortunate to have a family and employer who support my community involvement," Pitts says.
He serves on the board of the Cobb-Cherokee Joint Development Authority and is a member of the Cherokee Airport Authority. Of particular importance is his service on the board and as a past board chair of the Anna Crawford Children's Center, which offers child abuse prevention and intervention services at no cost to children and families in Cherokee County. Pitts was the architect and now serves as project manager of the center's increasingly popular Holiday Lights of Hope annual fundraiser. – DS
---
Angela F. Ramson, 36
Senior Associate, Litigation Group
Greenberg Traurig LLP
Atlanta
As a specialist in labor and employment and commercial litigation, Ramson counts among her clients several Fortune 500 companies as well as small and mid-sized companies. Her work is fulfilling, she says, because she is able to address real-life issues that affect the lives of individuals in the workplace – such as sex, race, age and national origin discrimination.
"I am able to offer guidance and real-world solutions," she says.
Away from work, Ramson's focus is on improving access to health services for low-income women and teens. She serves on the board of the Center for Black Women's Wellness, which provides free and low-cost healthcare, and is involved with the Safety Net Clinic and Atlanta Healthy Start Initiative, a maternal and infant health initiative targeted at communities with high rates of infant mortality. She also works with young people at B.E.S.T. Academy and through the Truancy Intervention Project. – MAD
---
Bert Reeves, 38
State Representative District 34
Attorney, Law Office of Bert Reeves
Marietta
Reeves, the enthusiastic former Georgia Tech mascot "Buzz," says he has always felt the call to lead. After five years as an assistant DA in Cobb County, he ventured into private practice and in 2014 was elected to the General Assembly. As a general practice attorney, he believes his diverse legal background has enabled him to have a relevant voice as a young member of the House. In his first session alone, five of his bills were passed into law. His goal is to be involved with sound public policy that is good for Georgia.
"I really enjoy the opportunity and experience to be involved in creating and shaping Georgia public policy," he says.
He is also involved in the community as an active member of the Marietta Rotary Club and the Kennesaw Business Association, a graduate of Leadership Cobb and a guitar player and singer in the band Goodbye Machine. – MAD
---
Lisa Scarbrough, 36
Vice President for Social Media and Community Relations
Moon River Studios
Founder and Director
Coastal Pet Rescue
Guyton
Somehow Lisa Scarbrough has found the secret to getting more hours in her day than the rest of us have. In addition to her PR position at Moon River Studios (the movie studio in Effingham County), she – along with more than 90 volunteers – is responsible for saving the lives of more than 270 dogs and cats this year at the nonprofit she founded, Coastal Pet Rescue. She's also a graduate of Leadership Savannah, Leadership Effingham and Leadership Southeast Georgia.
Coastal Pet Rescue, five times voted best nonprofit by Connect Savannah readers, is getting a major upgrade this year with the addition of Camp Pawsawhile, the organization's first facility, due to open this fall. Until now, volunteers have fostered animals in their homes. With Camp Pawsawhile, the organization will be able to nearly double the number of animals it takes in.
"It's not what I set out to do with my life," Scarbrough says about Coastal Pet Rescue. "I was just trying to do the right thing. It just grew into this phenomenal organization." – KK
---
Crystal Pendleton Shahid, 36
Senior Learning Specialist
Synovus Financial Co.
Columbus
As the product of the local school system and an educator's daughter, Crystal Pendleton Shahid says she couldn't pass up the opportunity to be treasurer for the 2015 campaign advocating for Muscogee County's Special Purpose Local Option Sales Tax (SPLOST) for education.
Her community leadership roles also include serving as the Greater Columbus Chamber of Commerce Partners in Education board chair.
"I believe in public education and its ability to prepare students for global opportunities," she says.
Shahid also helps plan the Fountain City Classic in Columbus, a weekend of events surrounding the Albany State University-Fort Valley State University football game, each year. The two schools are her two college alma maters.
At Synovus, her primary responsibility is to create, deliver and manage training initiatives for the company's Retail Lending Center team.
"I love this role because it allows me to utilize my retail banking, commercial underwriting and previous collegiate teaching experience, as well as interact with people in all levels of the banking organization," she says. – KH
---
Sachin Shailendra, 37
President
SG Contracting
Atlanta
Sachin Shailendra inherited both the art of the deal from his father, Atlanta real estate entrepreneur Shi Shailendra, and his father's fondness for politics. As the senior Shailendra dragged his son from one political fundraiser to another as a kid, Sachin began to notice another young man at the same functions – Kasim Reed.
The pair struck up a friendship, and when Reed ran for Atlanta mayor in 2009, he named Shailendra his campaign's finance chairman. "It's a good thing we were friends because we didn't have many when we were at 3 percent [in the polls]," Shailendra recalls.
Shailendra has friends on both sides of the aisle. In 2014, Gov. Nathan Deal named Shailendra to the Georgia Board of Regents and this year to the Realizing Educational Achievement Can Happen Foundation board. He is also on the board of the Children's Healthcare of Atlanta Sports Network.
"Every child should have an opportunity for higher education," he says. "Education is where everything starts for a young person." – RLE
---
Adam Smith, 36
Commercial Lender
First National Bank of Coffee County
Douglas
When he finished grad school at Colorado State University, Adam Smith had no plans to return to his native Georgia, let alone rural Coffee County, where his parents farmed. But his plans quickly changed when he was contacted about – and accepted – a position at the bank he had frequented as a teenager. As a community banker, Smith provides prudent financial advice and assistance to local farmers and entrepreneurs like the ones he grew up with.
He's a graduate of Leadership Georgia, serves in many volunteer roles, including as a board member on the Douglas-Coffee County Economic and Industrial Development Authority, and has supported organizations including the Wounded Warrior Project and Children's Healthcare of Atlanta.
"Coffee County is not in the middle of nowhere, but the middle of everywhere," he says. "It's a phenomenal place to be." – MAD
---
Carla Smith, 34
HR/Policy and Talent Management Director
Signature HealthCARE
Decatur
Carla Smith comes by her tireless pursuit of community improvement honestly.
Smith's father devoted his retirement to helping other veterans, her politically active mother served meals each weekend at the local soup kitchen, and her grandmother immersed herself in her church.
"They each embodied a sincere compassion for people – all people, which is ingrained within me," she says. "If I wasn't serving others, I wouldn't be serving out my true purpose."
Smith has volunteer leadership roles with her son's school, The Museum School of Avondale Estates; the New Leaders Council; and the Junior League of Atlanta.
Beyond the duties in her recruitment position with Signature HealthCARE, a long-term nursing care provider, she works with legislators on healthcare policy.
"I am fortunate to work in an environment where compassion, customer service, patience, integrity and a caring heart are at the forefront of the mind each day," she says. – KH
---
Kamau Kofi Smith, 39
Executive Director
Atlanta Airlines Terminal Corp.
Lithonia
Kofi Smith learned an important lesson from Coach George O'Leary while playing football at Georgia Tech in the 1990s.
"He instilled in us the idea to show up early, stay late and outwork anybody," Smith says.
Smith carries that philosophy into his job as executive director of the Atlanta Airlines Terminal Corp. He's responsible for managing $200 million annually and keeping 6.8 million square feet of facility space at Hartsfield-Jackson Atlanta International Airport running smoothly.
The people working under Smith take care of everything in the terminals that can make or break the air travel experience for consumers, including the elevators, the people movers and the bathrooms.
Smith volunteers with groups that help children, such as serving on the children's sports network corporate board for the Children's Healthcare of Atlanta Foundation. He's also a member of 100 Black Men of Atlanta and the 2015 class of Leadership Atlanta.
"It's one thing to be successful," Smith says, "and it's an entirely different thing to be significant." – RE
---
D. Nicholas Stutzman, 38
Attorney/Partner
Hatcher, Stubbs, Land, Hollis and Rothschild
Midland
Stutzman cites St. Thomas Aquinas's definition of law as a guidepost in his professional and personal paths. Aquinas called law "an ordinance of reason for the common good, made by him who had care of the community."
In his own quest to care for his community, the attorney founded and has raised more than $150,000 for the Brent Schoening Strikeout Leukemia Foundation. He serves as a director of the Columbus Mortgage Bankers Association and the Muscogee County School District Business Education Advisory Committee. For five consecutive years he was recognized with the Columbus Ledger-Enquirer Readers Choice Award for Attorney and in 2010 was named by Columbus and the Valley Magazine to its 5 Under 40 listing.
"Having an opportunity to help and support others through many different organizations, including the Brent Schoening Strikeout Leukemia Foundation, the American Cancer Society, Uptown Columbus and the Muscogee County School District Business Education Advisory Committee, gives me a feeling of great accomplishment and servant leadership," he says. – DS
---
Katerina Taylor, 38
President and CEO
DeKalb Chamber of Commerce
Scottdale
In 2014, Katerina Taylor became the first female president of the DeKalb Chamber of Commerce. It's not the only way she aims to modernize the organization.
That means working closely with local development authorities to attract more companies and with Leadership DeKalb to create more leaders.
"Times have changed, and our chamber has to change and transition to fit what our businesses need," she says.
Taylor previously worked as a SunTrust vice president and started a company, Smart Kidz Money Matters, which delivered financial education to students, families and underserved communities.
She's long advocated for women to assume leadership positions, having served as the Johnnetta B. Cole Women's Society chair and holding board seats with the United Way of Greater Atlanta and other organizations.
"I want to be the woman that my nieces aspire to be, my sisters support and my mother is proud of," she says. – RE
---
Jessica Walden, 37
Owner/Operator, Rock Candy Tours
Director of Communications College Hill Alliance
Macon
Don't doubt for one second that the daughter of Capricorn Records co-founder Alan Walden isn't dedicated to showing off her city's iconic place in rock and soul history. When Jessica and her music historian husband, Jamie Weatherford, married in 2011, they hosted their wedding rehearsal dinner at Grant's Lounge, Macon's best-known dive bar rock club.
"I have some very gracious in-laws," she says, laughing. "I'm sure that wasn't the rehearsal dinner space they envisioned, but we love this town and we wanted our guests to see all the history we could show them."
That same year, Walden and Weatherford founded Rock Candy Tours, where Walden shows off Macon's music landmarks and recounts all the Allman Brothers and Otis Redding stories she learned from her father.
As communications director for the much-lauded College Hill Alliance, she's telling the story of the resurgence of another historic part of Macon – the booming neighborhood outside Mercer University. – RLE
---
Jawahn Ware, 39
County Clerk
Dougherty County Board of Commissioners
Albany
Being an extrovert fuels Jawahn Ware. So does Mahatma Ghandi's adage to "become the change that you wish to see in the world."
"Combined, that's what motivates me to serve others, both professionally and in the community," the Albany resident says.
As Dougherty County's first African-American clerk, Ware is the local government's procurement manager and official record keeper. She serves as a Georgia County Clerks Association Executive Committee member and district director and also has a consultancy specializing in helping organizations enhance their business processes.
Fifteen years as a Girl Scout helped mold her as a servant leader; she has advisory roles with the Dougherty County School System, City of Albany Citizens Advisory Committee, Leadership Albany, Albany Downtown Sertoma Club and her church.
"I enjoy working with people and taking pride in knowing that I make a difference in the lives of families," Ware says. – KH
---
Lewis D. Webb, 37
President/Owner
The DGR Group Inc. Wealth Management
Americus
As president and owner of a financial advisory firm, Webb manages stocks and other investment tools. It's a far cry from the type of stock he grew up with – livestock, on his family farm in the area. But his knowledge of farming is vast and serves him well on the Americus-Sumter County Chamber of Commerce Agriculture Committee.
That's not his only service to the chamber. He is credited with reorganizing the chamber and development authority under one executive director to facilitate collaboration between the two organizations and is believed to be the youngest person to serve as chairman of the chamber's board. He is also the youngest-ever president of the Americus Kiwanis Club and a director of the One Sumter Foundation, dedicated to reviving the Sumter County economy.
"My philosophy is a derivative of my core values and Christian upbringing," Webb says. "My business is built on doing the right thing for my family, my clients, business associates, neighbors and our community." – DS
---
David Windecher, 36
Managing Partner
The Windecher Firm
Atlanta
Impoverished and arrested 13 times as a youth, David Windecher knows what it's like to hit bottom.
The Atlanta attorney says his life's mission is to lend a hand to others who have walked in his shoes.
"I know people can change; I aim to be a change agent," says Windecher, who particularly enjoys helping juvenile clients receive second chances.
A regular legal analyst on HLN's Nancy Grace television show, Windecher has authored an autobiography (The American Dream: HisStory in the Making) and has a movie deal with Tyler Perry Studios.
Windecher founded a nonprofit, Rehabilitation Enables Dreams, that sponsors education programs for nonviolent juvenile defendants and others.
He says his efforts on and off the job are inspired by his journey from defendant to defense attorney.
"I am trying to help the next kid who is like me," he says. "I do not want to be the exception." – KH