Partnering to Make Georgians Safer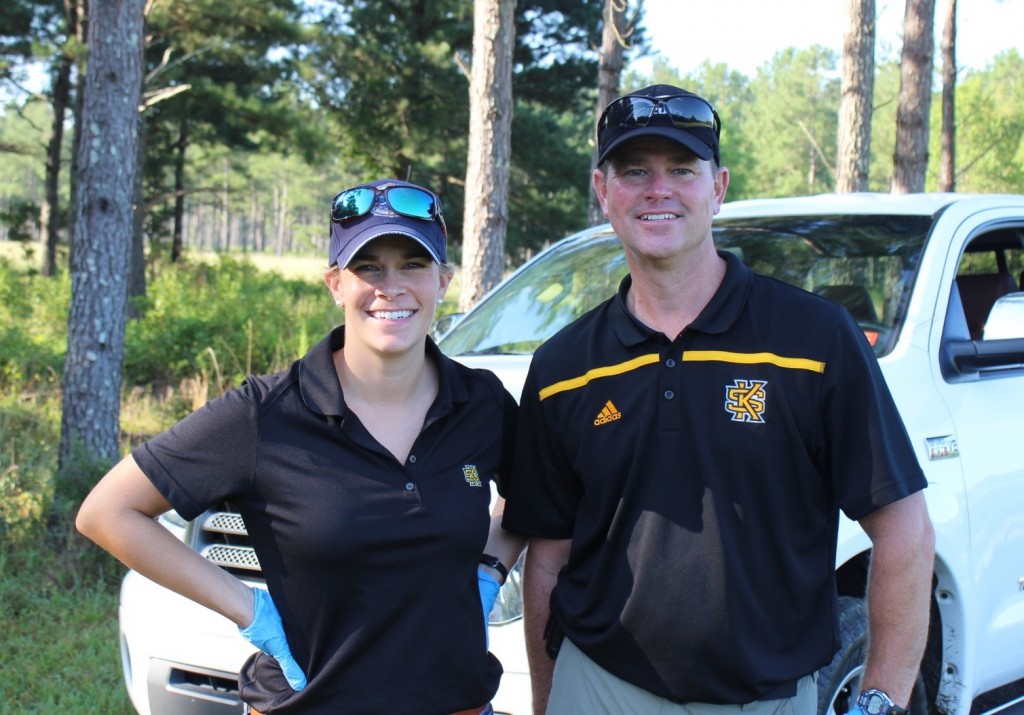 After driving for miles into what seemed like the back end of nowhere, a scene that could have come straight out of the nightmares of some drug-addled madman unfolded in front of me. As the fog lifted over the fields and trees of Berry College's hunting preserve in Rome, the nightmare resolved itself into an important partnership between academia, law enforcement and first responders – where law enforcement and medical personnel are learning as much as the students.
Undergrads and faculty from the Geography and Anthropology Department at Kennesaw State University, Floyd County police officers – including Blaze, the bomb-sniffing dog – and medical personnel from Floyd Medical Center swarmed around a field, setting up explosive devices and "victims," – pigs, not humans – for a controlled explosion that would serve as a training exercise for all involved.
It's unusual for undergraduate students to be involved in research, but in this case, the brains behind the project was senior KSU student Michael McClung, who got the idea in his forensic anthropology class.
"We've done a simulation of a local terrorist attack, similar to the Boston Marathon bombing, using a homemade-style device," McClung says. Following the blast, and for many years to come, the plan is for KSU students to study the bones to learn more about the impact of blast trauma and improve recovery efforts on the scene.
The victims of this blast are wild pigs, trapped and killed humanely in Middle Georgia, where they are considered pests. "Georgia has a wild hog problem, which I didn't know about until we started looking into this," says Alice Fazlollah, KSU forensic anthropology instructor. Her class is behind the project. The pigs are trapped and killed anyway, she adds. Now, they've donated their bodies to science.
"We have three blasts," she continues. "[For each blast,] we have one pig that's five feet from the blast, one that's 10 feet and one that's 15 feet. We're testing the distance between the victim and the explosive, and then what type of fracturing they have – the number of fractures, where the fractures are located, the patterning of them."
The bomb squad set the first explosive device – they provided no info about the bomb's chemical makeup, for obvious reasons – then they sent everyone except a few members of the squad away for the blast.
When asked why they want to participate in this study, Maj. Tom Ewing with the Floyd County Police Department, says, "We're going to work it as a post-blast scene. We have our evidence technicians up at the building, [a barn out of sight of the blast area,] so they're not going to know the scene prior to coming down. We have our bomb detection dog that's going to do a secondary sweep."
"What we're really trying to do is give these law enforcement agencies both some training and some more information about what they should expect at a scene if they come across individuals that were close to the explosion, [or] those that were farther away," Fazlollah says. "We're going to film the whole thing and give it to them as a training video. So it's truly collaborative. They're going to walk away with materials and study time and new skills. And we will walk away with all this data for the science side."
Though there were some glitches, as always in research, overall, the event was a success, so in September the same forensic anthropology students and faculty will partner up again, this time with Augusta law enforcement, in their continuing, collaborative research into ways to make the public safer, ease the suffering of victims of such blasts and more effectively bring blast perpetrators to justice.
Photo above: Alice Fazlollah, KSU anthropology instructor, left, and Michael McClung, senior at KSU
Photo above and Blaze photo by Karen Kirkpatrick