Appalachian Regional Port Announced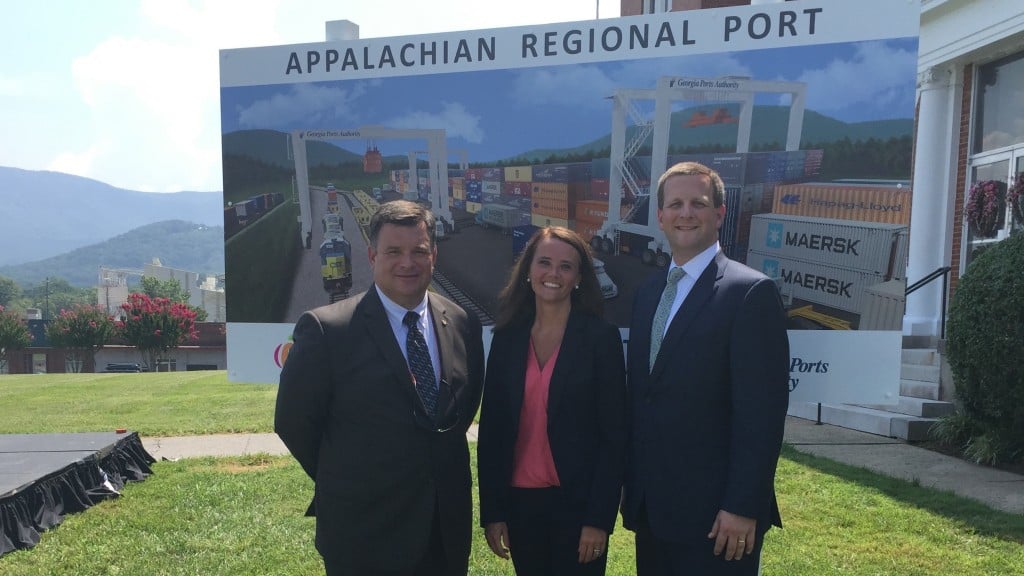 Officials gathered last month in Chatsworth to announce the new Appalachian Regional Port, a huge project for Northwest Georgia that couldn't come at a better time.
"This new inland terminal will open the door for economic opportunity and job creation for Northwest Georgia and the region," says Gov. Nathan Deal. The project, which provides a direct rail link from Northwest Georgia to the Port of Savannah, positions the area as a big player in the logistics field and as a potential manufacturing hub.
Along with Deal, Georgia Ports Authority Director Curtis Foltz, local economic developers, including Murray County Sole Commissioner Brittany Pittman and Rome Chamber of Commerce Director Al Hodge, joined GPA board members and officials from CSX Transportation to marvel at the ramifications of Georgia's second inland port.
"The inland port will provide important competitive advantages to existing industries and bring new jobs to Murray County, not only in logistics, but in support industries and the broader community," says Pittman.
Furthermore, it will improve traffic throughout the state since each container moved by rail to the Appalachian Regional Port will offset 355 truck miles. The 42-acre facility will open by 2018 with an annual capacity of 50,000 containers. Expansion plans will double that capacity in 10 years. That's some convoy being taken off the road!
Unlike Cordele Intermodal, the state's other inland port, which serves primarily agricultural cargo, the Appalachian Port will appeal to manufacturers, including carpet companies and automobile makers like Volkswagen in Chattanooga, in addition to farmers. This is an exciting boost for Northwest Georgia, and stay tuned for other inland ports on Georgia's horizon.
"Our goal is to create the largest inland intermodal complex in the eastern third of the U.S.," says GPA Board Chairman James Walters.
Photo: From left, John Trent, director of logistics and strategic planning for the Georgia Ports Authority, Murray County Sole Commissioner Brittany Pittman, State Sen. Charlie Bethel (R-Dalton)
Photo credit: Ben Young