Growing Turfgrass in Georgia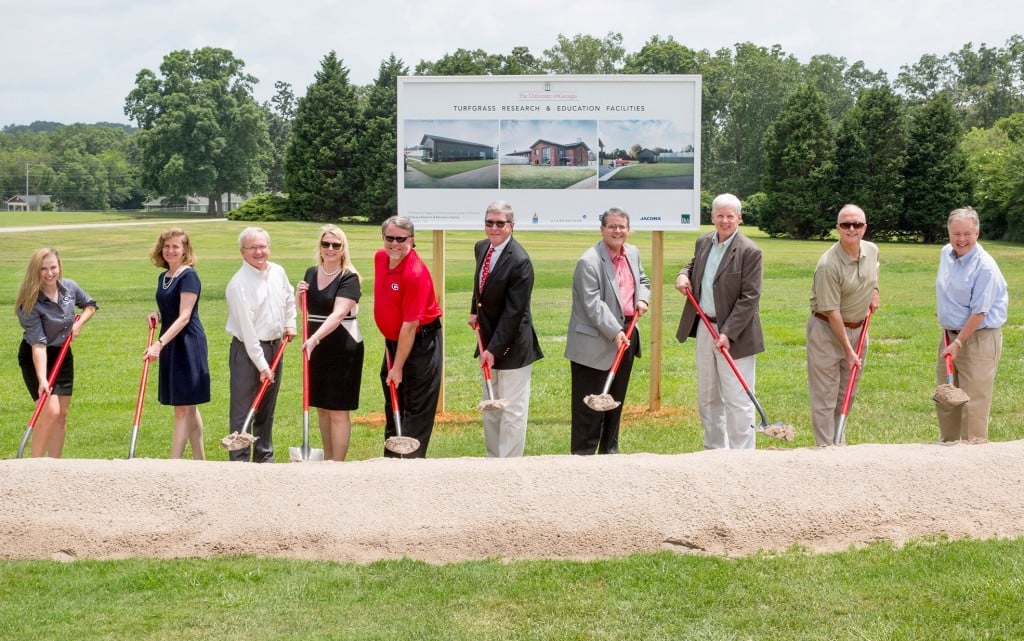 A growing (pardon the pun) part of Georgia's economy got a boost this summer with the groundbreaking of the new turfgrass research and education facilities on UGA's Griffin campus.
"Turfgrass is one of Georgia's largest agricultural commodities, and the future of the turfgrass industry – now valued at nearly $8 billion – is very bright," UGA President Jere W. Morehead said in a press release. "At the heart of the industry's growth and development lies UGA's College of Agricultural and Environmental Sciences."
During the 2014 legislative session, Gov. Nathan Deal and the Georgia General Assembly approved $11.5 million for a turfgrass facilities enhancement project. Outdated facilities on UGA's campuses will be replaced with labs, greenhouses, classrooms and office space designed to keep the university at the forefront of turf breeding programs – essential for an industry that provides 87,000 full- and part-time jobs across the state.
UGA has served the turfgrass industry for more than 60 years, and turf developed at the school has been underfoot on an international scale – at World Cup soccer tournaments and Olympic venues including the upcoming games in Japan – and on fields locally, including Sanford Stadium and the UGA practice facilities.
"Our turfgrass breeding program is very, very successful, and because of that there is a really viable turfgrass industry in South Georgia," says Joe West, assistant dean of UGA Tifton.
Learn more about the greener grass on the Georgia side of the fence in this month's Georgia Trend feature about Tifton, "The Road Most Traveled."
Photo Above: The groundbreaking ceremony for UGS's new turfgrass facilities included, left to right, UGA doctoral student Becky Grubbs; Pamela Whitten, senior vice president for academic affairs and provost; Griff Doyle, vice president for government relations; Jennifer Frum, vice president for public service and outreach; Rep. Terry England (R-Auburn); Tommy Hopkins, regent of the University System of Georgia; UGA President Jere W. Morehead; Scott Angle, dean and director of the College of Agricultural and Environmental Sciences; Ken Morrow, president of Sod Atlanta Inc.; and Sen. John Wilkinson (R-Dist.50).
Photo Credit: Robert Newcomb/UGA