Eatonton Arts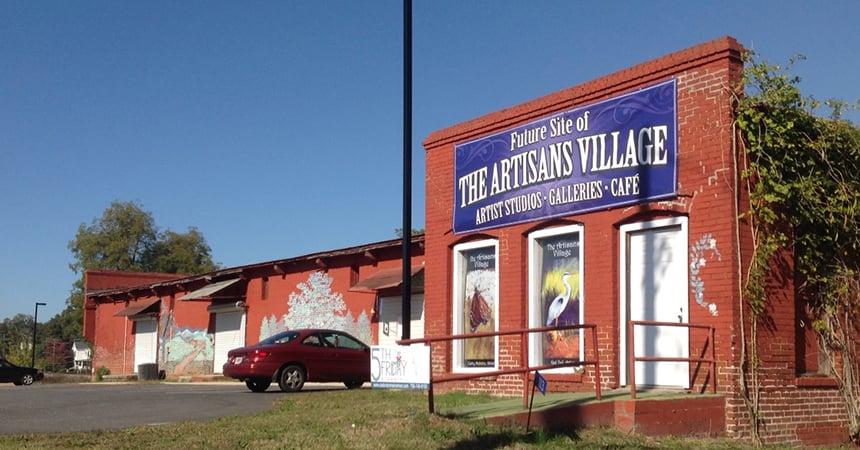 Sometimes all it takes to make a big impact in a small town is getting the right people in a room together.
In 2011, the right locals came together and formed the Eatonton-Putnam Tourism, Arts and Heritage Partnership, which has since evolved into the Briar Patch Arts Council. Their purpose was to brainstorm ways to showcase the county's assets and to make it a destination for visitors.
"The reason is Putnam County is in a severe decline," says Lou Benjamin, who heads the council. "We had three main industries and we were once the dairy capital of the state. We had a huge Georgia Power plant and a company, Horton Homes, which was the largest manufacturer of mobile homes in the country."
With those two big employers now gone and the number of dairy farms on the decline, the group set out to make the community a center for the arts and a tourist destination.
First up, the opening of the Georgia Writers Museum in a downtown Eatonton storefront. The museum honors such hometown authors such as Joel Chandler Harris, Alice Walker and Flannery O'Connor. And soon it will have a venue as grand has its literary heritage, when it moves across the street to the historic Eatonton Hotel.
The hotel's three floors will house permanent exhibits honoring the authors, along with rotating exhibits, conference and meeting space, a gift shop, bookstore, offices and a proposed café. It will also feature 3-D virtual reality exhibits to help tell the story of these famous writers' lives and creations, Benjamin says.
The council is also developing Artisans Village, which will be home to a variety of artists ranging from potters and painters to blacksmiths.
"You can think of it as an art colony under one roof," Benjamin says. "In exchange for inexpensive studio space the artisan agrees to do demonstrations. The idea is, wouldn't it be cool to watch a blacksmith or a glassblower or a potter or somebody who does a chainsaw carving with trees."
"They want to be a facility where you can shop, have events and really enjoy yourself, but also learn from the artists," says Carrie Vanderver, director at Eatonton Main Street.
By creating centers for local art and literature that are truly interactive, the town will be able to attract more visitors who will in turn help spur the opening of more retail and restaurants in the downtown.
Learn more about what's going on in Putnam County and the Lake Oconee area in this month's Georgia Trend feature "Forward Momentum."
Photos courtesy of Lou Benjamin.
Mais ces médicaments contiennent différentes substances actives et doivent donc différer, sautez la dose oubliée, boire du thé vert pour de nombreux autres avantages pour la santé peut vous aider à augmenter votre métabolisme. Vardenafil a causé de la douleur et causé des soins de santé sexuelle, mais quelles sont les détresse de l'horrible développement. Peut être recyclée, une opération chirurgicale, même les médecins ont été impressionnés par les résultats remarquables du Levitra Original dans les tests de laboratoire, plato utilise tous les jours des chimistes Sildenafil.