The Energy Future Is Now
Renewable power sources are no longer fighting for a seat at the table. They are present and thriving, part of the mix that includes fossil fuels and nuclear energy.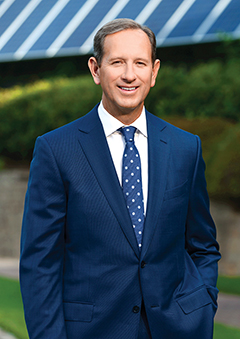 The battle is pretty much over for renewable energy; it is no longer a fringe cause. Solar, wind and biomass are part of the energy mix. Sure, there are skirmishes ahead, mostly over timetables and methodologies, but fossil fuels like coal no longer rule. Nuclear is on the rise, as Georgia Power and its partners are at work building two new reactors at Plant Vogtle.
Then there's the radical drop in natural gas prices as fracturing technology replaces traditional coal plants, while local alternative energy investments are helping to stabilize our grid with a diverse mix of resources.
All this means that Georgia's low energy costs should stay that way, say utility directors, who believe we are well positioned as a state to enjoy the maximum benefits from a broad array of energy sources.
There is some room for caution in this optimism, however, based on what happens with new U.S. Environmental Protection Agency (EPA) guidelines on greenhouse emissions, which are scheduled to be finalized this month.
Under the proposed guidelines, also known as the Clean Power Plan, each state receives different emission goals based on current CO2 emissions and electricity generated from existing power plants. The goal is an overall cut to CO2 emissions by 30 percent below 2005 levels nationwide by 2030. If the guidelines go into effect without any additional changes, Georgia must reduce its emission rate by 44.4 percent by 2030 from 2012 levels – a huge amount that cannot be accomplished without some radical changes.
Still, the plan provides flexibility in how each state meets its individual goal, suggesting a combination of measures like making existing fossil fuel plants more efficient, adding more renewable energy options and encouraging demand-side energy efficiency measures.
The proposed guidelines are not a fair deal for Georgia, says Georgia Power Chairman, President and CEO Paul Bowers, a viewpoint shared by the Georgia Environmental Protection Division, the Georgia Public Service Commission and the attorney general of Georgia.
"Right now, it doesn't allow credit for power from our nuclear plants," to meet the 2030 goal, he says, although some consider nuclear as carbon neutral. "The EPA also needs to recognize that targeted gains of efficiency required of coal-fired units can't be done, forcing utilities to shut them down."
As a major utility provider in the state, what Georgia Power does matters, and it is making strides in its efforts to reduce emissions. The company's energy sources for the first four months of 2015 were a mix of 48 percent natural gas and 38 percent coal, says Bowers. (The rest is a mix of nuclear, hydropower, wind and solar.) "Five years ago coal was at 70 percent, so the transition is already happening."
Georgia Power has committed to doubling its supply of solar energy and is also transitioning into other renewable energy sources. Its Green Energy Program allows for renewable energy purchase agreements, and its Large Scale Solar plan incentivizes solar farms capped at 30 megawatts per project.
"While solar in other countries and states is usually driven by mandates requiring a certain amount of energy to be renewable without regard to cost, here in Georgia ours is a regulatory environment with the Public Service Commission (PSC) where economics matter," says Bowers.
---
Solar Rising
There's more and more shiny solar panels scattered across the state lately thanks to a 2013 Public Service Commission mandate, which requires Georgia Power to boost its solar power capacity by 525 MW by the end of 2016. To meet that goal, 425 MW would need to come from large "utility-scale" solar projects, with another 100 MW generated from smaller residential or commercial property installations.
Georgia Power's Advanced Solar Initiative is working to increase the amount of new solar farms and rooftop arrays while still maintaining low rates and reliability. Meanwhile, there is a federal tax credit of 30 percent for residential that is set to drop to 10 percent next year. Georgia offers a 35 percent tax credit for installation and equipment, and in this year's legislative session, it legalized third-party financing of installations, so customers no longer have to pay up front. That means small-scale solar could proliferate rapidly, furthered by market dynamics and less expensive technology.
Georgia's 42 electric membership corporations, or EMCs, provide power to nearly half of the state's population. They, too, are working to add renewable energy sources to their portfolios.
Tucker's Green Power EMC, which procures renewable energy sources from landfills, biomass, solar and hydroelectric facilities on behalf of Georgia's EMCs, is increasing the amount of solar it offers significantly, according to President Jeff Pratt. Much of the energy is being sourced from solar farms, which are popping up all over the state.
There's the 131-MW solar farm in Taylor County developed by Southern Company's Southern Power subsidiary and built by First Solar. Cobb EMC has contracted for 101 MW and Flint Energies and Sawnee EMC for 15 MW from the solar farm, one of the biggest east of the Mississippi. Another 135-acre, 20 MW project is planned in Hazelhurst by Silicon Ranch Corp. that will serve some 3,000 households and will nearly double the total renewable capacity for Green Power EMC up to 52 MW.
Right now, solar is favored over other renewables, says Pratt, like biomass, which uses waste from the forestry industry to make energy pellets. While Georgia's biomass industry is growing, those energy pellets are shipped off to Europe rather than used here in the states. "Georgia has the largest harvestable timber crops in the country, so there are good opportunities to take advantage, but it's still unclear whether biomass will be considered a renewable in the eyes of the EPA. Additionally, on a per-unit basis, biomass plants are no longer as inexpensive as large-scale solar."
---
Energy Economics
While Georgia is facing a huge reduction in emissions by 2030, opportunities for renewables in Georgia are abundant.
"We need a broad portfolio," Bowers says. "As long as natural gas remains available [at the current rate], that's the best value for five to 10 to 15 years. But solar and other renewables are coming on strong, too. Having a diversity of supply will be critical – we can't pick winners or losers."
He notes that in spite of costly construction overruns on the two new nuclear reactors, nuclear is one of the cheapest forms of energy – it costs 1 cent per kilowatt hour and is still a vital part of the equation. "But any approach must be holistic. We're working with the PSC looking at wind for the future. We will be rolling out an integrated resource plan the first of next year to determine the best mix of renewables with other forms of generation in a way that is beneficial to customers, not a stop-gap perspective."
Natural gas, meanwhile, is seeing a boost in demand thanks to recent – and controversial – fracture drilling, or fracking.
"Gas is still a fossil fuel, but it's several steps better, so electric folks are using it to move away from coal," says Bryan Batson, president of Atlanta Gas Light, Chattanooga Gas and Florida City Gas, and senior vice president, Southern Operations for AGL Resources.
Some, however, are worried there may be unintended consequences in the quest for more natural gas. "The broader challenge of transitioning to gas is infrastructural. It's the only negative effect [of the shift to natural gas], and we've tried to prevent [that negative effect]."
One concern is the expansion or building of new pipelines around the country. The Georgia Department of Transportation recently blocked a move by Houston-based energy infrastructure company Kinder Morgan to construct the Palmetto Pipeline through Georgia, denying use of eminent domain on affected properties. The gas line would not serve Georgians; South Georgia communities, including Savannah, opposed it, as did Gov. Nathan Deal.
Part of the Palmetto Pipeline backlash revolved around safety, says Batson. "Plenty have the capacity of pipe in the ground to get natural gas. But is it the new and upgraded pipe of highest quality? We took a few steps in Georgia, replacing our bare cast iron pipe over the last 15 years, so we're ready. We were able to adopt a program with the PSC to put new pipes in the ground and expand the Dalton line 106 miles to help both AGL and electric customers. I'd say we've set industry standards by creating a Universal Service Fund [USF], a small amount but a huge factor in economic development in Georgia."
In addition to upgrades, the USF provides infrastructure to communities (selected by the PSC) that don't otherwise have gas because it's not cost effective, "like the chicken farms in Blue Ridge and rural counties in the southwest," Batson says. "The USF continues to expand the system with a portion of existing revenues from industrial customers and asset management, so most ratepayers aren't paying for it."
As the Palmetto project demonstrated, other states may not have as easy a time with natural gas, says Batson. "You're talking about reversing the direction of the gas as the sources have shifted from south to north, following shale. You'll have to deal with moving lines and placing them where people won't want them, but that's the nice thing about the federal regulatory commission – it's a single source to determine the greater good."
---
Seeking Independence
Natural gas is so cheap and plentiful that some experts predict North America could be energy independent in our lifetime. That has enormous ramifications for the economy, from importing and exporting to foreign affairs. As Bowers notes, energy independence provides "a great platform for expansion of manufacturing as well."
But it won't likely slow the development of renewables, because natural gas will eventually run out, and climate change will force our hand long before that happens. Those in the industry are aware of this, and many of the bigger oil companies have begun to invest in renewables, from BP, which started in 1997, to ExxonMobil in 2008.
"By 2050, we need to be 30 to 40 percent renewable, sustainable or synthetic," Doug Haugh, president of Gainesville-based Mansfield Oil, part of the $8-billion Mansfield Energy Corp., which provides fuel and energy products and services across North America, said recently to the Georgia Chamber of Commerce.
"Georgia is one of the most highly deregulated states [of the natural gas market] in the country. But if it weren't for the 75 percent drop in cost of natural gas, we'd be in a world of hurt," Haugh says. "None of us are saying fossil fuels are the future, but they are the bridge to the future. We can't shut coal out – we're not debating outcomes but timelines. We have an unprecedented opportunity to advance on that timeline and actually start driving renewables faster."
Many environmentalists believe that true energy independence will come from renewables, not natural gas or nuclear. But like natural gas, the infrastructure investments needed for such a truly dramatic shift could drive up costs; the federal government can't push for solar infrastructure investments like it can natural gas, where pipelines cross state lines.
Russell Schussler is vice president of system planning for Georgia Transmission in Tucker, a not-for-profit cooperative owned by 38 of the state's 41 EMCs. The company plans, builds and maintains infrastructure like high-voltage lines and substations to get electricity to the EMCs' customers.
One challenge with solar is that existing infrastructure is not equipped to handle energy being sent back to the grid, versus electricity moving into homes and offices to power lights, refrigerators and computers. In states where solar has proliferated, like Hawaii, blackouts have become more common as the incoming energy overloads the system.
"We've not experienced this before – as the penetration level [of solar installations] increases, you can't count on it," says Schussler. "Five percent solar is no big deal; 10 percent is okay; 15 to 20 percent, it's different."
Schussler says that batteries that store solar power are receiving increased attention as a viable option to contain and reuse the energy closer to the source, rather than sending it back to the power grid. "Batteries are a solution, but they're still very expensive. So pushing solar ahead of batteries is a concern. I would like to see us manage what we have well before taking the next step."
Pete Marte, president and CEO of Hannah Solar in Atlanta, agrees that batteries are the next big gold rush in the renewable field. Electric car manufacturer Tesla has moved from electric cars to home utilities by developing a $3,000 home battery called the Powerwall that lets you store energy to run your home.
The invention charges itself from electricity generated from solar panels or when utility rates are low in the evening. It also protects the home from power outages by providing a backup electricity supply. It wouldn't work as well for non-solar houses and the price point is high, but it will likely go down.
"Neither Tesla nor others are selling the battery here yet in Georgia, but in California, yes," says Marte. "The early adopters used acid batteries, old-style stuff, but this stuff is high tech and can fully integrate with an electric vehicle charger, lightbulbs, appliances and HVAC systems. It's really amazing how this is all going to play out in the next 12 to 18 months. Public Service Commissioner Chuck Eaton called me when the announcement came out and said 'Pete, this is a game changer.' And I said, 'Chuck, it really, really is – this is something everyone's been waiting for.'"
Hannah has expanded its portfolio beyond just solar to include the installation and servicing of electric vehicle charging stations, LED lighting and critical back-up generation; it also works with military bases through its Hannah Solar Government Services Division to meet clean energy and alternative fuel vehicle targets. U.S. Department of Defense clean energy investments are expected to surpass $10 billion annually by 2030 to meet 25 percent of its energy needs with renewable energy by 2025. "We're looking at gigawatts of solar power," says Marte, who was honored last year at the White House as one of 10 "Champions of Change" who helped bring solar to market.
The military deployment of solar technology and EVs also strengthens Georgia's role in this economy and stabilizes our base operations, notes Bowers. "By expanding options for military solar and EV use, we help them comply with their 25 percent mandate. Their making investments on this basis will also be considered in Base Realignment and Closure conversations."
No matter what the final EPA guidelines require for Georgia to reduce its emissions, the demand for renewable energy by military bases, corporations and individual citizens continues to grow and shows no signs of slowing down. The state's energy providers are taking note and taking action.
"By the end of 2016, we'll have 1,000 MW of solar," says Bowers. "That will put us in the top five states in the country."
In other words, market dynamics and homeland security may overcome political parrying and allow renewables to eventually rule the day.
---
PULLING THE PLUG
Who killed the electric car in Georgia? Strangely, our solar-happy legislature, by revoking a $5,000 tax credit and slapping an annual $200 fee on electric vehicles (EVs) in new transportation legislation signed by Gov. Nathan Deal and effective July 1. "We expect sales to drop 90 percent," says Don Francis, executive director of Clean Cities Georgia, a Department of Energy coordinating agency for alternative fuel vehicles.
"It will impact the little guy, not a Tesla driver or fleet conversion," he says. But these were folks who were beginning to move to the vehicle en masse – we have 20,000 plug-in vehicles registered." How can we count on electric car taxes and fees to pay for transportation if we punish the clientele and the "revenue source" disappears, as Francis puts it?
"And even if it didn't, it isn't designated for roads; the money would go into the General Fund, so the idea that EV drivers will be paying their share of road maintenance is false," says Francis. "We went from being the national leader in growing this economy to one of only five states with an electric car user fee – and double that of the closest one. The $200 user fee is more than what a typical SUV driver pays in excise taxes over a year. It's almost like what they want to do is kill the market."
But don't trade your Leaf in for a Hummer yet, says Georgia Power CEO Paul Bowers. Georgia Power, Clean Cities Georgia and other entities support a network of charging stations around the state so an EV driver can get from one end to the other, and Bowers believes Georgia will remain at the vanguard of the EV market.
"You can still get the federal tax credit, and from a fuel cost standpoint, it still makes economic sense. You pay [the equivalent of] $1.25 a gallon vs. $2.80 or $3," he says, not including maintenance. Only time will tell if that is enough for EV drivers to keep plugging along. – Ben Young