Mission Possible
How Georgia's military communities are responding to closures, cuts and consolidation.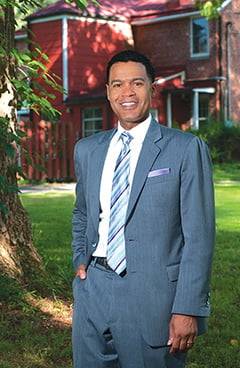 When a military base closes, there are plenty of unknowns. What will the economic impact be? How will the community respond? What will happen to the land?
In Georgia, a Navy school and two Army bases shuttered by the 2005 Base Realignment and Closure (BRAC) process are finding new life by way of redevelopment that addresses the state's shortage of healthcare providers and bolsters its strengths in film production and logistics.
BRAC is a military cost-cutting measure initiated by the Department of Defense (DoD) and approved by Congress to realign resources and reduce excess. Aftershocks from cuts and changes initiated 10 years ago are still being felt across the state, as remaining bases prepare and protect themselves against future BRAC iterations and current budgetary threats.
---
Navy Supply Corps School
The Navy Supply Corps School (NSCS) in Athens, which had been training Supply Corps officers near UGA's main campus since 1954, was consolidated in the 2005 BRAC to the Naval Station Newport in Rhode Island – a decision that wasn't entirely unexpected.
"The Navy School had been talked about going on this list several times," says Kathy Pharr, then the assistant vice president of finance and administration and director of the Health Sciences Campus administration at UGA (and now the UGA president's chief of staff). "We officially learned that it was slated for BRAC in 2005, and that's when people here at the university really seriously began thinking about it."
UGA had big ideas for the NSCS site. Described by Pharr as a "mid-size college campus," the site was ideal for the university's new Health Sciences Campus, which now is home to the College of Public Health and the Georgia Regents University (GRU)/UGA Medical Partnership to combat the state's growing drought of healthcare providers.
"It was just a wonderful opportunity for us to have a home where these programs could finally come together in one place and have synergy from one another," says Pharr. "This property is only a couple of miles from our main campus, and it's right along that medical/commercial corridor down Prince Avenue. It's also extremely close, only one block away, from Athens Regional and also in close proximity to St. Mary's Hospital."
NSCS's 20 original buildings – spread across 56 acres and representing more than 460,000 square feet of facility space – are being put to good use. Winnie Davis Hall, originally built in 1902, now houses the administrative offices of the GRU/UGA Medical Partnership.
NSCS's 1970s-era general classroom building is now Russell Hall, with a completely renovated first floor featuring classrooms that double as clinical examination rooms, plus dry labs and a gross anatomy lab. The Officers' Club became a dining hall and student center, and an original housing facility is now a residence hall. And there's more on the way: NSCS's childcare center will become the Clinical Translational Research Building; the commissary will be the Institute for Disaster Management; and an original Carnegie Library ("an architectural gem," says Pharr) will be a student learning center.
"I think it's very fitting that the repurposing has continued as educational use," says Pharr. "[The College of Public Health and GRU/UGA Medical Partnership] together will be addressing the state's critical need for healthcare providers, and at the same time, they're helping our local and state economy."
---
Fort McPherson
In its more than 120-year history, Fort McPherson served as a military hospital, internment camp for prisoners of war, recruit training center and major command post for the Army and Army Reserve. Now the sprawling base is set to capitalize on the state's booming film and television industry as the new, expanded home of Tyler Perry Studios.
At press time, the $30-million sale to Perry for 330 acres of the 475-acre site appeared all but complete, minus the formalities. It represents the first actual retail or commercial development in an area that has only seen disinvestment for many decades, according to McPherson Implementing Local Redevelopment Authority (MILRA) Executive Director Brian Hooker.
"Our mission is to change that," he says. "Our goal is to redevelop this property in a manner that is catalytic for the surrounding community."
MILRA envisions the redevelopment as an entertainment-themed walkable community, boosted both by its close proximity to two MARTA stations – Lakewood/Ft. McPherson at the southern end and Oakland City at the northern end – and the strength of the state's film and television industry, which added $5.1 billion to Georgia's economy last year.
The development has two main sections: Tyler Perry Studios and a 144-acre development outside of the studio.
Tyler Perry Studios includes the historic red-brick, white-trimmed buildings on Troop Row and Staff Row, as well as the Parade Ground, which Hooker says will be used as filming locations for Perry's television and film projects. Sixteen state-of-the-art "sound stage equivalents" are expected to be built on the land, which will eventually be open to the public via studio tours.
The site's remaining 144 acres will be developed in two parts: one as a commercial mixed-use development along the main corridor of Lee Street, and the other as a community mixed-use development along Campbellton Road. Both sections will feature multifamily development, with the commercial mixed-use section geared toward film-industry-supporting companies, such as a home improvement store, rental car business, restaurants and hotels. Greenspace; a potential community center, school or charter school; and smaller-scale retail are envisioned in the community mixed-use area. Both of these developments will be open to the community to further catalyze growth in the area.
The redevelopment is anticipated to create between 5,900 and 11,300 jobs within its first 10 years, says Hooker – 3,900 to 8,300 at the studio (the bulk of which will be contract jobs) and an additional 2,000 to 3,000 in the 144-acre development. It's anticipated that it will take two years to fully construct both the studio and its supporting commercial mixed-use development, which are planned to open concurrently.
Overall, Hooker says, the site's vibrant movie-making atmosphere and proximity to public transit represent a unique opportunity, one that allows MILRA to "bring the concepts that are in such great high demand that we've seen in other places, like around the Atlanta BeltLine. People want walkable, urban places, and we have a real opportunity. The intersection of all those things gives us a great opportunity to have a positive impact on this community."
---
Fort Gillem
The third of Georgia's 2005 BRAC casualties, Fort Gillem, was ideally situated for rebirth as the Gillem Logistics Center, a state-of-the-art warehouse and e-commerce facility.
The center's location in Forest Park is less than five miles from three major interstates – I-675, I-285 and I-75 – plus Hartsfield-Jackson Atlanta International Airport. "That sort of approximation to all those interstates, plus being so close to the airport, is just so unique of a location," says David Welch, senior vice president of Weeks Robinson Properties, one half of the master developer team Forest Park Development Partners. "It's unparalleled in Atlanta right now."
The first tenant will be Kroger, which will invest nearly $175 million over the next five years in a 253-acre, 1-million-square-foot distribution center. The frozen food/perishables section of the center is slated to begin operations this fall, with dry grocery following in the summer of 2016.
"This project will allow us to consolidate our warehouse operations that are currently located on two campuses at the Bouldercrest and East Point facilities," the company said in a press release last year. "The new facility will provide us with significant improvements in efficiencies as well as expanded capacity, allowing us to better serve the ever-expanding needs of our store operations throughout Georgia, Alabama, South Carolina and Tennessee."
The Kroger facility is expected to bring 120 new jobs to Forest Park, which was a major focus for the center's redevelopment team. "The key driver behind it when these bases transfer is job creation, to bring the jobs back that they're losing when the base closes down," says Welch. "We're projecting when Gillem Logistics Center is fully built out to have closer to 3,000 jobs created by the development" across its 8 million square feet of total facility space.
But there's another huge impact as well. "If you think about just from a tax base [perspective], it was federal government-owned, so no property tax dollars were generated for the city of Forest Park," says Welch. "Now it's been transferred, and companies like Kroger and us are buying property, and that all becomes taxable land. We've projected that it's going to double the tax digest of the city of Forest Park over the next 10 years. It's transformational for that area."
---
Preparing for the Future
For Georgia's operating military bases – including Moody Air Force Base in Valdosta, Dobbins Air Reserve Base in Marietta, Robins Air Force Base in Warner Robins and Fort Benning outside Columbus – the key to preparing for future threats (whether BRAC or ongoing military reductions) is improving processes, keeping lines of communication open and educating the community on the importance of the base and government and DoD officials about the value of the base.
At Robins, a focus on consistency and communication has resulted in notable improvements in on-time aircraft delivery. Moody's proactive pursuit of additional missions resulted in the base being awarded a training mission for Afghani pilots. And bases across the state are keeping an eye on joint use with industrial or other defense partners to increase their value.
"Where there is potential inside the facility to have an industrial partner be on the installation, it's of value to the Air Force if they are leasing it back, it's of value to the community if there are tax rebates, and there's value to the commercial industry if they don't have to build a huge infrastructure," says Charles Stenner, a retired Air Force lieutenant general and president and CEO of the 21st Century Partnership, a group of Macon-area leaders who advocate for Robins AFB.
Retired Major General Jim Bankers, chairman of the Atlanta Regional Military Affairs Council, an organization of the Cobb County Chamber of Commerce, and former commander at Dobbins, agrees: "You need to aggressively pursue all options." For Dobbins, the last remaining base in Metro Atlanta, that means leveraging its 10,000-foot runway and air traffic control tower to attract additional partners. The base currently houses 21 tenants, including the Georgia National Guard and Lockheed Martin, in addition to the 94th Air Reserve Wing and 22nd Air Force.
Like Moody, bases are also keeping an eye on winning new missions to strengthen their cases against closure. "Our focus is Fort Benning mission growth, not Fort Benning physical growth," says Gary Jones, executive vice president of the Greater Columbus Georgia Chamber of Commerce's Military Affairs Division. Mission growth also necessitates partnering with the community to ensure that it is prepared to expand as the base expands with necessary housing, schools and other public services.
Though BRAC has closed bases across the state, local leaders see ongoing mission consolidation, drawdowns and sequestration as the more imminent threats. In fact, the Army recently announced it would cut more than 4,000 uniformed solidiers in Georgia – 950 from Fort Stewart in Hinesville, and 3,400 from Fort Benning.
"It is more desirable to do a BRAC than it would be to sit by and do what we're doing right now. We're not spending our money in the most efficient manner, and we certainly aren't looking deep enough into which ones can we actually eliminate and not hurt ourselves as a defense department," says Stenner. "The only way to make it a level playing field is to do a BRAC. Otherwise everybody is concerned about death by a thousand cuts. Take a little bit here and a little bit there, and you just hurt the entire place."
The constant threat of cuts, closures and consolidation has resulted in many local and state initiatives geared at strengthening Georgia's military presence, including the Governor's Defense Initiative and countless committees and task forces across the state. It's all part of a defensive strategy that's as constant as the pressure from Washington.
"We can never let up. This is not something that we can just dust our hands off and say, 'We're done,'" says Stenner. "Everybody's got a role to play, everybody needs a strategy and everybody needs to take the actions that they can take to improve their own mission."