Leading The Way
Celebrating 10 years of the Jim Blanchard Leadership Forum.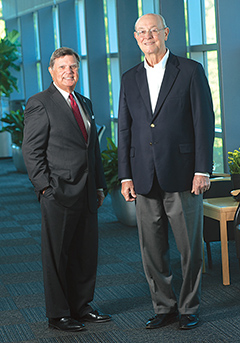 Even if you don't feel like starting or growing a business now, you probably will if you spend any time in Columbus. Thanks to several far-reaching, hot-ticket programs based at its university, the city is establishing itself as the Southeast's go-to destination for inspired entrepreneurship.
This year, the 10th annual Jim Blanchard Leadership Forum will be an unprecedented family affair as former President George W. Bush and First Lady Laura Bush take the stage and answer interview-style questions about the "legacy of leadership" posed by their daughters, Barbara Bush (CEO and co-founder of Global Health Corps) and Jenna Bush Hager (NBC Today show correspondent).
"We have had the Bushes speak individually in the past, but this format of the entire family together at the same time will be a first, and it demonstrates the high caliber of speakers we attract," says Ed Helton, managing director of Columbus State University's Cunningham Center for Leadership Development. "We wanted to have something very special for our 10th year, and that was to bring back to the forum some of what we consider to be the finest and the best that we've had in previous years. We have a lot of local support, but this event is regional in its scope and attracts a regional and extremely varied audience beyond the local business community."
The two-day forum kicks off with the keynote luncheon on Aug. 24 in the Columbus Convention and Trade Center and features lectures and book-signings by too many names to shoehorn on a single marquee:
• Gen. Stanley McChrystal, former commander of U.S. and international forces in Afghanistan
• Scott Harrison, founder of charity: water, which provides people around the world with clean, safe drinking water
• John Maxwell, The John Maxwell Co., The New York Times bestselling author
• Ken Blanchard, author, speaker and leadership consultant
• Tom Mullins, author, pastor and founder of Christ Fellowship Church
• James J. Dunne III, senior managing principal with investment banking firm Sandler O'Neill & Partners
• Doris Kearns Goodwin, Pulitzer Prize-winning historian and author
---
Intimate Setting
"At other events of this nature, you often need binoculars just to see the speakers," Helton says. "Our setting is much more intimate. The proximity and access the audience enjoys with these global players is a value-added part of the forum."
As part of the ceremonies, organizers also present an award to a Georgia business leader for excellence, and this year's honoree is Dan Amos, CEO of Aflac. "We are honoring him for his outstanding stewardship and demonstrated business ethics," Helton says.
When he retired, Jim Blanchard, the longtime chairman and CEO of Synovus, which is headquartered in Columbus, launched the forum as a small, invitation-only event with an ambitious goal: "to bring the best and brightest minds in the world to Columbus." That first year, Zell Miller, Newt Gingrich and Griffin Bell addressed an audience of 300. It since has grown into one of the largest gatherings of its kind in Georgia, open to the public and consistently selling out the 1,200-seat auditorium to participants from 16 states and Canada.
"The people who come to this," Blanchard says, "are the people who are reading books on leadership. They're studying the histories of leaders. They're reading biographies. They're people who want to become better leaders and are finding ways to do that."
And those participants are seeking wisdom from speakers who hail from both sides of the political aisle and across the spectrum of business, culture and public service. Past presenters include Thomas Friedman, Malcolm Gladwell, Mark Cuban, Sara Blakely, Sheryl Sandberg, David Petraeus, Robert Gates, James Carville and Mary Matalin.
Simply put, Blanchard defines a leader as someone who influences others. "So many people think leadership is a position and not an influence," he says, explaining his desire to transform the culture of leadership from "self-serving" to "servant"-based, motivated more by prophets than profits. Citing the Bible, Blanchard describes a servant leader as one who "acts justly, loves mercy and walks humbly" to make a difference.
"The most meaningful lesson I've learned from my interaction with our speakers," Helton says, "is that they're all good human beings who have applied themselves in an extreme way to succeed. Colin Powell emphasized that you should never stop learning, about yourself and about the world. They're all perpetual learners and hard workers who never stop doing either."
Blanchard estimates that about one third to one half of the attendees have been to all of the past forums. Tyler Townsend, of Columbus-based Townsend Wealth Management, plans to attend for the eighth year in a row.
"I wouldn't miss it," he says. "My favorite speaker so far has been Condoleezza Rice, who was so brilliant; but I also especially like hearing what military leaders have to say – so much of their strategy can be applied in business. It's always a great mix of well-known people who are as entertaining as they are educational, and there's time for some networking and socializing among attendees, too."
---
Leadership Institute
The forum, which is funded by ticket sales and corporate sponsors (Synovus, AT&T, TSYS and W.C. Bradley Co.), serves as the flagship event of the Leadership Institute of Columbus State University, a consulting group that works year-round to strengthen organizations that request help. "We're a unique entity in that we're a for-profit group within a nonprofit institution," says director Shana Young. "We have the backing of more than 300 professors who can assist us with a wide variety of expertise across disciplines, but 'we eat what we kill' in the sense that we earn our own money and pay our own way."
The institute started with a gift from cellphone pioneer John Cunningham, she says. "Mr. Cunningham wanted the money used to build leadership and sales abilities because he believed that anyone with good sales skills would never go hungry."
Today, sales training is just one aspect of this comprehensive enterprise, which works with tiny nonprofits, congressional offices, civic groups, foundations, and tourism and convention bureaus, as well as Fortune 500 companies.
"We don't want to be a huge corporation with off-the-shelf, one-size-fits-all leadership development," says Young, who oversees a staff of five and an army of contract consultants across the state. "We want to create a bond with the people we work with, to become part of their teams. So we highly customize our programming to meet the specific needs of each client."
Among the services offered: communications, conflict resolution, assessments (Myers-Briggs, Emergenetics, Emotional Intelligence and others), certifications, strategic planning, and survey and research for employee engagement.
"The Leadership Institute at Columbus State University has facilitated the leadership development component of Leadership Columbus since 2008," says Amy Askew Bryan, executive vice president for Community and Leadership Development of the Greater Columbus Chamber of Commerce. "Through their use of assessments, they have helped participants gain a better understanding of themselves and how they can better utilize their skills in their workplace and personal lives to be more productive. This has carried over and had a positive impact on our community. They are an asset to our programs and our chamber."
---
Time Well Spent
Moreover, the institute is not afraid to get creative and a little rambunctious, tapping other, outside resources, such as the nearby whitewater park, a zipline, the Coca-Cola Space Science Center, and the Springer Opera House, with a stage that has proved perfect for team-building comedy sketches.
"These are not dull, dry classroom activities," Young says. "We work hard to engage a team with real-life scenarios, we try to make it fun, and above all we want people to laugh. We want you to leave one of our activities with the feeling that it was time and effort well spent."
Townsend brought the institute's expertise to his work with the Muscogee County Library Foundation.
"We were faced with the decision of whether or not to hire an employee or continue with an all-volunteer force," he recalls. "The institute helped us evaluate and develop a workable plan to move forward. To have both the institute and the forum in Columbus is a real point of pride for our business community."
The institute initially relied on word-of-mouth publicity to drum up business in the southwest part of the state, but it lately has made inroads in Alabama and aims, for the next 10 years, to "expand our footprint regionally," Young says.
"Ultimately, we want to help you become a better person so that you're a better employee or supervisor and a better citizen," she says. "That has a ripple effect and means a better life for everybody around you, ultimately for all of us."
That big-picture vision is just what the founders intended.
"I am proud that we have been true to our vision," Blanchard says. "The benefit this commitment has had on business and civic leaders in the region is real. We wanted to build a leadership culture that would be stronger and wider and deeper and broader. That, I think, is exactly what has happened."