Augusta | Richmond County: Cracking The Code
Cyber Security, Manufacturing and Technology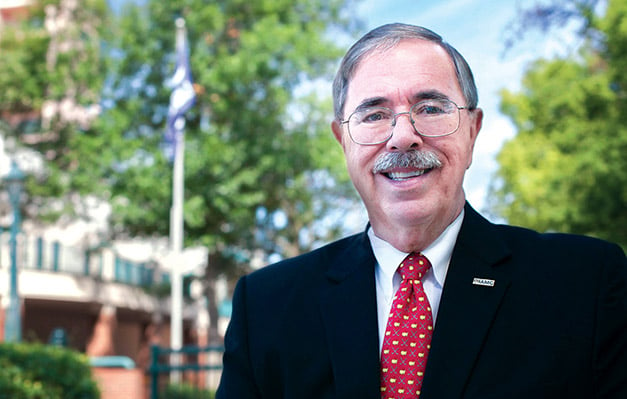 Technology is thriving in Augusta-Richmond County, which is on a roll when it comes to attracting high-profile global companies.
Unisys Corp. is the newest high-tech company making a mark in Augusta. This fall, it plans to move into its permanent, 118,000-square-foot location – a former children's museum at the Augusta Riverwalk – and provide services to the U.S. Army and commercial clients. Unisys, a $3.5-billion global information technology and services provider based in Pennsylvania, plans to hire 700 within five years in Augusta; by June 2015, it had 230 workers in a temporary location near Interstate 20.
"Clearly Augusta was a new location. We truly picked it from the standpoint of what we were looking for," says Reginald Drake, vice president for Unisys Enterprise Solutions.
Unisys' Augusta office is a result of the company's landing a contract worth up to $93 million over five years to function as the Army Enterprise Service Desk, which assists personnel who need help desk or IT support services. Beyond that, Unisys had existing relationships with companies such as Starbucks and Kellogg's that have a manufacturing presence in Augusta and was looking for a Southeast location, Drake says.
The Unisys facility is another boon to the city. Unisys and defense contractors represent a surge of companies seeking a presence near Fort Gordon, a hub for military intelligence and the new site for the U.S. Army Cyber Command. Fort Gordon had a $2.1-billion economic impact in 2014 – the largest in Augusta.
The Augusta MSA created 9,200 new jobs in 2014, a 4.2 percent growth rate, higher than any other MSA in the state, according to data presented earlier this year by Georgia Regents University researcher and associate professor Simon Medcalfe. The job creation has won the praise of Georgia Labor Commissioner Mark Butler.
"There's definitely a sense that the economy has taken a significant turn and there's a lot more opportunity for companies in our area. There's more awareness of what's happening in the Augusta market," says Eric Parker, co-founder and innovation architect for theClubhou.se.
The venture, which provides support and education for entrepreneurs, moved last year into the Old Academy of Richmond County, the area's oldest surviving schoolhouse. More than 40 companies have been supported by theClubhou.se, whose 180,000-square-foot building provides computer and electronic labs and coworking and event space. Its 100-plus annual events include mentorship sessions for entrepreneurs like students and active duty or retired military, monthly hackathons and events such as TEDx Augusta.
Augusta is proving that it is a place that can garner attention well beyond the one week each spring when it hosts the Masters golf tournament. In May, Southern Business & Development magazine named Augusta one of the top 10 places in the South for hiring veterans and one of 10 "Sizzling Mid-Market Economies."
"We're talking about really high-paying jobs and extremely technical people," says Walter Sprouse, executive director of the Augusta Economic Development Authority of Richmond County. "Many companies are seeing that if they have anything to do with information technology jobs, they need to be in the Southeast. [If] they need a low cost of living and they don't want traffic, then here we are."
"What we liked about Augusta and what really won out was the collaboration," says Drake.
That collaboration includes organizations such as Augusta Economic Development Authority, CSRA Alliance for Fort Gordon, Augusta Metro Chamber of Commerce, Augusta Technical College, Georgia Regents University and Augusta Tomorrow, among other groups and companies.
Unisys is hiring veterans and others to fill call center and network technology positions.
Each month, about 150 service members separate from Fort Gordon and look for opportunities to use their medical or high-tech knowledge. Many already carry the necessary security clearance to work for the government or defense contractors.
---
Decade of Growth
Sue Parr, president and CEO of the 1,200-member Augusta Metro Chamber of Commerce, remembers attending the groundbreaking for the National Security Agency's 600,000-square-foot building at Fort Gordon shortly after she arrived in Augusta. The NSA's Georgia Cryptologic Center, which opened in 2012, was a game changer, she says.
"That really was something that has positioned, and will continue to position, Fort Gordon for future growth," she says.
The NSA facility, which employs more than 4,000, also provided economic development leaders a big name in marketing the area to other companies. Soon ADP, T-Mobile and Starbucks followed.
Fort Gordon will add some 4,000 new employees, about a third of them civilians, between 2013 and 2019. About $250 million in construction projects are underway or approved for the next five years to support mission growth and requirements, says Thom Tuckey, executive director of the CSRA Alliance for Fort Gordon.
U.S. Army Cyber Command is one of many missions at Fort Gordon being added or expanded, all of which are cyber security or military intelligence related, Tuckey says. Cyber Command is a headquarters unit comprising about 600 people, and it is the last element of the current projected growth, anticipated to be arriving in 2018-2019. At Fort Gordon, Cyber Command plans to spend $90 million for its facilities, which include an expansion of the NSA's John Whitelaw Building, expected to be complete in 2019-2020.
Those cyber security-related missions could bump up the number of jobs created in the community to 8,000 or higher, he estimates. Fort Gordon's role as the center for all Army cyber security-related actions attracts the defense contractors, wannabe defense contractors and cyber security businesses hoping to hire the best workers from the other companies, Tuckey says.
Still, Tuckey says Augusta battles a negative reputation from those not familiar with the region of having "dirt roads and barefoot people.
"This is not some backwoods place," he stresses.
Housing is a lure for out-of-state civilian workers weighing relocation offers. Earlier this year, more than 20 local leaders traveled to Fort Meade in Maryland and Fort Belvoir in Virginia, where U.S. Army Cyber Command is currently located. They touted Augusta's quality of life, which includes the low cost of housing. Workers were informed they could sell their existing townhouses and buy a larger single-family home in Augusta with cash and still put money in savings. Some workers recognize an investment opportunity in buying rental housing, and bidding wars are being reported for some homes, Tuckey says.
The Augusta Marriott at the Convention Center in late June was expecting to host a Cyber Security on Defense conference, with high-ranking expert speakers.
"Growing that cyber profile and cyber brand is something we want to make sure that we're moving forward," Parr says. "We are just very proud to be the home of U.S. Army cyber and want to continue to develop that culture."
"There's certainly an excitement about how this area is going to take off," Tuckey says. "It's going to become a high-tech mecca much the same as it is a medical mecca."
Augusta-Richmond County is home to 11 hospitals and the nation's largest burn center, the Joseph M. Still Burn Center, at Doctors Hospital. Healthcare training is critical in Augusta, and at Georgia Regents University, students can move from college through medical school.
University Health Care System's impact reaches across the state line. The system is anchored by the 581-bed University Hospital, serving Augusta-Richmond County and the surrounding region. In early 2015, the new $30-million University Hospital McDuffie opened off I-20. The 25-bed facility is expected to employ 190 workers. University Health Care System also has opened six new prompt care, primary care, general surgery, medical associates and neuroscience practices and locations in 2015 and has two more locations opening in 2015 and 2016, in addition to University Villages at Woodside, an assisted living community in Aiken, S.C., just across the state line.
Georgia Regents and GRHealth, the not-for-profit healthcare network of GRU, boast more than 8,900 paid employees and more than 8,500 students, with about a $1.3-billion annual economic impact. The institution has Georgia's only public academic health sciences university and the only dental school. Two residence halls with a total of 720 beds are expected to open by fall 2016.
Another new development is the hiring of Brooks Keel, former president of Georgia Southern University, as GRU's new president. Keel was to take office in late July.
---
Closing The Gaps
Statewide projections show a 35 percent increase in cyber security jobs by 2022, and local institutions are working to expand appropriate education opportunities. While it's a need throughout the state, it's vital in Augusta, which is on the road to being a hub for cyber warfare.
"This is a priority," says Gretchen Caughman, executive vice president of academic affairs and provost of Georgia Regents University.
Caughman is chairing a statewide committee that will determine how the University System can provide qualified graduates and fill cyber workforce gaps. GRU offers two information assurance defender (cyber security) certificate programs – basic and advanced – and plans to grow its degree programs.
"Things are happening quickly in this area," Caughman says.
This fall, schools in both Richmond and nearby Columbia counties also will add a cyber component to their IT curriculum. Augusta Technical College, which graduated 1,333 students in academic year 2014, is offering a new associate degree program in cyber security.
"That is a result of what is happening at Fort Gordon. We just want to help enhance the opportunities for people here locally to get jobs," says Beverly Barshafsky Peltier, director of institutional advancement for Augusta Tech.
In partnership with Augusta Tech, Georgia's Quick Start program provided training for companies such as Starbucks, which opened a $172-million facility in 2013, and ADP, which was housed on Augusta Tech's campus and held training there before moving into a permanent facility. Augusta Tech also opened a Military Service Center this year, where veterans can learn about careers and study, funded by the Augusta Warrior Project.
"We want to be actively involved in helping show people that there is a strong workforce in Augusta," Peltier says.
Augusta Tech and Southern Co.'s Plant Vogtle recently partnered to create the only Nuclear Engineering Technology Program in Georgia. In spring 2015, Lakes College West Cumbria, an institution in the United Kingdom, met with Augusta Tech leaders, along with leaders from corporate partners Southern Co. and Savannah River Nuclear Solutions to learn how to develop a similar program.
"If you had said to me 10 years ago, 'We're going to start a nuclear engineering technology program,' I would have said, 'That's nice.' At the time, that just wasn't an immediate need," Peltier says. "I think a lot of companies are starting to realize that their very experienced and talented workforce is starting to gray. How and when will they start recruiting that younger person to come in and replace that knowledge? That's the beauty of technical education. We're very responsive to business and industry needs."
Other partnerships occur between schools, and science, technology, engineering and math (STEM) education continues to be a focus. For example, the ADP STEM Scholars Program has donated more than $1.2 million over six years to Augusta Tech, GRU and Paine College.
---
Ready for a Boost
The Augusta Economic Development Authority continues to earn the civic equivalent of the Green Jacket, with companies announcing millions in investments. The manufacturing base is strong and growing, and local company Prayon was named the state's 2015 Manufacturer of the Year (150 employees or fewer category).
Companies planning new facilities and jobs include Elanco, the animal health division of Eli Lilly and Co., which plans $100 million in infrastructure and manufacturing enhancements at the Augusta Technology Center, creating 100 new jobs. In addition, Solvay Specialty Polymers plans to build an $85-million building adjacent to its current facility; and Royal DSM, a materials company, will invest $85 million in a new polymer plant next to its existing facility.
The challenges lie in preparing the community and its roadways for population growth. It's common to hear Augusta residents say they have no desire to go to Atlanta because of the traffic, but around Fort Gordon, backups are growing. Meanwhile, Tuckey says about 1 million square feet of class A office space are available or projected to support the influx of cyber security businesses/contractors. That will result in even more commuters.
Fort Gordon is requesting $750 million worth of construction, renovation and roadway projects. A proposed $40-million access gate onto the installation has been okayed for construction in FY 2018, but it will need congressional approval, Tuckey says. A later phase would create a bypass around Grovetown that links the growth in western Columbia County with the new gate.
"That being said, we still have a tremendous amount to do in Augusta," Sprouse says.
For example, James Brown Arena, which brings in acts such as Elton John and Lady Antebellum, is aged and may be replaced. In downtown Augusta, $103 million worth of T-SPLOST programs are expected to bring urban renewal over the next six years, Parr says. Thoroughfares such as Broad Street are part of eight major projects.
When Unisys's Drake recently walked along Broad, he envisioned how having more millennials and other professionals could impact the city. "As we go from having 200 to 300, 400, 500 people [living] downtown, we will bring a new excitement to downtown Augusta," he says. "This is something that can change the way downtown works."