All-Star Fundraiser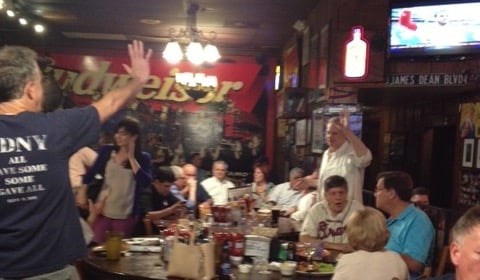 It was not just another baseball game or even just another night at the tavern. Tuesday's (July 14) All-Star Baseball Extravaganza at Manuel's Tavern raised $4,000 for Our Lady of Perpetual Help Cancer Home, located in the shadow of Turner Field, where the Dominican nuns who care for terminal cancer patients are serious baseball fans.
The fundraiser, held every year on the night of MLB's All-Star Game, is the brainchild of Jack Wilkinson, a veteran sportswriter who is a longtime champion of the home and its work.
Our Lady of Perpetual Help treats individuals of all faiths and does not accept money from patients or their families. Private donations support the home.
This year, Wilkinson and his wife, Janet Ward, put together the most successful All-Star effort yet: A silent auction offered an array of bobbleheads – Tom Glavine and Bobby Cox among them – as well as books and sports memorabilia, including a game cap worn by National League umpire Paul Runge.
Turner Field organist Matthew Kaminski led the assembled fans in the National Anthem, and Grammy-nominated singer/songwriter John McCutcheon entertained with baseball songs.
The lone Atlanta player on this year's NL squad, Shelby Miller, got a hand when he was introduced via the TV monitors – although he did not play in the game.
But the loudest cheers of the evening — and a standing ovation — came when Georgia's own baseball great Hank Aaron appeared on the screen. Aaron played in 25 All-Star games. He was honored at the 2015 game at Cincinnati's Great American Ballpark, along with Johnny Bench, Sandy Koufax and Willie Mays.
Photo at top, Manuel's Tavern's All-Star Baseball Extravaganza
Photos courtesy of Susan Percy.