Atlanta Region vs. the World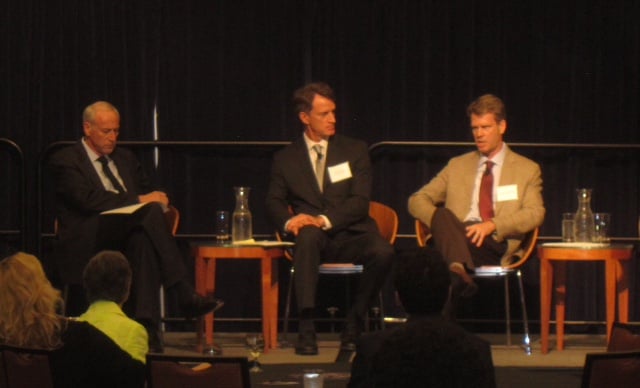 Infrastructure, education, leadership, traffic – these are all issues facing the Metro Atlanta region. But how do we compare to other cities? The Atlanta Regional Commission (ARC) and the Metro Atlanta Chamber (MAC) recently led a "Community Conversation on Regional Competitiveness" to find out.
The event was in response to "Atlanta Forward," a yearlong series in The Atlanta Journal-Constitution that takes a look at some of these problems and how cities like Dallas-Fort Worth, Charlotte, Toronto, Chicago and Denver are tackling the divisive issues. What the newspaper found was that the Metro Atlanta area fares poorly in several areas due to a lack of regional collaboration that has helped other cities thrive.
The Conversation panelists included:
AJC writer and "Atlanta Forward" contributor Dan Chapman;
ARC Community Development Director Dan Reuter;
Pendleton Group's Craig Lesser;
WSB's Carol Sbarge;
House Minority Leader Stacey Abrams;
Rajeev Dhawan, director of Georgia State University's Economic Forecasting Center; and
Dan Kaufman, president and CEO of the Gwinnett County Chamber of Commerce.
A presentation by Metro Atlanta Chamber President and CEO Hala Moddelmog rounded out the evening.
The goal of the AJC's series, said Chapman, "was to take a hard look at the region and its problems." What they found is that other cities around the world work better across political boundaries. Denver, for instance, in the past 25 years has passed more than 40 different tax referenda to improve their airport, regional transit and transportation infrastructure. "A highway does not know a political boundary," he added. "Why do we?"
However, some on the panel felt that the series may have left out the more positive things about our area.
"We are a big, dynamic region," said Reuter, noting that other cities, with economies based more on commodities than professional services, are the ones that have recovered more over the last five years. But, he pointed out, we're growing and we have a number of assets other cities don't, such as a legacy of Civil Rights, and the influx of Fortune 500 companies and developments happening across the region.
"It paints a different picture," agreed Lesser. "There's a lot more going on."
Chapman didn't disagree and pointed out that the series "didn't have blinders on to Atlanta's successes." But, he reiterated, "All of these [other] cities have a regional transit authority," and we won't be as successful without solving that problem.
Chapman and Lesser each said that there seems to be a growing "sense of urgency" among area leaders that may signal a unique opportunity for more regional cooperation.
"I think often, many of us who want to work at collaboration – regionalism – see a growing interest in that among our political leaders, government workers and people involved in economic development," Lesser said. "We have some fabulous examples of people working together to make things happen."
Abrams agreed, but pointed out that regionalism and collaboration are "hard, and we don't do it often enough and we don't do it with consistency," she said. "The community wants to see it, but the politicians are not held accountable for doing it."
Dhawan disagreed with the premise of the AJC's series, saying that many of the cities Atlanta had been compared to were at the place economically and population-wise that Atlanta was 20 or more years ago. "We have different problems. The problems are new," he said. "The solutions will have to be thought out in a new way."
Which is exactly what is happening in Gwinnett County, said Kaufman. If you want to look into the future, look at Gwinnett, which is what the U.S. will look like in 2040. "Twenty years ago, Gwinnett County was 90 percent white," he said. "Today there is no majority race. The Gwinnett County School System, which is the largest in the state by far, has been majority minority for 10 years." And the schools – and the county – have been very successful, he said. "If the community makes a commitment to be inclusive – the word is not diversity, it's inclusion – then I think you can really work and move forward together."
The Metro Atlanta Chamber's Moddelmog wrapped up the evening with a presentation of MAC's new marketing campaign, ChooseATL – which she hastened to point out is a regional campaign, not just about the city. The campaign seeks to get people, particularly millennials, to reappraise Atlanta by pointing out some of the positives of the area, like:
We have $495 million in venture capital annually.
We have 700 startups.
We have 1,000 movie production companies and vendors.
We have 125 miles of multi-use trails.
We have 60 music venues and 30 music festivals.
We have more tree coverage than any other major U.S. city.
We have 12 James Beard finalists cooking in Atlanta.
We have the largest 10k in the world – the Peachtree Road Race.
It's clear that the AJC series is serving as a catalyst for discussion, both in boardrooms and in living rooms. To learn more about the series and form your own opinion, visit Atlanta Forward.
You can also watch a video of the Community Conversation on the ARC's linkedin page here.
Photo at top: From left, Craig Lesser, Dan Reuter and Dan Chapman
Both photos courtesy of Ben Young.