Leading The Change
Young Harris College turned itself into a four-year institution in record time.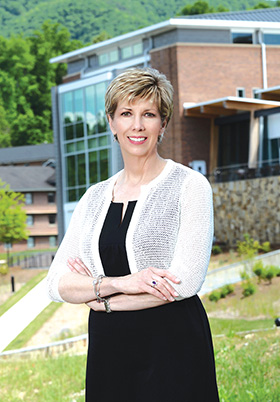 Consider for a moment what it might be like to adopt 600 young people over an eight-year span. You have to have enough room to feed and house them. You have to be sure they have books and activities. You have to have space and provide opportunities for them to develop friendships and interests. You have to hire staff to look after them and educate them and help shape them into responsible adults who will take their education and experiences out into the world and make it a better place. That's what Young Harris College (YHC) has done over the past eight years, since the decision was made to turn a two-year school into a four-year college.
"It's been transition at a head-spinning change for the world of academia," President Cathy Cox says. "Not many institutions change as much, as rapidly as we have. To go from two to four years is just about like throwing everything you do out the window and starting from scratch."
The ability to quickly and successfully make the transition to a four-year institution is rooted in the history of YHC, which since its founding in 1886 has served as both a high school and a college in a variety of configurations and combinations. Located in the North Georgia mountain town of Young Harris, the college was started by a Methodist minister and continues as a United Methodist affiliated liberal arts college. The college trustees began talking about the transition in 2006 and hired Cox to shepherd the move in 2007. The first junior class was enrolled in the fall of 2009. Today YHC has an enrollment of 1,219 and offers 23 baccalaureate degree programs and 20 minors.
The opportunity to lead that change was one Cox, whose background is in law and politics (she was Georgia's secretary of state from 1999 through 2007), couldn't refuse. "One of the college trustees, the late Bert Lance, was a friend and mentor to me during the years that I was in politics," she says. "After I ran for governor in 2006, and lost, obviously, he called me out of the blue and said, 'We're starting a search for president at Young Harris College, and I think you ought to apply.' I thought he had the wrong number."
Looking back it seems clear he had the right number. While all acknowledge there have been growing pains, overall, the transition has been a smooth – and exciting – one.
"It was truly that challenge of moving the ship in a new direction that intrigued me," Cox says. "I knew that they were not just looking for caretakers. If they wanted a caretaker, I would not have been interested in that kind of a role. But the challenge of really leading change was something I thought I might have the skills to do."
---
People and More People
"I've been exceedingly proud of how well our transition has gone, especially in the enrollment area," Clint Hobbs, vice president of enrollment management and external relations, says. "In 2006, we had 606 students. That was the year before we started this transition process. We've seen 101 percent [growth], effectively doubling the enrollment, since [then]. We've also expanded our enrollment geographically and demographically to include students from 27 states and 23 foreign countries." Not bad for a small town, which, according to the U.S. Census Bureau, had 1,087 people in 2013.
Hobbs concedes that the timing on the transition – the midst of the Great Recession – was tough. "You bet there were challenges," he says. "Challenges were centered around a family's ability to pay, and a family's ability to pay declined significantly during the Great Recession. At the same time, [we] were adding amenities and accouterments because we were becoming four-year, and we wanted to put ourselves in a better competitive position for students."
---
Building for the Future
A recently completed – and very successful – capital campaign also helped smooth the transition and soothe growing pains. "We started with a $55-million goal," Cox says, "and we just ended it Dec. 31, with $75 million raised. So it was very, very successful."
The largest portion of funds – $41 million – was designated for the Rollins Campus Center. Completed last fall, the center houses the Zell and Shirley Miller Library, the dining hall, student services, and recreation and entertainment spaces.
"We raised all of the money for the Rollins Campus Center before we even broke ground on that building," Cox says. "The Rollins family gave a significant portion of that; about $24 million of the $41 million came from the Rollins foundation.
"We had hoped [the building] would transform this campus, but I can hardly put into words the extent to which [it] has transformed the student experience. We call it the social and intellectual heart of the campus."
While YHC needed a facility fit for a four-year college, it was also important that it blend seamlessly with the campus. "It incorporates a lot of wood and stone, in addition to all the windows," Cox says. "It just fits our surroundings so perfectly. It doesn't overshadow our historical chapel and other historical buildings in the middle of campus. You'd think it had been there forever."
The Rollins center is just the latest in $100 million in new facilities that have been built over the last seven years – all of them to Leadership in Energy and Environmental Design (LEED) certification standards.
"The first building we constructed after I got here was a new residence hall, because we were at capacity for student housing," Cox says. That was also the campus's first LEED building. "We looked at LEED certification, and the first reaction of our trustees was, 'Oh, no, we don't want to do that. It costs more money.' To his credit, Brantley Barrow, one of our trustees who was then the chairman of Hardin Construction Co., said, 'We really ought to think about this. No. 1, this is the way of the future. It is sustainable and, more than anything, it is very energy efficient. We're building these buildings not for five or 10 years, but for 50 and 75 years and beyond.'"
He also pointed out that it would save money on utilities well into the future, making up the additional cost of construction. "With the first residence hall we built, by putting in geothermal heat and air, our business office could not believe how low our utility bills were," Cox says. "That made believers out of our trustees."
It's not just the adults in the room who have jumped on the LEED bandwagon. "We found out very quickly, that for our student body, this age group, sustainability is much more than bumper-sticker philosophy," Cox says. "They believe in it. They believe in living much more sustainably than did my generation. They're proud of the fact that we're being environmentally conscious in our construction."
---
It's Academic
LEED construction, capital campaigns and enrollment increases are all great, but the purpose of college, after all, is an education; and it's not been lost in all of the growth. In fact, ensuring the students at YHC get a liberal arts education that will take them out into the world prepared to lead is uppermost in the minds of the administration and faculty.
Over the past few years, the college has been intentionally adding majors that either fill gaps in YHC's offerings or are innovative and unusual in Georgia and the Southeast.
"I was hired here as vice president of academic affairs [in 2012]," says Gary Myers, "with the objective of bringing the two-year model into the four-year model. The first thing I noticed is that there were not all that many degree programs for students to select from. We've been working to strategically add ones that we think would give us the critical mass that we need and to propel us in a direction we want to go."
For example, says Cox, "We know that Georgia has a number of good business programs at other institutions around the state. So rather than just say we want to be copycats, we developed an undergraduate degree program that we call business and public policy. The closest thing to it that we have found is offered at Harvard. It's a unique combination of business and public policy or political science."
Native son, former U.S. Sen. and former Gov. Zell Miller, a 1951 Young Harris graduate, has been instrumental in the development and success of the program, says Cox. "When we were building this program, Zell Miller said, 'When I was in government, I used to say, business people need to understand more about government and government folks need to understand more about business.' This is kind of the best combination of those factors."
Another missing degree, and one that students asked for, according to Myers, was an interdisciplinary studies program. "Almost every college has some form of interdisciplinary studies degree, which is very important these days because students are constantly changing jobs once they graduate, and so they have to be adaptable. An interdisciplinary studies [degree] and even the general liberal arts curriculum prepares them for that."
YHC's Discover Degree allows students to choose from templates with courses from three different disciplines or put together their own program with administrative approval. "[The degree] started in August, and we already have eight majors," Myers says.
YHC is also going to the movies. "Perhaps most exciting, in some ways, is a minor that we've put in," Myers says. "It's a minor in cinematic arts. We're expecting this to be a major very soon because of the interest students have in it."
The college has hired professionals from across the movie biz, including an actor, a former Disney World producer, an award-winning filmmaker and others.
"We're aware of how Atlanta has become the Hollywood of the east coast," he adds. "We've got a ton of contacts down there, people that our folks have worked with for many, many years, who we're using to bolster this new minor."
---
The Great Outdoors
The mountains, the Appalachian Trail, whitewater rivers – some of the best places to pursue outdoor recreation can be found within a few miles of YHC. The college has taken advantage of this spectacular location by offering an outdoor leadership degree. At first glance, this degree may look like a major in tree climbing, camping and kayaking. But dig a little deeper and you'll find that it's much more than that.
"The activities, really the whole basis of this field, is human growth and development," says Rob Dussler, chair of the outdoor leadership department. "It's about people learning more about themselves and being self-confident, trying new things, moving out of their comfort zone, and learning about other people. [Students] see this program, and it's a wonderful thing when the bulb comes on: 'That's exactly what I want to do. I didn't know something like this existed.'"
Breann Lindsey, who just completed her junior year, is one of those who saw the light in the program. "When I came to college I was an education major. Then I switched to outdoor leadership as a sophomore," she says. "I took a canoeing class, just a random class in canoeing. I had never been camping before. I'd never been in a tent. I'd never done anything outdoorsy. I took the class, and I just fell in love."
Lindsey has now spent a good bit of time in a tent and doing all kinds of outdoorsy things. Her job last summer as a challenge course facilitator took her to the wilds of Alaska. "I led youth on challenge courses, and I led canoeing and kayaking," Lindsey says.
Then, during this past fall semester, she did a discovery semester, when students spend much of the semester outdoors learning about the environment and themselves. "You spend your fall semester in only outdoor leadership courses," Lindsey says. "It's incredible. We went and got our wilderness first responder certification, which is unheard of for students, because you really don't have the time during school. That's the number one thing [employers are] looking for, and I obtained that at 19 years old."
That certification and experiences like she'll have this summer in Hungary leading canoeing and kayaking should go a long way toward helping her reach her employment goal. "My plan after Young Harris is going into seminary," she says. "What I want to do after completing seminary is work with troubled youth. There are several outdoor ministry therapy programs, maybe for kids who have been sent to alternative programs or kids who have gotten in trouble with drugs. They come to these programs where they spend weeks out in the wilderness on challenge courses and backpacking experiences."
Employment opportunities are the things people connected with the major are always explaining. "'This is great, but how are you going to make a living?' That's the question that everyone in this field of study has to answer," Dussler says. "There's a huge demand in the industry for outdoor leaders and professionals. And what I find so funny is a lot of people are spending their time [working at jobs they don't like] so that they can do what they really want to do, which is recreation and leisure with their family."
YHC is educating people to help weekend adventurers safely enjoy whitewater rafting, for example, and who will provide the leadership needed at the summer camps their kids attend. "So there's a huge demand for this," Dussler says, "for tourism and adventure tours, and camp and forest service, environmental centers, all types of work."
This unusual degree program is just one piece of the pie that's feeding students at YHC, as the college grows into its four-year status. "We have taken [this transition] as a grand opportunity to think about everything we do, and decide what is really good for students," Cox says. "It's been wonderfully refreshing to say we don't have to do it that way because it's always been done that way. We have a lot of flexibility and a lot of dynamism that has enabled us to change, to change rapidly and to implement a lot of really good things here in a really short period of time."