2015 Legislative Recap
Who won, who lost and who is waiting for next year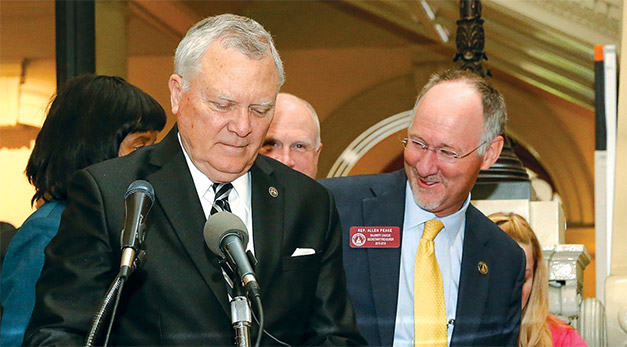 Transportation was the 500-pound gorilla in this year's legislative session – a friendly gorilla for the most part, who claimed a ton of attention but got lots of money for roads and bridges and even a little for transit.
There was good news on the healthcare front for families with autistic children and for cancer patients and children with seizure disorders in need of cannabis oil. Solar energy got a boost, and Georgia voters will have a chance to weigh in on a new plan for failing schools.
Here's a look at some legislation that passed and some that didn't and what the new laws are likely to mean when they take effect – this month, for most of them.
---
Transportation: HB 170 provides $900 million for road and bridge construction, maintenance and repair. It imposes an excise tax of 26 cents per gallon on gasoline and 29 cents per gallon on diesel fuel, all to be used for transportation.
The new tax replaces a 7.5-cent motor fuel excise tax and a 3 percent motor fuel sales tax for transportation and a so-called "fourth penny," which went into the state treasury.
(An excise tax is a per unit tax; a sales tax is tied to the price of the commodity.)
For most of us, the change will mean an extra 6 or 7 cents per gallon when we fill up.
"User fees are the best taxes," says Kelly McCutchen, president of the Georgia Public Policy Foundation (GPPF), a non-partisan conservative think tank.
Significantly, the bill signals a recognition among state lawmakers that transportation isn't going to fix itself and a willingness to raise taxes for the work that's needed.
Almost everybody liked the bill, but nobody loved it. And hardly anybody thinks there isn't still work to be done.
"HB 170 is a great leap for transportation," says Michael Paris, president and CEO of the Council For Quality Growth (CFQG). "The legislature made a great move, a bold move. But we need to realize that we are going to have to revisit it and look forward to taking another leap."
His organization is made up of developers, builders, architects, engineers and all 22 active community improvement districts (CIDs) in the state.
"The change from sales tax to excise tax sets us up in the future with a mechanism that allows us to move forward with robust funding," says Paris.
Another part of the transportation bill imposes an annual user fee of $50 to $100 on heavy trucks using Georgia roadways.
To be sure, some provisions of the transportation bill raised eyebrows – and ire: Lawmakers ended the state income tax credit for electric cars and imposed a $200 per year user fee for their owners – $300 for commercial electric vehicles. The idea is that those drivers are not paying their share of road costs via gasoline tax; this is the lawmakers' attempt to make sure there are no free rides. Not surprisingly, the Sierra Club Georgia Chapter and other environmental groups are not happy.
HB 170 also does away with the 1 percent jet fuel tax exemption that primarily benefited Delta Air Lines, one of the metro area's largest employers. Cynics say the cut was intended to punish the airline because CEO Richard Anderson, last year's Metro Atlanta Chamber chairman, spoke out strongly on the need to improve transportation.
Nonetheless, the chamber praised the resulting bill for providing "a predictable and sustained source of revenue for maintenance and modernization of our transportation network."
A last-minute addition to the bill was a $5-a-night tax on hotel and motel stays that will go toward transportation. The Georgia Hotel and Lodging Association and tourism interests were caught off guard, but are now at work to reduce or eliminate this provision.
McCutchen called the transportation bill a "successful compromise – it got where it needed to go," he says. "It's not perfect, but it's pretty good. We would have preferred that the entire bill be funded with state excise taxes."
To accommodate local governments that were using their portion of the old gas tax for non-transportation purposes, the final legislation allows cities and counties to collect an additional 1 percent sales tax on gas, up to a retail price of $3.
Both McCutchen and Paris say the bill's provision for regional T-SPLOST (Transportation Special Purpose Local Option Sales Tax) referendums will have positive effects, now that elections can be set up for smaller geographic areas to address localized needs. Many believe that the T-SPLOST that was defeated three years ago in most of the state was simply too big, with too many disparate areas and divergent interests lumped in together.
"I think the T-SPLOST changes are just as important as the overall transportation bill," McCutchen says.
The final bill won measured approval from another Georgia think tank, the more liberal Georgia Budget and Policy Institute (GBPI). Executive Director Taifa Butler, who took office as the legislative session ended, says her organization is on board with the legislation. "The plan isn't perfect," she says, "but it's a tremendous step forward. It raises enough revenue to fix some of the maintenance issues, but does not provide anywhere near enough to develop the new projects the state outlined. But, one step at a time."
---
Transit: After years of trying, MARTA and its supporters in the General Assembly got rid of the requirement that half of its budget had to go toward capital costs. That restriction, which goes back a half century to the time the transit agency was formed, meant MARTA could not use funds for operation.
A big factor in the legislation was the good will earned by MARTA General Manager Keith Parker, who has managed to get his agency's house in order – financially and otherwise.
Additionally, the state budget submitted by Gov. Nathan Deal and passed by the General Assembly includes a $75-million bond package for transit needs statewide.
---
Healthcare: Two big health measures passed: HB 429 provides for insurance coverage for families with autistic children; and HB 1 ensures that patients with certain diseases – cancer, seizure disorders and multiple sclerosis among them – are allowed to possess medical cannabis oil. It's still illegal to sell the oil in Georgia, but a state commission will be making recommendations for implementing the law; and the Department of Public Health is setting up a process to provide documentation for eligible patients.
---
Solar Energy: The Solar Energy Free-Market Financing Act (HB 57) gives residential and commercial consumers the ability to finance the cost of a solar energy system over a period of time rather than make a big initial outlay that might take several years to recoup.
This was that rare piece of legislation that everyone loved. It passed unanimously in the House and the Senate and had the backing of business interests, environmental groups and utilities – including Georgia Power.
"It opens up solar to a whole new market, and it takes away the upfront costs. It makes solar available to anyone who has a suitable property," says incoming Georgia Solar Energy Association Chair Sharon Lee. She thinks the backing of Georgia Power was key.
The utility had opposed a previous version of this bill a few years ago, but lately has embraced solar energy.
"Georgia is a significant leader in the nation in terms of the impact solar is making," she says.
Lee says the bill is a real boon for the small businesses and nonprofits that have not been able to avail themselves of solar energy.
---
Education: Gov. Nathan's Deal's Opportunity School District (SB 133) bill passed, but it must win approval by the electorate in 2016. If that happens, the state will have the right to take over failing public schools.
No one suggests that Georgia schools are without serious problems, but critics are wary of taking away local control and available funding and concentrating education authority at the state level. Supporters say the situation is critical and calls for drastic measures.
Both McCutchen's and Butler's think tanks like the addition of $500 million to education reflected in the budget that passed, but the GBPI's Butler notes that a big chunk of the $280 million designated for teachers, about $100 million, will go toward health insurance costs.
---
Environment: The legislature passed SB 101, dealing with erosion and sedimentation; it was intended to restore a 25-foot coastal marshland buffer requirement that was removed last year by the state Environmental Protection Division (EPD).
Subsequently, the Georgia Supreme Court ruled that the EPD policy limiting such protection was valid.
---
Economic Development: Mercedes got a nice tax break of about $1.2 million, courtesy of HB 202: a thank-you for its decision to bring a new headquarters and 800 jobs to Sandy Springs. The film industry, everyone's new best friend, got an extension on the tax credits (HB 339) that have helped make Georgia a camera magnet.
---
Business Regulation: Three established industries – transportation for hire, auto sales and beer – got legislative help dealing with new entrepreneurial players. Uber and similar ride-sharing services are challenging the taxi industry; Tesla, the electric vehicle manufacturer, does not use franchised dealerships. And a legion of small craft breweries want to sell beer on their premises.
Uber and Tesla fared pretty well, according to McCutchen. Uber, via HB 225, avoided many of the regulations imposed on taxis, but its drivers have to have the same background checks as limo drivers. Tesla was able to keep its direct-to-customer sales method in Georgia, but HB 393 provides some protection for dealerships, primarily by restricting the direct-sales model to those manufacturers that have never used a franchisee.
Craft brewers got a watered-down version (SB 63) of what they were asking for; they can "give away" more beer than before, as a souvenir, on variously priced tours of their facilities.
---
New Cities: When the cityhood dust settled, only two proposed new municipalities were still alive – Tucker (HB 515) and LaVista Hills (HB 520) – both in DeKalb County. Voters in the affected areas will have the final say-so on a November ballot.
---
What Didn't Happen: Most significantly, SB 129, the Religious Freedom Act, failed to pass after supporters, led by State Sen. Josh McKoon (R-Columbus), would not agree to add some anti-discrimination language. Critics of the bill believe the measure had more to do with being able to refuse service to gay customers than actually preserving religious freedom. Not so, backers say, and they promise to bring it back next year.
No anti-immigration legislation made it through the session this year, despite another McKoon bill, SB 6, that sought to make it illegal to issue drivers licenses to immigrants with work permits or reprieves from deportation but no legal status.
There will be no name change this year for the state's technical college system, which Deal wants to rename the Georgia Career College System. Opposition from some educational leaders to HB 315 and the hefty tab estimated for the change did this one in.
Plastic-bag foes won a round when SB 139 was defeated in the House. The bill's supporters wanted to prohibit local bans on the bags after both Athens and Tybee Island indicated an interest in banning their use. The defeat had as much to do with preserving local control as it did with environmentalism.
---
Next Year: James Touchton, director of governmental affairs and policy for the CFQG, says HB 445, the More Take-Home Pay Act, a comprehensive look at tax reform, will be a focus of next year's session.
The GBPI is looking for more attention to education and education funding, and the GPPF says healthcare will be a big issue, especially if the U.S. Supreme Court strikes down significant portions of the Affordable Care Act.
And, considering the General Assembly's history, you can count on a few surprises.
For more information on the 2015 session and legislation considered, visit www.legis.ga.gov.