2015 Best Places To Work In Georgia
Employees prize benefits, stability and the respect of employers.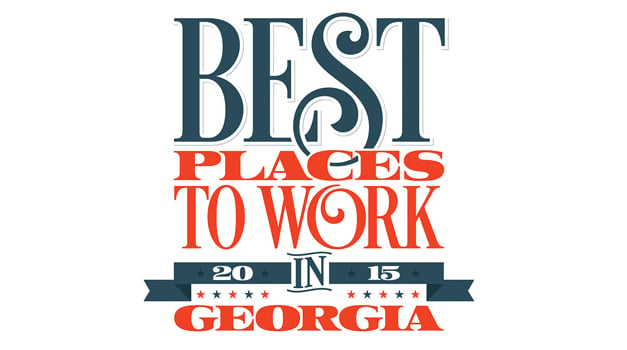 After taking a couple of years off, Georgia Trend once again asked readers to nominate their companies for our Best Places To Work roster and tell us what makes their employers the best.
Nominations came from across the state and from businesses and nonprofits large and small. Respondents say they appreciate good benefits, a flexible work environment, respect from employers, and the opportunities to do meaningful work and give back to their communities.
From nominations submitted via our website, Georgia Trend editors selected 10 companies for this year's list of the Best Places To Work in the state. The profiles were written by Mary Anne Dunkin and Lindsay Thomas Jr. Companies are listed in alphabetical order. – Karen Kirkpatrick
---
ADP Inc.
Augusta
When Meghann Eppenbrock went to work for ADP after 10 years in the nonprofit sector, she was a bit anxious to be starting with a for-profit company. ADP is part of a global firm that provides payroll and employee benefits services to companies. "Would I be swallowed up by the number of employees?" she wondered. "Would the work environment be cut-throat and demanding?"
Her fears were quickly put to rest by a company that not only treats its employees well – with benefits as diverse as an onsite gym, tuition reimbursement, nursing stations for new mothers, the flexibility to work remotely and even laundry pick-up service – but also encourages its employees to serve others. In addition to many charitable events ADP is involved with as a company, it allows each employee eight hours of paid leave annually to participate in charitable activities.
ADP employees also have many opportunities for upward mobility, says Heather Griffin, benefits representative. "ADP normally promotes within first. We are often promoted into other departments and job fields that we are interested in." Training opportunities include online learning and job shadowing.
In short, "from hire to retire, the benefits are endless," says Client Service Representative Stephanie Bitterman. – MAD
---
Athens First Bank & Trust
Athens
"If we take care of our people, our people will take care of the business." That philosophy, established at the founding of Athens First Bank and Trust (AFB&T), has made this community bank one of Georgia's best places to work for nearly a century.
"We are encouraged to treat all of our customers as we would our own family members," says AFB&T Vice President Lori Martin. "We can't do this unless we feel the same way about the bank."
One of 28 community banks of Synovus in Georgia, AFB&T focuses on treating its employees as family and creating a positive work environment through empowerment and support. Professional and personal achievements by employees and their families are called into focus. "It is not a company to me, it is part of my family," says Head Teller Arlinda Smith. "We share births, sickness and death. We [share] tears of joy and sadness."
As Vice President Myung Cogan explains, the philosophy was not shelved during stressful recession years. "Our leadership never wavered on best practices to create positive experiences for employees and customers," Cogan says. "Recognition programs and thank-you programs are always part of business. The ROI on recognition is positively immeasurable." – LT
---
Bennett Thrasher LLP
Atlanta
At Bennett Thrasher LLP, a full-service accounting firm, all employees are given the same respect, whether they are new associates or top management, and all employees work as a team – whether in the office or out.
"A few times a year, the whole firm works on a full-day service project," says Jessica Oeller, a member of Bennett Thrasher's transfer pricing staff. "These events have a way of bringing us closer together. There is something about digging holes, clearing brush and nailing sheet rock that fosters teamwork in a deep way."
Bennett Thrasher employees are challenged here with an exciting workload, but also encouraged by colleagues at every level, says Oeller. "There is a strong sense that everyone is on the same side. We genuinely like each other and work hard together for the benefit of our families and personal lives."
Leave time is generous – at least four weeks per year as well as the week between Christmas and the New Year – and the firm encourages wellness, especially during busy season. Each associate receives a Fitbit Flex activity and sleep tracker and competes for cash prizes for most steps taken over the course of a month.
BT fosters both personal and profession growth in its employees, says Oeller. "I feel like I hit the jackpot." – MAD
---
Fairview Park Hospital
Dublin
Fairview Park Hospital has been recognized for exceptional quality and patient safety by the Joint Commission, Leapfrog Group, Society of Chest Pain Centers and Georgia Hospital Association, among others; but it is recognized by its employees as a great place to come to work – and stay. "Our turnover rate is only 8 percent compared to the 20 percent national average, plus employee engagement and patient satisfaction both rank No. 1 in our HCA Division," says Tracie Morgan, director of marketing and community relations.
Employee satisfaction is largely due to the recognition hospital administration gives its employees. "Hospital leadership cares, and it shows," says Morgan. "They are consistently available and approachable and make daily rounds on patients and employees."
Fairview Park recognizes exceptional employees through Employee of the Month and Employee of the Year awards and with a number of other annual awards for service to patients and the community. Additionally, the hospital celebrates its employees the entire month of May with a picnic, ice cream party, fishing days and blue-jeans Fridays.
"We care about our patients and each other," says Morgan, "and we feel like our hard work is noticed and appreciated." – MAD
---
Georgia Transmission Corp.
Tucker
For 4.1 million Georgians, flipping a light switch is a good way to feel wired into one of Georgia's best places to work. When employees are happy, so are customers, and that's especially important at Georgia Transmission Corp. (GTC), whose 290 employees build and maintain high-voltage power lines for 38 rural electric membership cooperatives.
"I have never worked in a place that was so dedicated to cultivating its employees and protecting the interests of its customers," says Ted Hicks, environmental specialist.
That dedication is exemplified in a broad range of GTC employee programs and initiatives, including first-class health and retirement benefits, on-site gym, flexible work hours and recreational activities. Cross-training opportunities broaden professional skills, spark ideas that increase efficiency and help retain institutional knowledge when employees retire. An open-door policy ensures employees have a voice with executives. "I have been in the workforce for over 30 years and never had the opportunity, until now, to sit and have lunch with the CEO," says Human Resources Trainee Renee Pollock.
"We work in cooperation with our customers," says Debi Mattiford, budget manager. "As employees we cooperate with each other. That cooperation among the staff is fostered by the cooperative tone at the top."
"The best part of working for GTC is that we genuinely enjoy the important work we do: keeping the lights on in Georgia," says Principal Transmission Services Engineer Anne Miller. "And we have fun doing it." – LT
---
MoellerTech South LLC
Elberton
Family-owned businesses have an advantage when it comes to creating great work environments, according to Steve Jordan, CEO of MoellerTech South LLC in Elberton, the automotive division of the 280-year-old German company MoellerGroup.
"We don't answer to shareholders, so we're not really about profits at all costs," says Jordan. "When we can, we give back to employees and provide incentives and tokens of appreciation."
MoellerTech's 140 Georgia employees manufacture injection-molded plastic components for BMW automobiles manufactured at a plant in Spartanburg, S.C. Explaining his company's status as a welcoming workplace, Jordan credits an open-door policy, regular communication, employee training and internal promotion, as well as company involvement in the Elberton community. "We listen," says Jordan. "That's an important word to us."
Makayla Tate started as a temporary worker at MoellerTech. "I could not believe they paid temporary staff for days off during the holidays," says Tate. "MoellerTech even made sure we had food to feed our families and a Walmart gift card to shop with." Recently promoted to a full-time position in MoellerTech's Sequencing Department, Tate now has full-time benefits. "All those things are good, but what makes this place special is the great people." – LT
---
NeighborWorks Columbus
Columbus
Good leaders know how to keep their employees satisfied and engaged. Exemplary leadership is a key reason why employees find NeighborWorks Columbus – a nonprofit organization that works to provide safe, affordable housing to low- to moderate-income residents – a great place to work. President and CEO Cathy Williams "is an awesome leader in an industry dominated by men," says Rebecca Cartee, grants and compliance specialist. "She is the big-picture thinker of our organization and leaves it to us to help develop that picture."
Perks that Williams offers all employees include a group gym membership and a four-day workweek so they spend less money on gas and less time on the road.
Williams' compassion is evident in the work that she does not only to help the citizens of Columbus, but also to address the individual needs of her employees. "Being able to do my job from anywhere because of the nature of my job, [I was] allowed to work the last two months of my mother's life from her hospital room," says Cartee. "[Cathy] didn't have to do that, and she gave me a gift I can never repay." – MAD
---
Page International Inc.
Savannah
Behind every shipment departing or entering the Port of Savannah, one of the busiest on the East Coast, is a freight forwarder – made up of the people who guide products from manufacturer to consumer across oceans and land, contracting with railroads, trucks and ships along the way, handling the international red tape of customs and answering for late shipments. International logistics is an inherently stressful profession with business hours including all 24, every day. A freight forwarder winning great-place-to-work accolades? Not likely.
Yet that's what Page International has done, and they've accomplished it amid the additional fog of rapid growth. Founded in 1994 by Chairman and CEO Roy Page, the company has grown from three employees to 60 and now includes offices in Savannah and Atlanta. Beyond a stellar benefits package for employees, Roy Page and President and COO Patrick Page emphasize personal connection and staff support. "Team of the Quarter" recognition encourages the collaboration vital to success in a fast-paced, high-energy business.
"From celebrating birthdays and work anniversaries to just walking around the office daily to say hello, and even supporting employees going through personal challenges, Roy and Patrick are constantly striving to make Page International the best workplace it can be," says Office Administrator Allison Allmond. "The best place to work is the place where coming to work feels like coming home, and that's how Page International employees feel every day." – LT
---
Rocket IT
Duluth
Serving as the IT department for small businesses, Rocket IT's mission goes beyond helping its clients thrive. The company also takes great pride in its investment in the development of its employees and community.
CEO Matt Hyatt encourages learning and sets aside funds specifically for the ongoing growth and development of team members, says Jacque McFadden, marketing specialist. "In addition to the leadership opportunities in the community and the tech industry, we are encouraged to find learning events and opportunities that interest us within our specific field, be it technical support or sales."
All Rocket IT employees have the opportunity to give back to the community through pro bono projects with charitable and nonprofit organizations as well as programs with the local public school system, says McFadden. In addition to participating in the "Principal for a Day" program, when business leaders work alongside a public school principal, in multiple schools over the years, Rocket IT supports specific schools, including the Gwinnett School of Mathematics, Science, and Technology (GSMST). "GSMST students visit our office each year for a job shadowing event, spending the day learning about different roles within our company and the tech industry," she says.
"By pouring into other people and organizations, we can help make our community a better place for all of us to live and work," says McFadden. "Rocket IT enables us to do this as a team." – MAD
---
Spend Management Experts
Atlanta
Building a strong, connected and motivated team doesn't always require the team members to spend all their time together under the watchful eye of a leader. In fact, encouraging a combination of individual freedom and team connection has made Spend Management Experts (SME), a supply-chain and technology consulting business in Atlanta, a great place to work.
"We focus on optimizing our clients' shipping costs, yet by optimizing our work environment, we've created a culture of strong connection and sense of belonging," says Jordana Crow, marketing manager. "It's truly a great place to be an employee."
SME encourages telecommuting. Its 17 employees are located in several cities and countries; the core team assembles at its Atlanta office only a couple of days each week. "There is a high performance standard at SME but a level of trust and flexibility that inspires self-motivation and autonomy," says Crow.
Team building often takes place outside the work environment. SME has identified several key charities and community initiatives to support, and company employees attend and participate in volunteer days and fundraising events as a team.
"Our executive team believes in honoring and rewarding hard work through a bonus program, quarterly group outings and holiday events to ensure all employees feel valued and appreciated for their dedication," says Crow. – LT