Midtown Atlanta's Innovation District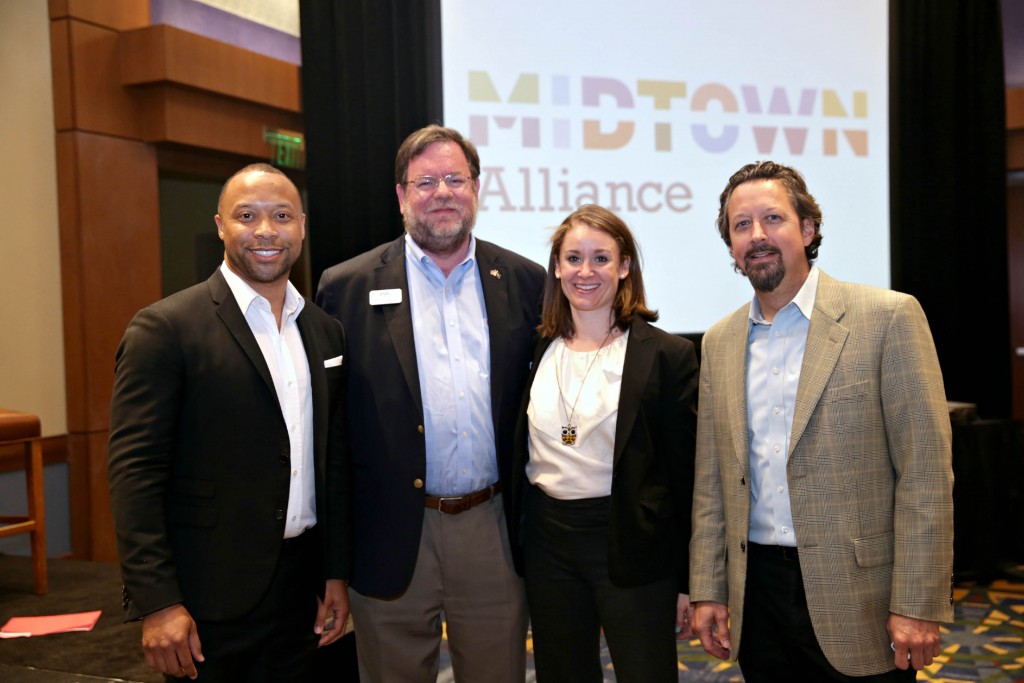 Atlanta's Midtown Alliance offered up an inside look at the high-tech innovation percolating across the area earlier this month. A panel at the Georgia Tech Conference Center featured leaders who talked about both the fast pace of growth in the region and where the next wave of innovation is likely to appear.
Midtown Alliance President and CEO Kevin Green noted the increasing number of innovation center announcements over the last five years. Investments from NCR Corp., Panasonic Automotive, The Home Depot, Coca-Cola Enterprises, Worldpay, AT&T and others have created an "Innovation District" that couldn't have been predicted.
"Fifteen years ago, none of this existed," added Stephen Fleming, vice president of Georgia Tech's Enterprise Innovation Institute. "There was the Federal Reserve, but investing over here was a big risk."
Now Atlanta has a global reputation that is drawing increased focus, said Paul Judge, chairman of Pindrop Security, which provides solutions to protect enterprise call centers. "You have what is known in the enterprise world as 'real companies,'" he said of Georgia's Fortune 500 community. "You have the three e's – education, enterprises and entertainment."
The timing is ripe for "disruption" of large companies, Judge said, mentioning Home Depot's technology center, Athena Health, Microsoft, Kaiser Permanente, AT&T, Comcast, Porsche and Mercedes. "We're here to help the real companies think like small companies and use those ways to help others. Kids are no longer going to school to get a job – they want to create their own job."
Midtown today is just a "taste," said Fleming. "In 10 to 20 years everything from the Varsity to Ponce City Market will be like this."
Higher-ed and healthcare are other big drivers of innovation in the area. In addition to Georgia Tech, Green noted that the district includes Savannah College of Art and Design-Atlanta, one of the largest private arts colleges in the country, and is anchored by Emory University Hospital Midtown, with 1,000 physicians, and the Emory Proton Therapy Center, scheduled to open in fall 2016.
Fleming added there is potential for more medical in the district. "If we can get Emory, Children's [Healthcare of Atlanta] and WellStar to tap in, it would be attractive to startups elsewhere." He also noted that Atlanta is No. 1 for medical software companies in the country. "No one else is even close. We have the Global Center for Medical Innovation at 14th Street, with a machine shop with everything for medical devices."
Photo at top, panelists, from left to right: Paul Judge, Pindrop Security chairman and Tech Square Labs founder; Stephen Fleming, Georgia Tech Enterprise Innovation Institute vice president; Amanda Shailendra, Georgia Department of Economic Development director of Health and Sciences and Advanced Technology; and Kevin Green, Midtown Alliance president and CEO.
Photos courtesy of Midtown Alliance.