Perimeter Business Alliance Transit Panel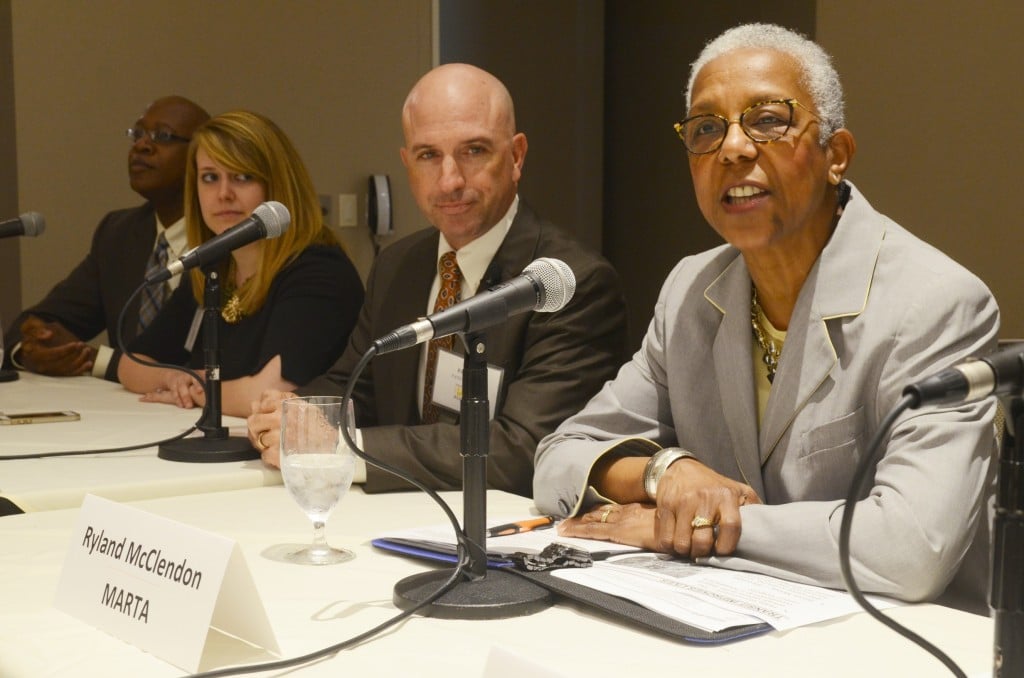 Perimeter is abuzz with activity and the swarm will only grow larger with new transportation options. The Perimeter Business Alliance (PBA) held a panel last month to review new projects and strategies to reduce dependency on single-occupancy vehicles.
Participants included Chris Tomlinson, executive director of Georgia Regional Transit Authority (GRTA) and State Road and Tollway Authority (SRTA). GRTA provides transit options to the metro counties with buses, and SRTA will play an increasing role in transportation solutions through the state's planned 52-mile managed-lane network on I-75.
"Instead of transit-oriented development, we see it as development-oriented transit. To this end we are creating new [bus] routes from Gwinnett and Cobb to the Perimeter. It may not save you time but at least you can get work done and reduce single-passenger trips. We are also working to provide last mile connectivity with commuter credits and partnerships like the Peach Pass and Breeze. Our service to reach all of Georgia's communities will focus on universal technology, and creating a single application for all GRTA services," says Tomlinson.
Speaking for MARTA was Ryland McClendon, assistant general manager of communications and external affairs. "Choosing transit saves $10,000 annually and you lose 6.5 pounds a year. We are glad to see new legislation start the conversation that includes MARTA. Soon you'll see more partnerships with businesses, Wi-Fi in trains and buses, and partnerships with last-mile/first-mile services like Uber and other cab companies. Now that we no longer have limits on our funding structure we can proceed with three projects – extension of the North Springs line to Windward, connecting Lindbergh to Avondale Estates through Emory and extending the east line to Stonecrest – as well as start service to Clayton County."
Pete Pellegrini, construction manager of the PATH Foundation, is thinking big on Perimeter walking trails. "We want a trail that leads from here to Buckhead. [We] already have the first phase from Buckhead to Lenox, and GDOT is open to retrofiting a trail on their right of way. Next would be a segment from Piedmont and Lindbergh to Buckhead, then north 400 to the toll station. It could be a signature trail. Attract business like the BeltLine trail – rebrand the corridor. It can't always be about the car."
Juaquin Jordan is administrative services director for State Farm, the 3,000-employee engine driving the walkability train. "We need all options built into development plans," he says. "Employees need to know the benefits and that it's relatively easy to get to work and back. There is a greater dialogue happening that will help change perception through forums like this."
Yvonne Williams, president and CEO of Perimeter CIDs, noted that Cox Enterprises pioneered early Perimeter development with the Atlanta Regional Commission's Transportation Management Agency and PATH, all of which is coming to fruition. "We have some big milestones coming up in 2016," she says.
Bob Voyles, Seven Oaks Co. CEO and PBA chair, introduced Emily Haar, program manager at Perimeter Connects, a transportation management service that partners with transportation entities and Perimeter companies including Cox, State Farm, UPS and Newell Rubbermaid. Broadcaster and Georgia Trend columnist Bill Crane moderated the panel.
The Perimeter Business Alliance is a partner with Perimeter CIDs that focuses on issues that directly impact business bottom lines as well as attracting and sustaining a quality workforce and quality businesses that will continue to strengthen the Perimeter market.
Photo: Left to right, Juaquin Jordan, Emily Haar, Pete Pellegrini and Ryland McClendon.
Photo by Jeff Slate.