Firing On All Cylinders
Georgia's auto industry continues to grow – and it's no accident.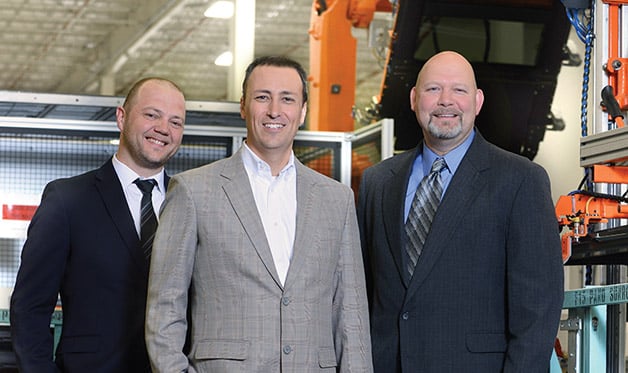 Next time you're on the road, take a look at the cars around you. It may seem that you're surrounded by foreign autos – Mercedes-Benz, BMW, Volkswagen, Kia – they're everywhere. Despite the foreign names, it's likely they were made right here in the Southeast, maybe even in Georgia.
Not only that, but the parts that go into them are increasingly being manufactured here, which makes sense. Why manufacture the parts overseas and incur the costs of shipping them thousands of miles, when they can be produced right here, just a short drive from the auto manufacturing facility?
This Southern automotive boom is the result of years of focus and commitment by the team at the Georgia Department of Economic Development (GDEcD), in conjunction with leaders from across the state. In addition, the industry is finally picking up steam around the country again after taking a serious hit during the recession, and Georgia is ripe for relocations.
"The industry went through a very tough period during the recession, obviously," says Tom Croteau, deputy commissioner for global commerce for the GDEcD. "We are finally back up to the point where we're at pre-recession levels in the amount of [new] vehicles being sold in the United States. All of this demand has been great for the automobile industry."
It's been great for the Southeast, too. "You've got this automotive OEM [original equipment manufacturer] community that's been building in the Southeast for the last 20 years – and building and building," Croteau says. "So all these things coming together have continued to bring us not only attention from OEMs, but a lot of attention from suppliers as well."
In fact, over the last several years Georgia's focus on the auto industry has paid off in many ways. In Brunswick, the state has the country's leading port for the import of cars. In West Point, we have Kia, which continues to grow and draw suppliers. We have suppliers that settle here because we're so close to manufacturers BMW in South Carolina, Mercedes in Alabama and Volkswagen in Tennessee. We have Porsche headquarters in the south end of Atlanta, and we have Mercedes moving its headquarters from New Jersey to the northern arc of Atlanta. Finally, we have innovation from AT&T, GM and Panasonic.
"The port in Brunswick, the Colonel's Island Port, has really taken off as an automotive import and export center in the last few years," Croteau says. "They've become the No. 1 import port for automobiles and the No. 2 overall for import and export. So that's a really big piece for Georgia."
---
Luxury Cars
Automotive news out of the Atlanta area includes the Mercedes-Benz and Porsche headquarters. "The great story about Porsche is they actually chose Atlanta and Georgia twice," Croteau says. "They went through a headquarters search a number of years ago." When it came time to revisit that decision and consolidate some of their other operations, "they went through a complete national search again. And again, Atlanta and Georgia came out on top." The grand opening of Porche's new headquarters and test track was held in May at the aerotropolis location near Hartsfield-Jackson Atlanta International Airport.
The news in May that Volvo selected South Carolina over Georgia for its first U.S. plant was a disappointment, but not a fatal blow.
Next month will see Mercedes-Benz (MBUSA) move its headquarters from New Jersey to temporary digs in Sterling Pointe II at the Perimeter Center complex in Dunwoody, just north of Atlanta. MBUSA is expected to bring 800 jobs, including a number filled by transferees; hiring of up to 600 new employees has already begun. The company is building a new headquarters campus on 12 acres in Sandy Springs that is expected to be ready in early 2018.
As MBUSA began looking for a new home, "We gravitated to a number of cities that were in the Southeast," says President and CEO Stephen Cannon. "But we quickly and unanimously settled on Atlanta, for a number of reasons. For us, it boils down to it's a marquee city for a marquee brand. It's entrepreneurial. There's access to talent; there's access to universities. When you put it all together, Atlanta offered us the infrastructure, the climate, the atmosphere, the business community. It offered all the things that we need to thrive as a company for the next 50 years."
Georgia leaders are thrilled. "Having companies like Porsche and Mercedes, it adds to the recognition of Georgia as being a center for the automotive industry in the South," Croteau says. "When you have these headquarters locations for these major international companies that are luxury products companies, it speaks to the livability, the high quality of life, the culture that's here, all the international populations and consulates, the international flavor of Atlanta."
Not only does it change the way people look at Georgia and Atlanta, it also opens doors at additional luxury brands that are considering a move. Back in January, rumors swirled that Gov. Nathan Deal had been to Great Britain to talk with Jaguar Land Rover, a company said to be scouting the South for its first U.S. manufacturing plant. Did Porsche's and MBUSA's commitment to Georgia help the state's economic development team?
Oh, yes, Croteau says emphatically. "It absolutely helps to open doors. Georgia already is known internationally for so many reasons, for Georgia Tech, for Coca-Cola, for the CDC, for CNN, for our airport. Now you start adding pieces within the industry itself, like Porsche and Mercedes, that have chosen to put their roots down here."
---
The Kia Effect
Automaker Kia has been a strong economic factor since its cars began rolling off the line in 2009 in West Point, the site of its U.S. manufacturing plant. Now Kia is manufacturing 360,000 cars per year at the location – one every minute, says Randy Jackson, Kia's senior vice president for human resources and administration.
Equally important to the economy, Kia has drawn 38 suppliers to the state – and they're still coming, adds Croteau.
As its influence continues to grow across the region, Kia is working with area schools to help ensure the workforce of tomorrow is ready. Today Kia and its suppliers employ more than 15,000 people, Jackson says. That's a huge pipeline of talented, educated workers to fill, and they're working that pipeline from third grade through college level.
"We've taken a real aggressive stance the last couple of years around what we like to talk about as getting our future workforce ready," Jackson says.
As part of that commitment, Kia donated a total of $900,000 to the Troup County School System to fund science, technology, engineering and math (STEM) programs from third grade on. "We try to get these youngsters thinking about more engineering and more advanced manufacturing type opportunities."
Kia is also supporting the development of THINC College and Career Academy that's set to open in August in LaGrange. "We were the first business to get behind the career academy," Jackson says. "We committed $3 million. Then we had our suppliers step up, and collectively all of them were getting close to the $1 million mark."
That longterm thinking doesn't help fill the current 15,000 slots, however. To reach young adults, Kia is working with technical colleges, "particularly West Georgia [Technical] College here locally," Jackson says. Kia is buying the college some of the equipment used in Kia's plant, so that students can be trained for Kia positions.
The GDEcD continues to court Kia suppliers, including a growing number of after-market suppliers that ensure Kia cars already on the road stay safe and reliable.
"Of course we have an office in Korea," Croteau says. "That's a big advantage to Georgia. We have a well-established relationship with the business community there, and that has helped us a lot."
---
The Supply Side
Kia isn't the only game in town – or even the state. Georgia is surrounded by German automakers in Tennessee, Alabama and South Carolina, which has resulted in a number of their suppliers choosing to locate in the state that is right in the center of the manufacturing activity.
"We have the situation especially with Volkswagen growing and in the midst of an expansion, where we're seeing a lot of European supplier companies that are coming to us and saying that they want to supply Mercedes, BMW and Volkswagen," Croteau says. "In many cases they'll have one or two of the companies that they're already serving and they're hoping to get the other one. That puts Georgia in this great position."
One area of the state that's taking advantage of that center location is Hart County in Northeast Georgia along the South Carolina line.
"We really like the automotive industry, especially the tier 2 and the tier 3 suppliers," says Dwayne Dye, director of economic development for Hart County. "Those are wonderful jobs that require skills that help facilitate our people – both the youth and the adult workforce – going to the technical colleges to receive training, because [for] most of these jobs, to be proficient you have to have a minimum of a high school diploma."
Hart County has been in the automotive business at least as far back as the 1950s. "The oldest automotive industry we have is Tenneco automotive," Dye says. "They make shock absorbers and ride-control systems in Hart County. They are a big employer … with almost 800 employees, which is a big industry for a community of our size."
Now Hart is getting another huge boost from the auto industry with the announcement that Haering Precision USA is moving in.
"We're very excited about what this means to our community," Dye says. "This is a truly world-class company that focuses heavily on workforce development and training."
Haering, which will manufacture precision components at the Hartwell facility when it opens in 2018, will bring jobs for 400 people and invest more than $54 million over the next five years – with more to follow.
By this summer Haering will have moved about 40 new hires – Americans who make up the beginnings of the management team for the Hartwell facility – to Germany for training, not only in the ways of their new employer, but also in the German language. Haering has manufacturing operations in China and Poland, along with its German headquarters, and the common language among management across the company is German.
Training and workforce development are so important to Haering that it will open its own academy in conjunction with the Hartwell operation. "This was very important for us. We're not just doing construction for production," says Andreas Lehnhofer, general manager and CEO of Haering Precision USA. "We're building parallel our own Haering academy. We have them in all three locations in the world."
It's the way Haering ensures its own pipeline of educated and well-trained employees. "We want to put a very nice, attractive program, not only on the education part, but also on the benefits for the employees," Lehnhofer says. "That's the way we want to keep it. We're very, very close to our employees. Our employees are not numbers. They have names; they are our asset. We operate with a good strong workforce who believes in our future."
It's a future worth believing in. "We plan 400 people to be in place by 2023. Then moving forward, we have the size of the property to expand three times more to bring in an additional 400 people," Lehnhofer says.
This growth is possible because Haering parts are found in almost all cars, no matter what the brand, he says. The company manufactures parts for brake systems, fuel injection systems, seat components and steering components. "I don't think we'll ever run out of business. We're starting with a 100,000-square-foot facility, only on the production side, not [the] administrative building," Lehnhofer says. "Then we can expand to 300,000 [square feet.]"
"They [Haering] really add a lot of value to the people they bring on," Dye says. "And they want to keep those people from the time they hire until the time they decide to retire. Those are the kinds of jobs we want for our people here – good pay rates, technically based, opportunity for vertical mobility and growth inside the company, and the company values them and wants to keep them for the long term. You can't ask for any better than that."
Another new player in the supplier game is Inalfa Roof Systems, which landed in Cherokee County, north of Atlanta in January 2014, and is already expanding. "We are in the beginning phases of the new expansion, the mass grading of 16 acres for a 105,000-square-foot facility that should be occupancy ready by January 2016," says Greg Cornett, plant manager.
Inalfa currently has 285 employees and plans on 400 by the middle of next year, he says. These employees manufacture roof systems for BMW, Ford, Lincoln, Nissan and GM.
Across the state "we've got about 296 automobile-related companies that are doing business here that employ over 40,000 people. It's a big, important industry to us," Croteau says.
Other suppliers include stalwarts like Honda Lock in Bremen, where 500 employees manufacture door mirrors, latches and handles; Honda Precision Parts in Tallapoosa and Hitachi in Monroe, which each produce auto parts. Toyo Tires in Bartow County has announced a $371-million expansion that will bring total employment to 1,650. In addition, announcements from new and expanding suppliers are also coming in from all regions in the state, including voestelpine in Cartersville, which opened an auto body parts plant in 2014 and is now expanding. Otsuka Chemical broke ground in Griffin last year on a facility to manufacture titanate friction materials for brake pads; and Kumho Tires is building its first U.S. manufacturing plant in Macon and will employ 450.
---
Innovation Connection
The state's involvement with the auto industry also includes a growing status as an innovation hub. Panasonic's innovation center and AT&T's Drive Studio have settled in Georgia Tech's Technology Square in Midtown Atlanta, where they are developing the next generation of entertainment, information, apps and connectivity for your cars. Meanwhile, GM's Information Technology Innovation Center in Roswell will soon have approximately 1,000 high-tech employees working on processes and tools to support critical GM systems worldwide, including manufacturing, engineering and safety.
"The greater Atlanta area is a fantastic hub of emerging technical talent – from university graduates to working professionals. GM needs these kinds of world-class and skilled employees to be as successful as we want to be," says John Davidson, IT director. "Roswell is the perfect addition to our overall Innovation Center strategy – locating in great communities that are on the leading edge of innovation and technology."
Economic momentum is building in Georgia, and the auto industry is a big part of that. The state was just named in the top 10 in the U.S. for economic momentum by the Federal Funds Information for States' Index for State Economic Momentum. That's just the latest ranking that will help folks at the GDEcD when they're out talking up our state.
"This momentum, it is very motivating when you have this positive energy and confidence level that really extends throughout the state," Croteau says. "When I go to conferences and I see my colleagues from other states, I just keep hearing 'Wow! You guys have got a lot of great things happening in Georgia.' It is a big motivator, and it's a good feeling – a great sense of pride in what we've been able to accomplish recently. It's motivating [us] to keep going and knocking on those doors."