Brunswick | Golden Isles: Five-Star Region
Vacations, golf and retail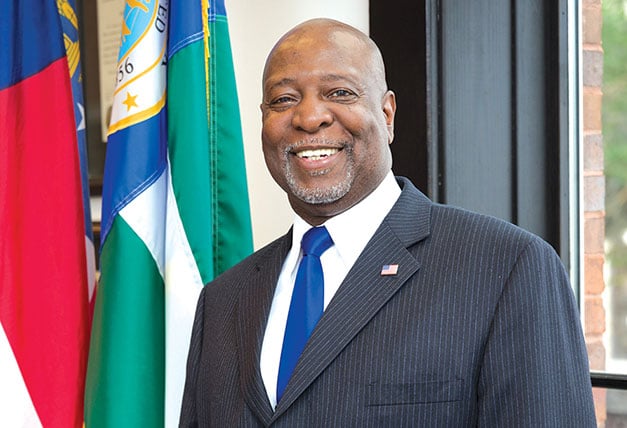 The stunning gateways to Brunswick and the Golden Isles are the stuff of poetry.
Indeed, in 1878, Sidney Lanier sat beneath an oak tree near the Brunswick River, where a bridge (and its replacement) would later be built and named for him, and penned the illustrious poem The Marshes of Glynn.
Brunswick Mayor Cornell Harvey says locals and tourists alike still uphold Lanier's profound admiration of the golden marshes, winding rivers, sandy beaches and historic landmarks that characterize Glynn County. But what expressly defines the remarkable corner of the world known as Brunswick and the Golden Isles, Harvey insists, is its human capital.
"Visitors travel a long way from their homes just to come and spend time in our community, and we appreciate that," says Harvey, whose town (pop. 15,813) is the county's only municipality. "Everywhere I go, people who visit here always, always say how nice the folks here are to them – and that they are coming back."
Across the Torras Causeway on St. Simons Island at the celebrated Southern Soul Barbeque, tourist Giles Knauf agrees with the mayor's assessment; he says Glynn County residents' warmth and charm rival the area's breathtaking landscape.
"Coming here is, hands-down, the best vacation experience ever," Knauf, a pilot from Iphofen, Germany, says as he calculatingly tackles a chopped burnt-end sandwich dripping in sweet sauce. "As pretty as this area is, as good as the beach is, as perfect as the golf is, it's the kindness here that we talk about the most."
Knauf says he will return in 2016 with his wife and three children for the family's fourth consecutive Golden Isles vacation. He's also considering retiring at St. Simons.
"The food. The mom-and-pop shops. The accommodations. The hospitality. And the beach. It's five stars everywhere we turn – kind of like heaven," he says.
Things weren't so peachy in the Golden Isles region five years ago. As bad as the rest of the state and the country were pummeled by the recent recession, Glynn County's hard times were harder. And deeper.
"Because our property values were so high, we got hit the worst," says Dale Provenzano, the Glynn County Commission chairman.
The bleakness of elevated unemployment and empty hotel rooms is a vague, fading memory for Brunswick and Glynn County's unincorporated seaside communities of St. Simons and Little St. Simons Island, Jekyll Island and Sea Island. Tourism, residential and commercial real estate, retail sales, port activity and healthcare had a strong 2014 and are all on the rise, if not booming, in 2015.
---
TOURISM: THE GREAT MULTIPLIER
If Glynn County had a trophy case, it would be crammed with the annual accolades the resorts, hotels, restaurants and village-like towns receive each year (not to mention the Brunswick High School 2015 state basketball championship trophy). Glynn County tourism became a $1 billion-a-year-and-growing business in fiscal year 2014, and hotel-motel tax revenue was record-setting in six of the first seven months of fiscal year 2015, public records show.
"Any way you look at it and everywhere you turn," says Woody Woodside, the Brunswick-Golden Isles Chamber of Commerce president, "these are good times for Brunswick and the Golden Isles."
The isles' tourism has increased an average of 10 percent annually since 2010, and 1,500 additional rooms are planned within the next few years, says Scott McQuade, Golden Isles Convention and Visitors Bureau CEO.
"It's been a steep climb out of the recession; the area has never seen their hotels so full," McQuade says. "That does come with a little bit more demand on the infrastructure, but for the most part the hotels that are here have ample parking and ways to accommodate people."
While big-boxers Sam's Club and Hobby Lobby are planned at a new retail center at Golden Isles Parkway and Canal Road in Brunswick, another particularly notable outcome of Glynn County's rebound is that near-empty shopping plazas are filling. In some instances, retail centers are posting no-vacancy signs.
"Pound for pound, tourism is the biggest segment of the economy here," McQuade says. "And, together with a boost in the real estate market, there's a multiplier effect that is carrying over to retail and the other economic sectors."
The state-owned Jekyll Island is amidst a growth explosion tallying $178 million-and-counting in public and private investment, highlighted by the new $40-million, 128,000-square-foot oceanfront convention center.
"More and more, conventions, corporate meetings and destination weddings are huge draws to Jekyll," Woodside says.
A 200-room Westin hotel and 157-room Holiday Inn Resort have already opened; about 1,000 new rooms planned between 2015 and 2020 would more than double the island's hotel portfolio. Meanwhile, the 120-townhome oceanfront Cottages at Jekyll Island, the first residential development on the island in about 40 years, is being built on the former Jekyll Oceanfront Clarion Resort site.
To accommodate escalating business demand, Sea Island, too, is undergoing expansion and now employs about 1,900 people just four-and-a-half years after facing truly hard times. The new 85-room The Inn at Sea Island, which is located on St. Simons, offers a lower price point than the five-star Cloister and Lodge resorts, while providing access to golf, dining, the spa and other resort amenities. Meanwhile, The Cloister recently added 63 rooms, and Sea Island added the Rainbow Island Water Sports Center, which offers sailing, kayaking and paddleboarding.
"For the locals, this isn't the same Sea Island Company that we all remember being so benevolent, but the four men that brought this company out of bankruptcy could've done a whole lot worse," says Provenzano. "This thing could have been divvied up and sold off as parcels; instead, these guys invested a lot of money in our community, kept the company intact and have reinvested, contributing a tremendous amount to the tax base.
"As a commissioner in general, as chairman and as the island commissioner, I'm appreciative."
McQuade also says the CVB's billboard campaign is luring more snowbird migration than ever from Interstate 95 – one of the world's busiest highways – during the winter. It doesn't hurt that Glynn County's island communities may provide the closest beach access – a 15-minute-or-so-ride – along the stretch of I-95.
"The nice thing about the snowbird market is that they don't have hard deadlines, so they can see our billboards and decide to pull off of the interstate a night or two, and then possibly stay a week or more," McQuade says.
---
THE LOVE FACTOR
For about a century leading up to the Civil War, when cotton was king, the Retreat Plantation on St. Simons Island's southern tip was among the world's most prosperous agricultural estates. Today the spot is known as Sea Island, and longtime Golden Isles resident Davis Love III is sovereign in his own right.
In addition to being one of golf's most respected and successful players, and captain of the U.S. Ryder Cup team, Love is a leading golf course designer (along with his brother, Mark), an entrepreneur and a philanthropist. Known locally as "Uncle Davis," Love is also an economic engine, himself: He has had a key role in about a dozen professional golfers, and counting, moving to the Golden Isles. Among them are A-listers Matt Kuchar, Zach Johnson and Brandt Snedeker.
"Davis is so respected globally that if he likes Sea Island and the Golden Isles and says this is a good place to train and to live, the golfing world knows it's a good spot," says Mel Baxter, the Brunswick and Glynn County Development Authority executive director.
Love's local legacy began decades ago when his father created what is known today as Sea Island's Golf Performance Center, which has some of the sport's best golf instructors.
"When professional golfers come to Sea Island, it doesn't take a sales pitch. It's a great place for raising a family and for honing your professional golf skills," Love says.
Love and his wife, Robin, are especially proud to host the PGA Tour's McGladrey Classic, which has an estimated $10.6-million economic impact, according to Georgia Southern University's Bureau of Business Research and Economic Development. The annual Sea Island Golf Club tournament, which turns six years old in November, helps fund the Davis Love Foundation, which supports children and family initiatives.
"Mine and Robin's dream of bringing a PGA Tour event to the island was in large part to continue the Tour's long history of charitable giving and impact Georgia on a local, regional and state level," Love says. "It's overwhelming to be a part of something with that much impact on children and families."
Love also has a restaurant and paddleboarding shop – and a portion of Interstate 95 is named in his honor.
"With Davis being successful in his professional career and so respected in the world of golf, he is a tremendous ambassador for our entire community," says Brannen Veal, Sea Island's golf director.
---
AIMING HIGH
In an old gas station by bustling McKinnon St. Simons Island Air-port, Southern Soul Barbeque's story parallels that of the region. Five years ago, owners Griffin Bufkin and Harrison Sapp watched as a fire destroyed their old pine building and their livelihoods – or so they thought.
But they regrouped and rebuilt.
Today, patrons line 20-deep during the lunch hour for the opportunity to feast on pork, beef or turkey slow-cooked by one of the South's most acclaimed pit master teams and – of course – Brunswick stew. (The latter, by the way, may or may not have gotten its name from Georgia's southeast coast.)
"You don't come to the Golden Isles without eating lunch at Southern Soul," Woodside says.
Across the street, business and vacation travelers can fly straight into McKinnon St. Simons Island Airport, a spot that is bustling in its own right. Indeed, in November, the facility had an Atlanta feel to it: 543 planes landed for an Airport Owners and Pilots Association fly-in staffed by about 200 local volunteers who provided logistics support and warm smiles for the visitors.
"It was a record weekend at the airport, and we were able to showcase our community to nearly 2,000 people" at the pilots' gathering, which included seminars and social events, says Bob Burr, Glynn County Airport Commission executive director.
Soon, the island's visitors will be able to spend the night at McKinnon St. Simons; ground is expected to be broken later this year for terminal improvements and an adjoining hotel. MMI Hospitality, which operates St. Simons' King and Prince Beach and Golf Resort, is planning the $15-million project with fixed-base operator Golden Isles Aviation.
With premier golf as a principal enticement, the aim is to attract more aviation-related gatherings and host pilots for a night – or longer.
"It's not a speculative investment. This is a proven hotel operator, here and worldwide, with a business plan that will work," Burr says.
Meanwhile, the Golden Isles' other takeoff and landing zone – Brunswick-Golden Isles Airport – also is thriving, buoyed by an 8,000-foot runway and Delta Connection's 37-minute jet jaunts to and from Hartsfield-Jackson Atlanta International Airport.
"Having two very viable, very busy airports for his county to complement each other as far as what they do is a huge asset for a community," Burr says.
In April, the Glynn County Commission agreed to issue revenue bonds to fund about $8.5 million in infrastructure expansion and terminal improvements and to add 130,000 square feet of Stambaugh Aviation ramp space. The projects at Brunswick-Golden Isles Airport are expected to jumpstart about 1,400 acres of commercial real estate development and create up to 300 new jobs.
"We have several economic drivers in the community. But right now, the airports are what we get the most calls about," says Baxter. "We're in the aviation corridor, as I call it, from North Carolina to Florida, and this enables us to pursue new business at the airport – something we've never been in a position to do before."
---
BALANCING ACT
Provenzano and Harvey say the toughest part of their responsibilities may be harmonizing development, conservation and the need for jobs.
"There are a lot of constituencies, especially here, with protecting the environment being so important," Harvey says.
Perhaps better than ever, Provenzano says, the balancing act is being properly managed.
"You have to be able to bring all sides to the table when you make a decision, and for the first time in a long time, we are all working together," he says. "Glynn County has woken up for the betterment not only for all of our citizens, but for the business community and the environment. I think you'll see evidence of that as new and better development comes here."
---
LOCAL FLAVOR
Tasty Treats: Every other Saturday, rain or shine, 16-year-old pastry chef Darby Day sets up shop on St. Simons Island. Darby's Delicious Delights cupcakes are among the main attractions at the farmers market outside The Market at Sea Island, which opened in 2014.
With all of Sea Island's grandeur, its farmer's market is among its latest popular activities; it's a blend of exquisiteness, a shoppers' paradise and a community gathering spot.
"The live music and energy from the crowd makes the farmers market the perfect place to be with friends and family on a Saturday," says Day, who also offers pound cakes, key lime pies, cookies and chocolate fudge.
Indeed, a visit inside The Market – which specializes in fresh-baked breads and pastries, soups and sandwiches, local fish, meats and floral arrangements – adds to the unique shopping experience for residents, resort guests and visitors to the Golden Isles.
"Some, not all, of the vendors that set up for the farmers market also have their goods for sale inside The Market," says Sea Island's Dan Meyers, who manages The Market.
The farmers market also showcases local produce, jewelry designers, artisan craft makers and blacksmiths, and goods made by women in Third World countries who are paid a living wage due to the sale of their items.
"We look for vendors whose products are handmade," Meyers says, "because we want to support artisan vendors whose products match Sea Island's passion of striving for the best." – Kevin Hogencamp