Barrow County: Barrow Builds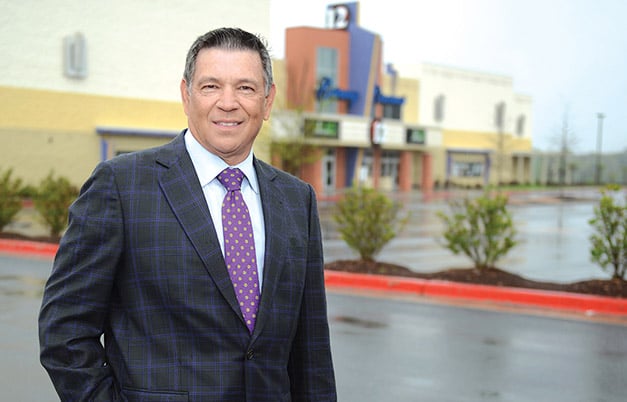 Barrow County sits on the northeastern edge of Metro Atlanta and has long been a magnet for those seeking more affordable homes and a slower, more rural pace of life. As a result, residential growth soared in past decades and homebuilding became a major industry.
Much of that came to an end with the Great Recession and the collapse of the real estate market. With an economy based largely on homebuilding, and not much else, Barrow homebuilders, banks and other businesses were hit hard.
That was then. Now locals are saying that all the qualities that made Barrow so attractive to so many people in past decades are still here. Homebuilding is picking up again, and along with it more retail and the stirrings of manufacturing.
"We were affected a great deal by the results of the Great Recession," admits Tommy Jennings, president of the Barrow County Chamber of Commerce. "It was tough getting out of it for a lot of folks because they had gone down so far."
Now the bad times seem to be largely over, and the county has gotten up, dusted itself off and is ready to do business again, say locals.
"Our commercial developments have taken off," declares Jennings.
He points to Georgia Highway 316 near the county seat of Winder that provides a corridor between Athens and Atlanta. Here a variety of businesses are filling in commercial spaces at the Gateway shopping center and Barrow Crossing.
"We have more of a rural county even though we're considered part of the Metro Atlanta area," says Barrow County Commission Chair Pat Graham. "We're still a very rural community – only 26 percent of our property tax digest is commercial and industrial. We're predominately residential and agricultural, but we have seen a lot of growth in those sectors."
Folks are spending money again, and those sales are also registering in county government, where collections for the Special Purpose Local Option Sales Tax (SPLOST) are way up. So far in 2015, monies have risen to about $800,000 a month from $700,000 in 2012, according to County Manager Randall Dowling.
After a long drought, homebuilding permits are up again as well. In 2014, the county issued 311 single home permits. That number was up significantly from 201 permits in 2013 and way up from the meager 64 of 2012. In addition, commercial and industrial building permits in FY 2014 were 52, compared to 40 the year before and 34 in 2012.
"Things are looking up for Barrow County," says Dowling. "We're coming out of the recession, and it shows. Our chief appraiser is saying assessed values are increasing. So that's a good economic sign for us."
---
INDUSTRY INVESTMENT
Several companies seeking to expand have moved out of Gwinnett County and into Barrow recently. Sports apparel and equipment maker Mizuno USA decided to relocate and consolidate its distribution and manufacturing operations in a new facility in Braselton.
Close proximity to its old location in Gwinnett meant that workers could still commute while the company found lower-cost facilities.
"They were looking for something that is not too far out but that would add more space for them to move and grow into and expand in the future," says Guy Herring, director of Barrow County Economic and Community Development. "That also provides a reverse commute for their workforce so they were able to keep most of their employees. That was a win for them because the retraining of employees for business is costly."
The company purchased a 520,000-square-foot structure in Braselton that had once been the home of Tractor Supply Co. It was one of the few industrial buildings of that size left on the market.
Mizuno is bringing some 150 full-time jobs to the county and providing a major boost to efforts to expand the local workforce.
Schuetz Container Systems Inc. moved its operations to the city of Carl. It was the culmination of a process that began in 2008 when the company purchased a 38-acre site for about $4 million.
"They purchased the property to expand their existing industry, which was in Gwinnett," Herring says. "They had a facility, [but] they were out of space and they needed [access to] rail. This property was available at the time, and we worked with them and the state on getting them to locate in Barrow."
The company wasn't able to start construction on its facility for several years. That process finally began in 2013 with the construction of two buildings for its plastic-molding operations for containers that carry liquids such as soft drinks, water and chemicals.
This $52-million investment has produced 180 new jobs for the county, says Herring.
---
EARLY JOB TRAINING
Lately, Barrow County leaders have been busy making sure any company looking for a home here can find one. The county is putting the finishing touches on the Park 53 South industrial park just off State Route 53 near Winder. The 260 acres are split by Highway 316 with more than 3,000 feet of road frontage, according to Herring.
"We have the ability to recruit life sciences manufacturing based on our proximity to Athens and the University of Georgia as well as Gwinnett," says Herring. "We see this as a manufacturing or maybe a life sciences cold storage type of industrial park that could support those needs. Not so much distribution at that location."
The park is designed to take full advantage of two very important assets to Barrow's industrial and business community. It sits next door to the new home of Lanier Technical College and the county's new career academy, Sims Academy of Innovation and Technology.
"It was planned as soon as we knew Lanier Tech would build a new facility there," says Herring. "It's an ideal location for a workforce development component for our industrial park."
The $27-million complex includes an 80,000-square-foot structure housing the career academy. Next door, the technical college facility includes a 67,000-square-foot building that will be able to accommodate up to 1,000 students. It replaced Lainer's aging campus in downtown Winder.
The joint campus for the two schools offers local students a unique opportunity to get a jump on the kind of advanced job training that companies are seeking these days. Barrow County high school students frequently cross the parking lot that separates the two buildings to take classes offered by Lanier Tech as part of a joint enrollment program or to use one of its facilities such as the automotive lab.
"The idea was to provide a seamless pathway for students who were looking at specific careers to complete their high school work and then transition into the technical college," says Ray Perren, president of Lanier Tech. "It was also an opportunity to share resources."
From robotics to a medical assistant program to welding, students are getting training in programs designed to serve the needs of local and regional businesses. Many students earn their associate degree or obtain a program certificate here before going directly to work in local industry. About 98 percent of Lanier Tech's students are either placed in a job or continue their education at another college.
"The reason it is so high is because we work directly with business and industry to ensure that our programs are relevant to what their needs are," says Perren.
An advisory panel made up of representatives from companies across the region comes to the campus twice a year to take a look at the curriculum and make recommendations on keeping the programs relevant.
"They take a look at our labs to ensure that the equipment is up to date and comparable to what our grads will see when they enter the workforce," says Perren. "So we have a strong working relationship with business and industry, and I think that's really one of the keys to the success of the technical colleges across Georgia."
Lanier Tech has experienced an uptick of about 18 percent in enrollment since the new campus opened. Today about 365 students are enrolled, and plans call for expanding both programs and enrollment in coming years. Increasingly, students and their parents are realizing that today's manufacturing jobs are very different than those of decades past.
"It's a pretty high-tech environment, and it's not repetitive actions where a worker is putting on the driver side wheel of a car 5,000 times a day," Perren says. "They are working and making meaningful decisions. It does require a fairly sophisticated skill set for a person to be successful in that manufacturing environment. It's very safe. Today's kids have grown up immersed in technology, and today's manufacturing workplaces are full of high-tech operations and procedures."
Next door, Sims Academy has opened wide the "doors for workforce development for our kids," says Barrow County Schools Superintendent Chris McMichael. Since opening, enrollment has soared to more than 400 students a day with a long waiting list of kids who want to get into a program.
The most popular programs for students enrolled in the school include robotics and culinary arts, with broadcast video, construction and agriculture also getting a lot of interest, he says.
Lanier Tech and the school system worked closely to ensure that the two schools compliment each other.
"We coordinated while we were planning in order not to duplicate any services," explains McMichael. "For example, our kids go over there to use their automotive lab. Moving into dual enrollment makes it very convenient. They can go over there and take courses, and we provide transportation, which most career academies don't do."
Sims is a good indication of the emphasis now being placed on workforce training as a way to help drive economic development. Along with working closely with the technical college, the school system looked at research and the experience of other career academies across the state to determine what kinds of programs were most in demand.
"We worked very hard to pick things that we knew would have some future for our kids," he says. "We didn't want to offer a class just because we had always had them, but because they were relevant to what the economy around here needed."
Sims also assembled an advisory board comprised of business leaders and plant managers from around the county. They're able to tap into firsthand knowledge about processes and equipment used at Solvay, a local chemical manufacturer in town, for example, or the skills needed by workers at the Chico's distribution facility and call center in Winder.
---
HOME BUILDING BLOSSOMS
The increase in home building has meant that the formerly empty subdivisions – many little more than "PVC farms" with stalled construction and pipes rising from the ground – are finally starting to be completed. Developers have been picking up land at reduced prices from the banks that held them in foreclosure. With most of those bargains now gone, home prices are likely to start edging up again, according to Jerry Maynard with Maynard Realty.
"New homes sales and construction had basically dropped off completely," he says. "Now we have people building again." He added that "you're going to see housing take a pretty big jump in the price of a new house – when you run out of cheap lots."
Upper-end homebuilding has also come back into style at the Georgia Club near Statham. The development first began selling homes back in 2000 and was regarded as something of a mecca for University of Georgia alumni who wanted to be close to Athens and all the amenities of a university town.
With homes ranging in price from $300,000 to upwards of $1 million or more, the development appealed to a wide variety of buyers – particularly retirees.
"Just in the last couple of years, it has bloomed again and really got a homebuilding program going," says Tom Valdes, president of the Georgia Club Real Estate Co.
Sales are projected to hit about 50 to 55 homes a year until the development is completely built out.
In Winder, the completion of an extensive streetscape and road project through the city center is symbolic of the rising fortunes of the county.
"They just finished," Maynard says. "It looks pretty good, and I'm confident that people will start looking at the downtown area of Winder as an option for retail as well."
The goal now is to get the city to the point where it's thriving and empty storefronts are filled, according to Winder Mayor David Maynard (brother of Jerry Maynard).
"We've invested a lot of money doing a streetscapes project and improving the city's infrastructure hoping that will follow with the private side reinvesting," says Mayor Maynard. "We're seeing that. We had one man buy six old buildings in the downtown district that he's remodeled and moved into. That's a help for our downtown. We still have some empty buildings downtown that we want to fill up." [See Local Flavor below for more on downtown Winder.]
The mayor also has high hopes for a master plan for nearby Fort Yargo State Park. One of the most visited parks in Georgia, it has great potential for furthering economic development in the city. He is pushing an idea that would connect Winder's downtown with the park.
Investing in cities – and providing incentives for businesses to expand – is also helping Auburn begin to thrive again as well. The city's Opportunity Zone, which encompasses the downtown area, is spurring expansion of local businesses with its $3,500 per new job tax credit, according to Mayor Linda Blechinger.
"We're continuing with our streetscape projects," she explains. "For our downtown, we just hired a Main Street manager, and he has jumped in with both feet."
These days nearly every storefront is filled, and "we are meeting just about weekly with either developers or businesses that are interested in coming into the city," says Blechinger. "The future is looking pretty bright."
---
LOCAL FLAVOR
Downtown Investment: The aftermath of the Great Recession has been filled with good real estate deals. One of those will go a long way toward revitalizing Winder's downtown.
When Wes VanKirk, president of VanKirk Electric, a commercial contractor with clients across the country, acquired six buildings in the north Georgia town, he saw the deal as a way to get much-needed space for the company.
"It was an opportunity to really go in and house our corporate headquarters in some buildings that had a lot of history," says VanKirk. "Everyone who comes through says it's like something you would see in New York – like a loft with all the hardwood floors and the brick. It's quite a show piece."
He hopes other companies will follow his lead and acquire – and renovate – other historic buildings while retaining their original character.
Space not needed for his company is being rented out to other businesses. A bank has taken on part of one building. He's also looking for other retail to place in another.
"Later this year we'll begin construction, and we're looking at putting in a restaurant space," he says. "It'll have tile and very high-end finishes. Hopefully we'll be able to lure someone with a good balance sheet that can make a go of it."
VanKirk sees great opportunity for both his own company and Barrow County. Its close proximity to Athens and quality of life has made finding and hiring workers for his company easier than expected.
With approximately 400 people employed in the company, about 50 of those are in Winder. – Randy Southerland